What to Know in Washington: Nevada Democrats Fear Iowa Repeat
Nevada Democrats are holding last-minute training classes to train volunteers on a new tool to calculate and report results of their presidential caucuses on Saturday, trying to stave off a repeat of the debacle with Iowa's caucuses on Feb. 3.
Party leaders caution the results of the presidential nominating contest may not come quickly, even while saying they hope to know the winner on Saturday.
As in Iowa, the party will report results from three steps in the caucus process — requiring the use of a new calculator to compute the number of county delegates from each precinct. Nevada Democrats announced Wednesday that it would hold 55 sessions that will include "hands-on guidance on caucus calculator."
The last-minute training efforts worried some caucus volunteers and raised the specter of reporting glitches like the ones that plagued Iowa.
"I would be the happiest person in the world if everything works, but I am nervous," said Seth Morrison, a caucus volunteer. "We have a new tool that is untested, then we have a very complex caucus process."
Another volunteer, who requested anonymity for fear of a potential backlash, said he was encouraged by the training, which he completed Tuesday, and the reporting tools themselves.
It wasn't complicated "for people familiar with iPads and tablets in general," he said, in a text. But he added that he was worried about the people "who aren't comfortable with tablets."
Nevada Democrats had originally planned to use the same reporting app that Iowa Democrats used. But glitches with that app caused a days-long delay in reporting results from Iowa's presidential caucus, a major embarrassment for Democrats nationwide. Read more from William Turton and Gregory Korte.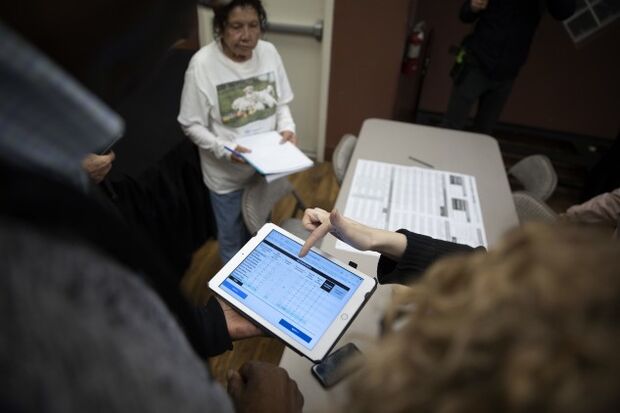 Defense & Foreign Affairs
U.S. Plans to Sign Peace Agreement With Taliban on Feb. 29: The U.S. plans to sign a peace agreement with the Taliban on Feb. 29, after negotiators in Doha reached an understanding on a reduction in violence in what's become America's longest-running war. U.S. negotiators "have come to an understanding with the Taliban on a significant and nationwide reduction in violence across Afghanistan," Secretary of State Mike Pompeo said in a statement. If successful, the deal will be signed in Qatar next week. Once the signing occurs, dialogue will start between the Afghanistan government and the Taliban, the department said in a statement.
Lawmakers Push Pompeo on Syria Crisis: The leaders of the House Foreign Affairs Committee urged Pompeo to do more about the humanitarian crisis in Syria, as the Russia-backed Assad regime conducts an offensive that's fueling a new wave of displaced persons. "Russia has repeatedly bombed hospitals and attacked medical workers in Syria for years, in violation of international norms," wrote Chairman Eliot Engel (D-N.Y.) and ranking member Michael McCaul (R-Texas). "Russia's seat on the Security Council should not give them a license to murder civilians."
The two lawmakers cited the recent U.S. troop withdrawal in northeastern Syria as contributing to the crisis. "An abrupt withdrawal of United States military personnel is beneficial to adversaries of the United States government, including Syria, Iran, and Russia," they wrote. Daniel Flatley has more.
Russia Denies Charges It's Meddling in Presidential Vote: Kremlin spokesman Dmitry Peskov said on a conference call Friday that U.S. allegations that Russia is meddling in the presidential election campaign now under way are "paranoid" and "have nothing in common with the truth," Ilya Arkhipov reports.
Coast Guard Warns Mission 'Unsustainable': Increasing demands for defense missions, shipping support, and operations in the Arctic are stretching the Coast Guard's funding, Commandant Admiral Karl Schultz said. The guard is left "on an unsustainable path to support our growing operational requirements," he said, because "many of our defense contributions" aren't funded by the Department of Defense. The service faces mounting Great Power challenges from China and Russia and in the polar regions, while struggling with inadequate funds for key technology, personnel, and facilities, he said. Michaela Ross has more.
Virginia-Class Sub Tops Wish List: Funding for a second Virginia-class fast-attack submarine for fiscal 2021 is the Navy's first unfunded priority, according to Rep. Joe Courtney (D-Conn.), a member of the House Armed Services panel with jurisdiction over naval shipbuilding. The Navy sends its unfunded priorities requests to congressional defense panels, spotlighting programs and weapons systems that are said to be important but weren't in the officially submitted budget request. Roxana Tiron has more.
Iran Votes With Hard-Liners: Iranian hard-liners looked set to take control of parliament today in an election dominated by the country's turbulent standoff with the United States. Conservative factions fiercely loyal to Supreme Leader Ayatollah Ali Khamenei and generally opposed to engaging with the West are widely expected to prevail after hundreds of more moderate politicians were disqualified from standing. The military exchanges and highly charged rhetoric that have characterized the confrontation with Washington, meanwhile, have energized Khamenei's base. Read more from Golnar Motevalli.
Racial Profiling of Chinese Scientists: Allegations that federal investigators are targeting Chinese-American scientists in a campaign to halt intellectual property theft has prompted a House panel to launch a probe of its own. Oversight and Reform Civil Rights Subcommittee Chairman Jamie Raskin (D-Md.) and Congressional Asian Pacific American Caucus Chairwoman Judy Chu (D-Calif.) released letters to the FBI and National Institutes of Health indicating they are investigating potential racial profiling. The move follows high-profile cases involving researchers backed by U.S. tax dollars, who failed to disclose ties to foreign governments. Read more from Jeannie Baumann.
More Elections, Politics & Influence
Trump, RNC Raised $33.6M Last Month: President DonaldTrump and the Republican National Committee reported raising a combined $33.6 million in January, according to the Federal Election Commission, part of a $60.5 million haul that's keeping the president well ahead of the fundraising pace of previous incumbents. Trump raised $6.4 million and the RNC took in $27.2 million. The total doesn't include funds raised by two joint fundraising committees which file reports with the FEC quarterly. Trump's re-election effort ended last month with over $200 million in the bank, the RNC and the campaign announced. Ryan Teague Beckwith and Bill Allison have more.
Meanwhile, Sen. Bernie Sanders (I-Vt.) ended January with $16.8 million in the bank after a $25 million haul that marked his best month for fundraising, his latest filing with the FEC showed. The strong fundraising has allowed Sanders to look beyond both Nevada and the next contest, the South Carolina primary. On Feb. 6, his campaign announced it was adding staffers and launching seven-figure ad buys in 10 states that vote in March. Ryan Teague Beckwith and Bill Allison have more.
New Polls:
Trump Ads Will Take Over YouTube's Homepage on Election Day: In the immediate run up to the U.S. presidential election and on Election Day, the homepage of YouTube is set to advertise just one candidate: Trump. The president's re-election campaign purchased the coveted advertising space atop the country's most-visited video website for early November, said two people with knowledge of the transaction. The deal ensures Trump will be featured prominently in the key days when voters across the country prepare to head to the polls Nov. 3. Read more from Mark Bergen and Joshua Brustein.
Warren Defends Super PAC: Sen. Elizabeth Warren (D-Mass.), a long critic of super PACs, didn't disavow the newly formed super PAC backing her bid even though she has long said she would only rely on small donors to fund her campaign. She said that if all the men in the presidential race have a super PAC or are billionaires, she and Sen. Amy Klobuchar (D-Minn.) shouldn't be the only two without. "If all the candidates want to get rid of Super PACs, count me in," Warren said yesterday. "It can't be the case that a bunch of people keep them and only one or two don't." Misyrlena Egkolfopoulou has more.
Warren Again Asks Bloomberg to End NDAs: Warren yesterday again challenged Michael Bloomberg to release former employees from nondisclosure agreements, saying she had even drawn up a legal document for him to sign. "So, I used to teach contract law and I thought I would make this easy. All Mayor Bloomberg has to do is download it. I'll text it. Sign it," Warren said. "And then the women or men will be free to speak, and tell their own stories." Read more from Misyrlena Egkolfopoulou and Ryan Teague Beckwith. (Bloomberg is the majority owner of Bloomberg Government's parent company.)
Gunmakers' Liability for Shootings: Former Vice President Joe Biden said he would send legislation to Congress on his first day in office that would seek to remove a shield that gives gunmakers protection from being liable for shootings. Mass shootings in the U.S. will not stop until "we ban killer assault weapons," and until "we hold gun manufacturers liable," Biden said at an event in Las Vegas, Jennifer Epstein reports. A gunman in 2017 killed 58 people on the Las Vegas Strip, the deadliest mass shooting by an individual in U.S. history.
Fracking Ban Puts Vulnerable Democrats on Defense: House Democrats from districts reliant on oil and gas production are distancing themselves from a new bill to ban fracking even though the measure is unlikely to gain any traction in Congress. The bill (H.R. 5857) would end the use of fracking, or hydraulic fracturing, a method for removing oil and gas from shale, by 2025.
The measure sponsored by Rep. Alexandria Ocasio-Cortez (D-N.Y.), is a counterpart to legislation (S. 3247) introduced by Sanders. The National Republican Congressional Committee already is attempting to tie Sanders' sponsorship of the proposed ban to vulnerable Democrats, such as Rep. Conor Lamb (D-Pa.), who represent districts where fracking is a big job generator and the president is popular. Read more from Emily Wilkins.
Global Law Firm Taps Frelinghuysen: Global law firm Greenberg Traurig has hired former Rep. Rodney Frelinghuysen (R-N.J.) to be senior director of government law and policy at its Washington office. Frelinghuysen served in the House from 1995 to 2019, and was chairman of the House Appropriations Committee. "Chairman Frelinghuysen has been an effective and well-respected leader at all levels of government, and his experience and reputation make him an excellent fit for our team," the firm's co-president, Ernest L. Greer, said in a statement.
Around the Administration
Trump Says He's Considering Georgia's Doug Collins as Spy Chief: Trump said that he was considering Rep. Doug Collins (R-Ga.) as his formal nominee for director of national intelligence. Trump made the announcement during a flight to Las Vegas after a rally in Colorado Springs last night. The president has been on a tour of Western U.S. states for much of this week. Naming Collins to the post could simplify a Senate special election in Georgia, where the congressman has challenged Sen. Kelly Loeffler, who was appointed to the seat. Read more from Justin Sink and Billy House.
Trump Stews Over McCabe: Trump was surprised and angered by the Justice Department's decision not to charge Andrew McCabe with crimes, but he's also wary of acting against the former deputy FBI director out of concern he might push Attorney General William Barr to resign, according to people familiar with the matter. The Justice Department gave the White House no advance notice of its decision on McCabe, meaning Trump found out along with the public when it was announced on Tuesday, three of the people said.
That created fresh point of potential tension between Trump and Barr, who has publicly criticized Trump's tweets about criminal cases DOJ is pursuing and has privately told associates he may quit. The president is considering his options to respond to the Justice Department's non-prosecution decision on McCabe, but it isn't clear he can do anything, the people said. He is aware he should proceed delicately, given Barr's position, they said. Read more from Jennifer Jacobs and Chris Strohm.
California Sues Trump Over Water Plans: California is fighting back against the president and his administration's plans to change how water is distributed in the Golden State. Attorney General Xavier Becerra yesterday filed a lawsuit in U.S. District Court of Northern California saying that the Bureau of Reclamation adopted management plans that are inadequate and don't protect imperiled species like salmon, smelt, and sturgeon. Emily C. Dooley has more.
What to Watch Next Week in Congress
Anti-Vaping Bills Teed Up for House Action: A pair of bills meant to curb youth use of vaping devices, including one to tax e-cigarettes the same as traditional tobacco products, will be scheduled for a House floor vote as early as next week, two people briefed on the plans said. The legislation has divided Democrats over the inclusion of a ban on menthol cigarettes. House leaders are working to bring the legislation to the House floor soon, according to a senior Democratic aide.
The measures (H.R. 2339, H.R. 4742) are likely to be combined into a joint package that together would assess on tobacco alternatives an excise tax equivalent to the $1.01 federal levy per pack. The package also would ban some popular flavored tobacco products, such as mint and menthol, according to an industry representative briefed on the plan. It would also require graphic health warnings on cigarette packs and advertising as well as other measures meant to reduce use of traditional cigarettes. Read more from Alex Ruoff.
Abortion Bills Teed Up: The Senate has teed up procedural votes on two abortion-related bills. One ( S. 3275) would ban abortion beginning at 20 weeks, except for rape or incest or to save the mother's life. Medical professionals who violate the ban could be fined and imprisoned for as long as five years. Women couldn't be prosecuted for having an abortion in violation of the ban. For more, see the BGOV Bill Summary by Danielle Parnass.
The other measure (S. 311) would require doctors to provide medical care to a child that survives an abortion procedure. They could be criminally charged and subject to civil liability if they don't. The bill would also bar the prosecution of a woman who underwent the procedure. Parnass has more in the BGOV Bill Summary.
Anti-Lynching Legislation Vote: House Majority Leader Steny Hoyer (D-Md.) announced the chamber will vote Feb. 26 on H.R. 35, a measure introduced by Rep. Bobby Rush (D-Ill.) to designate lynching as a hate crime under federal law. "This legislation is long overdue, but it is never too late to do the right thing and address these gruesome, racially motivated acts of terror that have plagued our nation's history," Hoyer said in a statement yesterday.
To contact the reporter on this story: Brandon Lee in Washington at blee@bgov.com
To contact the editors responsible for this story: Giuseppe Macri at gmacri@bgov.com; Loren Duggan at lduggan@bgov.com