What to Know in Washington: NDAA Sparks GOP Culture War Clash
Bloomberg Government subscribers get the stories like this first. Act now and gain unlimited access to everything you need to know. Learn more.
The House is slated for final passage of the annual defense authorization bill today after a small group of GOP hardliners won on a slew of "culture war" amendments that would essentially ban the Pentagon's abortion travel and leave policies, transgender troop care, and curtail diversity efforts at the Defense Department.
The culture war fights imperil GOP lawmakers from New York and other competitive regions and once again thrust Speaker Kevin McCarthy (R-Calif.) into a political storm as the House considers legislation setting Pentagon policy and prescribing military spending levels for the next year.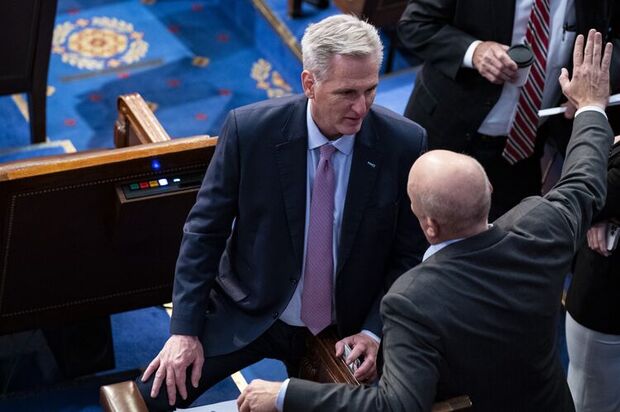 The fractures over the $866 billion National Defense Authorization Act provide fresh warning of turmoil ahead in the struggle to fund the government before a shutdown that could come as soon as Oct. 1.
Rep. Jim McGovern (D-Mass.) complained the bill is being blown up "because of a fringe group in the Republican conference that can't get enough in terms of their extremist agenda."
As of Thursday, McCarthy and his top lieutenants were still unsure how much Republican support they could count on for the legislation and how much they would need to rely on Democrats, according to one lawmaker involved in their closed-door conversations who insisted on anonymity to describe the deliberations.
Some of these votes could jeopardize swing-district lawmakers, particularly those in districts President Joe Biden won in 2020. Democrats in some areas already have been seeking ads and billboards to define them as less independent, and more extreme, out of step with their districts. Erik Wasson and Billy House lay out the points of contention.
On abortion, the House Thursday approved a provision by a mostly party-line vote of 221-213, which all but one House Democrat opposed, to put an end to the Pentagon's policy offering military members and their families time off and travel allowances to seek an abortion or other reproductive care, Roxana Tiron reports.
The House defeated conservative Republicans' effort to cut off security assistance to Ukraine, cementing a wall of support across both political parties for Ukraine's fight against Russia's invasion. The votes on the Ukraine amendments became a test for congressional support as isolationist members of the GOP ratcheted up calls to reduce or end aid to Kyiv. Tiron has more.
House Democratic Leader Hakeem Jeffries, Democratic Whip Katherine Clark, and Caucus Chair Pete Aguilar all say that they will oppose the NDAA, Janine Phakdeetham reports. In a joint statement, they said that Republicans "have turned what should be a meaningful investment in our men and women in uniform into an extreme and reckless legislative joyride."
BIDEN'S AGENDA
The president and first lady will depart the White House and travel to Camp David around 1:30 p.m.
CONGRESS' SCHEDULE
The House resumes work on the annual defense policy bill.
Senators are out and reconvene next Tuesday.
Spending Bills & More from the Hill
House Republicans approved on a party-line vote a funding bill that proposes deep cuts to agencies including the IRS and delves into laws specific to Washington, D.C.
Meanwhile, the IRS is taking "swift and aggressive action" to strengthen enforcement efforts against high-income individuals as it starts to use the funding it received in the tax-and-climate law, IRS Commissioner Danny Werfel said. Read more.
The Supreme Court would get more money for security under bipartisan legislation approved by a Senate committee that would also boost funding for the judiciary.
The sound and fury directed at ESG by some Republicans is overshadowing movement within the wider party toward a more moderate stance on environmental and social issues, according to analysts at Jefferies.
Patient advocacy groups launched a campaign Thursday pushing Senate leaders to advance and pass a slate of bills aimed at lowering prescription drug costs ahead of Congress' August recess.
Rail regulation is the latest flashpoint in the clash between corporate-friendly Republicans and populist upstarts fighting over the future of the party.
Latinos are making significant gains in landing jobs in Senate Democratic offices, underscoring the increased emphasis on diversity on Capitol Hill where minorities have traditionally lagged in holding key policy positions.
The Equal Rights Amendment is getting a renewed push from Democrats in Congress, as members introduce a new resolution calling for its publication as part of the Constitution.
White House is asking Sens. Kyrsten Sinema (I-Ariz.) and Joe Manchin (D-W.Va.) to reconsider their positions on Acting Secretary of Labor Julie Su's nomination.
Influence, Probes and 2024
The Biden administration announced today that it would forgive $39 billion in student debt for 804,000 borrowers, CNBC reports.
The Biden administration is staying the course on its China-engagement strategy despite reported anomalous activity at Microsoft that the tech firm later blamed on China-based hackers.
The regular emails from Hailey Borden and Jason Rogers to lobbyists and conservative activists offer a trove of legislative intelligence, but it's the references to hot sauce and "Groundhog Day" jokes that really set these House aides apart.
Biden will finally reveal how much money he's raised for his reelection bid, ending the suspense of supporters concerned that his campaign has raised less than expected. The FEC reports due Saturday for the second quarter of 2023 will also show which Republicans are mounting a serious challenge to Donald Trump.
Additionally, Trump provided more details on his sprawling financial empire, including his crypto wallet, speaking fees, income from the sale of his Washington, D.C., hotel in a revised financial disclosure form. Read more.
Prosecutors rejected Trump's attempt to delay a trial over his handling of classified records until after the 2024 presidential election, saying it flies in the face of federal standards requiring "speedy" trials.
Jared Kushner testified before a federal grand jury in Washington last month regarding Trump's efforts to overturn the 2020 election, the New York Times reports.
The FTC lost its request for a California judge to temporarily block Microsoft from closing its $69 billion takeover of Activision Blizzard while the agency appeals her ruling greenlighting the deal.
The FTC has also opened an investigation into OpenAI questioning whether ChatGPT puts consumers' reputations and data at risk. Read more.
What Else We're Reading
The Biden administration gave its most detailed vision yet for improving the nation's digital security, issuing an implementation plan Thursday that builds out the National Cybersecurity Strategy released in March.
The Biden administration will feed $20 billion in funding for a national clean energy lending network, which is set to bolster private-sector development of climate-friendly projects and technology.
Businesses are scaling back pre-employment cannabis testing as a condition of employment in the wake of increased legalization of marijuana, shifting societal attitudes, and efforts to build a more diverse applicant pool.
North Korea's newest long-range missile increases the chances it could deliver a strike to the US mainland, giving Kim Jong Un more leverage in his dealings with the Biden administration.
India launched an uncrewed mission to the lunar surface, joining the US, China and others in a new moon race.
To contact the reporters on this story: Brandon Lee in Washington at blee@bgov.com; Giuseppe Macri in Washington at gmacri@bgov.com
To contact the editor responsible for this story: Kayla Sharpe at ksharpe@bloombergindustry.com
Stay informed with more news like this – from the largest team of reporters on Capitol Hill – subscribe to Bloomberg Government today. Learn more.