What to Know in Washington: Mnuchin Rejects USPS Review Claims
Treasury Secretary Steven Mnuchin denied meddling in U.S. Postal Service operations to aid President Donald Trump, saying he has focused on fixing its deteriorating finances.
Mnuchin said in an interview his financial review of the USPS was not used to illegally punish Amazon or interfere with the presidential election, as alleged by Democrats and a former postal overseer.
"Making the comment that we were asking for things that were illegal — I find that a bit ridiculous," he said yesterday in a telephone interview with Saleha Mohsin.
Mnuchin's review has come under scrutiny after Postmaster General Louis DeJoy enacted changes to the service's operations this summer that led to nationwide delivery delays. Democrats say DeJoy, a major donor to the 2016 Trump campaign, was seeking to sabotage the Postal Service to hurt vote-by-mail, which Trump has claimed, without evidence, will lead to a fraudulent election outcome.
David C. Williams, vice chairman of the board of governors until he stepped down in April, told lawmakers last month that Mnuchin made illegal demands of the postal service. He said Trump sought to turn the service into a "political tool" that could be used to punish Amazon by raising shipping prices, and that Mnuchin led the effort.
Williams said Mnuchin meddled in Postal Service operations by asking for details of contracts with its largest customers, such as Amazon, United Parcel Service and FedEx.
"We asked for copies of contracts because that's what's typical of any lender," Mnuchin said, drawing on his experience starting a hedge fund, financing Hollywood films and running a California mortgage lender.
Trump has frequently complained that the Postal Service is losing money on Amazon's so-called last-mile deliveries — even though the agency has repeatedly said that's not the case. Mnuchin, in the interview, declined to comment on whether the Amazon deal is profitable. Its contract with the USPS is confidential. Read more.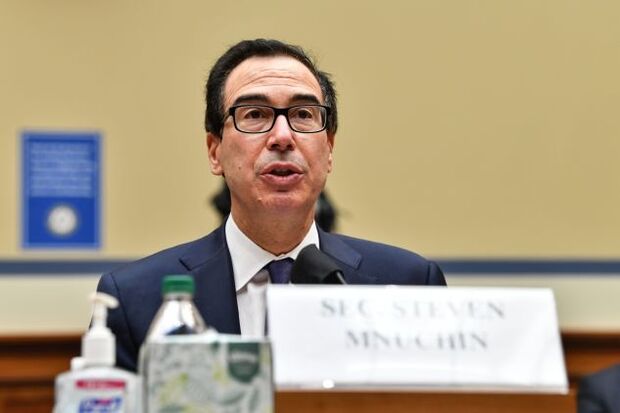 Election Mail Slowed Before DeJoy: On-time delivery of election and political mail dropped earlier this year, even before operational changes ordered by a new postmaster general caused an uproar this summer, the USPS's Office of the Inspector General said. The delivery of ballots, voter registration material and campaign mail on time was about 94.5% from April through June, a decrease of 1.7 percentage points when compared to the same period in 2018, the inspector general said in a report distributed yesterday. Read more from Todd Shields.
What to Watch Today
Congress: The House and Senate are not in session.
White House: Trump is scheduled to speak at at 2 p.m.in Wilmington, N.C., designating the city as the first American World War II Heritage City.
Happening on the Hill
Mnuchin Talks With Pelosi, Signals Stimulus Urgency: Mnuchin said the U.S. economy urgently needs additional fiscal stimulus to fully rebound from the Covid-19 crisis, and he initiated a conversation with Speaker Nancy Pelosi (D-Calif.) amid stalled negotiations on a relief package. Although the U.S. is recovering from government-imposed shutdowns and jobs are returning, Mnuchin said parts of the economy still need additional support. But he stopped short of offering a fresh proposal to get Democrats back to negotiations.
Following yesterday's House Select Subcommittee on the Coronavirus Crisis hearing, Mnuchin called Pelosi, according to a person familiar with the matter. The person gave no detail about the conversation or how long it lasted. There have been no negotiations since the last round broke up almost a month ago. Read more from Saleha Mohsin and Erik Wasson.
Meanwhile, The Federal Reserve has snapped up $1 trillion of mortgage bonds since March, a record pace of purchasing, as the U.S. central bank tries to blunt the impact of the Covid-19 recession on American homeowners. The Fed now owns almost a third of bonds backed by home loans in the U.S. Read more from Christopher Maloney.
Lawmakers Want to Curb Reliance on China for Rare Earths: Reps. Lance Gooden (R-Texas) and Vicente Gonzalez (D-Texas) introduced a bipartisan bill aimed at reducing dependence on China for rare earths used in everything from electric vehicles to missiles to wind turbines. Sen. Ted Cruz (R-Texas) introduced similar legislation in May. Read more from Joe Deaux.
Elections & Politics
Biden to Contrast Trump's Push to Reopen: Democratic nominee Joe Biden today will outline his proposal to reopen schools safely as he assails Trump for pushing students and teachers to return to classrooms despite the threat from the coronavirus. Biden and his wife, Jill Biden, a longtime teacher, will receive a briefing from health experts this morning before he delivers remarks in Wilmington, Del. He plans to contrast his proposal for a gradual reopening that follows public health guidelines with Trump's demand for resuming in-person classes quickly as a new school year begins.
"We believe this is a key contrast for voters," Symone Sanders, a senior adviser to the Biden campaign, said on a call with reporters Tuesday evening. "President Trump, who continues to ignore the science and has no plan to get the virus under control, and Joe Biden, who was working with the experts and putting together an aggressive plan to beat the virus and reopen schools safely." Read more from Tyler Pager.
Biden Leads Trump 49-41 in National Poll: Biden leads Trump by eight percentage points in the latest Grinnell College national poll. Biden registered 49% support, compared to 41% for Trump in the poll, which was released today. The survey also showed Biden with strong support among women, especially suburban women, among whom he posted almost a two-to-one margin. Biden also did well with non-white voters and those who live in large metropolitan areas. Read more from Ryan Teague Beckwith.
Ocasio-Cortez Backed Markey Beats Pelosi-Pick Kennedy: Sen. Ed Markey defeated Rep. Joe Kennedy in the hotly contested Massachusetts Democratic Senate primary. It's a come-from-behind win for Markey, who trailed Kennedy after the 39-year-old grandson of Robert F. Kennedy Jr. announced his challenge in the fall of 2019. But Markey campaigned aggressively as a liberal insurgent, out-raised his opponent. and won a raft of endorsements, including from outspoken progressive Rep. Alexandria Ocasio-Cortez (D-N.Y.). Read more from Laura Litvan and Billy House.
Top Tax-Code Writer in House Survives Challenge: House Ways and Means Chairman Richard Neal fended off a challenger backed by a progressive coalition, led by Ocasio-Cortez, to win in the Massachusetts Democratic primary. The head of the tax-code writing committee since 2019 defeated Holyoke Mayor Alex Morse to run for re-election in November in the solidly Democratic 1st Congressional District in the central and western portion of the state, with no Republican opponent. Read more from Billy House.
Women-Led PACs to Spend $10M Blunting Harris Attacks: Four political groups led by women are joining forces for a digital campaign in key battleground states to support Democratic vice presidential nominee Sen. Kamala Harris (D-Calif.) and counter any attacks that they consider racist or sexist. Democratic super PAC PACRONYM, BlackPAC, Planned Parenthood Votes and WOMEN VOTE!, which is affiliated with EMILY's List, plan to spend $10 million on digital advertising and messaging in key battleground states including Michigan and Arizona, the groups told Bloomberg News. Read more from Misyrlena Egkolfopoulou.
Pence Insists Trump Is Healthy as 2019 Hospital Stop Scrutinized: Vice President Mike Pence insisted that Trump is in good health and said he had no recollection of being asked to be ready to stand in when his boss visited Walter Reed National Military Medical Center in November 2019. Pence, in an interview with Fox News, was responding to a question about reports of an account in a forthcoming book by the New York Times reporter Michael Schmidt that the vice president was told to be prepared to temporarily assume Trump's duties if he were put under anesthesia. Read more from Justin Sink and Jordan Fabian.
The Coronavirus Pandemic
Covid Flares in New U.S. Hot Spots: New Covid-19 case counts are declining in some recent hot spots. But they're spiking in places like Iowa and South Dakota, signaling what may be a new phase in the country's virus fight as progress in one state is repeatedly offset by infections in others, with little improvement overall. Politics plays a role, as do events like college reopenings and the Sturgis motorcycle rally. But it's also a sign of fatigue, the frustration and exhaustion Americans feel after months of masks and hand sanitizer, social isolation, shuttered businesses and closed beaches. People are putting their guard down, experts agree, leaving room for the virus to continue spreading as the country seeks to reopen the economy. Read more from Olivia Raimonde, David R. Baker and Shruti Date Singh.
Vaccine Front-Runner Held Back: One of the world's fastest-moving efforts to develop a Covid-19 vaccine is falling behind rivals, its advance appearing to be stymied by political tensions between China and Canada and concerns its shot may not work as well as others. CanSino Biologics, the Chinese company which in March started the world's first human tests on an experimental coronavirus shot, has yet to start administering shots in critical final-stage trials on the vaccine it developed with the Chinese military. Meanwhile, rivals like U.S.-based Moderna and Britain's AstraZeneca as well as China's Sinovac Biotech and Sinopharm are well into this last phase of testing, giving test inoculations to thousands of people to find out if they work. Read more.
White House Won't Be Involved in WHO-Related Covid Efforts: The White House in a statement yesterday said the U.S. won't "be constrained" by the virus efforts of the World Health Organization, which is co-leading a plan to set up a program called the Covid-19 Vaccines Global Access Facility (Covax), aimed at distributing successful vaccines equitably around the world. "The United States will continue to engage our international partners to ensure we defeat this virus, but we will not be constrained by multilateral organizations influenced by the corrupt World Health Organization and China," White House spokesman Judd Deere said in a statement, Jordan Fabian reports.
Trump Claims China Had More Deaths Than Reported: Trump asserted that thousands more people have died from the coronavirus in China than the Beijing government has acknowledged, without citing any evidence. "They lost tens of thousands of people," Trump said in an interview with Fox News's Laura Ingraham that was broadcast last night. "They lost more than any other country, they just don't report it." China has reported 4,724 deaths, according to Johns Hopkins University — far fewer than the 184,644 deaths in the U.S., which has the highest number in the world. Read more from Jordan Fabian.
Assisted Living Facilities Eligible for Federal Virus Help: Assisted living facilities that may have been previously ineligible to apply for pandemic relief under the federal Provider Relief Fund Phase 2 General Distribution allocation will now be able to do so, the Trump administration announced yesterday. The financial assistance, which will help minimize hardships associated with the Covid-19 outbreak, was made possible through the CARES Act and the Paycheck Protection Program and Health Care Enhancement Act. Read more from Tony Pugh.
FEMA Said to Shift Protective Gear Costs Onto States: National educator groups are warning that plans by the Federal Emergency Management Agency to change reimbursement for personal protective equipment would shift costs onto state and local governments when they can least afford it. The groups said yesterday that changes planned at FEMA would drop protective gear and disinfectants as reimbursable expenses for state governments, and only cover costs tied to responding to the pandemic, instead of those tied to reopening campuses. Read more from Andrew Kreighbaum.
Covid Effort Against Governors Continues: More campaigns to recall governors over their Covid-19 health orders have fizzled and a new one is underway. The latest effort is in Wisconsin, where a resident has filed paperwork to initiate a recall campaign against Gov. Tony Evers (D) because of "unconstitutional mandates and lockdowns" in the effort to slow the coronavirus. The campaign would need to gather more than nearly 700,000 signatures to force the issue onto voter ballots. In Oregon, the state Republican Party issued a statement saying that as of Monday's deadline, it was roughly 2,000 signatures short of forcing a recall election against Gov. Kate Brown (D). Organizers of recall campaigns in Michigan, Idaho, and Arizona all failed to hand in any signatures. Read more from Alex Ebert.
Unions Slam 'Chaotic' Payroll Tax Deferral: Unions representing federal workers are bashing the administration's decision to force government employees to participate in the president's payroll tax deferral. The Trump administration—in an attempt to provide a financial boost to individuals who have been impacted by the coronavirus pandemic—is allowing employers to temporarily pause collection of a tax normally taken out of employees' paychecks to fund Social Security. The executive order went into effect yesterday. Read more from Allyson Versprille, Louis C. LaBrecque and Stephen Lee.
Defense & Foreign Affairs
Trump Suspends Aid to Ethiopia: The U.S. suspended aid to Ethiopia over its decision to fill a hydropower dam on a tributary of the Nile River without reaching an agreement with Egypt and Sudan on how the reservoir will be managed. The Trump administration is increasingly concerned about the lack of progress on trilateral negotiations, according to a State Department official who isn't authorized to speak publicly about the matter and asked not to be identified. The U.S. government is working with the three countries to facilitate an agreement that balances their interests, the official said. Read more from Samuel Gebre.
UN Official Won't Remove US Iran Plan Hurdle: The new president of the United Nations Security Council declined yesterday to remove a hurdle blocking the Trump administration's effort to restore international sanctions on Iran and effectively kill off what's left of the 2015 nuclear deal—in the latest sign of broad international opposition to the U.S. effort. Read more from David Wainer.
Turkey Criticizes US Arms Embargo Decision: Turkey yesterday accused the U.S. of violating the spirit of the alliance between the two countries by lifting an arms embargo on Cyprus amid a showdown over energy resources in the Mediterranean Sea. Secretary of State Michael Pompeo announced the decision in a Twitter post yesterday, calling the Republic of Cyprus a key partner in the east Mediterranean. Read more from Selcan Hacaoglu and Sotiris Nikas.
Border Patrol Barred From 'Credible Fear' Asylum Calls: Families seeking asylum in the U.S. based on fears of kidnapping, rape, torture, and murder convinced a D.C. federal judge to grant an injunction keeping U.S. Customs and Border Protection's agents from continuing to make determinations based on "credible fear interviews." A Jan. 30, 2020, memorandum of agreement gave agents from the CBP the authority to make determinations about whether asylum seekers had a "credible fear of persecution" based on interviews, giving them more power to make conclusions about threshold asylum eligibility in the field. The Trump administration effort was repeatedly criticized by the union representing asylum officers, who are traditionally trained to make the decisions. Read more from David McAfee.
What Else to Know Today
DHS Announces New Plan to Expand Biometrics: The Department of Homeland Security plans to expand the types of biometric data it collects, including voice, iris, and facial recognition technologies and DNA to confirm familial ties. According to DHS, the proposed rule would expand department authorities and methods for collecting biometrics, and would establish a defined regulatory purpose for biometrics. Read more from Genevieve Douglas.
Contaminated Drugs Prompt FDA Audit Request: Drug companies should audit their ingredient supply chains and manufacturing processes to protect consumers from potentially cancer-causing agents, the FDA said yesterday after investigating several types of popular medicines that contained carcinogens. Read more from Jacquie Lee.
Treasury May Fix Expense Allocation for Foreign Tax Credit: Treasury could soon release foreign tax credit rules that address expense allocation issues hitting companies that undertake certain kinds of offshore spending. Read more from Siri Bulusu.
Racial Equality Advocates Embrace Win in California SAT Lawsuit: A ruling in California state court over the use of college entrance exams by one of the country's largest university systems has advocates optimistic that new procedures represent a key turning point for racial equity in higher education. Read more from Maeve Allsup.
Justice Environment Chief to Lead Civil Division: The head of the Justice Department's environmental team will helm the agency's Civil Division starting next week. Assistant Attorney General Jeffrey Bossert Clark of the Environment and Natural Resources Division will replace Acting Assistant Attorney General Ethan P. Davis of the Civil Division. Davis is leaving the department Sept. 7, the department announced yesterday. Read more from Ellen Gilmer.
DC Proposal for Monuments Sparks Trump Backlash: A panel reporting to D.C. Mayor Muriel Bowser (D) recommended renaming, removing or otherwise contextualizing dozens of public schools, parks and government buildings in the nation's capital—including the Washington Monument and Jefferson Memorial—after studying the historical namesakes' connections to slavery and oppression, the Washington Post reported.
Only some of those things are under D.C.'s control, as federal monuments, buildings and statues would require acts of Congress to rename. In practice, the proposal could result in city assets like Woodrow Wilson High School's name being changed, while others might get a plaque added to talk about slavery. The White House issued a statement flatly rejecting what they said were "ludicrous" recommendations. Read more from Bloomberg News.
To contact the reporters on this story: Zachary Sherwood in Washington at zsherwood@bgov.com; Michaela Ross in Washington at mross@bgov.com
To contact the editors responsible for this story: Giuseppe Macri at gmacri@bgov.com; Loren Duggan at lduggan@bgov.com