What to Know in Washington: Minority Business Contracts Boosted
President Joe Biden today plans to announce steps to increase the number of federal contracts awarded to small, disadvantaged businesses, one of several measures designed to address a racial-wealth gap.
Biden aims to increase spending with those businesses by 50%, or an additional $100 billion in contracts over five years, according to an administration official who spoke on condition of anonymity. Many businesses classified as small and disadvantaged are owned by people of color.
Biden will discuss the new programs — which also include a home-appraisal initiative — during a visit to Tulsa, Okla., to mark the 100-year anniversary of a race massacre that wiped out one of the nation's most prosperous Black neighborhoods.
Biden vowed to "root out systemic racism" in a statement yesterday to mark the 100th anniversary of the Tulsa race massacre, Jenny Leonard reports. The massacre took place on May 31 and June 1, 1921, when a White mob destroyed Tulsa's Greenwood district, known as "Black Wall Street" for its abundance of Black-owned businesses. An unknown number of people were killed, with estimates ranging from 50 to 300.
Biden will tour the Greenwood Cultural Center today at 1:45 p.m., along with Housing and Urban Development Secretary Marcia Fudge, Domestic Policy Adviser Susan Rice, and senior adviser Cedric Richmond. Biden will speak at 3:15 p.m.
The federal contracting changes will help reduce U.S. wealth inequality, the official said, which has left White people more prosperous than people of color. The U.S. government is the largest consumer of goods, but only about 10% of federal agency dollars go to small, disadvantaged businesses, the official said. Read more from Mario Parker.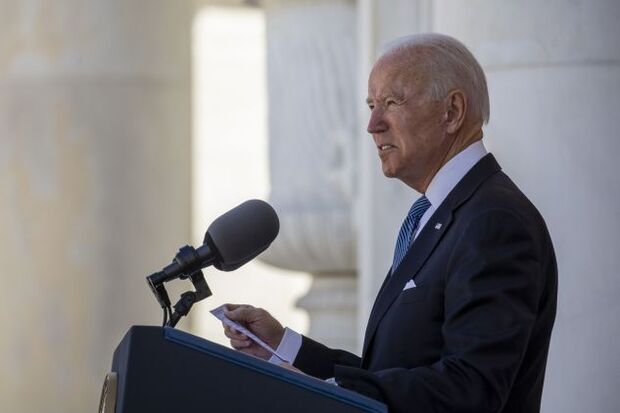 Elections & Politics
Pelosi's Majority Likely to Grow With New Mexico Vote: A House special election today in New Mexico is likely to add a Democrat to Speaker Nancy Pelosi's (D-Calif.) slim House majority. State Rep. Melanie Stansbury is favored to defeat Republican state Sen. Mark Moores in the Albuquerque-based 1st District. Former Rep. Deb Haaland vacated her seat in the Democratic-leaning area in March to become Biden's Interior secretary. Stansbury's election would give Pelosi a 220th vote in the Democratic Caucus and fill one of five vacant seats — three of them most recently held by Democrats. Read more from Greg Giroux.
Presidential Panel on Capitol Riot Sought: A Democratic lawmaker called for a presidential commission to investigate the Jan. 6 storming of the U.S. Capitol after Senate Republicans blocked legislation mandating the inquiry. The suggestion raised by Rep. Gerry Connolly (D-Va.) would in effect take the matter out of Congress, bypassing Republican opposition. The GOP prevented the Senate from taking up the bill Friday through a filibuster, the first since Biden took office. Read more from Miles Weiss.
Texas Vote Restrictions Thwarted: Texas Democrats killed a restrictive voting bill Sunday by leaving the House floor right before the deadline for legislation to automatically expire. Gov. Greg Abbott (R) said there will be a special session, to revive the election bill and other legislation. "Legislators will be expected to have worked out the details when they arrive at the Capitol for the special session," he said in a tweet. Read more from Paul Stinson.
Around the Administration
Biden Targets Racial, Social Inequities: Biden's $6 trillion budget request proposes record spending to reduce historical disparities in underserved communities, following his campaign pledge to promote racial equity as an inseparable part of rebuilding the economy. In the 1,740 pages of proposals he sent to Capitol Hill on Friday, Biden attempted to make good on campaign promises on climate, infrastructure, education and the social safety net.
Across all of those areas was a particular attention to economic and social disparities along racial and ethnic lines. Biden's emphasis was evident in nearly every line item of the infrastructure portions of the budget as well as others. Highway construction programs would recognize — and attempt to repair — the way previous projects often divided minority communities. Clean-water infrastructure would replace the lead pipes that poison older neighborhoods. Research and development grants would have a set-aside for historically Black colleges and universities. Read more from Gregory Korte and Jacqueline Gu.
Buttigieg Says Time Running Out for Deal: Transportation Secretary Pete Buttigieg suggested time is running out for Republicans to reach a deal with the Biden administration on infrastructure spending before Democrats go it alone. "The president keeps saying inaction is not an option. And time is not unlimited here," Buttigieg said on CNN's "State of the Union," one of three appearances on Sunday talk shows. Read more from John Tozzi and Yueqi Yang.
Democrats Push for Gun Violence Funds: Democrats aim to double the federal government's portfolio of firearm violence research next year and get that research into the hands of key policymakers. The fiscal 2022 budget Biden proposed to Congress Friday would increase to $50 million federal funds going to firearm violence research each year. That spending target matches what congressional Democrats pushed for in fiscal 2021, but it was cut to $25 million in the final agreement with Republicans. Democrats say the increase should be coupled with a direction to the National Institutes of Health and the Centers for Disease Control and Prevention that this research must be aimed at improving anti-violence programs and helping policymakers reduce gun crimes — not simply circulated among academics. Read more from Alex Ruoff.
Limits of Woodcock's Role Highlight Need for Permanent FDA Head: Acting FDA Commissioner Janet Woodcock is a big proponent of modernizing the clinical trial system, but focusing on such a long-term project will be difficult without a permanent spot as agency leader, FDA advocates say. There's a 210-day statutory limit for how long an acting commissioner can work in a Senate-confirmed role. That means the 35-year veteran could only remain in her role until mid-to-late August unless Biden nominates her or someone else to the spot beforehand, according to the nonprofit Alliance for a Stronger FDA. Read more from Jacquie Lee and Jeannie Baumann.
Find Covid Origin or Face Another Pandemic, U.S. Experts Warn: The world needs the cooperation of the Chinese government to trace the origins of Covid-19 and prevent future pandemic threats, two leading U.S. disease experts said Sunday. Information to support the theory that the SARS-CoV-2 virus may have escaped from a lab in Wuhan, China, has increased, said Scott Gottlieb, a commissioner of the Food and Drug Administration in the Trump administration who now sits on the board of Pfizer. China hasn't provided evidence to disprove that theory, while the search for signs that the virus emerged from wildlife hasn't yielded results, Gottlieb said on CBS News's "Face the Nation." Read more from John Tozzi.
Defense & Foreign Affairs
Iran Wants Nuclear Deal by August: Iran said it hopes it can revive the nuclear deal with world powers by August, when President Hassan Rouhani's administration ends, and reach an agreement with the U.S. that would ease sanctions on its economy and oil exports. Ali Rabiei, spokesman for Iran's government, said there were "no obstacles" in the way of negotiators in Vienna who are in their eighth week of talks to restore the beleaguered 2015 accord. Trump abandoned the deal three years ago and reimposed a raft of penalties on Iran, prompting it to roll back its own compliance with enrichment and other curbs. Read more from Arsalan Shahla and Patrick Sykes.
Biden to Tell Putin U.S. Won't 'Stand By' on Human Rights: Biden said the U.S. will stand up for human rights and pledged to raise the matter during his meeting with Russian President Vladimir Putin next month. "I'll be meeting with President Putin in a couple of weeks in Geneva, making it clear that we will not, we will not stand by and let him abuse those rights," Biden said Sunday during remarks in Delaware. Read more from Jenny Leonard.
Macron Demands to Know If U.S. Is Spying on EU: French President Emmanuel Macron urged the U.S. to clarify media reports that American intelligence monitored German Chancellor Angela Merkel and other European politicians with the help of Denmark. "If the information is correct, then that's unacceptable between allies, and even less so between European allies," Macron told reporters after a bilateral meeting with Merkel. "We expect complete openness and a clarification of the facts from our Danish and American partners." Read more from Samy Adghirni.
U.S. Announces Sanctions on Belarus Over Journalist's Detention: The Biden administration announced it would re-impose sanctions against nine Belarusian state-owned enterprises and is developing additional penalties to target officials in the administration of President Alexander Lukashenko over the forced landing of a Ryanair jetliner and the arrest of a dissident journalist. Read more from Justin Sink.
Turkey to Send Russian Missile Experts Home in Signal to Biden: Turkey said it will send home Russian missile experts overseeing the S-400 air defense technology that has strained ties with the United States, addressing one of Washington's concerns with the system while ruling out scrapping it altogether. The remarks, which come ahead of a planned meeting between Turkish President Recep Tayyip Erdogan and Biden on the sidelines of a NATO summit in Brussels mid-June, signal Ankara's readiness to compromise on one element of U.S. concerns. Read more from Selcan Hacaoglu.
To contact the reporters on this story: Zachary Sherwood in Washington at zsherwood@bgov.com; Giuseppe Macri in Washington at gmacri@bgov.com
To contact the editors responsible for this story: Loren Duggan at lduggan@bgov.com; Michaela Ross at mross@bgov.com