What to Know in Washington: Minimum Wage Push Faces Roadblocks
Bloomberg Government subscribers get the stories like this first. Act now and gain unlimited access to everything you need to know. Learn more.
Sen. Bernie Sanders is prioritizing a bill that would raise the federal minimum wage to $17 per hour, but he's running into roadblocks inside and outside of the Democratic caucus highlighting the gap lawmakers have struggled to bridge to raise the benchmark over the past decade.
The Health, Education, Labor, and Pensions Committee chair announced his intentions in May with a planned markup on June 14, but seven weeks later the panel passed a slate of Democratic priorities for labor legislation, including an overhaul to laws governing unionization, but not Sanders' (I-Vt.) minimum wage bill.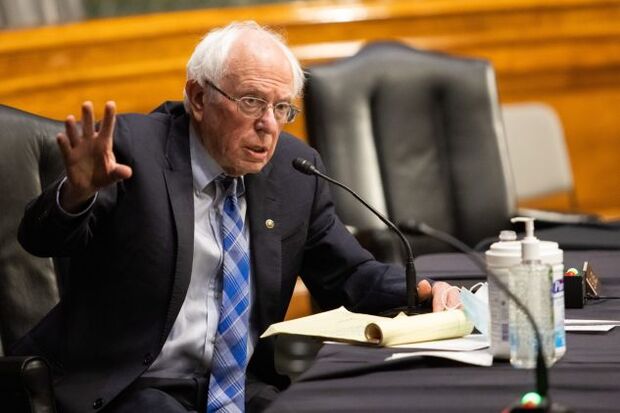 "You can't do everything every day," Sanders said when asked why the bill wasn't included in the mix. "We are going to deal with minimum wage."
The challenge to clear the legislation in the committee, never mind the full Senate and a Republican-controlled House, shows the difficulty Congress has faced for over a decade to raise the federal minimum wage above $7.25. While there is overwhelming popular consensus that the figure is too low in today's economy, progressives' reluctance to settle for a number lower than $15 and conservatives' unwillingness to go that high has kept low-wage workers in 20 states without a pay raise since 2010.
In the absence of federal action, states have updated minimum pay requirements across the US. Thirty states currently have a base wage higher than the federal rate, and several have raised it above $15 per hour. But the reluctance by many states, particularly in the South, to raise their minimum wages above the federal mark is part of the argument by advocates to set a higher rate at the national level.
Another issue lawmakers are considering when discussing the federal minimum wage is the subminimum tipped wage, which allows employers to pay tipped workers a lower rate unless they perform non-tipped work for at least 20% of their hours a week, or for more than 30 minutes straight.
The floor for tipped workers is a top issue for some senators in the Democratic caucus, particularly those from New England, who aren't in favor of its elimination. Sanders' previous proposal to establish a $15 minimum wage for all workers would have eliminated the lower rate, currently at $2.13 for tipped workers.
The absence of the minimum wage bill in the June markup session for other labor priorities didn't surprise some advocates, who theorized it may have been due to the ongoing discussions over the tipped wage.
A major challenge facing Sanders in his pursuit to bump up minimum pay is whether he has the full support of Senate Democrats. Eight senators who caucus with Democrats, including Sen. Maggie Hassan (N.H.) who sits on the HELP committee, voted against a $15 minimum wage bill's inclusion in the 2021 Covid-19 rescue package, and there isn't enough Republican support for the latest effort to reach the 60-vote threshold needed to pass most legislation in the chamber.
Other senators who opposed the previous bill said they'd have to analyze Sanders' new proposal. Sen. Joe Manchin (D-W.Va.) said Sanders "knows" he wouldn't vote for a $17 minimum wage bill. Read the full story from Diego Areas Munhoz.
BIDEN'S AGENDA
At 3:30 p.m., President Joe Biden will deliver remarks on lowering costs for Americans.
Biden will depart the White House at 6 p.m. to travel to Rehoboth Beach, Delaware, where he will arrive at 7:15 p.m.
Press Secretary Karine Jean-Pierre and National Security Advisor Jake Sullivan will deliver a briefing at 1 p.m.
Eyes on China and Russia
Treasury Secretary Janet Yellen said during a meeting today with Chinese Premier Li Qiang that competition between the world's biggest economies is not a "winner-take-all" situation, and called for both sides to manage their rivalry with a fair set of rules.
The Biden administration called on China to do more to combat the spread of illicit synthetic drugs, weeks after Secretary of State Antony Blinken visited Beijing and pressed leaders to help confront the fentanyl crisis.
The US military accused Russia of using fighter jets and flares to repeatedly disrupt its drone missions in Syria, moves it says risk provoking an escalation of conflict in the war-torn country.
More News We're Reading
Biden will announce steps his administration is taking to help lower health care costs, including the targeting of so-called junk insurance plans and surprise medical bills. The administration will propose rules that would close loopholes on insurance plans that often provide reduced coverage, including undoing Trump administration rules on short-term policies.
The Biden administration said a court order barring some federal agencies and officials from communicating with social media companies is overbroad and "ambiguous," and asked a judge to pause it while the government appeals.
Defining conservation as a specific "use" of public lands is shaping up to be the primary point of legal opposition to a proposed federal lands rule that would prioritize conservation over fossil fuels extraction and allow public lands management to adapt to a changing climate.
A Department of Labor rule requiring restaurants to pay some tipped workers the full $7.25 minimum wage during their downtime has for the second time survived two restaurant groups' legal challenge, a win for the Biden administration.
Former President Donald Trump can be deposed in the lawsuit former FBI agent Peter Strzok has brought against the Justice Department, CNN reports, citing a federal judge's Thursday ruling.
To contact the reporters on this story: Brandon Lee in Washington at blee@bgov.com; Giuseppe Macri in Washington at gmacri@bgov.com
To contact the editor responsible for this story: Kayla Sharpe at ksharpe@bloombergindustry.com
Stay informed with more news like this – from the largest team of reporters on Capitol Hill – subscribe to Bloomberg Government today. Learn more.