What to Know in Washington: McGahn Ordered to Testify to House
Former White House Counsel Donald McGahn was ordered by a judge to appear before a congressional committee probing possible obstruction of justice by Donald Trump, a ruling that could deepen the president's political peril amid an impeachment inquiry launched by House Democrats.
Trump claims McGahn is covered by broad presidential immunity and ordered the lawyer to spurn the committee's subpoena in May, weeks after the release of Special Counsel Robert Mueller's report on Russian interference in the 2016 U.S. election. Lawmakers sought McGahn's testimony to help determine if Trump had tried to obstruct the Mueller probe.
The ruling yesterday by U.S. District Judge Ketanji Brown Jackson in Washington is likely to be used by Democrats seeking to compel other administration officials who have refused to testify in various probes, including impeachment, from Secretary of State Michael Pompeo to Acting White House Chief of Staff Mick Mulvaney.
Ultimately, an appeals court may decide whether Trump, who vowed in April that "we're fighting all the subpoenas" from Congress, can claim broad immunity for people who used to work for him. McGahn and other senior presidential advisers "do not have absolute immunity from compelled congressional process in the context of this particular subpoena dispute," Jackson said in her 120-page ruling. "Compulsory appearance by dint of a subpoena is a legal construct, not a political one, and per the Constitution, no one is above the law," the judge wrote.
Bill Burck, McGahn's attorney, said his client "will comply with Judge Jackson's decision unless it is stayed pending appeal." The DOJ will appeal the ruling and seek an immediate stay, department spokeswoman Kerri Kupec said. Read more from Andrew Harris.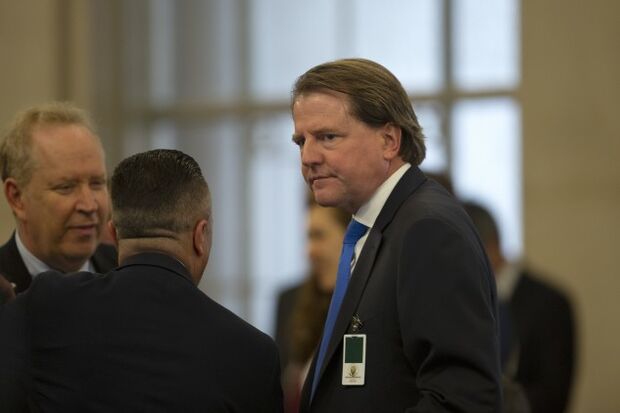 Trump's Financial Records: The Supreme Court signaled it will move quickly to decide whether Trump's financial records must be turned over to a House committee, telling the president to file an expedited appeal and ordering the files kept private in the meantime. The justices yesterday set up a briefing schedule that could let them decide by mid-December whether to take Trump's appeal in the case, which stems from a House subpoena to his accounting firm. If they accept the case, the justices could rule by the end of their term in late June. The court gave Trump until noon on Dec. 5 to file any appeal. Read more from Greg Stohr.
Giuliani Sought Ukraine Bank Role: Rudy Giuliani discussed representing a state-owned Ukrainian bank in a legal dispute over the summer even while publicly pressing Ukraine on behalf of the U.S. president. Though he ultimately did not take on the client, the talks expose his enthusiasm for foreign business and his willingness to insert himself in matters rife with potential conflicts. In fact, the Ukrainian bank is entangled in a legal dispute with its former owner who has ties to Ukraine's president and is the subject of a federal investigation in the U.S. Read more from Greg Farrell and Daryna Krasnolutska.
Ukraine's Prosecutions Could Cut Both Ways for Trump: Ukrainian President Volodymyr Zelenskiy faced months of U.S. pressure to drum up a very particular corruption investigation. Zelenskiy repeatedly responded vaguely, to the clear frustration of Trump's circle, that he is committed to investigating corruption. Zelenskiy's efforts to retool his country's law enforcement are now taking form, with Ukrainians watching whether the latest anti-corruption drive will fare better than the largely failed efforts over three decades. From Trump's vantage point, the moves may reinvigorate a line of investigation he's dearly sought, touching on Ukrainian natural gas company Burisma — while also spurring a look into areas he might prefer left unexplored. Read more from Daryna Krasnolutska and Stephanie Baker.
Elections, Politics & Policy
Bloomberg Cites 'Risk' of Trump Win: Former New York Mayor Michael Bloomberg said yesterday that he changed his mind and decided to make a late entry into the 2020 Democratic presidential race out of fears that the current field of candidates would lose to Trump. "I think that there is a greater risk of having Donald Trump re-elected than there was before, and in the end, I looked in the mirror and said, 'We just cannot let this happen,'" Bloomberg said in Norfolk, Va., in his first campaign stop after announcing his bid on Sunday.
Bloomberg also defended his decision to fund his campaign without seeking outside donors, despite criticism from other Democrats that the billionaire businessman is trying to "buy" the presidency. He has already spent record amounts on ads in key states. Read more from Mark Niquette. Bloomberg is the majority owner of Bloomberg Government's parent company.
Warren Has No Plans to Release Older Tax Files: Sen. Elizabeth Warren (D-Mass.) said yesterday that she has no plans to release her tax returns covering her work as a law professor and bankruptcy lawyer before she entered public service in 2008. She said she has disclosed 11 years of tax returns on her website, exceeding what she said was President Barack Obama's practice of making eight years of records available. The returns cover her work on the congressional oversight panel in charge of overseeing the bank bailout of 2008, her time setting up the Consumer Financial Protection Bureau in the Obama administration and her tenure as a senator, starting in 2013.
The records don't include her returns from work before 2008, when she was in the private sector while a law professor, in many cases representing large corporations. Read more from Misyrlena Egkolfopoulou.
Sanders Calls Out MLB: Sen. Bernie Sanders (I-Vt.) is crying foul over a proposal from owners of Major League Baseball franchises to close 42 Minor League teams in more than three dozen cities, a 25% cut that the Democratic presidential contender says would be "an absolute disaster for baseball fans." In a letter to Major League Baseball Commissioner Rob Manfred, Sanders urged a rethinking of the plan that he says would hurt lower-paid players and deprive families in small and mid-sized cities of a chance to partake of the sport at a time when major team owners are "making record-breaking profits." Read more from Laura Litvan.
No Democratic Challenger to Cotton: Sen. Tom Cotton (R-Ark.) won't have a Democratic challenger following the withdrawal of candidate Josh Mahony, the Democratic Party of Arkansas said in a statement yesterday. "The narrow legal window to replace Mr. Mahony as our nominee would require evidence that has not been provided to us publicly or privately," Michael Gray, chairman of Arkansas Democratic Party, said. Mahony withdrew his nomination on Nov. 12 citing family health concerns, Teaganne Finn reports.
South Carolina Sued Over Voter Information Requirement: South Carolina Democrats have sued the state over a requirement that voters must provide their full Social Security numbers to register. The South Carolina Democratic Party says in the lawsuit, filed yesterday in the U.S. District Court for the District of South Carolina, that the state's requirement is unconstitutional and suppresses voter turnout. Named in the litigation are state election commission members and officials. Read more from Andrew M. Ballard.
Defense & Foreign Affairs
Senators Promise Fast Work on Turkey Sanctions: Turkey's decision to move forward with deployment of a Russian-made air defense system has sparked new urgency in the the U.S. Senate to punish the NATO ally. Tests in Ankara this week of the S-400 anti-aircraft missile system will increase pressure on the U.S. Treasury to impose sanctions mandated by current law. The move will also provide more incentive for the Senate to advance additional sanctions drafted last month in response to Turkey's invasion of northern Syria — as Republican senators personally warned Turkish President Recep Tayyip Erdogan during his visit to the White House.
Even before the announcement of the tests, Senate Foreign Relations Chairman Jim Risch (R-Idaho) said his committee would take up legislation in early December that would penalize Turkey's leaders, energy industry and financial system related to military action in Kurdish-held territory in Syria. The House passed its sanctions bill on a 403-16 vote last month, and there are two proposals in the Senate to impose similar punishments.
"I don't have any choice at this point," Risch said last week. Referring to the S-400 system, he said, "We want to give him some incentive to think more clearly about this." Risch added that there's "a clear path forward" on a bill he's sponsoring with Sen. Bob Menendez (D-N.J.) in the Senate, where it has bipartisan support. Read more from Daniel Flatley.
China Says Trade Officials Staying in Touch: China and the U.S. "reached consensus on properly resolving relevant issues" and agreed to stay in contact on the remaining points for a "phase one" trade deal during a phone call this morning Beijing time, the Ministry of Commerce said in a statement. Chinese Vice Premier Liu He, U.S. Trade Representative Robert Lighthizer and U.S. Treasury Secretary Steven Mnuchin discussed core concerns, according to the statement, which didn't provide further details. It follows a phone conversation earlier this month that the ministry called "constructive." Read more.
Trump Takes Aim at WTO Budget: Sixteen years ago, Lighthizer was nominated to represent the U.S. at the World Trade Organization's appellate body. WTO members, however, chose a different candidate. Now, Lighthizer is arguing that the very dispute settlement system he nearly became a part of either needs to be drastically reformed or dismantled. The U.S. has indicated that it may block the WTO's budget as soon as next month, a move that could bring to a halt all work done at the organization. The threat comes on top of a hold the U.S. has placed on new appointments to the WTO's appellate body, which won't be able to rule on new cases next month, in effect suspending its most important function. Read more from Bryce Baschuk.
Senators to Skip Climate Summit: Senate Democrats in the past have jetted to U.N. climate summits to assure the world U.S. support for action is still alive in the Trump era. But this year, nearly all of them will be stuck in the Capitol. Talks at this year's Madrid summit Dec. 2-13 will just be getting underway as Congress resumes after the weeklong Thanksgiving recess. Most of the 10 or so Senate Democrats who flew to Paris in 2015 to back Obama's pursuit of a global climate deal told Bloomberg Environment they'll stay home. Read more from Dean Scott.
Accused Chinese Spy Pleads Guilty: A California man accused of spying for China's security service pleaded guilty to a U.S. criminal charge in a case touted by prosecutors as a "rare glimpse" into how Beijing gathers intelligence in America. Xuehua "Ed" Peng, who became a naturalized U.S. citizen in 2012, was charged in September with with acting as unregistered agent of a foreign government. As part of his plea agreement, the U.S. will recommend a four-year prison sentence and a $30,000 fine, instead of the maximum penalty of 10 years' incarceration and a $250,000 fine, a prosecutor told a judge yesterday in Oakland federal court. Read more from Robert Burnson.
Mar-a-Lago Intruder Gets 8 Months: A Chinese woman was sentenced to eight months in prison for trespassing at Trump's Mar-a-Lago resort in South Florida and then lying about it to the Secret Service. Yujing Zhang may be out of jail in about a week though. She already spent almost the full sentence behind bars as the case went through trial. She was also given two years supervised release and can appeal the sentence. Read more from Jonathan Levin.
Around the Administration
Spencer on Trump's Intervention: Former Navy Secretary Richard Spencer said that Trump's intervention in a case involving a Navy SEAL accused of war crimes in Iraq sends a message "that you can get away with things," Chelsea Mes reports. "We have to have good order and discipline. It's the backbone of what we do, and the Trident review process with the senior enlisted reviewing fellow senior enlisted is critical," Spencer said in a CBS News interview.
Defense Secretary Mark Esper told reporters yesterday he was "flabbergasted" by Spencer's efforts to make a private deal with the White House and that he demanded Spencer's resignation over the weekend after learning that Spencer sought a deal to let Chief Petty Officer Edward Gallagher retire as a member of the elite force if Trump stayed out of the case. Glen Carey and Ros Krasny have more on Esper's remarks.
Navy Nominee: Trump yesterday announced his intent to nominate Charles Williams to be an assistant secretary of the Navy and oversee Installations, Energy, and the Environment. Williams served in the Navy for more than 32 years before retiring as a Rear Admiral in 2005.
White House Chief of Operations Departs: White House Chief Operations Officer Daniel P. Walsh is leaving the administration, the Washington Post reports, citing the White House. Walsh was in charge of the administration's foreign trips, made decisions about the use of government resources by White House aides, oversaw the White House military office and played a critical role in the attempted planning of the Group of Seven summit at the president's Doral resort that drew backlash from lawmakers.
Fed's Powell Optimistic on Economy: Federal Reserve Chairman Jerome Powell struck an upbeat tone in gauging the ability of policy makers to extend the record U.S. economic expansion, while signaling interest rates would probably remain on hold. "At this point in the long expansion, I see the glass as much more than half full," Powell said Monday evening in Providence, R.I. "With the right policies, we can fill it further, building on the gains so far and spreading the benefits more broadly to all Americans." On his outlook for borrowing costs, Powell repeated the message he's hammered since the Fed lowered rates for the third time this year on Oct. 30, signaling policy is on hold for now. Read more from Christopher Condon.
Editor's Note: Monday's What to Know in Washington corrected the party affiliation of Rep. Devin Nunes in the seventh paragraph.
To contact the reporters on this story: Zachary Sherwood in Washington at zsherwood@bgov.com; Brandon Lee in Washington at blee@bgov.com
To contact the editors responsible for this story: Giuseppe Macri at gmacri@bgov.com; Loren Duggan at lduggan@bgov.com