What to Know in Washington: McConnell's Assurances on Debt Limit
Bloomberg Government subscribers get the stories like this first. Act now and gain unlimited access to everything you need to know. Learn more.
Senate Republican leader Mitch McConnell (Ky.) dismissed concerns about the US government defaulting on its obligations later this year, when the Treasury Department risks running out of money.
"Periodically the debt ceiling has to be lifted and it's always a rather contentious effort," McConnell told reporters at an unrelated event in his home state of Kentucky on Thursday. "In the end, I think the important thing to remember is America must never default on its debt. It never has and never will."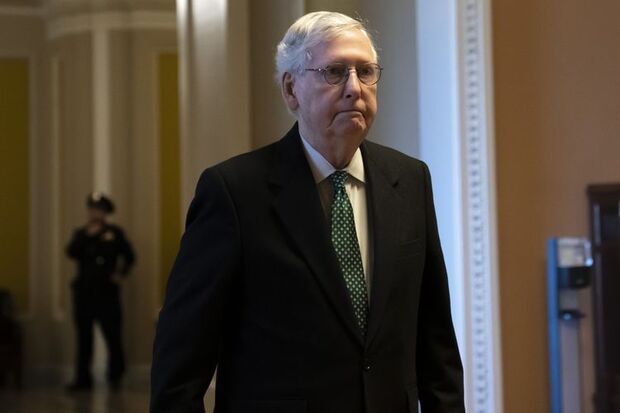 His assurance on averting a default contrasts with aggressive moves by conservative Republicans in the GOP-led House to force through deep spending cuts by demanding them as a condition for a debt-limit hike.
"I would not be concerned about a financial crisis," McConnell said Thursday.
While the White House continues to insist it won't negotiate over boosting the debt ceiling, McConnell predicted eventually that step will come.
"We'll end up in some kind of negotiation with the administration over what are the circumstances or conditions under which the debt ceiling will be raised," McConnell predicted. "This will have to be dealt with sometime in the first half of 2023."
The Treasury on Thursday began deploying extraordinary measures to keep from breaching the debt limit, and Secretary Janet Yellen anticipates such steps will tide the department over at least to early June. Read more.
War in Ukraine
The Biden administration announced a major new package of military hardware for Ukraine, sending 90 Stryker armored personnel carriers, 59 Bradley fighting vehicles and an array of other gear as western allies look to give the country a boost before Russia launches a new ground campaign expected this spring.
CIA Director William Burns traveled to Kyiv last week, where he sought to reassure Ukrainian leaders that the US would maintain support as the war drags on. Read more.
The US and some European nations are struggling to overcome Germany's reluctance to supply its Leopard battle tank to Ukraine, a disagreement that threatens to distract from the unity that allies want to project at a crucial defense ministers meeting later on Friday.
The US signaled growing impatience with Turkey over its resistance to ratifying NATO's expansion to Sweden and Finland.
Happening on the Hill
Next Week in Congress: The Senate holds its first vote of the year Monday on confirmation of Brendan Owens to be the Pentagon's assistant secretary for energy, installations, and environment. Sen.-designate Pete Ricketts (R-Neb.) will likely be sworn in next week after his appointment to replace Ben Sasse (R).
The House is back Tuesday, with action possible on a handful of bills under suspension of the rules, which requires the support of two-thirds of members, and some of the measures teed up by the rules package that can be advanced with a simple majority.
One of those simple-majority bills (H.R. 21) would require a plan for increasing oil and gas leasing on federal land before the administration could tap the Strategic Petroleum Reserve. It will be taken up under a modified open amendment process offering a more freewheeling debate than has been seen in recent years, as outlined by the Rules Committee.
Sen. Bernie Sanders (I-Vt.) plans to introduce legislation that would give 125,000 railroad workers paid sick leave, revisiting an issue at the center of an 11th-hour deal to avert a nationwide strike last year.
The new chairman of the House science panel wants to extend a ban on federal rules for private spaceflight that expires Oct. 1.
Elections, Politics & Probes
President Joe Biden said he had "no regrets" about his handling of the discovery of classified documents at his private office and Wilmington home, and predicted an investigation would find no wrongdoing.
Biden visited California on Thursday to tour communities devastated by deadly storms and flooding and to assess first-hand the need for additional federal aid in a state whose deep-pocketed Democratic donors will be important to any 2024 reelection bid.
Ethics allegations against former Interior Secretary David Bernhardt related to the California Central Valley Project are unsubstantiated, the agency's Office of Inspector General said Thursday.
The Supreme Court may have been unable to identify the source of a leaked draft opinion on abortion rights, but officials want to prevent a repeat and have increased security over sensitive documents.
Chicago Mayor Lori Lightfoot faced a wave criticism on the city's security record during the first televised mayoral debate on Thursday as candidates jockeyed to replace her at the top of the third-largest city in the US.
Former President Donald Trump and one of his top lawyers were ordered by a judge to pay a total of almost $1 million in legal fees and costs to Hillary Clinton, her 2016 campaign and more than a dozen political operatives who he alleged ran a vast conspiracy to damage his reputation.
Around the Administration
BIDEN'S AGENDA
White House Press Secretary Karine Jean-Pierre holds the daily press briefing at 1 p.m.
The president welcomes bipartisan mayors attending the U.S. Conference of Mayors Winter Meeting to the White House and delivers remarks celebrating the achievements of the past 18 months at 2 p.m.
State Medicaid programs are racing to make sure they are prepared to help as many people as possible retain health coverage once income eligibility checks resume in the coming months.
Yellen blamed Russia for worsening Africa's economic problems and took a separate swipe at China over its lending practices, in an effort to contrast America's actions with the behavior of its biggest rivals for influence on the continent.
Federal Reserve officials, heartened by an inflation slowdown, are poised to slow the pace of their interest-rate hikes for a second straight meeting and debate how much more they need to tighten to get prices under control.
The US and the Philippines will speed up the completion of military projects in the Southeast Asian nation to fully implement a defense pact, officials said Friday, as President Ferdinand Marcos Jr. further boosts ties with a longtime ally.
A proposal to build the biggest offshore oil-export terminal in the US is being challenged in court by environmental groups who claim the project hadn't received adequate environmental and public health review.
The Energy Department needs to accelerate efforts to ensure the US is a global leader in commercializing next-generation nuclear power technologies, according to a group backing advanced nuclear reactors.
Big banks and other consumer financial services firms' increasing reliance on automated systems to perform basic functions is drawing federal regulators' heightened scrutiny.
The Labor Department is attracting new scrutiny from immigrant workers and their employers as wait times grow during the agency's role in the employment-based visa approval process.
A new top adviser behind the Biden administration's effort to fortify the federal-state unemployment insurance system said the US Department of Labor is focused on "fixing and funding" what went wrong during the pandemic, and will be working to expand a public identity verification solution for states to help combat fraud.
The contractors who damaged computer files leading to the massive Jan. 11 disruptions to the US flight system did so "unintentionally," aviation regulators said Thursday.
Editor's Note: The Jan. 17 edition of the What to Know in Washington was corrected to reflect that Rep. Barry Moore (R-Ala.), not Rep. Blake Moore (R-Utah), would join the House Judiciary Committee's roster.
To contact the reporter on this story: Brandon Lee in Washington at blee@bgov.com
To contact the editor responsible for this story: Katrice Eborn at keborn@bgov.com
Stay informed with more news like this – from the largest team of reporters on Capitol Hill – subscribe to Bloomberg Government today. Learn more.