What to Know in Washington: McConnell to Release GOP Relief Plan
Senate Majority Leader Mitch McConnell is expected to release a $1 trillion pandemic relief proposal today, kicking off talks with Democrats on provisions including money for people who've lost their jobs and protections for employers reopening their businesses.
The Republican plan will be outlined in a set of bills likely to appear this afternoon.
The measures, a step toward a fifth coronavirus stimulus bill, aim to extend just-expired supplemental unemployment benefits, but at a lower level; provide a new round of $1,200 direct stimulus checks; funnel money to schools to help them reopen; and approve funding for expanded virus testing.
House Democrats passed a much bigger relief bill in May, and Republicans have only a couple of weeks to bridge the gulf between the proposals. In the meantime, the safety net fashioned in March — including unemployment aid and a moratorium on evictions — will be getting pulled out from under millions of Americans whose lives have been upended by the coronavirus crisis.
McConnell's expected unveiling comes after top officials from President Donald Trump's administration, Treasury Secretary Steven Mnuchin and White House Chief of Staff Mark Meadows, spent much of the past week struggling to hammer out some of the differences with Republican lawmakers.
Meadows and Mnuchin were at the Capitol again yesterday to work on what Meadows said were the "final touches" of the package.
But the GOP is hardly unified, and there's a world of difference with what Democrats demand.
"Half the Republicans are going to vote no" on any additional stimulus, Sen. Lindsey Graham (R-S.C.) said yesterday on Fox News Channel. "And a lot of Democrats are going to insist on $3 trillion, which would be way too much."
McConnell said on Friday that he expected Congress would pass something by "the end of the next few weeks." Graham predicted Congress would reach a deal by the first week of August, and Mnuchin said the negotiations can move "very quickly." It likely will be the last chance to act before the November election. Erik Wasson, Laura Litvan and Billy House have the latest.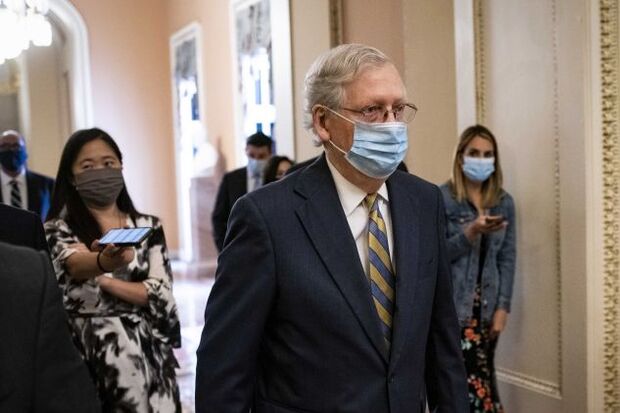 Meanwhile, Meadows said the Republican stimulus bill will contain an extended unemployment-benefit plan to replace 70% of jobless individuals' lost wages. Appearing Sunday on "This Week" on ABC, Meadows said the proposal won't revive the $600 supplemental unemployment payments that were part of the stimulus passed in March and expired last week. "The original unemployment benefits actually paid people to stay at home" and the administration and Republican-led Senate isn't going to do that again, Meadows said, Billy House reports.
But state workforce agencies are advising Congress not to switch enhanced unemployment benefits to a formula based on workers' past wages, warning that use of an individualized model could require months of preparation time. The nonpartisan trade group representing all state unemployment offices estimated it would take states four to 12 weeks or more to reprogram their systems if Congress decides to require that expanded benefits be calculated according to each claimants' prior wage records, according to a letter to lawmakers, Ben Penn reports.
Summers Warns About Lapse: Former Treasury Secretary Larry Summers said he's never seen a more uncertain recovery, especially if Congress doesn't act "strongly and quickly" to continue economic stimulus to offset the coronavirus pandemic. More important than the size of the next relief package is how long the emergency measures last, given the vast number of Americans now unemployed, the former Obama and Clinton administration official said in an interview on "Bloomberg Wall Street Week." Read more from Yueqi Yang.
Still, the U.S. economy is set for a third-quarter recovery, and the impact of the virus surge in Sun Belt states on crimping growth will be limited, top Trump administration officials countered. "I don't deny that some of these hot-spot states are going to moderate that recovery, but on the whole the picture is very positive and I still think the V-shaped recovery is in place," White House economic director Larry Kudlow said on CNN's "State of the Union" yesterday. "And I still think it's going to be 20% growth rate in the third and fourth quarters," he added. Tony Czuczka and Yueqi Yang have more.
Happening on the Hill
Antitrust Showdown Set for Wednesday: Chief executives of Amazon, Facebook, Alphabet and Apple will testify before a rescheduled congressional hearing on antitrust in Big Tech at noon on Wednesday, according to an announcement from the House Judiciary Committee. The hearing with Jeff Bezos, Mark Zuckerberg, Sundar Pichai and Tim Cook was postponed from today because of plans to honor the late civil rights icon Rep. John Lewis (D-Ga.) at the Capitol.
"Given the central role these corporations play in the lives of the American people, it is critical that their CEOs are forthcoming," Reps. Jerrold Nadler (D-N.Y.) and David Cicilline (D-R.I.), who respectively chair the judiciary panel and its antitrust subcommittee, said in a statement.
The hearing, to be held via video conference, is the highest-profile showdown yet between tech executives and lawmakers, who are increasingly frustrated with the technology industry. The companies all face antitrust investigations by federal enforcers and a yearlong probe by the House that will likely end with recommendations to change competition laws. Read more from Ben Brody.
Barr's Loyalty to Trump Will be Focus at Hearing: For more than a year, Attorney General William Barr has presided over some of the most consequential decisions of the Trump administration — from prosecutorial moves in cases against the president's associates to pushing back on swelling national protests — without ever having to face House Democrats. That all changes tomorrow.
Barr will walk into a virtual firing chamber when he sits down for hours of testimony in front of a Democratic-led committee that may not even have enough time to grill him on all the issues they want to address. Looming over the hearing will be Democrats' conviction that Barr has abandoned the Justice Department's political independence to back a president who demands nothing but strict loyalty. "The sickness that we must address is Mr. Barr's use of the Department of Justice as a weapon to serve the president's petty, private interests," committee Chairman Jerrold Nadler (D-N.Y.) said in June in comments that previewed the tone of tomorrow's hearing. Read more from Chris Strohm and Billy House.
The Coronavirus Pandemic
Trump's Reset on Virus Too Late For Some: Trump has reset his approach to the coronavirus pandemic in a bid to revive sinking poll numbers, but with 100 days until the election his campaign may need more than a change in tone to reverse its slide. Trump trails Democrat Joe Biden nationally and in key swing states by wide margins, grappling with a health crisis that's killed over 146,000 Americans, tipped the economy into recession, and stymied both his administration and Republicans in Congress.
"There are red flags everywhere" for Trump, said polling analyst Tim Malloy of Quinnipiac University, which published two polls last week showing Biden with a wide lead in Florida and tied with Trump in Texas, two states Trump must win. Trump narrowly won Florida in 2016 but won Texas by a nine-point margin. "There is nothing in the most recent polling, nationally or in the states, that has a sort of hidden window of solace or escape for him. There is nothing there," Malloy said. Read more from Josh Wingrove.
Trump Says He Won't Throw Opening Pitch: Trump won't be able to throw out the opening pitch for the New York Yankees Aug. 15, as planned, because of coronavirus work, he said yesterday. "Because of my strong focus on" the coronavirus, including vaccine treatments, the economy and other matters, Trump said on Twitter, he'll take a rain check. Read more from Nathan Crooks.
Lockdown Is Nuclear Option Despite Second Wave: Shuttering businesses, grounding airlines and ordering people to stay home was hard enough the first time. The thought of having to do it all over again is something world leaders don't want to even contemplate. From Italy to New Zealand, irrespective of how well the virus was contained, governments acknowledge that fresh waves of the deadly coronavirus are likely and that the policy tools to mitigate the damage are limited. The hope is that localizing quarantines to towns, cities and regions will be enough to snuff out bouts of infections as they come.
It speaks to the great elephant in the room: while scientists warn it could take years to control a deadly virus that has killed more than 630,000 worldwide, there is no appetite to sustain the hiatus on travel, work and leisure that has upended everyone's lives in 2020. Read more from Flavia Krause-Jackson.
Draft Vaccine Plan On Tap for End of Summer: The public will get an early look at recommendations for who should be first in line for a Covid-19 vaccine by late August or early September, the president of the National Academy of Medicine said Friday. The new National Academies committee tasked with developing a framework for ensuring the fair distribution of virus vaccine doses held its first meeting late Friday afternoon. The directors of the National Institutes of Health and the Centers for Disease Control and Prevention had asked the scientific academies for a framework to inform the CDC's immunization advisory panel. Read more from Jeannie Baumann.
Supply Chain Is Unprepared for a Vaccine: The industries that shepherd goods around the world on ships, planes and trucks acknowledge they aren't ready to handle the challenges of shipping an eventual Covid-19 vaccine from drugmakers to billions of people. Already stretched thin by the pandemic, freight companies face problems ranging from shrinking capacity on container ships and cargo aircraft to a lack of visibility on when a vaccine will arrive. Shippers have struggled for years to reduce cumbersome paperwork and upgrade old technology that, unless addressed soon, will slow the relay race to transport fragile vials of medicine in unprecedented quantities. Read more from Brendan Murray and Riley Griffin.
Supreme Court Rejects Nevada Church on Virus Rules: A divided U.S. Supreme Court rejected an effort by a Nevada church to ease limits on the size of its services during the coronavirus pandemic. Voting 5-4, the justices rebuffed Calvary Chapel Dayton Valley, a Reno-area church that said the state was unconstitutionally discriminating by imposing stricter requirements on church services than on Las Vegas casinos. Read more from Greg Stohr and David McLaughlin.
Chief Justice John Roberts was the deciding vote, drawing the ire of Sen. Ted Cruz (R-Texas), Ros Krasny reports. "John Roberts has abandoned his oath," Cruz said in a tweet. "Maybe Nevada churches should set up craps tables? Then they could open?"
Elections, Politics & Policy
Trump Tailors Conflicting Ads to Blacks, Whites: Trump's campaign is hitting Joe Biden on crime from two sides, targeting White voters with TV ads calling him part of a "radical left-wing mob" that would defund the police, while telling Black voters Biden's crime bill put too many African-Americans in prison. Black voters watching daytime television will hear that Biden is the architect of mass incarceration polices that "destroyed millions of Black lives," while White voters watching different shows will hear that his liberal ideas will let dangerous criminals run amok in the suburbs.
Targeting different voters with different messages is hardly new, especially on social media, but it's rarely done so blatantly with television ads that are easier to track, analysts said. Bloomberg News used a service that tracks political advertising to determine where Trump placed the different ads on television shows that attract predominantly White and predominantly Black viewership. Read more from Gregory Korte.
Biden Tops Trump in Michigan, Florida, Arizona Polls: Another wave of opinion polls released yesterday showed voters leaning to Biden over Trump in Michigan, Florida and Arizona, three key states won by Trump in 2016, Ros Krasny reports.
Biden is ahead in Arizona by 49% to 45% among registered voters, according to a CNN poll conducted by SSRS, a survey and market research firm. Another Arizona poll released yesterday, from NBC News/Marist, put Biden up by 5 percentage points, 50% to 45%.
Trump carried Michigan in 2016 by a narrow 10,704-vote margin. The new CNN poll put Biden on top there by 52% to 40%. Another poll released yesterday, from CBS/YouGov, showed Biden leading by 6 points.
CBS showed Trump up by 1 point over Biden in Ohio after winning the state by 8 points in 2016. Much of Biden's support in Michigan and Ohio came from people who are mainly voting against Trump rather than for Biden, CBS said.
In Florida, Biden is ahead 51% to 46%, according to the CNN survey. Like Arizona, Florida is dealing with a rapid rise in the level of coronavirus infections.
Trump Aims to 'Protect' 2016 Map to Win Again: The Trump campaign attempted to ease concerns about Trump's plunging poll numbers and outline the path to the 270 electoral votes he must win to have a second term. Bill Stepien, who became Trump's campaign manager last week after Brad Parscale was demoted amid the slump in voter support, said the president doesn't need to win the three industrial Midwest battleground states that helped him defeat Hillary Clinton in 2016. "We intend to protect this 2016 map. We only need to win either Wisconsin, or Michigan, or Pennsylvania to win this thing again," Stepien told reporters Friday. Read more from Misyrlena Egkolfopoulou.
Trump Takes On Reagan Foundation's Complaint: Trump pushed back yesterday at the Ronald Reagan Presidential Foundation and Institute after it requested that he and his re-election campaign quit using the former president's likeness on commemorative coins to raise money. The foundation requested in the Washington Post that Trump's campaign and the Republican National Committee stop offering commemorative coins engraved with Reagan's image to potential donors of more than $45 or more. In a tweet, Trump also slapped at former House Speaker Paul Ryan and Fox News. Read more.
What Else to Know Today
Gorsuch Doesn't Worry About Public Perception: Disaffected conservatives reaching for comparisons between Supreme Court Justice Neil Gorsuch and the retired David Souter—a George W. H. Bush nominee who became a reliable member of the court's liberal wing—might be more dismayed that he's more like Justice Byron White. Like White, who was progressive on race issues but a fervent opponent of Roe v. Wade, Gorsuch took positions over the recently completed term that confounded easy labeling. Read more from Kimberly Strawbridge Robinson.
Australia-U.S. Defense Talks Set for Tomorrow: Two senior Australian government ministers will press ahead with annual defense talks in Washington starting tomorrow amid growing tensions with China, Andrew Heathcote reports. Foreign Minister Marise Payne and Minister for Defence Linda Reynolds will travel to the U.S. at the invitation of Secretary of State Mike Pompeo and Secretary of Defense Mark Esper, the Australian ministers said in a statement.
Beijing Takes Over U.S. Chengdu Consulate: Chinese authorities have taken over the U.S. consulate in Chengdu following its closure, the latest historic milestone marking the deterioration in relations between Washington and Beijing. The U.S. lowered its flag over the American consulate in the southwest Chinese city earlier today, less than three days after the U.S. government forced their Chinese counterparts out of their mission in Houston. Read more.
Meanwhile, Beijing on Saturday slammed the "forced entry" to its Houston consulate by U.S. personnel hours earlier and vowed to respond "as necessary." Read more.
Oregon Loses Fight With Trump on Portland Policing: Oregon lost a fight with the Trump administration over federal agents' detention of anti-racism protesters in Portland. Oregon Attorney General Ellen Rosenblum had asked a federal judge to stop Department of Homeland Security agents and U.S. Marshals from detaining or arresting people without identifying themselves and without probable cause, a warrant or any explanation. U.S. District Judge Michael Mosman on Friday denied the temporary restraining order she sought, saying the state had failed to prove it had any business suing the U.S. in the first place. Read more from Clare Roth and Malathi Nayak.
States Sue Trump Over Census Exclusion Order: New York is leading a coalition of 20 states suing Trump over his executive order seeking to exclude undocumented immigrants from census data used to determine congressional districts. The lawsuit filed Friday in federal court in Manhattan said the order the president signed earlier this week "unequivocally" violates the U.S. Constitution, which stipulates that the "whole number of persons in each state" should be counted in apportioning congressional representation. Read more from David Yaffe-Bellany.
Trump Posed Risk, Steele Tells Dossier Trial: The former British spy who wrote the so-called Steele Dossier told a British court that Trump may have posed a serious risk to U.K. national security. The information recorded in a pre-election memo into alleged Russian interference in the 2016 presidential election produced by his firm, Orbis Business Intelligence, "had important national security implications for the U.K., as well as the U.S.," Christopher Steele said in a court filing for a London libel trial. Read more from Ellen Milligan.
To contact the reporter on this story: Zachary Sherwood in Washington at zsherwood@bgov.com
To contact the editors responsible for this story: Giuseppe Macri at gmacri@bgov.com; Loren Duggan at lduggan@bgov.com