What to Know in Washington: McConnell Threatens China Bill
Senate GOP leader targets reconciliation revamp
SCOTUS EPA ruling sets new hurdle for Biden agenda
Bloomberg Government subscribers get the stories like this first. Act now and gain unlimited access to everything you need to know. Learn more.
Senate GOP leader Mitch McConnell said he will block bipartisan legislation to boost US competition with China and provide subsidies for domestic semiconductor manufacturing as long as Democrats pursue a go-it-alone economic package.
McConnell (R-Ky.) made the threat as Senate Majority Leader Chuck Schumer (D-N.Y.) is negotiating a scaled-back version of President Joe Biden's economic plan with Sen. Joe Manchin (D-W.Va.). That plan includes prescription drug price cuts, tax hikes on the wealthy and corporations, and energy and climate provisions.
The China bill, which would provide more than $50 billion to subsidize US semiconductor chip manufacturing, has been stalled as the House and Senate try to resolve differences in their approaches.
"Let me be perfectly clear: there will be no bipartisan USICA as long as Democrats are pursuing a partisan reconciliation bill," McConnell said in his tweet, using an acronym for the proposed legislation.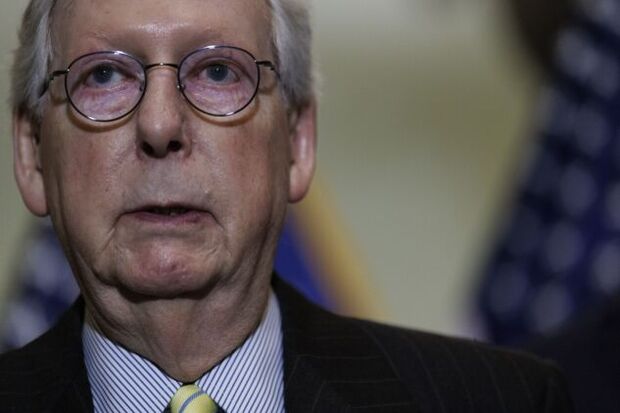 Democrats reacted angrily to McConnell's threat.
"Senate Republicans are literally choosing to help China out compete the U.S. in order to protect big drug companies," White House Press Secretary Karine Jean-Pierre said in a statement that echoed those of Democratic congressional leaders. "This takes loyalty to special interests over working Americans to a new and shocking height. We are not going to back down in the face of this outrageous threat." Read more from Erik Wasson and Laura Litvan.
Higher education and science organizations are urging quick passage of the bipartisan legislation as its prospects get increasingly hazy. The Association of American Universities, American Chemical Society, Federation of American Scientists, and other groups wrote to Democratic and Republican leadership in both chambers to stress the importance of reaching a deal. "Our global competitors are not sitting idle," the groups wrote, Ellen M. Gilmer reports. Read the letter here.
Happening on the Hill
House appropriators advanced a bill to bolster transportation spending in fiscal 2023, despite opposition from Republicans who fear the proposal would further exacerbate inflation. The Transportation-HUD fiscal 2023 spending measure advanced by a 32-24 vote on Thursday. It would provide $105.4 billion in total budgetary resources to the Transportation Department for fiscal 2023, about $942 million more than Biden requested and $2.4 billion more than the fiscal 2022 level. Read more from Lillianna Byington.
House appropriators also want to spend $500 million on a new manufactured housing program as it seeks to address affordability challenges and rapidly escalating trailer park rents. Manufactured houses, such as mobile homes, provide a more affordable housing option for some Americans, appropriators wrote in a report accompanying the Transportation-Housing and Urban Development funding bill for fiscal 2023. Read more from Mia McCarthy.
House appropriators also teed up requested budget increases for labor enforcement and worker protection agencies. The spending bill would provide $15 billion for the Department of Labor for fiscal year 2023, proposing funding increases for burdened enforcement agencies like OSHA and the US Wage and Hour Division. Those agencies would see respective increases of $100 million and $61.7 million. Read more from Paige Smith.
Sen. Pat Toomey said the Federal Reserve needs to be more transparent and subject to greater congressional oversight. The ranking member of the Senate Banking Committee accused the central bank Thursday of "stonewalling Congress" by refusing to answer questions about its management of master accounts. "They've taken a position that they're not accountable to anyone," Toomey (R-Pa.) said in an interview on Bloomberg TV. Read more from Diego Areas Munhoz.
Treasury Secretary Janet Yellen is pressing key US financial regulators to work with House lawmakers to regulate stablecoins, according to a Biden administration official. Yellen wants regulators to work with House Financial Services Committee Chair Maxine Waters (D-Calif.) and ranking member Patrick McHenry (R-N.C.) on a bill they've been ironing out, Allyson Versprille reports.
A conservative lawyer who defended Kentucky's abortion restrictions is a potential judicial pick by Biden, a scenario that stunned progressives. The White House informed Rep. John Yarmuth (D-Ky.) of plans to nominate former Kentucky Solicitor General Chad Meredith to a district court in the state, a spokesman for the lawmaker said. Yarmuth, in a statement, said he "strongly opposed" such a move. Read more from Madison Alder and Alex Ebert.
Politics & Influence
Elizabeth Holtzman was outraged when she first read the court will overturn Roe v. Wade. The 80-year-old New York Democrat, who was once the youngest woman ever elected to the House after unseating a 25-term incumbent in 1972, determined this is the right moment for a return to politics. She joined protests after Politico reported on a leaked draft opinion nixing Roe—and a new congressional map provided an opportunity.
She's not alone. Holtzman is among more than a dozen former members of Congress seeking a return to Capitol Hill on a political battleground shaken up by redistricting. They were driven by different causes. For Dennis Ross (R-Fla.), it was Russia's invasion of Ukraine. For Donna Edwards (D-Md.), it was the Jan. 6 insurrection. Mia McCarthy has more.
The Jan. 6 House hearing centered on an insider's account by a White House aide attracted over 13 million viewers Tuesday, the most-watched of the committee's daytime sessions. The identity of that witness, Cassidy Hutchinson, a former assistant to then-Chief of Staff Mark Meadows, was kept a secret until just before the hastily-arranged hearing. "In today's media landscape, those are very strong numbers," said Brad Adgate, a media consultant. Read more from Gerry Smith.
A move by former White House counsel Pat Cipollone to assert privilege would slow the Jan. 6 committee's push for revelations from the Donald Trump ally who was at the center of events tied to the US Capitol riot. Attorney-client or executive privilege claims would likely fail to pass muster, though that wouldn't stop Cipollone from using the tactic in response to the US House committee's June 29 subpoena, said Stephen Gillers, a New York University law professor. Read more from Justin Wise.
The US State Department is offering up to $10 million for information on foreign interference in US elections, according to a statement. The department is seeking info leading to the identification or location of any foreign person, including a foreign entity, who knowingly engaged or is engaging in foreign election interference, as well as information leading to the prevention, frustration, or favorable resolution of an act of foreign election interference, according to a statement, Lauren Dezenski reports.
A pro-worker policy group led by former Fox News anchor Gretchen Carlson is again taking to Hill, this time with legislation targeting nondisclosure agreements that silence employees reporting sexual harassment. Less than six months ago, the same group, Lift Our Voices, ushered a similar bill into law, nullifying mandatory arbitration provisions for workers alleging #MeToo claims. Like that bill, the new measure on NDAs has bipartisan support. Read more from Paige Smith.
From the High Court
The Supreme Court's decision curtailing the EPA's authority to regulate power-plant emissions offered conservatives a new weapon to unravel much of Biden's agenda in areas far beyond the environment. The 6-3 ruling primarily derails the EPA's plan to shift power generation away from fossil-fuel plants to greener sources. But it also swiped at the entire White House's ability to regulate other areas, cementing the notion that Congress must explicitly give agencies power to regulate "major questions."
It's a glaring warning shot to Biden, who throughout his presidency has drawn scrutiny from the Supreme Court for seeking to create change through regulation in the absence of action from Congress. In paring down the EPA's authority, the justices gave conservatives a playbook to target a range of Biden's more ambitious regulations, including on how corporations compete, the vaping industry, and untraceable guns, administrative law professors warned. Read more from Courtney Rozen and Gina Heeb.
The decision could slow or halt future Covid-19 public health regulations, threaten the Food and Drug Administration's attempts to ban menthol in cigarettes, and thwart the Biden administration's efforts to protect reproductive health-care and LGBTQ rights, health-care scholars and lawyers said. Read more from Allie Reed and Celine Castronuovo.
Despite the ruling's gutting of the EPA on emissions, it didn't erase its ability to regulate greenhouse-gas pollutants more broadly, nor did it leave it entirely toothless in the fight against climate change, Leslie Kaufman, Mark Chediak, and Jennifer A. Dlouhy report. While the ruling constrains the agency's power, EPA still retains the authority to regulate emissions from coal and gas power plants, Jennifer Hijazi and Stephen Lee report.
The Supreme Court invalidated three federal appeals court decisions in abortion cases, clearing its docket in light of a June 24 decision holding that the Constitution doesn't protect the right to end a pregnancy before viability. The high court granted review, vacated, and sent the cases back to the US Courts of Appeal for the Seventh, Eighth, and Ninth circuits for further review. All three cases rested on Roe v. Wade and Planned Parenthood v. Casey. Mary Anne Pazanowski has more.
More Headlines:
Around the Administration
PRESIDENT'S SCHEDULE:
Biden will meet virtually at 1 p.m. with governors to discuss efforts to protect reproductive healthcare.
Consumer advocates urged the FTC to investigate Google for allegedly steering consumers toward settings that share more of their data when signing up for an account. Users must take additional steps to opt out of tracking, according to the nonprofit Electronic Privacy Information Center and nine other groups in a Thursday letter to the FTC. Privacy-protective options are often framed as making users "miss out" or rendering Google features less helpful, the letter says. Read more from Andrea Vittorio.
Elon Musk's SpaceX won permission from US regulators to offers its Starlink broadband-from-space service to users in vehicles, vessels and aircraft. The Federal Communications Commission announced the decision in an order published Thursday, which said it also granted permission for the service to mobile customers of Kepler Communications. Read more from Todd Shields.
Editor's Note: BGOV's What to Know in Washington will not publish on the Monday, July 4 federal holiday. Publication resumes Tuesday, July 5.
With assistance from Ellen M. Gilmer
To contact the reporters on this story: Michaela Ross in Washington at mross@bgov.com; Brandon Lee in Washington at blee@bgov.com
To contact the editors responsible for this story: Giuseppe Macri at gmacri@bgov.com; Loren Duggan at lduggan@bgov.com
Stay informed with more news like this – from the largest team of reporters on Capitol Hill – subscribe to Bloomberg Government today. Learn more.