What to Know in Washington: McConnell Holds Trump's Fate
Bloomberg Government subscribers get the stories like this first. Act now and gain unlimited access to everything you need to know. Learn more.
President Donald Trump's unprecedented second impeachment heads to the Senate, where his fate rests with Republican leader Mitch McConnell, who now has more leverage than ever over the president in his final week in office.
McConnell (R-Ky.) told Republican colleagues in a letter yesterday he would block starting an impeachment trial before Joe Biden takes office Jan. 20 and control of the Senate shifts to Democrats.
But he also said he has not yet made up his mind on whether to vote to convict Trump of inciting an insurrection that left five dead and damaged the Capitol, including the Senate chamber where he has spent much of the past 36 years.
That allows Trump to finish his term without being removed from office. But McConnell has left open the option that if Trump were to instigate more unrest or take any other dangerous action, he could turn against him. That would raise the odds there would be enough Republican votes for Trump's conviction and a possible ban on ever again serving in office.
The next steps after yesterday's House impeachment vote depend on how McConnell, Speaker Nancy Pelosi (D-Calif.) and Senate Democratic leader Chuck Schumer (D-N.Y.) navigate the politics of a trial, a change of administration and a shift in power in the Senate all happening simultaneously. Read more from Steven T. Dennis and Laura Litvan.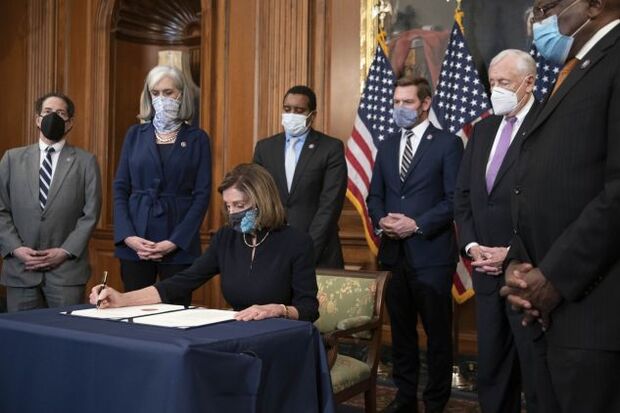 Trial After Term Ends Is Backed by History: Trump's second impeachment trial will be the first ever to extend beyond a president's time in office, creating a novel legal question that ultimately could require Supreme Court resolution. The answer isn't settled but history has bad news for Trump: a sparse but consistent line of lower-level impeachments in the past suggests the Senate retains power to put him on trial even after his term ends. If it convicts him, the Senate could take a second vote to bar him from running for office again. Read more from Greg Stohr.
Trump's Grip on GOP Loosens
Ten GOP Lawmakers Voted to Impeach: Ten House Republicans joined all Democrats yesterday in voting to impeach Trump, giving the impeachment resolution a bipartisan stamp of approval. No House Republican voted to impeach Trump in December 2019 on charges of abusing his power and obstructing Congress. The party-bucking Republicans may face serious primary challenges in the 2022 election. But congressional district lines will be redrawn before then, and it's not clear how much clout Trump will have in Republican primaries as an ex-president more than a year from now. Greg Giroux lists the members who crossed the party line.
Those ten votes highlight how Trump's iron grip over the Republican Party has slipped. As the GOP plots a course to regain control of Congress in two years — and the White House in 2024 — some senior elected officials see value in purging its once-unquestioned leader.
But walking away from Trump and his followers might not be as easy as that, especially when no new standard-bearer for the GOP has yet emerged. That poses a dilemma for Republican senators who must decide if they're prepared to level the ultimate sanction on Trump and effectively excommunicate him from a party whose base remains remarkably loyal to him. Read more from Mark Niquette and Jordan Fabian.
Trump Confronts Political Future: As for Trump, his political future suffered a grave blow that may result in the White House doors being forever shut to him. Unable to manage the coronavirus pandemic and persuade voters to return him to the White House, the president instead inspired a violent and conspiracy-fueled attack on the seat of American democracy.
The backlash against Trump in the wake of the Jan. 6 insurrection at the Capitol has been swift. His impeachment will undoubtedly cement Trump's status as a martyr among his most loyal followers, who have cast the move as the latest effort by Washington to attack and undermine an outsider who threatened the status quo. But several Republicans still spoke out forcefully against Trump's actions and voted to impeach. Read more from Justin Sink.
Meanwhile, Secretary of State Michael Pompeo chose the day of his boss's impeachment to promote a very different kind of recognition for Trump: Award the president the Nobel Peace Prize. Pompeo's Wednesday morning tweet said simply: "cc: @NobelPrize" beneath a picture of Trump with Israeli and Arab leaders at the signing of a diplomatic agreement with the Jewish state in September. Nick Wadhams has more.
Biden's Presidency to Begin Under Shadow
Biden's hope of turning the page on a chaotic chapter in American history with his Jan. 20 inauguration dissolved yesterday, with his own party's efforts to punish Trump poised to drag on through the earliest days of the new president's administration.
Instead of shifting to Biden's agenda and confirming his nominees for dozens of key positions, the Senate may be preparing to hold a trial for his predecessor.
"I hope that the Senate leadership will find a way to deal with their Constitutional responsibilities on impeachment while also working on the other urgent business of this nation," Biden said in statement after the impeachment vote. Biden said the nation "remains in the grip of a deadly virus and a reeling economy," and that "too many of our fellow Americans have suffered for too long over the past year to delay this urgent work."
Biden's advisers, like other Democrats, see Trump as deeply damaged politically by the episode and understand the need to hold him accountable, people familiar with their thinking said. But they also worry that the trial will sidetrack Biden's agenda, not only taking up the Senate's time but also fueling deep divisions in the country that have led to violence and doomed bipartisan work on national policy priorities. Read more from Jennifer Epstein.
Economic Plan Will Test Republicans: Biden this evening will unveil a Covid-19 relief package rivaled in size only by last year's $2 trillion Cares Act, in his first legislative test in the face of a split Senate and a deteriorating economy. Transition officials developed a proposal with Democratic lawmakers and their staff in recent days that's anticipated at least the $900 billion of December's bill, with Schumer pressing for more than $1.3 trillion.
Biden last week put the "entire package" at "trillions of dollars," and many Democrats believe it will be as much as $2 trillion, while others expect the coronavirus-only portion will fall closer to $900 billion. That means other spending could take the package to the higher end of the various estimates. Read more from Nancy Cook and Jennifer Epstein.
Medicare Bill Returns to Democratic-Led Senate: The Senate battle over prescription drug pricing will pick up where it left off last year as the chamber undergoes a change in control, a key Democrat said. Ron Wyden (D-Ore.), in line to lead the Finance Committee this Congress, said he plans to build off a package of drug pricing measures he and the outgoing chairman, Chuck Grassley (R-Iowa), created. He said he still wants to empower the government to negotiate for lower prices, which Grassley has opposed. Alex Ruoff has more.
Gensler's Next Stop Worries Wall Street: Biden is expected to pick Gary Gensler to head the Securities and Exchange Commission, the nation's top markets watchdog. Corporate executives are already bracing for him to steer a sharp turn from the more laissez-faire approach taken by the agency during the Trump administration. Progressives' expectations are sky high for the same reason. He's best known for winning bruising battles with financial titans when he led the nation's top derivatives regulator following the 2008 financial meltdown. Meanwhile,financial lobbyists, who Gensler sometimes referred to as "the enemy" during the battle over the 2010 Dodd-Frank Act, spent yesterday commiserating with each other over emails and telephone calls. Read more from Ben Bain.
Probes of Big Tech Said to Continue Under Biden: The Trump administration's outgoing competition chief expects the Biden administration to continue the government's antitrust investigations of U.S. technology companies. Makan Delrahim, the Department of Justice's antitrust chief, said scrutiny of the tech industry is important for protecting competition in digital markets. Read more from David McLaughlin.
The Outgoing Admin: Chad Wolf may no longer be the acting secretary of the Homeland Security Department, but he is still serving as a DHS political appointee and using newly delegated authorities to make actions he took while he was chief legal. Wolf resigned from his acting position Monday and named as his successor Peter Gaynor, the Senate-confirmed Federal Emergency Management Agency head. Though many expected Wolf to depart the agency when he resigned the acting role, DHS spokesman Chase Jennings confirmed that Wolf in fact remained at DHS in his Senate-confirmed role as undersecretary for strategy, policy, and plans. Read more from Shaun Courtney and Genevieve Douglas.
Brian Brooks, the acting head of the Office of the Comptroller of the Currency, is expected to pass a rule today that would force banks to lend to gun manufacturers, oil drillers and other controversial industries that some have refused to do business with. The move is infuriating Wall Street, Robert Schmidt and Jesse Hamilton report.
The director of the U.S. Census Bureau said he's asked political appointees to "stand down" in their efforts to push through a count that excludes undocumented immigrants before Trump leaves office. Biden has signaled he opposes any move to exclude immigrants and would likely shelve that effort as soon as he's inaugurated. Read more from Gregory Korte.
Washington on Edge as Riot Fallout Continues
Pelosi Seeks Fines for Security Violations: At the Capitol, Pelosi wants to impose fines on representatives who don't adhere to new security screening measures put in place after last week's attack, John Harney reports. "The fine for the first offense will be $5,000 and $10,000 for the second offense," Pelosi said in a statement last night. "The fines will be deducted directly from members' salaries by the chief administrative officer." She added that the House would vote on a rule change mandating the penalties later this month.
The heightened safety precautions at the Capitol included a new metal fence and National Guard troops surrounding the building, as well as magnetometers at the doors used by lawmakers heading into the chamber that were implemented by the Democratic majority.
Trump Disavows Violence by Backers He Egged On Before Riot: Trump called on Americans to unite and avoid further violence after the House impeachment vote. "I unequivocally condemn the violence that we saw last week," Trump said in a video statement released by the White House yesterday. "Mob violence goes against everything I believe in and everything our movement stands for. No true supporter of mine could ever endorse political violence." Read more from Josh Wingrove and Jordan Fabian.
D.C. Hotels, Bars Consider Closing for Inauguration: It's normally the biggest party Washington sees every four years. Inauguration day in the U.S. capital will be a lot different next week, with both the pandemic and security concerns keeping people out of the city as Biden is sworn in. Hotels, restaurants and other hospitality businesses are grappling with whether it's worth the risk to stay open. After making an effort to root out criminals and hate-group members from its customers, Airbnb instead decided to simply cancel 5,500 reservations and block new ones in and around Washington during the inauguration week. Major hotel chains are honoring bookings but expect many more empty rooms than usual. Read more from Jacqueline Davalos and Kate Krader.
FAA Cracks Down on Unruly Flyers After Riot: Federal aviation regulators are stepping up enforcement against misbehaving passengers after a "disturbing increase" in incidents after the Capitol assault, and fears that more disruptions could occur during Biden's inauguration next week. The FAA said it would forgo the usual warnings it gives to violators of federal laws prohibiting interference with a flight crew and move directly to seek fines, Alan Levin reports.
Treasury Asked to Probe Nonprofits Tied to Riot: Democratic members of the House Ways and Means Committee called on Treasury Secretary Steven Mnuchin to investigate tax-exempt organizations that helped organize the attack on the Capitol. While the exact role such organizations played is unknown, "the insurrectionist activities witnessed last week" are "wholly contrary to any permissible tax-exempt purpose," they wrote, Laura Davison reports.
Drug Lobby Halts Donations to Election Deniers: The powerful pharmaceutical industry has joined the growing ranks of corporate America in suspending political donations to members of Congress who voted against certifying the 2020 election results. It joins the Blue Cross Blue Shield Association and others in suspending contributions to Republican election deniers, but PhRMA's decision may go against its self-interests; it strongly opposes a Democratic effort to allow Medicare to negotiate drug prices. Sara Hansard and Jacquie Lee have more.
CEOs See More Attacks, Say Trump Unfit: Chief executive officers of major U.S. companies were unanimous in finding that Trump was unfit for office and that he incited mob violence, according to a survey published yesterday. An overwhelming majority of the 40 CEOs polled also said he should be impeached, according to Jeffrey Sonnenfeld, senior associate dean for leadership studies at the Yale School of Management. Read more from Jeff Green.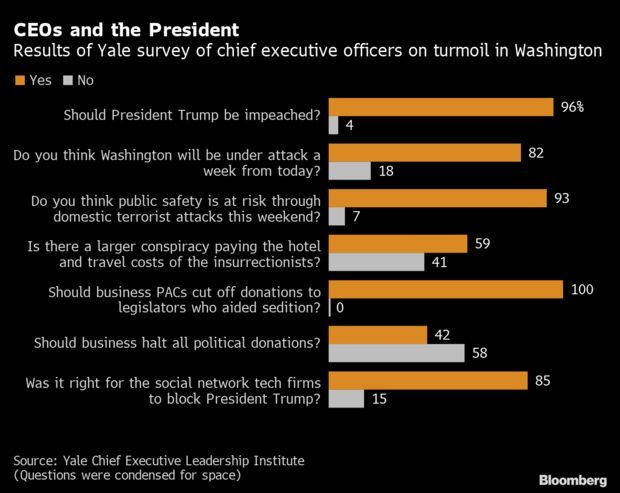 To contact the reporters on this story: Zachary Sherwood in Washington at zsherwood@bgov.com; Brandon Lee in Washington at blee@bgov.com
To contact the editors responsible for this story: Giuseppe Macri at gmacri@bgov.com; Loren Duggan at lduggan@bgov.com; Michaela Ross at mross@bgov.com
Stay informed with more news like this – from the largest team of reporters on Capitol Hill – subscribe to Bloomberg Government today. Learn more.