What to Know in Washington: McCarthy's Wounds Portend Debt Peril
Bloomberg Government subscribers get the stories like this first. Act now and gain unlimited access to everything you need to know. Learn more.
Kevin McCarthy (R-Calif.) saw his longtime ambition of becoming House speaker slipping from his grasp after a humiliating showdown with a stubborn conservative minority that laid bare divisions among Republicans and foreshadowed legislative gridlock for the next two years.
The 57-year-old California congressman and his allies worked to re-engage in negotiations overnight with the dissidents after the House abruptly adjourned Tuesday following three rounds of balloting in which McCarthy was unable to win the majority needed to become speaker. Lawmakers will reconvene at noon today for another attempt at electing a speaker. No other House business can be conducted until the election has been completed.
McCarthy's back-to-back losses in dramatic roll call votes on the first day of the new Congress marked the first time since 1923 and only the second time since the Civil War that a House speaker wasn't elected on the first ballot.
"The inability to do the easy stuff today sends bad signals for doing the hard stuff going forward," Doug Heye, a former senior GOP leadership aide, said. "It's about more than any specific piece of legislation. It's about whether governing is possible."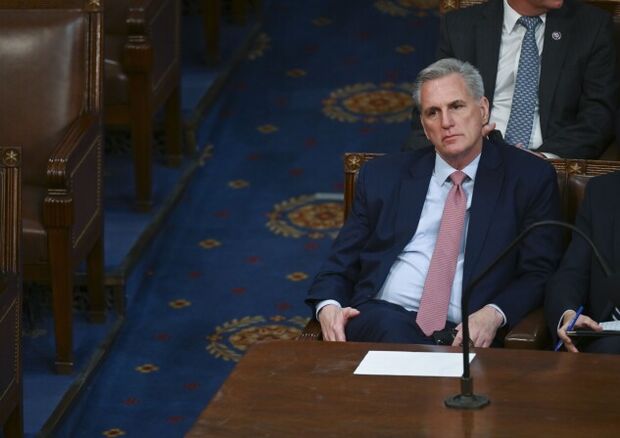 McCarthy, who was denied the speakership in 2015 when he was forced by conservatives to withdraw in favor of Rep. Paul Ryan (R-Wis.), had already moved into the speaker's office suite mere steps from the House floor. He vowed not to give up his bid. "We stay in until we win," he told reporters as he walked off the House floor between votes. By mid-afternoon that plan had changed and the chamber adjourned.
As the night wore on, food deliveries began arriving at Republican offices and meeting rooms. McCarthy holed up in another office off the House floor for hours making phone calls to try to gain more votes.
The protracted deadlock over who'll lead the incoming Republican-led House flashed a warning of perils ahead for fulfilling such fundamental tasks as funding the government or honoring US debts. Ideological splits, personal grievances and an atmosphere of distrust flared among the new majority as the dissidents pressed their revolt, roiling what's typically a ceremonial elevation of the party leader to the constitutional post of House speaker.
Even if McCarthy ultimately prevails or a compromise candidate emerges, the new speaker will be weakened and GOP dissidents emboldened, Heye said. A rebellion can form any time the speaker forges a difficult compromise, using a parliamentary tactic to vacate the chair and block the House from further action.
"Who's to say that's not going to happen two days before a debt crisis?" said Heye. Erik Wasson, Billy House and Mike Dorning follow McCarthy's struggle for the speaker's gavel.
Happening on the Hill
CONGRESS' SCHEDULE
House members gather at noon to resume electing a speaker of the House.
The Senate is out, and reconvenes for votes Jan. 23.
President Joe Biden resubmitted 25 judicial picks to the Senate, including an ACLU lawyer for the Southern District of New York, a Southern Poverty Law Center lawyer for the Eleventh Circuit, and a Center for Reproductive Rights lawyer for the First Circuit.
Those nominees are just a few who have been celebrated by progressives, but received tie votes in the previously evenly divided Judiciary Committee. Their nominations face a slightly easier path now that Democrats hold the Senate with an outright majority.
Also in moves at the White House, Willie Phillips was designated to become the first Black person to take the gavel of the Federal Energy Regulatory Commission, a White House official told Bloomberg Law on Tuesday. Read more
Meanwhile, Kamau Marshall moved from the US Trade Representative to the Education Department this week. Marshall became a senior adviser to Education Secretary Miguel Cardona in the agency's office of communication. Read more
And, Susan Tsui Grundmann was named chair of the Federal Labor Relations Authority by Biden, the agency said. She replaces Ernest DuBester, who has had several stints as chair of the FLRA's decision-making panel. Read more
George Santos cut a lonely figure on his first full day in Washington as a newly elected New York Republican. During the drawn-out process for McCarthy's bid, Santos sat in the chamber by himself and fiddled with his phone, while other members mingled.
Rep. Brendan Boyle (D-Pa.) told Bloomberg Tax that he will take a temporary leave from the Ways and Means Committee this Congress. Boyle was selected to ranking member of the Budget Committee.
The government's latest US population estimates portend significant shifts in congressional seats away from Democratic-leaning states by the end of the decade if current trends continue.
A congressional advisory panel is exploring whether Medicare's popular managed care plans should be forced to offer a standard set of core benefits. But such a plan faces industry opposition.
Around the Administration
BIDEN'S AGENDA
Shortly before 1 p.m. the president will speak from Covington, Ky. on the 2021 bipartisan infrastructure law and repairs to the Brent Spence Bridge, which connects a span of Interstate 75 over the Ohio River into Cincinnati. Senate Minority Leader Mitch McConnell (R-Ky.), Sen. Sherrod Brown (D-Ohio) and Govs. Andy Beshear (D-Ky.) and Mike DeWine (R-Ohio) will also attend.
The White House said Southwest Airlines should bear full responsibility for massive holiday travel disruptions that stranded thousands of passengers across the US, and would be held accountable by the administration.
Congressional Democrats' and Biden's sweeping tax-and-climate bill passed in August placed a massive task ahead for Treasury and the IRS to develop guidance on the law's provisions.
The Energy Department is scaling up "agrivoltaics" projects to grow clean energy and food. Since 2015, it's been researching the emerging field that seeks to implement innovations in both solar tech and farming techniques on the same plot of land.
Declining merger and acquisition activity will lighten antitrust regulators' merger review workload, setting them up to focus more on cracking down on conduct that violates federal antitrust law.
FTX founder Sam Bankman-Fried asked a judge to keep confidential the identities of two people who will help secure his bail to protect them from public scrutiny and potential harassment.
The Federal Trade Commission, which is suing to block Microsoft's $69 billion deal to acquire Activision Blizzard, isn't engaged in "substantive discussions" with the company about a settlement, an FTC lawyer told the agency's in-house judge.
A California-based online pharmacy is the first officially certified to dispense medication abortion under new FDA requirements unveiled Tuesday.
DEFENSE & FOREIGN AFFAIRS
Biden will welcome Japanese Prime Minister Kishida Fumio to the White House on Jan. 13, as Japan looks to bolster its defenses amid North Korean and Chinese military drills that have stoked concern across the Pacific. Read more
The White House said there's no reason Beijing should retaliate against the US and other nations that have imposed Covid restrictions on its travelers, saying the moves were justified on public health grounds. Read more
The US has not changed its approach to President Nicolas Maduro following the Venezuelan opposition eliminating the so-called interim government, State Department spokesperson Ned Price said in a press conference. Read more
Editor's Note: Tuesday's edition of Bloomberg Government's Afternoon Briefing was corrected to reflect that Rep.-elect George Santos (R-N.Y.) was not yet sworn in.
To contact the reporter on this story: Brandon Lee in Washington at blee@bgov.com
To contact the editors responsible for this story: Giuseppe Macri at gmacri@bgov.com; Loren Duggan at lduggan@bgov.com
Stay informed with more news like this – from the largest team of reporters on Capitol Hill – subscribe to Bloomberg Government today. Learn more.