What to Know in Washington: McCarthy's GOP Plan Invokes Gingrich
When Newt Gingrich debuted his Contract with America in 1994, it spelled out what Republicans planned to pass in their first 100 days of a majority they easily swept in midterm elections that year.
But when Republicans led by House Minority Leader Kevin McCarthy (R-Calif.) roll out their Commitment to America plan today in Pittsburgh, the legislative details will be light as they focus messaging their top priorities — the economy, safety, individual freedom and government accountability.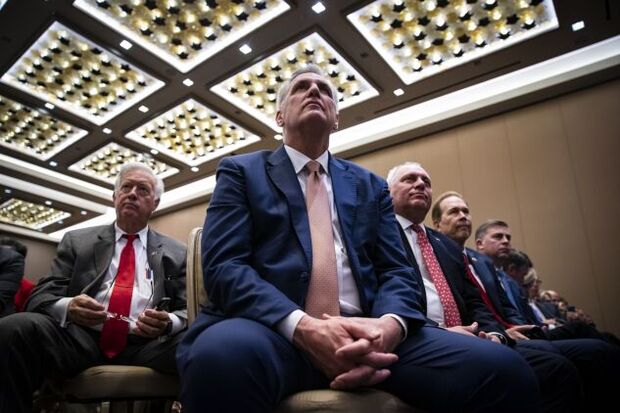 "I don't think Americans want today to see legislative text," Tom Emmer (R-Minn.) chair of the House Republican's campaign arm. "They want to know what you're gonna do and then they want you to get it done. Period."
The plan has been in the works for more than a year. Seven task forces — each with a specific focus — crafted their own proposals. Although much of the work won't be on display, members poised to chair committees next year say the time put into the plan helped lay the groundwork for their committees.
Rep. Patrick McHenry (R-N.C.), the top Republican on the Financial Services Committee, noted while the Commitment to America plan only had two bullet points on jobs and the economy, there were four separate of documents explaining those two bullets points in greater detail.
Beyond those four documents is a 25-30 page memo for members to further understand the plan. And beyond that memo, McHenry said "is literally hundreds of pages of legislative framework, texts and texts we've filed."
Some members in the House Freedom Caucus want to see more policy details as part of the roll out, but most complaints were muted given the larger goal of beating Democrats in November.
Rep. Marjorie Taylor Greene (R-Ga.) said while she was excited about the plan "we still have a lot to be hammered out."
"I definitely think that it's something that the conference will have to work on," she said, noting the details shouldn't only be determined in committees, but as a conference.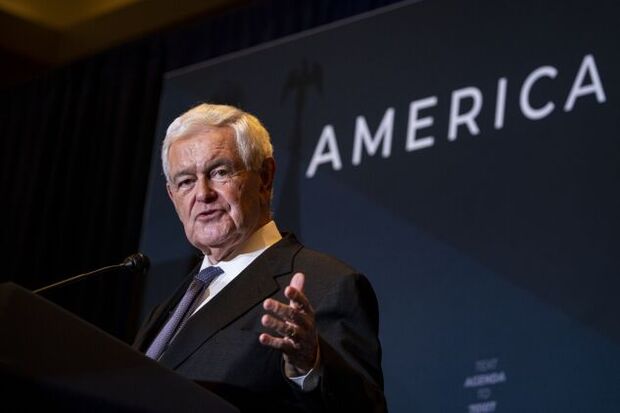 One person backing the GOP's approach of avoiding specificity is Gingrich himself. The former speaker returned to Congress on Thursday to tout the plan during a closed door Republican briefing.
"It's much more sophisticated than what we did in '94," Gingrich said. "It's a really blueprint for governing."
Gingrich, who advised Republicans throughout the crafting of the plan, told members they needed to do to sell it.
"Keep focused on the commitment and talk about it over and over and over again," Gingrich said he told members during the meeting. "You talk about it until you can't stand it, and at that point the voters are starting to know what is going on."
Happening on the Hill
CONGRESS' SCHEDULE
The House will next meet on Wednesday at noon.
The Senate meets for a pro forma session Friday at 11 a.m., and no votes are expected. The chamber is scheduled to next meet Tuesday at 3 p.m.
Democratic Senator Joe Manchin struggled on Thursday to win the GOP backing needed for his legislation to fast-track energy projects, with some senior Republican senators declaring it dead on arrival.
House Administration Committee chair Zoe Lofgren says she hopes the stock ban trading bill being written by her committee is on the House floor for a vote next week.
Arati Prabhakar will be the first woman, immigrant, and person of color confirmed to lead the White House's science office following Senate approval on Thursday.
Freight shippers are pressing Congress to address rail delays and service problems that slow the supply chain, in the wake of last week's eleventh-hour deal averting a crippling national rail workers' strike.
The House passed a package of police and public safety legislation Thursday that Democrats intend to showcase in the fall midterms to counter Republican claims that they are soft on crime.
Republicans from the Senate Finance Committee demanded the IRS to spell out how it plans to use a $80 billion boost in funding.
The Department of Homeland Security should provide a one-year Jones Act waiver for shipments into Puerto Rico to help with recovery from Hurricane Fiona, eight House lawmakers wrote in letter to Secretary Alejandro Mayorkas on Thursday.
Elections, Politics & Probes
Join Bloomberg Government's Sept. 28 webinar for more on the 2022 midterm elections, with a focus on the House races key to controlling the chamber. Find out more and sign up here .
Senate Republicans' novel use of a party legal expense account to pay for campaign ads could allow both parties to tap millions of dollars long considered off limits.
The House Republicans' campaign apparatus spiked about $1 million in ads it booked in Ohio to support a House candidate who lied about his military service, essentially ceding a seat it had targeted to Democrats.
President Joe Biden criticized GOP efforts, including legislation from Senator Lindsey Graham, to restrict abortion nationwide, calling the push extreme and claiming the Catholic Church was less strict on the issue than congressional Republicans.
Around the Administration
PRESIDENT'S AGENDA
Biden at 1 p.m. is scheduled to give a speech at a Democratic National Committee event at the National Education Association headquarters in Washington, D.C.
At 8 p.m. the president will deliver remarks and host a concert with Elton John at the White House.
At 2:30 p.m., White House Press Secretary Karine Jean-Pierre will give a briefing.
Biden reaffirmed the United States' "ironclad commitment to the defense of the Philippines" during his meeting with counterpart Ferdinand Marcos Jr.in New York.
Biden has made additional assistance available to Puerto Rico to supplement recovery efforts in the areas affected by Hurricane Fiona, according to a statement from the Federal Emergency Management Agency.
Biden's choice to head his administration's trucking agency won Senate confirmation Thursday as the industry confronts driver retention and supply chain challenges, an increase in crashes, and a lack of parking.
The Energy Department has opened up applications for $7 billion to establish up to 10 regional hydrogen hubs, part of a broader road map unveiled Thursday that officials described as essential to lowering emissions in industrial sectors such as energy, transportation, steel, and cement.
Ensuring air pollution is among the issues a proposed United Nations Science-Policy Panel would address is an important US priority, State Department officials said Thursday during a briefing about the panel.
Biden's administration has slashed its target for Covid-19 vaccine donations abroad this year, amending a contract with Pfizer in the latest sign that world demand for the shots has collapsed.
The CDC is devoting funding to dozens of local health departments for programs to stop improper antibiotic prescribing following the rise in deadly bacterial and fungal infections during the Covid-19 pandemic.
Boeing agreed to pay $200 million to settle Securities and Exchange Commission allegations that the company and its former Chief Executive Officer Dennis Muilenburg failed to disclose safety issues with its 737 Max jetliner, resolving one of the final US investigations related to two crashes that killed 346 people.
Raytheon Technologies Corp. beat Lockheed Martin Corp. and Boeing Co. for a $1 billion contract to design, develop and produce a new hypersonic weapon for the US Air Force, the Pentagon announced Thursday.
One of the unions at the center of rail negotiations that nearly crippled the nation's supply chains last week has distributed the last-minute contract deal to its members for ratification.
To contact the reporters on this story: Emily Wilkins in Washington at ewilkins@bgov.com; Brandon Lee in Washington at blee@bgov.com; Michaela Ross in Washington at mross@bgov.com
To contact the editor responsible for this story: Giuseppe Macri at gmacri@bgov.com