What to Know in Washington: McCarthy's Fight Drags Into Day Four
Bloomberg Government subscribers get the stories like this first. Act now and gain unlimited access to everything you need to know. Learn more.
Kevin McCarthy's allies are still working to strike a deal with members of the group who've blocked the California Republican from being elected speaker in a historic 11 rounds of voting.
The standoff has left House Republicans fractured after they reclaimed the majority in the November election and has frozen all other business in the chamber, which will reconvene on Friday.
McCarthy and some of his supporters were adamant they would press ahead with negotiations to try and find the votes he needs no matter how long it takes.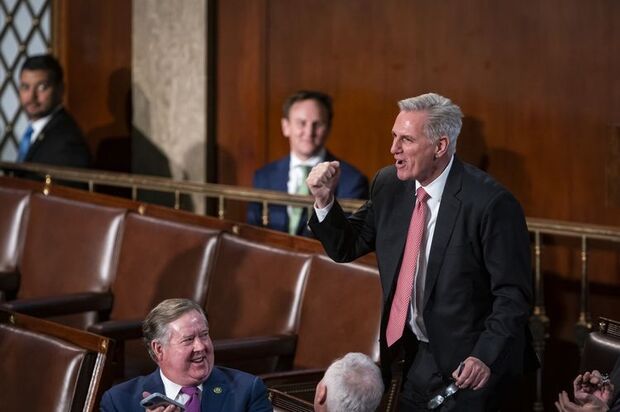 "I'm not putting any time on it," McCarthy said after the last vote Thursday night. "We got members talking. I think we got a little movement."
McCarthy has tried to break the deadlock by offering significant concessions on House rules that would weaken his power and his ability to control hard-liners in his party, which raise the risk of chaos on issues like the debt ceiling and government spending.
Yet after three days of voting, 20 Republicans held firm in their opposition to McCarthy, more than enough to deny him the majority he requires to be elected speaker.
McCarthy's back-to-back losses marked a post-Civil War record for the number of ballots needed to select a speaker. In 1923, Frederick Gillett, a Massachusetts Republican, was elected to the post after nine ballots. The last multi-ballot speaker vote before that was in 1859, when 44 votes were needed.
House Gridlock Over Speaker Now Longest Since Before Civil War
Only six other speaker elections have taken more than 10 ballots. Election of the speaker is the first order of business for House members, and they can do nothing else until that's done except adjourn.
A faction of the dissidents most interested in changing House procedural rules met with leadership and others throughout the day Thursday.
Reps. Chip Roy (Texas), Scott Perry (Pa.) and Byron Donalds (Fla.) are spearheading the attempt to force the changes needed to earn their votes. They are angling to open up floor procedures to amendment votes, forbidding giant packages of bills and to guarantee conservatives have more seats on key committees. Billy House, Erik Wasson and Laura Davison lay the groundwork ahead of day four in the standoff.
Some House Republicans are worried McCarthy may be going too far in making concessions to the far right in order to win their support for his bid to be speaker, the last obstacle in his quest to lead the chamber. Read more.
Also Happening on the Hill
CONGRESS' SCHEDULE
The House meets at noon to continue the speaker election process
The Senate will hold a pro forma session at 1 p.m.
House Clerk Cheryl Johnson has become an unlikely folk hero in Washington this week, running the lower chamber of Congress with a steady hand as Republicans struggle to elect a speaker amid historic chaos.
Moms tend to do the lion's share of child care, but some male members of the House are pulling their weight this week as the chaotic vote for House Speaker dragged for days.
Lawmakers say there's a deal to be struck on a tax package built on a foundation of business tax extenders and a child tax credit, despite new challenges.
Lawmakers face a tangled web of commitments and potential pitfalls to avoid a default on federal payments, avert a government shutdown, and reauthorize military and agriculture policies—a convoluted series of negotiations that will stress the narrow majorities in the House and Senate and may lead to public confusion.
The cancellation of the Keystone XL Pipeline cost the US economy jobs, but its overall effect on consumers remains inconclusive, the Energy Department found.
Republicans have hammered the Biden administration for killing the proposed pipeline extension from Canada to Nebraska in 2021, and introduced several failed measures in the last Congress to revive it. House and Senate Republicans expect to push the issue once again in the 118th Congress as part of an overall policy agenda focused on increasing domestic energy production.
A group of House Democrats are pressing Transportation Secretary Pete Buttigieg to do more on flight disruption after thousands of cancellations at Southwest Airlines.
Elections & Politics
The second anniversary of the Jan. 6, 2021, insurrection at the US Capitol arrives with the building again in turmoil, this time as House Republicans quarrel over a speaker to lead the chamber.
The chaos unfolding on the House floor threatens to tarnish the new GOP majority, which voters put back in power less than two years after a mob instigated by Donald Trump fought through police lines to ransack the building and try to stop certification of President Joe Biden's election victory.
Trump is being blamed for the death of Capitol Police Officer Brian Sicknick, who was assaulted during the Jan. 6, 2021, riot, in a lawsuit that claims the former president is responsible because he riled up his supporters with false election claims and calls to take action.
Michigan Sen. Debbie Stabenow's decision to forego a 2024 re-election bid set off a cacophony of speculation Thursday about which fellow Democrats may want to succeed her.
Texas sued the Biden administration Thursday over its move to dump a Trump-era public charge rule and replace it with a more lenient rule that only considers cash government benefits or long-term institutionalization when assessing whether an immigrant is likely to become a public charge.
Around the Administration
BIDEN'S AGENDA
Biden at 12:45 p.m. is scheduled to have lunch with Vice President Kamala Harris. At the same time, Press Secretary Karine Jean-Pierre will give a briefing to reporters.
At 2 p.m., Biden and Harris at the White House will mark the two-year anniversary of the January 6 attack on the US Capitol.
At 4:30 p.m., the president departs for New Castle, Delaware.
Mexican President Andres Manuel Lopez Obrador will ask US counterpart Biden for support in financing clean energy projects and attracting semiconductor investment when the two men meet in Mexico City next week, a senior Mexican Foreign Ministry official said Thursday.
The Federal Trade Commission's aggressive bid to free workers from restrictive noncompete agreements is likely to spark a court challenge testing the scope of the agency's powers.
US authorities are ratcheting up pressure on Sam Bankman-Fried's inner circle as they scrutinize former close FTX associate Nishad Singh, according to people familiar with the matter.
The noon Moscow start time passed Friday for President Vladimir Putin's order of a 36-hour cease-fire in Ukraine for the Orthodox Christmas holiday. Kyiv dismissed the offer as a ploy.
China has rebuffed repeated US offers to share advanced vaccines as Beijing battles a fast-spreading wave of Covid-19, a rejection that's led to growing frustration among American officials concerned about a resurgence of the pandemic.
To contact the reporters on this story: Brandon Lee in Washington at blee@bgov.com; Michaela Ross in Washington at mross@bgov.com
To contact the editor responsible for this story: Giuseppe Macri at gmacri@bgov.com
Stay informed with more news like this – from the largest team of reporters on Capitol Hill – subscribe to Bloomberg Government today. Learn more.