What to Know in Washington: McCarthy Ups Debt Cap Heat on Biden
Bloomberg Government subscribers get the stories like this first. Act now and gain unlimited access to everything you need to know. Learn more.
Speaker Kevin McCarthy on Thursday escalated demands for President Joe Biden and Democrats to avoid a debt-ceiling crisis by embracing the plan that House Republicans passed the day before on party lines.
"The Senate's done nothing," McCarthy (R-Calif.) said in an interview with Bloomberg Television's "Balance of Power." "They haven't done anything on the debt ceiling and the president's ignored this problem."
Still buoyant from Wednesday's passage of his proposal requiring broad spending cuts in return for raising the nation's debt limit, McCarthy said House Republicans were the ones serious about averting a potentially catastrophic debt default in upcoming weeks.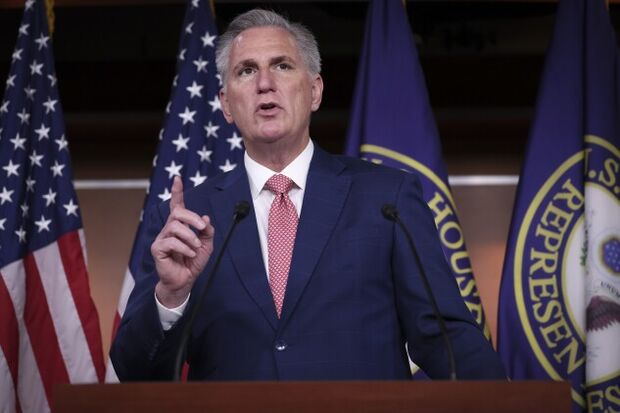 McCarthy said Biden put the economy in "jeopardy" by not negotiating with him. The last time they met on the debt ceiling, he said, was Feb. 1 — 85 days ago.
Senate Democrats have declared McCarthy's debt ceiling bill, which passed 217-215, dead on arrival.
And Biden continues to say he won't entertain any strings-attached bargaining in order to raise the $31.4 trillion limit, such as spending cuts. He has indicated he may be open to "separate" budget talks.
McCarthy stressed there is room for compromise on the Republican demands but Biden must open talks.
"There's two things I will not do, Mr. President. I will not raise taxes and we will not raise a clean debt ceiling. But we can talk about everything else," McCarthy said.
McCarthy brushed aside doubts he would be able secure passage of an eventual compromise given his fractious GOP conference.
"That's a great question, because that's the same question I had all week whether I could pass this bill," McCarthy said, still reveling in the victory. "We can get something together." Read more from Annmarie Hordern and Billy House.
BIDEN'S AGENDA
Biden at 2:30 p.m. presents the Commander-in-Chief's trophy to the Air Force Falcons at the White House
The president and the first lady at 6:45 p.m. participate in a Democratic National Committee reception in Washington, D.C.
CONGRESS' SCHEDULE
The House meets at 9 a.m. to vote on a repeal of a Biden administration two-year suspension of tariffs on solar panels from Southeast Asia.
The Senate returns Monday.
More From Congress
House Republicans announced a wide-ranging border security package on Thursday that seeks more stringent barriers for migrants to enter the country and seeks to undo much of Biden's approach to immigration.
South Korean President Yoon Suk Yeol rose to the presidency making the case for closer ties with the US. On Thursday, he brought his case to US lawmakers — and found a receptive audience.
The top Republican on a House oversight panel hinted he wants to end NIH funding for high-level biocontainment research, repeating his party's criticisms of the way the agency handled coronavirus research grants in Wuhan, China.
Expanding the number of long-distance flights available at Reagan National Airport, the closest to Capitol Hill, is running into resistance from lawmakers and airport officials in the region worried about noise and congestion.
Senate Majority Leader Chuck Schumer wrote to a trial court chief judge asking that the Northern District of Texas change how it assigns cases to prevent judge shopping.
Politics, Probes, and 2024
Democrats are concerned that Biden hasn't raised enough money from donors in the initial days since his Tuesday reelection announcement, potentially underscoring the perception that his run isn't exciting voters.
Sen. Tim Scott (R-S.C.) plans to make his 2024 presidential run official, after he tested the waters with an exploratory committee earlier this month.
Former Vice President Mike Pence testified before a federal grand jury investigating the plot to overturn the 2020 presidential election, giving him the opportunity to deal his former boss Donald Trump a major blow as they head toward a possible face-off in next year's GOP nominating contest.
The New York writer who sued Trump claiming he raped her in a department store in the 1990s lashed out at the former president's lawyer as he grilled her on the witness stand about why she didn't scream during the alleged attack.
A sweeping federal appeals court ruling Thursday revived Florida election law restrictions—including a ban on drop-box voting—and removed the nation's third most populous state from a federal program that scrutinized voting rule changes.
What Else We're Reading
Officials are coordinating talks to rescue First Republic Bank, Reuters reports, citing three unidentified people familiar with the matter. The FDIC, Treasury Department, and Federal Reserve have started to orchestrate meetings in recent days with companies about putting together a lifeline for the lender.
The top US trade official is more focused on the distortions to the American economy caused by China's nonmarket policies than certain violations of a trade agreement between the two countries.
National Security Advisor Jake Sullivan said that the Biden administration is working to "de-risk," not "decouple," from China, making the case that the administration's industrial strategy is crucial to competing with its geopolitical rival.
The Pentagon came under new pressure to explain why it failed to catch the airman accused of leaking classified information after prosecutors revealed that he had accessed secrets with no link to his job and posted online about violent fantasies such as killing the "weak minded."
About eight million Americans that received enhanced food-assistance benefits have been going hungry ever since the program ended earlier this year. It's also hitting economic growth.
Biden administration officials have decided to issue an emergency waiver that will allow widespread sales of higher-ethanol E15 gasoline this summer, following a strategy used last year to help tamp down high pump prices.
Think of them as speed cameras, but for methane. Just like roadside instruments used to identify drivers breaking traffic rules, new powerful satellites are starting to catch oil and gas operators releasing the planet-warming gas into the atmosphere.
To contact the reporters on this story: Brandon Lee in Washington at blee@bgov.com; Michaela Ross in Washington at mross@bgov.com
To contact the editor responsible for this story: Kayla Sharpe at ksharpe@bloombergindustry.com
Stay informed with more news like this – from the largest team of reporters on Capitol Hill – subscribe to Bloomberg Government today. Learn more.