What to Know in Washington: McCarthy Tweaks Debt Limit Measure
Bloomberg Government subscribers get the stories like this first. Act now and gain unlimited access to everything you need to know. Learn more.
Speaker Kevin McCarthy (R-Calif.) decided overnight to make changes to his debt limit bill, bowing to the demands of a small number of Republican lawmakers who had threatened to tank the measure when it comes up for a House floor vote this week.
The move came just hours after McCarthy declared to reporters he was not entertaining any changes to the measure, which would raise the debt limit by $1.5 trillion.
The House Rules Committee amended the bill to restore three tax breaks for biofuels and for two others allows them to be claimed for investments made between August 2022 and April 19, 2023, a key demand of six or more Midwestern lawmakers who had declared opposition to the measure.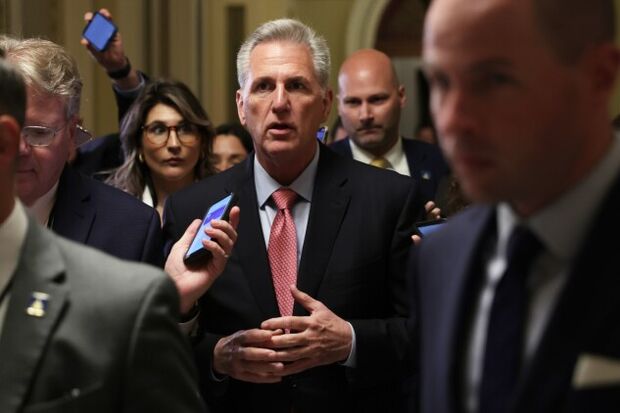 In order to balance the loss of savings from the new compromise, the bill makes certain cancellations of unspent Covid-19 funding permanent.
The amendment also accelerates new work requirements in Medicaid so that they take effect in 2024 rather than 2025, a key demand of Rep. Matt Gaetz (R-Fla.) and other conservatives who had threatened to vote "no." The amendment also contains language clarifying that one of the goals of the food stamps program is to increase work by participants.
While House leaders had hoped to vote on the bill today, it does not appear on the day's calendar, making a Thursday vote more likely. It is not yet clear if McCarthy has the votes for the bill even with the changes. Some lawmakers like Reps. Nancy Mace (R-S.C.), Andy Biggs (R-Ariz.), and Tim Burchett (R-Tenn.) had been opposed because the level of cuts was too small.
Overall, the bill aims to trim $4.8 trillion in spending over a decade in part by cutting discretionary spending by $130 billion next year and capping its growth at 1%. The bill, a grab bag of conservative measures, would ease energy regulations, end clean-energy tax breaks, rescind unspent Covid-19 funds and impose new work requirements on adults without children who receive Medicaid and food stamps.
McCarthy has said he hopes passage of the bill will pressure President Joe Biden into talks over raising the debt ceiling as a possible payment default looms as soon as June without congressional agreement to raise it. Read more from Eric Wasson.
More on the Debt Limit
The Congressional Budget Office says it estimates the House Republicans' debt limit bill would result in $4.8 trillion in deficit reduction over the 2023-2033 period.
Senate Republican leader Mitch McConnell (R-Ky.) calls on Biden to start talks on the debt-limit with Speaker McCarthy.
Sen. Ted Cruz (R-Texas) said that "under no circumstances should the United States default on our debt," as the House prepares to vote on a plan that would raise the debt ceiling but slash federal spending, which the White House opposes.
The nation's top business groups are taking a wait-and-see public response to House Republicans' effort this week to move a debt ceiling increase that's tied to spending cuts.
Biden To Meet With South Korean President
BIDEN'S AGENDA
Biden will hold a bilateral meeting with South Korean President Yoon Suk Yeol before 11 a.m. Yoon and Biden hold a joint press conference at 12:30 p.m. Biden and the First Lady Jill Biden host Yoon for a state dinner at 8:30 p.m
The US will strengthen the deterrence it provides South Korea against nuclear threats, securing a pledge from Seoul to honor commitments to not pursue its own atomic arsenal. Biden and South Korean President Yoon Suk Yeol will announce the agreement when they meet Wednesday at the White House, according to senior American administration officials who spoke on condition of anonymity.
The security package comes after months of North Korean ballistic missile launches laced with threats of further nuclear tests. The US has flown bombers and deployed submarines in a show of force against North Korea and to soothe anxiety in South Korea over aggression by the regime of Kim Jong Un. Read more
CONGRESS' SCHEDULE
House to vote by 1:30 p.m. on withdrawing troops from Somalia.
Senators start votes by noon on a VA nominee, VA cannabis bill and to block EPA truck emission rules.
Also Happening on the Hill
The Senate, in a rare move, will consider whether to back cannabis research at the Veterans Affairs Department for generations of former troops who suffer from trauma, stress, chronic pain, and opioid addiction.
Congress is weighing whether to reduce some Medicare payments to hospitals and beef up price transparency rules, sparking a pushback from the industry.
A Biden administration budget proposal would provide a lifeline to the nation's community health centers as they face the twin challenges of an expected drop in revenue accompanied by an influx of patients losing their Medicaid coverage.
Air carriers and lawmakers seeking to modify pilot training rules to alleviate staffing challenges are running into resistance from families of crash victims and their allies in Congress.
Chief Justice John Roberts has refused a request to testify before the Senate Judiciary Committee, leaving Democrats struggling for their next move over demands for a code of conduct for the Supreme Court.
The Supreme Court responded to mounting ethics controversies with a three-page statement signed by all nine justices vowing to follow "foundational ethics principles and practices," but suggesting they see no need for a formal code of conduct. Read more
What Else We're Reading
Manhattan District Attorney Alvin Bragg's office asked a judge to issue an order prohibiting former President Donald Trump from publicly discussing information prosecutors turn over to his lawyers before he's tried on business fraud charges.
Months before Silicon Valley Bank and Signature Bank collapsed, financial regulators received warnings about how the industry's mounting unrealized losses had the potential to spark a crisis.
The Pentagon's No. 2 official said Russia's invasion of Ukraine is teaching the US valuable lessons for a potential conflict with China, from the need to build a steady ammunition pipeline to innovation in space.
To contact the reporter on this story: Kayla Sharpe at ksharpe@bloombergindustry.com
Stay informed with more news like this – from the largest team of reporters on Capitol Hill – subscribe to Bloomberg Government today. Learn more.