What to Know in Washington: McCarthy Softens GOP's Debt Cap Tone
Bloomberg Government subscribers get the stories like this first. Act now and gain unlimited access to everything you need to know. Learn more.
House Republicans "won't budge" on demands for federal spending cuts in return for agreeing to lift the debt ceiling and avoid a US payment default, Rep. James Comer (R-Ky.) said.
As the federal government moved closer to breaching its statutory debt limit, lawmakers Sunday mostly talked past each other: Republicans renewed demands for cuts, while Democrats insisted the government be allowed to honor commitments made by previous Congresses.
Republicans who gained control of the House in the US midterm election "campaigned on the the fact that we were going to be serious about spending cuts," Comer told CNN's "State of the Union." The Democratic-led Senate "is going to have to recognize the fact that we're not going to budge until we see meaningful reform with respect to spending," said Comer.
Rep. Ro Khanna (D-Calif.) typified Democrats' response, saying Republicans ought to focus their budget goals on future spending bills instead of refusing to raise the debt ceiling. "If you want a debate about future spending—do we want to have defense cuts, do we want to have spending cuts?—that's a legitimate debate," said Khanna, who also appeared on CNN. "But you don't debate whether you pay your debts. You don't debate the prestige of the United States."
Prospective talks on raising the debt ceiling are quickly emerging as a potential global flashpoint that could threaten the stability of financial markets. Treasury Secretary Janet Yellen said last week the department will start taking special accounting maneuvers on Jan. 19 to avoid breaching the debt limit and urged lawmakers to boost the limit to avert a US default. President Joe Biden has vowed he won't make concessions to prevent Republicans from forcing a first-ever US default on the debt.
But Kevin McCarthy (R-Calif.), who was forced to negotiate with ultraconservatives in his own party before being elected speaker last week, expressed optimism on Sunday that he can negotiate with Biden. "I believe we can sit down with anybody who wants to work together. I believe this president could be that person," he told Fox News. Read more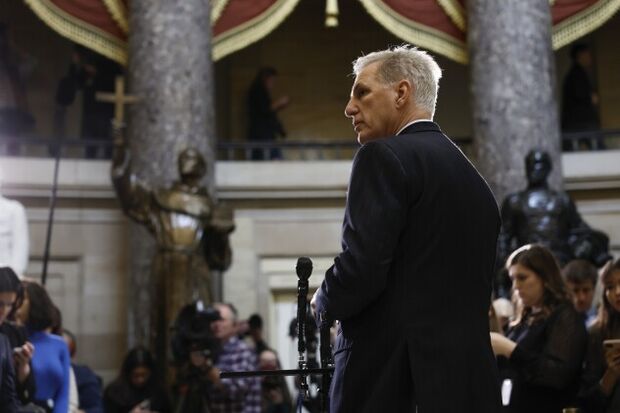 Also Happening on the Hill
CONGRESS' SCHEDULE
The Senate returns Monday, Jan. 23
The House returns Tuesday, Jan. 24
House and Senate lawmakers are scheduled to meet today with world leaders in Davos, Switzerland, to discuss what they should expect from the US Congress during a new era of divided government, Nancy Ognanovich reports.
Sens. Joe Manchin (D-W.Va.) and Kyrsten Sinema (I-Ariz.), who have often provided the key votes needed to advance President Joe Biden's legislative plans, will join Sen. Chris Coons (D-Del.) and others at this year's World Economic Forum annual meeting. Also set to join the discussion led by WEF President Borge Brende are Reps. María Elvira Salazar (R-Fla.) and Mikie Sherrill (D-N.J.).
House Minority Leader Hakeem Jeffries (D-N.Y.) over the weekend emailed lawmakers with ratios of Republican and Democratic members for four panels: Appropriations, Energy and Commerce, Financial Services and Ways and Means, Emily Wilkins reports.
Jeffries said 29 Republicans will sit on the E&C panel with 23 Democrats, meaning three seats will be cut on both sides of the aisle compared to the 117th Congress. "It is my expectation that ratios for the remaining committees will be negotiated by the end of next week. It is our intention to complete the committee assignment process this month," he wrote.
The other panel ratios include:
34 GOP seats and 27 Democratic seats for Appropriations, an increase of one seat on each side from last Congress;
29 GOP seats and 23 Democratic seats for Financial Services, a decrease of one seat on each side; and
25 GOP seats and 18 Democratic seats for Ways and Means, the same as the 117th Congress.
House GOP Judiciary Members List Takes Shape: Republicans are poised to unveil their list of House Judiciary Committee roster for the new Congress, according to a person familiar with the plans, Emily Wilkins reports. The list includes:
Reps. Lance Gooden (Texas), Jeff Van Drew (N.J.), Barry Moore (Ala.), Troy Nehls (Texas), Russell Fry (S.C.), Wesley Hunt (Texas), Kevin Kiley (Calif.), Laurel Lee (Fla.) Nathaniel Moran (Texas), Harriet Hageman (Wy.), Scott Fitzgerald (Wis.), and Ben Cline (Va.).
Immigrants' rights advocates and progressives are pivoting to defense and pragmatism after their hopes for major immigration legislation were dashed last year.
New York Mayor Eric Adams wrapped up a 24-hour trip to El Paso on Sunday by demanding that the federal government do more to coordinate services to asylum seekers being bused from the border to the nation's cities. Read more
At the Supreme Court, justices agreed to take up a pair of immigration cases advocates say are necessary to rein in the sweeping reach of laws that have harsh and permanent consequences. Read more
A bipartisan group of over 100 House lawmakers is demanding that Transportation Secretary Pete Buttigieg provide answers to last Wednesday's air-traffic shutdown, which they called "completely unacceptable."
Federal Trade Commission Chair Lina Khan's proposal to prohibit companies from imposing non-compete agreements on employees encountered more opposition, this time from a member of the new Republican majority in the House.
The Federal Trade Commission's proposed ban this month on noncompetes largely contains no exceptions for protecting trade secrets, also spurring criticism from intellectual property attorneys. Read more
A delegation led by Sen. Todd Young (R-Ind.) met with Taiwanese President Tsai Ing-wen on Tuesday, Xavier Chang, spokesman for the Presidential Office in Taipei, said in a text message.
Elections, Politics & Probes
Joe Biden's lawyers discovered more classified material at his Wilmington, Delaware, home than previously announced, the White House said Saturday—deepening a crisis that threatens to sap any political momentum for the president.
The latest discovery of classified material highlights the long-term political and legal risk to the president from a rapidly unfolding investigation that could yield further damaging revelations. Read more
The discovery is snaring Biden's political momentum after starting the year with a surge of good news, propelled by better-than-expected midterm election results and Republican disarray. Read more
Biden delivered a sermon on Sunday at Martin Luther King Jr.'s historic Ebenezer Baptist Church in Atlanta, testing out themes he'll need to drive turnout of Black voters in his expected 2024 re-election campaign.
Donald Trump's 2016 campaign has reached a settlement in a long-running fight over its nondisclosure agreements that would free potentially hundreds of ex-staffers, contractors and volunteers to say what they want to about their experience.
Meanwhile, Trump's sworn testimony in a defamation suit by a New York author who accuses him of rape was partially unsealed, revealing the former president's rage about the case and many other alleged "hoaxes." Read more
The Republican National Committee has poured funds into outreach to Black and Latino communities, groups that have trended Democratic. But GOP allies worry the party lacks a similar plan to make inroads with young voters from all ethnic groups.
The US Supreme Court agreed to consider requiring employers to do more to accommodate the needs of religious workers, accepting an appeal from a Pennsylvania postal carrier who says he was forced out of his job for refusing to work on Sundays.
Around the Administration
BIDEN'S AGENDA
Biden is scheduled to meet with Dutch Prime Minister Mark Rutte at 11:15 a.m.
At 2:45 p.m., Biden is scheduled to welcome the Golden State Warriors to the White House.
Jonathan Kanter, a Google critic appointed by President Joe Biden to head the Justice Department's antitrust division, has been cleared by the agency to work on cases related to the search giant, according to people familiar with the matter.
Federal accident investigators have opened probes into the near-collision of two jets on a runway at New York's John F. Kennedy International Airport on Friday.
OSHA is reviving a defunct enforcement policy by proposing a rule that would allow worker advocates to take part in inspections of nonunion workplaces, even if those advocates aren't employees.
Investments in Anduril and Shield AI in the latter half of 2022 pushed the year's venture capital total for defense technology "unicorns" to a record $1.9 billion, giving the leading group of startups in the market momentum for further growth.
State top courts have begun weighing in on whether their laws provide greater protection for abortion rights than the federal constitution, with mixed results.
Defense & Foreign Affairs
President Joe Biden praised Japan's unprecedented defense overhaul, while Prime Minister Fumio Kishida underscored "unacceptable" aspects of China's world view following a summit between the two allies in Washington.
At the same time, Kishida is looking beyond his country's alliance with the US to deter China, bolstering security ties with democracies from Australia to Italy to Great Britain. Read more
Kishida said Japan will consider "with responsibility" how to deal with semiconductor trade. "Japan will communicate closely with allies and like-minded countries" and think about its strategy forward, he said. Read more
Treasury Secretary Yellen departs Tuesday to visit three African countries central to Biden's strategy to rejuvenate ties on the continent and counter China's influence across the developing world.
Meanwhile, Yellen will hold her first face-to-face meeting with Chinese Vice Premier Liu He on Jan. 18 in Zurich, making a detour on her way to talks in Africa. Read more
Venezuela's opposition delegation, which is participating in talks in Mexico with Nicolas Maduro's government, met Friday with US officials in Washington, according to a tweet posted by US Assistant Secretary of State Brian Nichols.
The head of the European Union's executive arm said the bloc should pass a new law to fast-track investments in clean tech and boost funding for the energy transition in response to a US climate law it fears unfairly subsidizes American companies.
With assistance from Emily Wilkins and Nancy Ognanovich
To contact the reporter on this story: Brandon Lee in Washington at blee@bgov.com
To contact the editors responsible for this story: Giuseppe Macri at gmacri@bgov.com; Michaela Ross at mross@bgov.com
The list of members appointed to the House Judiciary Committee has been corrected.
Stay informed with more news like this – from the largest team of reporters on Capitol Hill – subscribe to Bloomberg Government today. Learn more.