What to Know in Washington: McCarthy Sees Deal on Debt Possible
Bloomberg Government subscribers get the stories like this first. Act now and gain unlimited access to everything you need to know. Learn more.
House Speaker Kevin McCarthy said he's hopeful he can strike a deal on raising the debt limit with President Joe Biden well before the deadline when the nation would no longer be able to pay its bills.
The California Republican emerged from a private meeting with Biden on Wednesday and sought to tamp down concerns that a stalemate could push the government to the edge of a default. He said the discussion went better than he expected.
"I think, at the end of the day, we can find common ground," McCarthy said as he left the White House.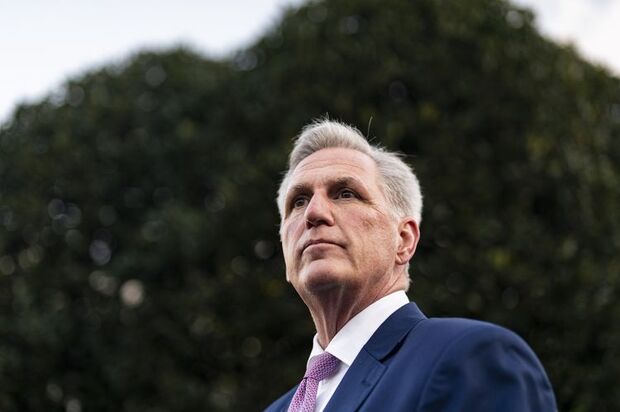 But he also reiterated GOP demands for spending cuts and said he was aiming for a two-year agreement. "We don't have a revenue problem we have a spending problem," he said. He added that an increase in the debt limit without an agreement on spending is "not going to happen," Josh Wingrove and Erik Wasson report.
Biden and McCarthy followed similar, winding paths to find themselves back at a familiar point: staring out over the brink of a debt ceiling crisis.
The two men, neither strangers nor friends, sat under a portrait of Franklin Delano Roosevelt during their meeting — a president Biden admires and one whose Depression-era New Deal gave rise to an expansion of government programs.
In a few months, the US will come to the end of its credit limit and the ability to make good on its obligations. The question between now and then is whether Biden is willing to cut a deal on spending to raise the debt limit — and will McCarthy be able to deliver on any agreement he makes.
The duo's interactions over the next several months will have a significant impact on the economy and, by extension, their political futures. Wingrove, Wasson and Billy House examine how they're dynamic will play into negotiations.
Federal Reserve Chair Jerome Powell warned against any assumption that the central bank can rescue the economy if Congress fails to raise the federal debt ceiling — a move that could force the Treasury into a payments default. Read more.
Also Happening on the Hill
CONGRESS' SCHEDULE
The House returns at 9:30 a.m. to vote on a resolution to pull Rep. Ilhan Omar (D-Minn.) from the Foreign Affairs Committee.
Senators meet at 10 a.m. to consider a US Institute of Peace nomination, and may take up an organizing resolution.
A congressional push to ban TikTok from US devices is intensifying, but lawmakers appear willing to consider alternate approaches due to free speech concerns.
Sen. Michael Bennet (D-Colo.), a member of the Intelligence Committee, asked the CEOs of Apple and Google to remove TikTok, the Chinese-owned video-sharing platform, from their app stores, citing "grave" national security concerns. Read more.
Some of the biggest names in copper have found high-ranking political allies to support their efforts to get the wiring metal added to a list of minerals deemed critical to the US.
Four Republican senators questioned DirecTV's decision to drop conservative channel Newsmax in a letter to the satellite-TV service and its co-owners — AT&T and private equity firm TPG.
Tax policy geared toward farmers and others that transfer land and other assets to heirs will get a renewed focus at the Ways and Means Committee this year, a marker of the panel's more rural tilt while still promoting measures that favor business.
Rep. Frank Lucas returns to the House Agriculture Committee just in time for another farm bill, after he chaired the committee through the same process nearly a decade ago.

Elections, Politics & Probes
Lawyers for Hunter Biden, President Joe Biden's son, asked federal and state prosecutors to investigate people he accused of accessing and disseminating personal data, and also threatened Fox News host Tucker Carlson with a defamation suit.
The Long Island village of Southampton has long served as a getaway for New York's ultra-wealthy, but in the summer of 2022, it welcomed a crop of newly minted magnates. George Santos, an underdog congressional candidate from the other end of the island, was there to greet them.
Jones Day, the powerful law firm that's been a close ally to Donald Trump, will not be advising the ex-president on his bid to return to the White House.
Around the Administration
BIDEN'S AGENDA
The president at 8 a.m. delivers remarks at the National Prayer Breakfast in Washington, D.C. He then returns to the White House to have lunch with King Abdullah II of Jordan and Crown Prince Hussein at noon.
At 2:15 p.m. Biden and Vice President Kamala Harris deliver remarks at the White House on the 30th anniversary of the Family and Medical Leave Act.
Biden and Harris at 4:30 p.m. meet with Congressional Black Caucus members in the Oval Office.
At 12:45 p.m. White House Press Secretary Karine Jean-Pierre gives a briefing.
The US agreed to spend at least $6 billion last year to mail millions of at-home Covid-19 tests, but the Biden administration won't share the price per test, where they were sent, or details showing whether they reached the neediest Americans.
White House staff, the US Postal Service, and other agencies declined multiple Bloomberg Government requests for information on the program for nearly a year.
The US keeps saying it wants to set a "floor" under the relationship with China. Its recent moves against Beijing and new pressure from Congress make achieving that look increasingly unlikely.
Aides for Biden and Indian Prime Minister Narendra Modi are discussing a possible state visit to Washington later this year, according to people familiar with the discussions.
North Korea's Foreign Ministry said the door remains shut for talks with the US on winding down its atomic arsenal, setting the stage for renewed provocations by pledging to respond to what it saw as threats from Washington.
To contact the reporters on this story: Brandon Lee in Washington at blee@bgov.com; Michaela Ross in Washington at mross@bgov.com
To contact the editor responsible for this story: Giuseppe Macri at gmacri@bgov.com
Stay informed with more news like this – from the largest team of reporters on Capitol Hill – subscribe to Bloomberg Government today. Learn more.