What to Know in Washington: McCarthy Notches Debt Plan Win
Bloomberg Government subscribers get the stories like this first. Act now and gain unlimited access to everything you need to know. Learn more.
Speaker Kevin McCarthy squeaked his debt limit bill through the House on Wednesday, winning a politically important victory that intensifies the standoff with the White House over averting a catastrophic US default.
The vote, coming after days of arm twisting, puts pressure on President Joe Biden to open talks with Republicans over the debt limit as a payment default looms this summer. But as McCarthy (R-Calif.) shored up his votes on Wednesday, Biden signaled he remains unwilling to yield to GOP demands.
"I'm happy to meet with McCarthy, but not on whether or not the debt limit gets extended," Biden said. "That's not negotiable."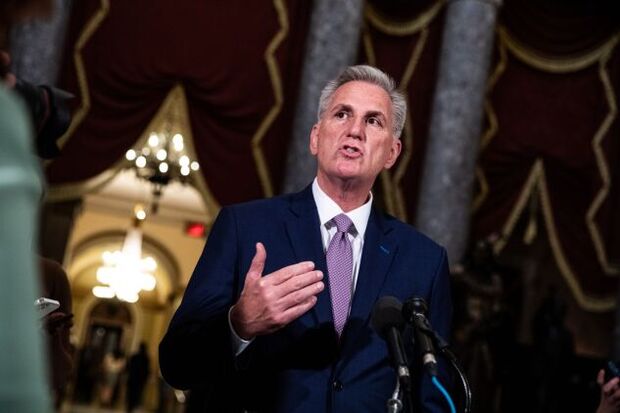 The bill, which passed 217-215, is the Republican opening offer and has no chance of passing the Democratic-controlled Senate.
Rep. George Santos (R-N.Y.), who had been undecided, was the last Republican to cast a vote, tipping the balance in favor. Four members of his party, Reps. Andy Biggs (Ariz.), Ken Buck (Colo.), Tim Burchett (Tenn.), and Matt Gaetz (Fla.), voted against the plan, along with every Democrat in the chamber.
White House Press Secretary Karine Jean-Pierre said in a statement that the measure "cuts veterans' health care, education, Meals on Wheels, and public safety, takes away health care from millions of Americans, and sends manufacturing jobs overseas."
"The president can no longer ignore by not negotiating," McCarthy said. "We have done our job."
Democrats said the bill — which would cut domestic agency funding by 22% if the Pentagon is spared — is so extreme that it cannot move talks forward.
"This is a ransom note," said Rep. Jim McGovern (D-Mass.). "They say that in order for us to pay our bills for one year, we have to make 10 years of deep cuts that will hurt our constituents."
McCarthy's greatest test, however, is yet to come. If he strikes a compromise with Biden or a looming default forces him to put a no-strings-attached bill up for a vote, he risks angering ultra-conservatives. A deal that falls short of their demands could set up a career-ending no-confidence vote on the floor.
The Treasury is to soon release a new estimate of when the department thinks the government will be at risk of default without raising the federal borrowing limit, expected for this summer. Erik Wasson and Billy House have the full story.
The GOP's debt legislation would change work rules for social and health care safety net programs, hitting red and blue states in different ways and broadening existing inequalities nationwide.
BIDEN'S AGENDA
Biden at 12:15 p.m. participates in Take Your Child to Work Day at the White House
At 6:45 p.m., the president participates in a campaign call with grassroots supporters
White House Press Secretary Karine Jean-Pierre gives a briefing at 1:45 p.m.
CONGRESS' SCHEDULE
At 11 a.m., South Korean President Yoon Suk Yeol addresses a joint meeting of Congress
The House gathers at 9 a.m. and may consider a resolution to pull certain US troops from Somalia
The Senate at noon meets with plans for procedural votes on a measure regarding the Equal Rights Amendment and a judicial nominee
High on Lawmakers' Radars
Yoon staked enormous political capital on drawing closer to the US, only to see the White House unveil policies that hurt some of his country's biggest companies. Now he's finally got something concrete to show for it.
Prominent leaders of South Korean businesses, including LG, Samsung, and Hyundai, gathered with celebrities including actress Angelina Jolie at a state dinner to honor Yoon Wednesday at the White House. Read more
The Air National Guardsman charged with the most damaging intelligence disclosures in a decade tried to cover his tracks by destroying computer equipment and warning an online gaming associate to delete their messages and not talk to investigators, US prosecutors said. Jack Teixeira, 21, is scheduled to appear at a detention hearing this afternoon in Massachusetts.
Also Happening on the Hill
A bipartisan group of senators introduced a bill Wednesday that would bar social media platforms from serving kids younger than 13 years old, in a move that elevates similar state proposals to the federal level.
Republicans' latest border security bill is drawing outrage from Democrats who say it undermines the government's role at the border and hamstrings humanitarian groups.
The Senate Wednesday blocked consideration of bipartisan veterans benefits changes, including studying the effects of cannabis on patients at the Veterans Affairs Department.
The Senate voted to overturn Biden's pollution limits for big rigs that Republicans said were too aggressive, but were heralded by environmentalists as long overdue.
Senators on a key environmental panel see a nascent consensus emerging on updating federal permitting procedures without sacrificing energy needs, jobs, or environmental integrity.
House Republicans are working on an economic package that may include expired business tax breaks and other tax provisions, according to aides familiar with the discussions.
The US patent agency should raise fees on drug companies to deter industry tactics aimed at keeping cheaper versions of drugs off the market, a pair of progressive lawmakers urged.
Sen. Elizabeth Warren (D-Mass.) is taking issue with the high percentage of former government and military officials working at the top defense contractors, calling for more robust disclosures and extended recusal periods.
Elon Musk returned to Capitol Hill on Wednesday and met with Majority Leader Chuck Schumer (D-N.Y.). Schumer said the two discussed A.I., an issue for which the Senate majority leader is considering legislation.
Politics & Probes as 2024 Nears
Biden savored the prospect of a rematch with Donald Trump when asked a day after officially entering the 2024 race if he was the only Democrat capable of defeating his predecessor.
Florida Gov. Ron DeSantis (R) is ready to to enter the presidential race as soon as mid-May, NBC reports, citing four Republican operatives familiar with the conversations.
Billionaire technology investor Peter Thiel has no plans to donate to candidates running for office in 2024, according to a person familiar with his thinking, citing frustration over the Republican party's preoccupation with culture war issues. The decision to sit on the sidelines is Thiel's latest step away from politics after a long and ambivalent history as a major donor.
A federal appeals court has denied Trump's latest effort to stop former Vice President Mike Pence from testifying before a grand jury exploring whether crimes were committed by Trump and his allies as they worked to undo Biden's 2020 win.
Trump's lawyers said Congress should bar the Justice Department from handling classified documents and transfer that responsibility to intelligence agencies.
Disney has turned to O'Melveny & Myers and WilmerHale in its lawsuit against DeSantis over what the entertainment company has called "a targeted campaign of government retaliation."
Republican presidential contender Nikki Haley dangled a relocation offer for Disney: South Carolina.
What Else We're Reading Today
The Biden administration appealed a ruling from a conservative judge in Texas that would block access nationwide to a widely used abortion pill if permitted to go into affect.
Starbucks has refused to negotiate in good faith at more than 100 newly unionized cafes, labor board prosecutors alleged in a complaint.
An improved model of Microsoft's goggles won't be deployed to Army combat troops for at least two years because the company must first demonstrate it has fixed flaws that left soldiers with headaches, nausea and eyestrain, according to the Army.
The US and its allies need to coordinate their efforts to boost semiconductor production to ensure there aren't supply issues, Biden's Commerce chief said.
The volume and sophistication of cyberattacks against the US is only increasing, with some of the most prominent hacker groups hailing from China and Russia, said Rob Joyce, the director of cybersecurity for the NSA.
To contact the reporters on this story: Brandon Lee in Washington at blee@bgov.com; Michaela Ross in Washington at mross@bgov.com
To contact the editor responsible for this story: Kayla Sharpe at ksharpe@bloombergindustry.com
Stay informed with more news like this – from the largest team of reporters on Capitol Hill – subscribe to Bloomberg Government today. Learn more.