What to Know in Washington: McCarthy Faces Speaker-Vote Showdown
Bloomberg Government subscribers get the stories like this first. Act now and gain unlimited access to everything you need to know. Learn more.
Representative Kevin McCarthy's chances of becoming House speaker remained in doubt hours before Republicans formally take control of the chamber.
With Republicans holding only a slender majority when the new Congress convenes on Tuesday, McCarthy can't lose more than four GOP votes in his bid for speaker, and at least 14 Republicans as of Monday still hadn't promised their support. Some of his most ardent opponents, including Reps. Matt Gaetz (Fla.) and Bob Good (Va.), have indicated there's nothing McCarthy can do to get their votes.
The turmoil has overshadowed the House Republicans' electoral triumph in the midterm elections and is more evidence of the internal party struggle over the direction of the GOP between swing-district moderates and hardline conservatives who've adopted the populist agenda of former President Donald Trump.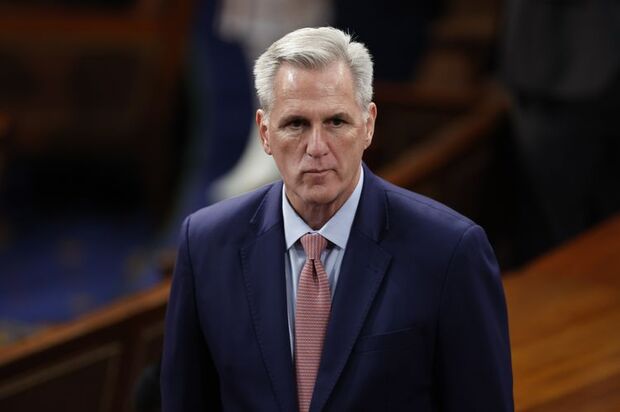 McCarthy, 57, who has been backed by Trump, sought to win over some of his detractors by making several concessions in a slate of proposed administrative House rules made public over the weekend. Those included making it easier for a small group of lawmakers to call for the speaker's ouster and a proposal for more ideological diversity on committees. However nine GOP members sent a letter in response, saying that the California Republican's plan didn't go far enough.
House Republicans are set to huddle privately Tuesday morning, preceding the afternoon's floor vote for speaker. Billy House and Laura Davison preview the outlook for McCarthy.
Backers of McCarthy are insisting a proposed House rules package for the new Congress, loaded with conservative priorities, would fall apart if the GOP conference doesn't elect the California Republican speaker.
As the 118th Congress convenes today, much of the attention will be focused on the House and how a raucous, narrow GOP majority will highlight conservative priorities and take on the Biden administration. Senate Republicans are receiving far less scrutiny, but they may hold the key to any bipartisan deals to emerge from a divided Capitol Hill.
The debt limit, Social Security solvency, and border issues will be among the toughest budgetary issues debated in Congress in 2023, a series of fights that will likely test the resolve of the narrow Republican House and Democratic Senate majorities.
Also Happening on the Hill
CONGRESS' SCHEDULE:
The House meets at noon to formally begin the 118th Congress, vote to elect a speaker, on rules changes and a bill to rescind funds for the IRS.
Senators convene at noon for the start of the new Congress, will swear-in new members and elect a president pro tempore.
Incoming House Majority Leader Steve Scalise (La.) said he plans to bring to the floor in January legislation on energy, abortion, China, border security and the IRS.
For more on legislation Republicans will bring to the floor on their first week in the House majority, see the House Agenda for the Week of Jan. 3 by BGOV's legislative analysts.
Lawmakers return to Capitol Hill today to kick off a narrowly divided 118th Congress, with Republicans taking charge of the House and Democrats keeping control of the Senate. Looming deadlines on the debt limit, aviation authorities, and the farm bill will spur legislative action this year, even if partisan gridlock brings other priorities to a stall.
The 118th Congress will welcome seven new senators and 74 new House members with a diversity of experiences and backgrounds. The new faces include more than 30 former state legislators, children of politician parents, the first Hispanic members from some states, four ex-Navy SEALs, two Black Republicans from the same West Point class, a 25-year-old liberal activist, a TV meteorologist, and an auto shop owner.
Bloomberg also profiles 10 lawmakers with the legislative expertise, political stature, and ability to get things done in a divided Congress. Some are veterans and others are rising stars. Half of them are Republican, and half Democrats — reflecting the split control of Capitol Hill.
Read more: The 10 US Lawmakers You Need to Know About in 2023
Overseeing Medicare's new authority to negotiate prices of the country's highest-spending drugs is among the top priorities for lawmakers as Congress returns to Washington.
Politics & Probes
Donald Trump's tax returns show how the former president used a range of write-offs in the US tax code to pay little or no federal income tax, according to six years of records released Friday by a House panel.
The US Supreme Court heard some blockbusters early in the term on affirmative action and how much power state officials have to set rules for federal elections, making it a hard act to follow in the new year.
US Chief Justice John Roberts underscored the importance of judicial safety in his annual report released Saturday, saying "a judicial system cannot and should not live in fear."
Ginni Thomas testified to the Jan. 6 committee that she regrets sending texts to then-White House Chief of Staff Mark Meadows pushing him to aggressively challenge the 2020 election, but said she never discussed it with her husband, Supreme Court Justice Clarence Thomas.
Around the Administration
BIDEN'S AGENDA:
The president has no public events scheduled. Press Secretary Karine Jean-Pierre holds a briefing at 2:30 p.m.
One year ago, Richard Glick was ascendant, chairing a new Democratic majority in pursuit of landmark policies on electric transmission and natural gas pipelines that would cement his legacy at the Federal Energy Regulatory Commission.
With the IRS getting its biggest funding infusion in years, all eyes in the first months of the year will be on the agency's plan for spending the $80 billion in new, multiyear funding.
Adviser Tim Wu, who helped to shape President Joe Biden's antitrust agenda, will leave his position Jan. 4, the White House said Friday.
New Chinese Foreign Minister Qin Gang sought better Sino-US ties in a phone conversation with Secretary of State Antony Blinken on New Year's Day, according to a statement from the Ministry of Foreign Affairs in Beijing.
The US is in discussions with South Korea on ways to deter Kim Jong Un's regime from using nuclear weapons, according to a spokesperson for the National Security Council.
To contact the reporter on this story: Giuseppe Macri in Washington at gmacri@bgov.com
Stay informed with more news like this – from the largest team of reporters on Capitol Hill – subscribe to Bloomberg Government today. Learn more.