What to Know in Washington: McCarthy Faces Climb to Speaker
Members of the far-right House Freedom Caucus threw doubt on whether Kevin McCarthy will be able to lead the chamber's Republican conference next year, criticizing him for a bruising election outcome and what they say is a lack of an agenda.
Yet most House Freedom Caucus members declined to say after an event Thursday night at the Heritage Foundation who else they would back for speaker. They suggested there could be a way for McCarthy (R-Calif.) to claim the gavel if he is willing to make concessions.
Freedom Caucus member Rep. Chip Roy (R-Texas.) said anyone eyeing the speakership still had work to do to get a majority of the House — 218 members — to back them.
"There's not a soul in this town right now that has 218 votes," he told reporters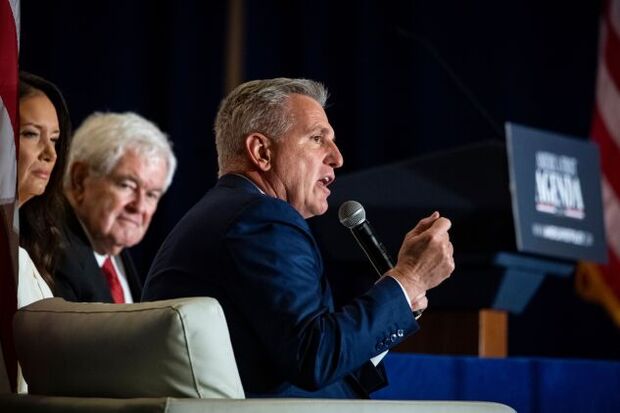 Roy and others said they are concerned McCarthy will not be as aggressive as they want on investigating the Biden administration, a key priority for the group. McCarthy has vowed to launch numerous investigations, but Rep. Andy Biggs (R-Ariz.) said he was hesitant to support McCarthy after the California Republican's recent comments downplaying a potential impeachment of Homeland Security Secretary Alejandro Mayorkas.
Biggs said McCarthy's comments indicate "maybe we're not going to be as aggressive going forward as we should be."
"We need to have a real discussion about whether he should be the speaker or not," he said of McCarthy, although declined to say who else he might want for the role. Emily Wilkins has the latest on McCarthy's bid for speaker.
Freedom Caucus Chair Scott Perry (R-Pa.) suggested conservatives would use the election at least to extract promises from McCarthy, including, potentially, changes in the chamber's rules that would, among other things, make it easier to oust a speaker who runs afoul of the caucus, Billy House and Emily Wilkins report.
Biden Says Democrats Face Long Odds to Win House
President Joe Biden conceded that Democrats face long odds to keep control of the House of Representatives as counting continues in a series of races across the country.
Biden, speaking to reporters Thursday evening as he left the White House for a series of overseas summits, said it's not impossible for Democrats to prevail in the House contest but unlikely.
It's still alive. It's still alive. But it's like drawing an inside straight," he said, using a poker term for an unlikely outcome.
Biden spoke with McCarthy on Wednesday, after holding a White House news conference as the results continued to trickle in. "I said: 'If you win the majority, congratulations,'" Biden recalled Thursday.
Republicans are on pace to win at least 211 seats so far, compared to Democrats' 192. 218 seats are required for a majority, Josh Wingrove and Alexis Shanes report.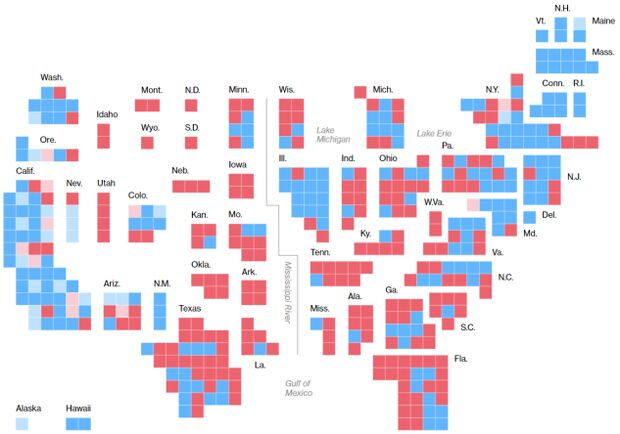 Track elections results as they come in here.
Senate Runoff Thrusts Georgia In Center of Fight for Control
For the second time in just under two years, Georgia is in the middle of the battle for control of the US Senate with both parties pouring money and other resources into the runoff after Election Day failed to produce a victor.
The Dec. 6 election is a reset for incumbent Democrat Raphael Warnock and Democrats who got perilously close to losing a key Senate seat Tuesday to Republican challenger Herschel Walker, whose campaign was enveloped by drama and controversy.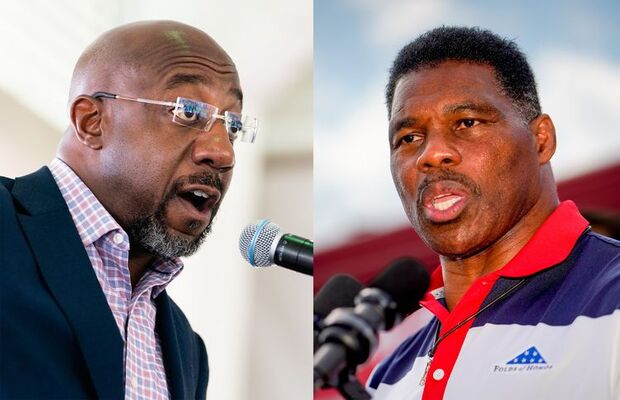 The result could be decisive in determining control of the Senate, depending on the outcomes of races in Nevada and Arizona, where Election Day ballots are still being counted. The runoff campaign may feature each party's most influential surrogates, including Biden, should Warnock ask him to appear.
"I plan on doing whatever he wants me to do for him," Biden told reporters as he left the White House Thursday for a series of overseas summits.
Election Day ended with Warnock about 32,000 votes ahead of Walker out of more than 3.9 million cast. But Libertarian candidate Chase Oliver drew 2.1% of the vote, leaving the two top contenders with less than 50% of the vote.
Georgia is one of three states where the outcome of pivotal Senate races has yet to be determined. Nevada and Arizona, both states where a Democrat currently holds the seat, are still counting votes. If Republicans and Democrats split those two states, control of the Senate would be decided by Georgia once again. But if Democrats win in Nevada and Arizona, Georgia won't be decisive, and that could affect the runoff. Laura Litvan, Margaret Newkirk and Billy House have the update.
Happening on the Hill
Supporters of overhauling US immigration laws are descending on Capitol Hill next week, hoping to make a deal in the wake of midterm elections that left Republicans with less of a power boost than they expected.
Two influential Republican lawmakers are introducing legislation to ban TikTok from use in the US, and criticized the Biden administration for insufficient action against the Chinese-owned social media platform.
Lead sponsors of legislation that would give the Commodity Futures Trading Commission sweeping powers to regulate crypto assets directly said the FTX crisis underscores the need for greater oversight of the industry.
Sam Bankman-Fried

is being investigated by the US Securities and Exchange Commission for potential violations of securities rules as the regulator deepens its probe into his crumbling FTX crypto empire, according to a person familiar with the matter. Read more.
Elections & Politics
The 2024 presidential race is taking shape following midterm elections that gave an early boost to Biden and Florida Governor Ron DeSantis, while leaving Donald Trump on the defensive. Even with ballots still being counted and control of Congress up in the air, the three men quickly took center stage as White House contenders with pressure mounting for each to announce their decisions to run. That could crowd out other potential rivals on both sides.
Trump lashed out at Rupert Murdoch's News Corp. and DeSantis, claiming that the media mogul's news outlets are "all in" for his chief Republican rival and threat to his 2024 presidential ambitions.
Trump's lawyers who accused Hillary Clinton and dozens of other people of engaging in a conspiracy to harm his reputation were sanctioned by a federal judge who excoriated them for filing a "frivolous," politically motivated lawsuit.
New York State Senate Democrats maintained control of the chamber, but whether they will keep their supermajority—and the power to override the governor—could take weeks to sort out. Democrats also nationally flipped at least three state legislative chambers—Michigan's state House and Senate and the Minnesota state Senate. Republicans appeared to have gained seats in the Oregon Senate and in both the House and Senate in Nevada, and they were poised to pick up a veto-proof majority in Ohio's legislature.
Oregon's Democratic party narrowly won the governor's race as Tina Kotek outlasted former house minority leader Christine Drazan, the latest sign that the party managed to hold off a "red wave" of Republican victories.
Around the Administration
PRESIDENT'S SCHEDULE
Biden arrives in Egypt to attend the COP27 UN climate conference at 3:20 p.m. local time. At 3:55 p.m., he plans to meet with Egyptian President Abdel Fattah El-Sisi.
Biden at 5:15 p.m. local time will give a speech to the conference. At 6:20 p.m., he will depart for Cambodia.
A federal judge in Texas struck down the Biden administration's sweeping student loan forgiveness plan, calling it "one of the largest exercises of legislative power without congressional authority in the history of the United States."
Biden said promising inflation figures on Thursday indicated that his economic agenda was working, highlighting developments that were seen as a liability just two days earlier, before Democrats lodged a better-than-predicted performance in midterm elections.
The US provided an additional $400 million in military assistance for Ukraine which includes arms, munitions, and equipment, US Secretary of State Antony Blinken said in a statement.
Russia said it will hold talks with the US in late November or early December in Cairo about inspections of atomic weapons sites under the New START treaty, a step toward reviving broader arms-control talks suspended since the Russian invasion of Ukraine.
A US military rule banning people with HIV from joining the armed services is being challenged as medically outdated by a gay Georgia police officer who says the policy dashed his dream of becoming an Army helicopter pilot.
The Federal Trade Commission is shedding some policy restraints, eager to evolve with the fast-changing economy.
New York City plans to close the Randall's Island emergency relief center for migrants a month after opening its doors, as the flow of asylum seekers looking for shelter slowed.
To contact the reporters on this story: Michaela Ross in Washington at mross@bgov.com; Brandon Lee in Washington at blee@bgov.com
To contact the editor responsible for this story: Giuseppe Macri at gmacri@bgov.com