What to Know in Washington: McCarthy Draws Line on Spending
Bloomberg Government subscribers get the stories like this first. Act now and gain unlimited access to everything you need to know. Learn more.
House Republican leader Kevin McCarthy (R-Calif.) is running two simultaneous campaigns: one opposing a year-end government spending bill and another to convince his GOP naysayers to elect him speaker.
McCarthy said the two are unrelated. His opposition to the spending bill, he said, "has to do with the American public and what the future of America is going to be when it comes to fiscal resources."
But by opposing the roughly $1.7 trillion omnibus spending bill — a position counter to that of Senate Republicans — he's appealing to the same hard-right members of his caucus who don't support his speakership.
"The answer isn't to spend more money, it's to eliminate the waste and the woke-ism," McCarthy told reporters on Wednesday.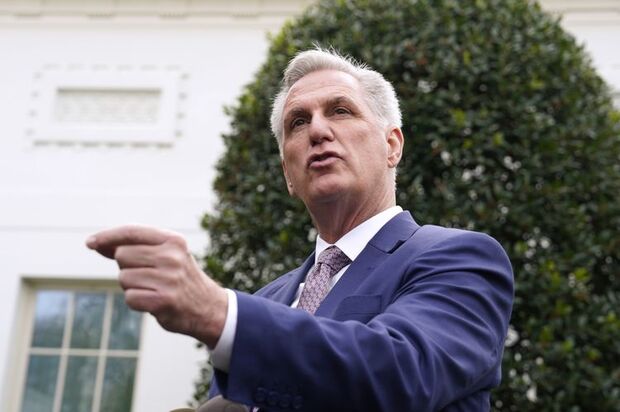 Specifically, McCarthy said he wants to slash funding for the Internal Revenue Service, which got an $80 billion boost for tax enforcement in a partisan Democratic bill, and boost money to secure the US-Mexico border.
McCarthy said Congress should pass a short-term spending bill into early next year to give more House Republicans control over spending when they take the majority Jan. 3.
"Allow the American people what they said a month ago to change Washington as we know it today," he said. Erik Wasson and Billy House follow McCarthy's campaign for speaker.
Also Happening on the Hill
CONGRESS' SCHEDULE
The House meets at 9 a.m. to vote on legislation to expand Veterans Health Administration collective bargaining rights and offer Puerto Rico statehood.
Senators meets at 10 a.m. to consider a judicial nomination, with additional votes possible.
US bipartisan House members reached a consensus on the Puerto Rico Status Act, House Majority Leader Steny Hoyer (D-Md.) said in an emailed statement.
The Senate voted to ban the hugely popular TikTok video-sharing app from all government-issued phones and other devices as the Biden administration considers restrictions on the Chinese-owned platform.
Committee leaders in both the House and Senate are pushing for changes to how the nation prepares for the next pandemic, warning time is running out to make significant investments in outbreak response.
The hassle of going through security screening before a connecting US flight is poised to end for some inbound international passengers.
House Republicans requested documents from Meta CEO Mark Zuckerberg and Twitter CEO Elon Musk as part of their probe into whether US government officials tried to suppress free speech on social media.
Incoming House Financial Services Chairman Patrick McHenry (R-N.C.) said SEC Chair Gary Gensler's proposed equity market overhaul "will inject uncertainty and threaten the dominance of our markets."
While it's now nearly certain we'll have to wait until next year before Republicans select the next Ways and Means Committee chair, members are starting to weigh in on potential subcommittee assignments.
Biden is expected to sign a bill the House cleared Wednesday night targeting federal contractor conflicts of interest.
Dana Douglas, confirmed this week as the first Black woman on the New Orleans-based federal appeals court, grew up in a law enforcement family before opting for another sort of legal career. Douglas instead joined a New Orleans corporate law firm before becoming a magistrate judge in 2019, a resume that helped smooth her confirmation to the US Court of Appeals for the Fifth Circuit. Douglas attracted an outsized number of Republican backers, including both home state senators.
A bust of Chief Justice Roger Taney will be removed from the US Capitol building and replaced by one of Thurgood Marshall, under legislation cleared by the House Wednesday.
Congressional Republicans and Democrats have selected most of the people who will run their operations next year — though there are still some roles to fill.
The intruder accused of striking House Speaker Nancy Pelosi's husband in the head with a hammer was ordered to go to trial for attempted murder and other charges.
The Senate passed a bill Wednesday intended to put the spotlight on lobbyists with foreign ties who try to avoid the more stringent disclosure requirements of the Foreign Agents Registration Act (FARA) overseen by the Justice Department. The measure is aimed at lobbyists with foreign ties, such as US subsidiaries of foreign-owned companies, who claim a "commercial exemption" to allow them to register under the Lobbying Disclosure Act, which is generally used by domestic entities and individuals and requires less detailed disclosure.
The legislation, sponsored by Senate Homeland Security and Government Affairs Chair Gary Peters (D-Mich.) and Sen. Chuck Grassley (R-Iowa), would direct those registrants to indicate whether they are using the commercial exemption and make it easier for the Justice Department to scrutinize lobbyists for possible violations of the foreign agents' law.
Around the Administration
BIDEN'S AGENDA
The president at 11:15 a.m. will participate in a US-Africa Summit Leaders session on partnering with the African Union's Agenda 2063 in Washington, D.C. He'll stand for a leadership photo at 3:40 p.m., and join in the closing session on food security at 4 p.m.
Biden met with leaders of six African nations facing elections in 2023 and urged them to ensure balloting is free and fair.
Working with Congress, the US plans to provide over $165 million to support African elections and good governance in 2023, the White House said in a statement.
American and African firms reached more than $15 billion in new commitments and deals at the summit hosted by Biden as the US moves to increase its commercial ties with the continent through investments rather than aid.
The Agriculture Department used a flawed process while updating the Thrifty Food Plan, which spurred a 21% increase in food stamp benefits in 2021, a government watchdog said Wednesday.
The US seized dozens of internet domains and charged six people in a sting intended to bring down a network of cyberattack-for-hire services, the Department of Justice announced on Wednesday.
A pending US Supreme Court case testing the scope of online platforms' legal liability shield known as "Section 230″ has partially clouded the landscape for nearly 100 lawsuits claiming that Meta's Facebook, TikTok, Snap, and other social media outlets have addicted children and caused depression.
About 175,000 military personnel and veterans had been exposed to PFAS in drinking water in 2019 at levels exceeding a federal health advisory, according to a Pentagon report obtained and released by the Environmental Working Group.
The White House will reopen a program allowing people in the US to order batches of at-home coronavirus tests at no cost, as officials prepare for an increase in cases through the winter, people familiar with the matter said.
The potential addition of Patriot missile defense batteries to Ukraine's arsenal comes as Kyiv and Moscow both face a critical question with the war in its 10th month: Can they secure enough missiles and artillery through winter to prevail?
To contact the reporters on this story: Brandon Lee in Washington at blee@bgov.com; Michaela Ross in Washington at mross@bgov.com
To contact the editor responsible for this story: Giuseppe Macri at gmacri@bgov.com
Stay informed with more news like this – from the largest team of reporters on Capitol Hill – subscribe to Bloomberg Government today. Learn more.