What to Know in Washington: Mar-a-Lago Special Master Irks Trump
Donald Trump got the court-ordered review he wanted of documents seized from his Mar-a-Lago home as well as his preferred pick for a so-called special master to carry it out. But less than a month in, the former president has complaints about how that review is taking shape.
Trump's attorneys lodged objections this week to US District Senior Judge Raymond Dearie's proposal for how his work as special master will proceed over the next few months, according to a letter they sent the judge. Trump objected to Dearie's request that his legal team verify the government's inventory of what exactly agents seized during the August search, how Dearie categorized the privilege issues he'd be looking for, and the judge's request for briefing on certain questions of law.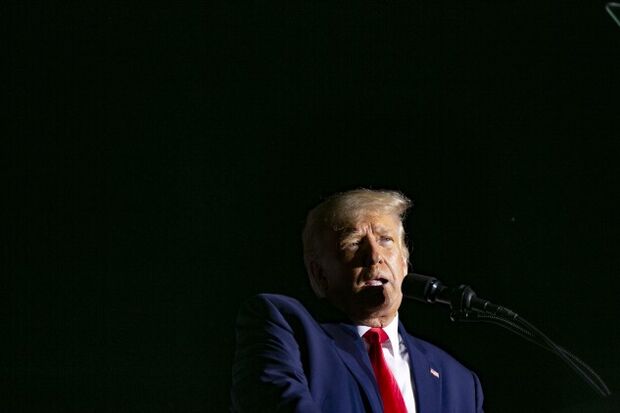 His legal team also shared new details about the volume of materials seized by FBI agents from Trump's post-presidency home in Florida, writing in a separate letter to Dearie that they recently learned from the Justice Department attorneys that the roughly 11,000 documents actually tallies about 200,000 pages. The seized materials include government records, press clippings, books, and other documents, according to the government's public inventory logs.
In dueling letters to Dearie on Wednesday, Trump's lawyers and the Justice Department took verbal swipes at each other and assigned blame for a delay in finding a vendor to perform the critical task of turning the hard copy documents into shareable electronic versions. The exchange marked a tense beginning to a review process expected to last at least another two months.
The government pushed back at Trump's objections to Dearie's plan for managing the document review, suggesting Trump was unwilling to fully engage with the special master process that he had demanded.
Trump "bears the burden of proof," government attorneys wrote. "If he wants the special master to make recommendations as to whether he is entitled to the relief he seeks, plaintiff will need to participate in the process" as outlined by the court. But Trump's lawyers accused DOJ lawyers of using "conclusory and antagonistic comments" to address their objections. Read more.
Happening on the Hill
CONGRESS' SCHEDULE
The House meets at 10 a.m. and will take up bills including a package of antitrust measures.
Senators gather at 10 a.m. to debate the stopgap deal and vote on a judicial nominee.
After an unprecedented surge in shootings at US schools, the Secret Service says its National Threat Assessment Center fielded more training requests this fiscal year than at any time in its history. Supporters across Congress are now pushing for dedicated funding that would explicitly fund the center, expand staff and broaden its reach.
The US and its allies are planning more sanctions against Russia over its invasion of Ukraine, a senior Biden administration official told senators Wednesday, as lawmakers lamented that punishments so far haven't deterred President Vladimir Putin.
Meanwhile, an upcoming vote for leadership of a little-known United Nations agency that develops global standards for mobile phones, internet connectivity and satellite technology could impact the future of the internet. Read more.
The highly-prized HIMARS artillery system in the US's latest $1.1 billion security assistance package for Ukraine will take a few years to be built, a Pentagon official said Wednesday. Read more.
Russia vowed to go ahead with the annexation of the parts of Ukraine that its troops currently control after UN-condemned votes, putting the Kremlin on a fresh collision course with the US and its allies. Read more.
Congressional Democrats are urging the Treasury Department to ignore appeals by lobbyists to weaken the 15% minimum levy on domestic corporations.
Virginia "Ginni" Thomas, a conservative activist and the wife of Supreme Court Justice Clarence Thomas, is set to be interviewed this week by the House committee investigating the Jan. 6, 2021, insurrection at the US Capitol, according to the panel's chairman.
Sen. Elizabeth Warren (D-Mass.) and Rep. Jerry Nadler (D-N.Y.) reintroduced a bill that would radically rework the US Bankruptcy Code for individual debtors.
Elections, Politics & Probes
Trump's deposition in an investors' class-action fraud lawsuit over his promotion of a failed desktop video phone was delayed by Hurricane Ian that's ravaging large parts of Florida.
Janet Yellen, eager to see through crucial projects, has told White House officials she's prepared to remain Treasury secretary well after the midterm elections, according to people familiar with the discussions.
If Republicans win control of both the US House and Senate in November, the sweep would produce a "calming influence" and soften an economic downturn, Virginia Governor Glenn Youngkin said during CNBC's Delivering Alpha conference on Wednesday.
Around the Administration
PRESIDENT'S SCHEDULE
At noon, Biden receives a briefing on the response to Hurricane Ian.
Biden hosts a summit of leaders from Pacific island nations at 3 p.m.
Medicare's drug price negotiations are poised to turn into a legal battle as the government works out rules to implement them and critics eye ways to skirt limits on lawsuits.
Promises from food companies and nonprofits were front and center at the White House's first summit on hunger in over 50 years. The commitments underscore the Biden administration's reliance on the private sector to meet its goals of ending hunger by 2030 and prompting healthier eating habits.
US Commerce Secretary Gina Raimondo suggested on Wednesday that the policies being pursued by the new UK government were misguided.
A federal appeals court in Denver wrestled with the scope of President Joe Biden's move to boost the minimum wage for federal contractors to $15 per hour, a potential determining factor in whether the pay hike survives judicial review.
The EPA's launch of a new national environmental justice office will mean adding roughly a dozen staffers, with possibly more in the years ahead, to each of its 10 regional offices to help disadvantaged communities that have long borne the brunt of pollution, a top agency official said Wednesday.
The EPA is encouraging companies and other defendants accused of air and water pollution, as well as other environmental crimes, to gather input from affected communities about what beneficial projects residents might want as part of a legal deal.
Vice President Kamala Harris went to the Demilitarized Zone dividing the two Koreas, in a high-stakes visit for Washington that came just hours after Kim Jong Un's regime fired two short-range ballistic missiles into the sea.
WHAT ELSE TO KNOW TODAY
To contact the reporter on this story: Brandon Lee in Washington at blee@bgov.com
To contact the editor responsible for this story: Giuseppe Macri at gmacri@bgov.com