What to Know in Washington: Manchin Wavers on Biden Agenda Vote
The omicron variant of the coronavirus is stirring renewed economic uncertainty, as Democrats work to advance President Joe Biden's tax and spending bill in the Senate. House lawmakers are returning from their Thanksgiving recess today, as Congress faces a full holiday season schedule of week- and year-end deadlines.
Here's what Bloomberg Government is tracking for Tuesday.
Biden's Schedule:
Biden will speak at the White House at 10:45 a.m. on veterans' issues, after signing four bills into law: S. 796, S. 894, S. 1031, and S. 1095.
The president is scheduled to leave the White House at 11:30 a.m. for a trip to Rosemount, Minn., where he will speak from Dakota County Technical College at 3:30 p.m. on infrastructure jobs.
Biden is scheduled to return to the White House at 8:05 p.m.
Congress Agenda:
The Senate meets at 10 a.m. to resume consideration of the must-pass defense policy bill, which has run into procedural hurdles.
The House is in at 2 p.m., with votes schedule at 6:30 p.m. on a slate of largely bipartisan bills that will be considered under expedited procedure.
Manchin Doesn't Commit to Moving Biden Agenda This Year
Sen. Joe Manchin (D-W.Va.) said yesterday he won't commit yet to Senate Majority Leader Chuck Schumer's (D-N.Y.) timetable for moving ahead on President Joe Biden's nearly $2 trillion tax and spending bill before the end of the year.
Manchin said he's still reviewing a version of the legislation passed two weeks ago by the House, and has made no decisions about timing for debate and whether he can support a bill after the Senate completes its own draft. He said he remains opposed to the paid family leave provision in the House measure.
Schumer said on the Senate floor yesterday his "goal" is to finish and pass the legislation before Congress breaks for the Christmas holiday. But Manchin again raised concerns about the impact of more federal spending on inflation, telling reporters that he heard deep concerns about rising prices from his constituents during a week-long Thanksgiving break.
The discovery of a new variant of the Covid-19 virus adds to economic uncertainty, he said. "The unknown is great right now and it gets greater," Manchin said. "Inflation is now more than transitory. We found out it's not transitory. And on top of that, you have this new strain of Covid they're very much concerned about. No one knows what effect it's going to have. And you have inflation on top. So all these things give you cause to pause."
With the Senate split 50-50 between the two parties and Republicans united in opposition to the Biden agenda, Manchin's support for the legislation is critical to passage. Read more from Laura Litvan.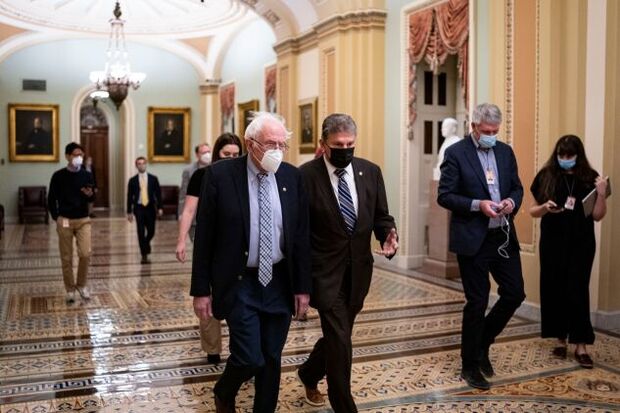 ALSO ON BIDEN'S AGENDA:
The Biden plan's promise of cheaper and more accessible care for children, seniors, and disabled people will take years to set up programs to help struggling families. To deliver on the heart of Biden's economic agenda, policy makers will have to address labor shortages worsened by the pandemic and scale up business sectors that already struggle with long waiting lists. They also must galvanize state bureaucracies that face their own political and financial constraints. The risk of delay in delivering tangible results hangs over Biden and Senate Democrats with next year's midterm congressional elections fast approaching. Read more from Mike Dorning and Jarrell Dillard.
Negotiations over expanding the state and local tax deduction hit a snag with Sens.

Bob Menendez

(D-N.J.) and

Bernie Sanders

(I-Vt.) at odds over whether the plan should raise revenue for other spending priorities in Biden's agenda. Menendez said yesterday Sanders "walked away" from a previously-agreed-on plan that changes to the deduction to be revenue neutral over a 10-year budget window, which would allow for a more generous tax break. The bill passed by the House allows for up to $80,000 in SALT write-offs, which Sanders says does too much to help millionaires. Read more from Erik Wasson and Laura Davison.
Defense Bill in Limbo in Senate
A must-pass defense authorization bill is on shaky ground after U.S. senators voted against moving forward with it. The vote to cut off debate yesterday failed by 45-51, as GOP senators demanded consideration of more amendments to the annual Pentagon policy measure.
The setback is likely to delay the defense authorization bill even further than it has been and risks derailing the traditionally bipartisan legislation that has become law annually for 60 years. Congress is running out of time to send Biden the measure ahead of the Dec. 31 expiration of critical military authorizations and policies because the Senate bill will need to be reconciled with the House-passed measure. Schumer called the Republicans' move "outrageous."
The Senate's consideration of the bill has been delayed significantly this year as Democratic leaders negotiated legislation to support Biden's social and economic agenda. The Senate Armed Services Committee approved the defense policy bill in July. Read more from Roxana Tiron.
ALSO HAPPENING ON THE HILL:
Lawmakers have discussed a stopgap measure to fund the government until sometime in January, though Republicans want a longer continuing resolution as negotiators struggle to begin bipartisan talks on a full spending deal, Jack Fitzpatrick reports. Government funding is set to expire Friday. House lawmakers will need to introduce a continuing resolution soon to give both chambers time to consider it. House Democrats are considering proposing a fresh stopgap spending measure that would fund the government through mid-to-late January, Erik Wasson reports, citing a person familiar with the matter.
Sen. Richard Shelby (R-Ala.) told reporters yesterday lawmakers had discussed a stopgap that would run into January. Sen. John Boozman (R-Ark.) said there'd been "chatter about Jan. 24″ as the next deadline. Sen. Shelley Moore Capito (R-W.Va.) said she expects the stopgap to run until "at least January, maybe longer."
Hospital groups are asking lawmakers to prevent billions of dollars in Medicare pay reductions next year as part of any government funding bill. The Coalition to Protect America's Health Care, which represents hospital groups, announced yesterday it will launch a television ad campaign in Washington, D.C., urging Congress to stop the cuts. Alex Ruoff has more on the effort.
Federal Reserve Chair Jerome Powell said the omicron variant poses risks to both sides of the bank's mandate to achieve stable prices and maximum employment. "The recent rise in COVID-19 cases and the emergence of the omicron variant pose downside risks to employment and economic activity and increased uncertainty for inflation," Powell said in prepared remarks released ahead of today's appearance before the Senate Banking Committee. "Greater concerns about the virus could reduce people's willingness to work in person, which would slow progress in the labor market and intensify supply-chain disruptions," he said in his first public remarks on the variant. Read more from Craig Torres.
The Senate Banking Committee is considering hearings as early as December on the nominations of Powell for a second term as Fed Chair and the elevation of Fed Governor Lael Brainard to become vice chair. Chair

Sherrod Brown

(D-Ohio) said he wants to move quickly on confirming both Fed policymakers, although the exact timing of their hearings isn't set. Brown said he'd comply with a rule that confirmation hearings come at least two weeks after the White House sends the Senate paperwork formalizing them as Biden's selections. Read more from Laura Litvan.
Sen.

Richard Shelby

(R-Ala.) said the White House should pull the nomination of Saule Omarova to serve as Comptroller of the Currency amid opposition from both parties in the Senate, Nancy Ognanovich reports. "That doesn't look so great," Shelby says during an interview when asked about the prospects that Omarova will be confirmed after a group of Democrats joined Republicans in voicing concern about the nominee. "I wouldn't support her. I think a lot of people have misgivings about the nomination to begin with. I think it's time to withdraw her nomination."
Around the Administration
Biden said his administration has made strides toward relieving U.S. supply-chain disruptions, as he met yesterday with the leaders of major retailers including Walmart who assured him they have ample inventories for the holiday season. "We've seen some progress" in tackling logjams at ports, Biden told the business leaders who gathered at the Eisenhower Executive Office Building. He said his administration's discussions with port companies and labor unions have contributed to a 40% decrease in the number of containers sitting at docks for eight days or longer. "We keep building on that progress," he said. Read more from Jenny Leonard, Jennifer Epstein and Nancy Cook.
The omicron variant is posing the first major test of the U.S.'s expanded system for monitoring mutations—a key line of defense against potentially dangerous new versions of the virus that might spread quickly, evade vaccines or kill more infected people. The U.S. is now doing far more sequencing than it was at the start of this year, when new variants of the virus first became a fixture of global concern.
Public health laboratories are conducting as many as 20,000 full-genome viral analyses a week, four times the number from a year earlier, according to Kelly Wroblewski, director of infectious diseases for the Association of Public Health Laboratories. When combined with other sequencing efforts, including those of the Centers for Disease Control and Prevention, the U.S. sequenced more than 90,000 Covid samples in the last week alone. Read more from Kristen V. Brown and Cynthia Koons.
The Centers for Disease Control and Prevention is recommending booster shots for all vaccinated people 18 and older as scientists race to study the variant. The guidance, which previously said adults "may" get boosters, now says they "should" get a third dose of the Moderna or Pfizer shot six months after their second dose. The same recommendation applies to those who received the single-shot Johnson & Johnson vaccine but after only two months. Read more from Fiona Rutherford.
Meanwhile, federal contractors won't lose the U.S. government's business if their workers are moving toward full vaccination, even if they have only received one dose of a Covid-19 vaccine by the Biden administration's earlier Jan. 4 final-shot deadline, a White House coronavirus official told Bloomberg Government. Agencies won't cut ties with contractors that are making a "good-faith effort" to push their employees toward full vaccination, the official said, adding that contractors shouldn't immediately fire workers who have only received one shot by Jan. 4, 2022. Read more from Courtney Rozen.
Secretary of State Antony Blinken praised South Africa for the way it handled the emergence of the omicron variant while also defending U.S. travel restrictions, saying the move was a necessary step to protect public health. Read more from Nick Wadhams.
MORE HEADLINES:
The U.S. Supreme Court is this week hearing a case that could overturn the landmark 1973 Roe v. Wade ruling, a move that would wipe out abortion access for women in almost half the country. In the absence of Roe, 22 U.S. states have laws on the books that would outlaw the procedure in all or most cases, with others indicating they may move in a similar direction. Read more from Kelsey Butler.
The Pentagon has said Defense Secretary Lloyd Austin yesterday ordered a high-level investigation into a U.S. airstrike in Syria in 2019 that killed dozens of women and children, the New York Times reports. The investigation will examine the strike, which was carried out by a Special Operations unit called Task Force 9. It will also look into the military's initial inquiries into the strike, Pentagon officials said. Read more from NYT's Eric Schmitt and Dave Philipps.
To contact the reporters on this story: Zachary Sherwood in Washington at zsherwood@bgov.com; Brandon Lee in Washington at blee@bgov.com
To contact the editors responsible for this story: Giuseppe Macri at gmacri@bgov.com; Loren Duggan at lduggan@bgov.com