What to Know in Washington: Manchin Seeks Reluctant GOP Votes
Democratic Senator Joe Manchin is still campaigning for votes on his plan to fast-track energy projects, while expressing confidence he'll win enough bipartisan backing to pass the permitting legislation.
Manchin (W.Va.), speaking on "Fox News Sunday," appealed to Republicans and Democrats to align behind his measure, which seeks to speed up the approval process for both fossil-fuel and clean-energy projects.
"This is a chance in a lifetime for us to have energy independence" and security, "while making sure we take care of American people with lower energy prices, producing more oil, producing more gas," Manchin said. "We have to have permitting reform if you're going to deliver it."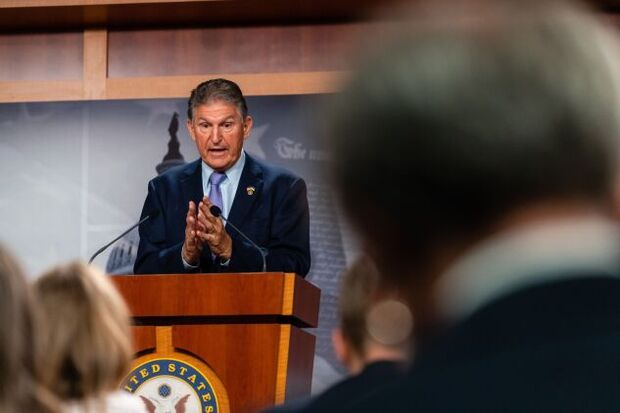 Senate Majority Leader Chuck Schumer (D-N.Y.) promised to include the permitting proposal in must-pass government funding legislation set for a vote this week as part of a deal securing Manchin's support for President Joe Biden's climate, health and spending bill that passed on a party-line vote in August.
While Manchin's bill has won the backing of his fellow West Virginian, Republican Senator Shelley Moore Capito, other Republicans have been wary of lending their support since it was critical to greasing the Inflation Reduction Act they opposed.
Read More: Manchin Coming Up Short on GOP Support for Energy Permit Bill
Manchin on Sunday implored Republicans to put that aside and embrace permitting changes they've long sought. "This is not about me," and "this is not about the previous legislation," he said.
"This is the most important thing that we can do today, and it's the most critical problem we have in front of us, which is energy independence and security," Manchin said. "It would be basically a lost moment in history if we don't do this."
Manchin expressed confidence he had "overwhelming" support from Democrats in the Senate and the House, despite intense opposition from progressives in the party. Some 80 House Democrats have urged party leaders to keep the permitting measure separate from the government spending bill. Read more from Jennifer A. Dlouhy.
Happening on the Hill
CONGRESS' SCHEDULE
The House returns on Wednesday.
Senators meet Tuesday night to take up a legislative vehicle for a bill to fund the government.
Meta Platforms has asked the Federal Trade Commission to recuse Chair Lina Khan from the agency's challenge to its acquisition of virtual reality fitness app Within, arguing her public comments about the company indicate she isn't capable of impartiality.
A bipartisan group of Senators calls on the Biden administration to support renewing the United Nations Human Rights Council's Independent International Fact-Finding Mission in Venezuela, in a letter to Secretary of State Antony Blinken
Elections & Politics
Join Bloomberg Government's Sept. 28 webinar for more on the 2022 midterm elections, with a focus on the House races key to controlling the chamber. Find out more and sign up here .
A majority of US Democrats and Democrat-leaning independents want the party to replace Biden as its 2024 nominee, according to a Washington Post-ABC News poll.
Arizona Democratic Party Senator Kyrsten Sinema said the decision by a state superior court judge to lift an injunction on all abortions except to save the life of the mother "removes basic rights Arizona women have relied upon for over a century."
Biden welcomed Elton John to the White House, praising him as a singer and songwriter "for all time" before a concert on the South Lawn.
JD Vance's deadlocked race against Democrat Tim Ryan for a US Senate seat in Republican-leaning Ohio exemplifies the struggles besetting the GOP seven weeks before the midterm elections, where the party's once-strong chances of taking the chamber have ebbed.
El Paso's mayor defended using charter buses to transport migrants out of the West Texas city, saying that the trips were voluntary and coordinated with officials at the destination.
Beto O'Rourke, the Democrat running for Texas governor, said his plan for a guest-worker program would help slow inflation and alleviate a worker shortage that plagues agriculture and other US industries.
Georgia Secretary of State Brad Raffensperger said Friday that the state is replacing all remaining voting equipment in rural Coffee County, a Republican enclave where election officials and consultants working for Donald Trump's former attorney Sidney Powell breached election security in 2021.
California Governor Gavin Newsom vetoed a bill that would require crypto financial-service businesses to get a special license to operate, calling it premature and costly.
The Supreme Court's rulings last term represent the biggest spoils yet from the Republican power politics that let former President Donald Trump fill three vacancies. While the new term will be the first with Justice Ketanji Brown Jackson, appointed by President Joe Biden, it's otherwise scripted to fulfill more conservative wish-list items that will exacerbate the nation's political and cultural divides.
The War in Ukraine
Biden's administration has privately told the Kremlin that any use of nuclear weapons in the war in Ukraine would have "catastrophic consequences" for Russia, White House National Security Adviser Jake Sullivan said.
Blinken said Russia's decision to seize Ukraine's Zaporizhzhia nuclear power plant was a "flagrant breach" of its past commitments to safety.
Grilled by reporters at the United Nations General Assembly about what comes next in Russia's invasion of Ukraine, Foreign Minister Sergei Lavrov had simple advice.
As the Russian invasion of Ukraine hits the seven-month mark, the legal landscape is shifting for corporations around the world navigating a slew of sanctions stemming from the military action.
Blinken told '60 Minutes' that Russia's "sham" referendums are illegitimate and the results of the votes will never be recognized.
Around the Administration
PRESIDENT'S SCHEDULE
Biden at 11:45 a.m. will welcome the Atlanta Braves to the White House.
Shortly after 4 p.m. Biden will deliver remarks at the third meeting of the White House Competition Council, and preview new actions aimed at saving families money and lowering costs.
Press Secretary Karine Jean-Pierre holds a briefing at 1:30 p.m.
The Pentagon is pressing ahead with a policy to help defense contractors deal with business shocks from Covid-19 even after Biden declared the pandemic over and calls increased for the program of sped-up payments to be discontinued.
Al Gore, the former US vice president turned climate activist, said investors are growing increasingly impatient with evidence of potential "greenwashing" amid signs that net-zero pledges made by some members of the financial industry weren't credible.
Federal Reserve Chair Jerome Powell said the US economy may be entering a "new normal" following disruptions from the Covid-19 pandemic.
Storm Ian became a hurricane early Monday as it churned through the Caribbean, bringing the threat of flooding to parts of Cuba and tornadoes to southern Florida in the coming days.
To contact the reporters on this story: Brandon Lee in Washington at blee@bgov.com; Michaela Ross in Washington at mross@bgov.com
To contact the editor responsible for this story: Giuseppe Macri at gmacri@bgov.com