What to Know in Washington: Manchin, Schumer Revive Climate Deal
Democrats have tight timeline to pass $369 billion deal
House to clear bill to boost semiconductor manufacturing
It looked to most Democrats in Washington two weeks ago that Sen. Joe Manchin (D-W.Va.) had slammed the brakes on President Joe Biden's tax and climate agenda. He told a radio host in his home state that he wanted to wait, that inflation was too high and the economy too shaky. In September he'd reassess.
That was Friday, July 15. The following Monday, he was back in Washington and back—once again—at the negotiating table with Senate Majority Leader Chuck Schumer (D-N.Y.) trying to extract from the ashes a deal that had been killed and revived multiple times over the past year.
Other Democrats also weighed in, including Chris Coons (Del.), Mark Warner (Va.) and Ron Wyden (Ore.). That Monday, Coons met with Manchin one-on-one in the former's office for some 45 minutes, urging him to keep at the talks with Schumer and arguing the wider package wouldn't spark more inflation. Coons also sought help from the outside; one aide said Coons ran into former Treasury Secretary Lawrence Summers at the Aspen Security forum in Colorado last weekend.
Like Manchin, Summers had been raising warnings about inflation. Coons was aware that Manchin wanted to speak with him about the economic package, and urged him to get in touch with the centrist senator and impress upon him that the package under discussion wasn't inflationary. The Washington Post, citing people familiar with the details, reported that the two spoke earlier this week.
This time, the haggling and lobbying bore fruit: a surprise agreement for a $369 billion tax, energy, health-care and climate plan that Manchin and Schumer announced Wednesday afternoon. Read more from Laura Litvan.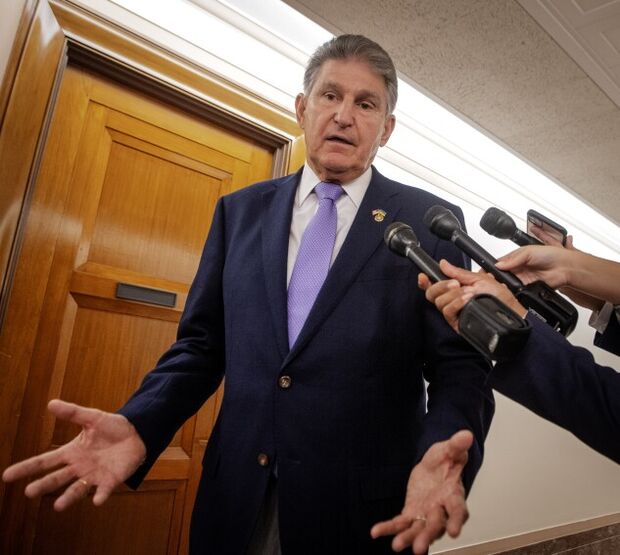 The plan would generate about $739 billion in revenue, spend $433 billion and cut deficits by $300 billion over a decade. That would be a considerable reduction from the $3.5 trillion Build Back Better agenda that congressional Democrats had discussed a year ago. Revenue would come from a 15% corporate minimum tax, allowing Medicare to negotiate drug prices, and bolstering IRS enforcement, and would raise $14 billion from higher carried interest taxes, Erik Wasson and Laura Davison report.
ENERGY, CLIMATE & TAX HIGHLIGHTS
Read more: What's in the Manchin-Schumer Deal on Taxes, Climate and Energy
Democrats' agreement included the promise of separate legislation—expected to move in the fall—that would accomplish a bipartisan goal to speed up environmental permitting. The efforts to revamp permitting through legislation is a recognition that the federal government doesn't have adequate tools to expedite the process, according to a Trump-era official who was involved in the permitting talks. Read more from Stephen Lee.
Manchin said he opposes changes to the state and local tax deduction, dealing a blow to House Democrats vying to expand the write-offs. "Our tax code should not favor red-state or blue-state elites with loopholes like SALT," Manchin said. Excluding an increase of the $10,000 SALT deduction threatens to cause problems with several Democrats who have said their support of any tax-code changes is contingent on raising the cap. Read more from Laura Davison and Erik Wasson.
Also Happening on the Hill
CONGRESS' SCHEDULE
The House meets at 10 a.m., to vote on a bill to boost semiconductor production
Senators meet at 10 a.m. to vote on an ambassador nomination
Biden's proposal to tax the unrealized gains of some of the richest Americans has taken legislative form with a new bill from two House Democrats. The bill, which would affect 0.01% of US households and is intended to target wealth inequality, further establishes a once-fringe idea at the core of the party's messaging on economic policy.
The legislation is unlikely to pass this year — or potentially for many years — as Democrats are projected to lose their House majority in the November midterm elections. The bill is also not part of the tax and climate deal that Schumer and Manchin (D-W.Va.) announced. Read more from Laura Davison.
The House plans to vote today on legislation carrying $52 billion, as well as a tax credit, for US semiconductor manufacturing. The vote would clear the sweeping bill (H.R. 4346) for Biden after the Senate's 64-33 vote yesterday followed over a year of debate, and a stalled conference committee. Commerce Secretary Gina Raimondo is planning to make a last-minute pitch to win over wavering members of the Congressional Progressive Caucus.
Lawmakers have resigned themselves to relying on a stopgap funding measure to keep the government running past Sept. 30, even as Senate appropriators aim to publish fiscal 2023 spending bills likely today. Key lawmakers said they expect to rely on a continuing resolution to keep the federal government running at current funding levels, aiming for a full government funding deal in the November-December lame duck session after the midterms. Jack Fitzpatrick has more.
Republicans are stalling a bill to make sure veterans exposed to toxic burn pits can have access to expanded benefits (S. 3373). Republicans on Wednesday voted against limiting debate on the bill, in an effort to get amendments that would reduce its future mandatory spending, Sen. John Cornyn (R-Texas) told reporters. He added that Republicans are betting that their efforts will prompt a conversation about amendments, Zach C. Cohen reports.
Deported veterans would get a new opportunity to become legal US residents under a bill approved by the House Judiciary Committee Wednesday. The bill's consideration comes a month after the panel held a hearing to highlight the challenges faced by veterans who aren't citizens. Noncitizen veterans are eligible for US citizenship, but not all meet every requirement—leaving them vulnerable to deportation if convicted of a crime. Read more from Mia McCarthy and Ellen M. Gilmer.
An unlikely lawmaker duo is supporting an expansion of psychedelic research studies for active-duty service members. Reps. Alexandria Ocasio-Cortez (D-N.Y.) and Dan Crenshaw (R-Texas) successfully submitted separate amendments on such research for the fiscal 2023 National Defense Authorization Act (H.R. 7900). But the amendments' fate in the Senate remains unclear. Read more from Mia McCarthy.
The House passed a bill that would continue Medicare telehealth services after the Covid public health emergency is lifted. The Consolidated Appropriations Act of 2022 already extends Medicare's telehealth services for 151 days after emergency ends, and though HHS Secretary Xavier Becerra renewed the emergency through Oct. 13, 2022, the legislation (H.R. 4040) from Rep. Liz Cheney (R-Wyo.) would extend telehealth waivers through Dec. 31, 2024. Tony Pugh has more.
Legislation protecting big cats from private ownership and public interaction—an issue generating attention after Netflix's hit Tiger King crime documentary series—heads to the House floor on Thursday. The measure (H.R. 263) would prohibit tigers, lions, leopards, jaguars, or cougars from being kept or bred as pets. The bill would also prohibit public contact with big cats, seen in practices like cub petting. Read more from Mia McCarthy.
Environmental justice legislation to put the impacts of air and water pollution for marginalized communities front and center for environmental permitting was approved Wednesday by the House Natural Resources Committee on a party-line vote. The bill (H.R. 2021), introduced by Chair Raul Grijalva (D-Ariz.), advanced in a 26-21 vote and would apply new fees to coal, oil, and gas companies to help communities transition from fossil fuels. Read more from Dean Scott.
Senators plan legislation to allow merchants to route Visa and Mastercard transactions over alternative networks. The bill—set to be introduced as soon as this week by Sens. Richard Durbin (D-Ill.) and Roger Marshall (R-Kan.)—would direct the Federal Reserve to ensure credit cards and devices provide at least two networks that can be used to process electronic credit-card transactions, according to a handout provided by Durbin's office. Jenny Surane and Laura Litvan have more.
Government hackers are likely using commercial spyware to breach cell phones belonging to US officials stationed across the world, House Intelligence Chair Adam Schiff (D-Calif.) said on Wednesday. Reports last year that attackers infiltrated the phones of American diplomats in Uganda using a kind of spyware known as Pegasus, developed by an Israeli vendor, provide just a small hint of the scale of the issue, he said. Read more from Katrina Manson.
Finland and Sweden's NATO membership bids are likely to win Senate approval after the Foreign Relations Committee approved a resolution of ratification last week. The resolution includes declarations and conditions, including a requirement for the president to certify that adding the two countries to the alliance wouldn't increase US contributions to NATO's budgets. Get the full breakdown in the BGOV OnPoint.
Elections, Politics & Probes
Many Democrats are cautiously welcoming Biden on the campaign trail, banking on his assets outweighing his unpopularity in the party's bid to retain control of both chambers of Congress. A dozen incumbents in tight races told Bloomberg Government they'd embrace the beleaguered leader of their party—albeit with varying degrees of enthusiasm and commitment.
Rep. Cindy Axne (D-Iowa), who was with Biden when he visited her swing district this year, said she'd welcome him back to her district and encourage him to meet with possible voters as much as possible. "Joe Biden needs to be on the ground talking to folks, because when he is, they love him," Axne said in an interview in Washington. "I hope he gets out because America needs to see the real Joe Biden, not the one that's stuck here all the time."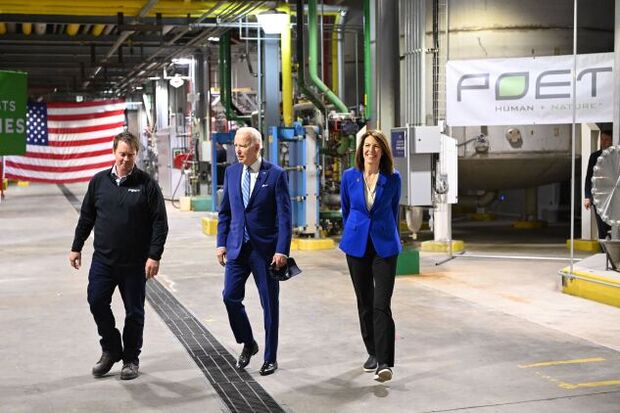 The president can bring several advantages into a bleak midterm election environment when Democrats are looking for any edge, including drawing attention to down-ballot candidates when he brings a media entourage. Read more from Zach C. Cohen and Emily Wilkins.
A government watchdog organization rebuffed a call from Democrats to sideline an inspector general and appoint a new one to probe missing Secret Service texts. Alan Boehm, executive director of the Council of the Inspectors General on Integrity and Efficiency, said his group lacks authority to appoint a new agency watchdog "for any reason." The panel is an independent group within the executive branch that oversees inspectors general across agencies. Ellen M. Gilmer has more.
MORE IN ELECTIONS & POLITICS
Jan. 6 Rioter Pleads: George Tanios, a rioter on Jan. 6 who was charged with assaulting Capitol Police Officer Brian Sicknick, pleaded guilty to two less serious offenses: misdemeanor counts of disorderly conduct and knowingly entering a restricted area, Sabrina Willmer reports.
Thomas Pulls Course: Supreme Court Justice Clarence Thomas withdrew from co-teaching a constitutional law seminar at the George Washington University Law School amid student protests, a move first reported by The GW Hatchet, a campus newspaper. Greg Stohr has more.
Around the Administration
PRESIDENT'S SCHEDULE
At 2:15 p.m., Biden will deliver remarks on the US economy and meet with industry leaders.
A potential White House request for billions in monkeypox funding could find itself ensnared in an impasse on Capitol Hill over additional Covid dollars. Lawmakers have been struggling this year to agree on new money for Covid programs the White House has warned are running dry. Turning their attention to yet another health threat could prove even trickier. A Democratic aide and senators said they haven't gotten a request from the White House even as cases hit 3,600 across the country. Jeannie Baumann and Alex Ruoff have more.
Emergency Declaration Possible: The Biden administration could declare monkeypox a public health emergency as early as the end of this week, Politico reports, citing two people with knowledge of the matter. The decision, which isn't yet final, would by made by HHS and comes after the WHO made a similar declaration last week. Read more from Politico.
Biden's call with Chinese leader, Xi Jinping, will begin at 8:30 a.m., the White House said, Akayla Gardner reports. Biden's calls with Xi Jinping have broken some diplomatic logjams between the US and China. But the showdown over a possible Taiwan visit by Speaker Nancy Pelosi (D-Calif.) makes their latest discussion perhaps the most precarious yet. Their fifth conversation in 17 months is set to occur days before Pelosi's reported trip to Taiwan. Iain Marlow, Rebecca Choong Wilkins and Krystal Chia set the stage for the call.
WHAT ELSE TO KNOW TODAY
Uninsured Figures Fall: A new study from the Centers for Disease Control and Prevention found the share of uninsured Americans continued to drop in the first quarter to 8%. Many obtained insurance through the Affordable Care Act due to American Rescue Plan Act subsidies, Sara Hansard reports.
Gensler on China: US and China officials must reach an agreement "very soon" over access to audit work papers for Chinese companies to avoid being kicked off American stock exchanges, US Securities and Exchange Commission Chair Gary Gensler said. Read more from Lydia Beyoud.
Wage Regulator Nominee: The White House has nominated the current acting chief of the Wage and Hour Division, Jessica Looman, to lead the agency permanently as administrator, according to a Wednesday announcement. Read more from Rebecca Rainey and Paige Smith.
To contact the reporter on this story: Brandon Lee in Washington at blee@bgov.com
To contact the editors responsible for this story: Giuseppe Macri at gmacri@bgov.com; Loren Duggan at lduggan@bgov.com