What to Know in Washington: Manchin Permit Deal Needs GOP Votes
Senator Joe Manchin (D-W.Va.) said Thursday he needs as many as 20 Senate Republicans to vote for his plan to streamline the federal approval for energy projects to counter Democratic defections — further casting doubt on the effort to tie his bill to a must-pass spending bill this month.
Manchin said he was hopeful Republican West Virginia colleague Sen. Shelley Moore Capito, who introduced a GOP permitting reform bill that has 46 GOP co-sponsors earlier this week, would be able to convince 15 to 20 Republicans to vote for his bill, which Senate Majority Leader Chuck Schumer (D-N.Y.) said would be attached to must-pass government funding legislation.
"That's the only way it's going to happen," Manchin told reporters. "She got 40-plus Republicans to join her. She's just got to get 20 of them to follow her."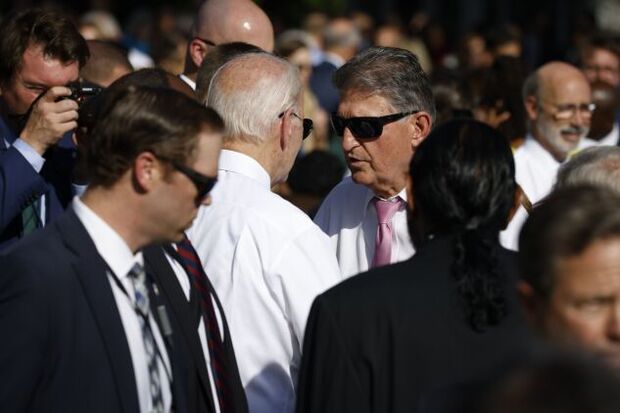 Capito indicated in a statement that she may be unwilling to provide votes for the plan she hasn't seen and didn't negotiate.
"Now the onus is on me to provide support for something I had no hand in and still don't know what it is?" Capito said. "You just can't operate like that."
The legislation, which has yet to be unveiled, could speed the permitting process for both fossil fuel and clean energy projects by putting two-year time limits on project reviews and limiting the power of states in Clean Water Act approvals, changes that could benefit the energy industry but are opposed by environmentalists.
The legislation could also benefit Equitrans Midstream's stalled $6.6 billion Mountain Valley natural gas pipeline by changing the court venue which has tied up the embattled project.
Senate passage is far from certain. Senator Bernie Sanders (I-Vt.) said last week he'd vote against the stopgap government-funding bill if Democratic leaders added the permitting plan. Manchin told reporters Thursday he expected as many as four Democrats to join Sanders in opposing the bill. Read more from Ari Natter and Erik Wasson.
Happening on the Hill
CONGRESS' SCHEDULE
The House and Senate are not in session.
Biden's nominee to lead the Federal Aviation Administration defended himself after being named in a search warrant in Los Angeles, a development that could complicate his path to confirmation.
Outdated standards heighten the risk of cyberattacks on the technology that makes industrial, military, transportation, and other critical facilities run, cybersecurity officials told lawmakers Thursday.
A group of 47 House Democrats and one Republican on Thursday advocated for school meals to be included in a stopgap funding bill to keep the government from shutting down after this month.
America's farmland risks being left behind on broadband access unless the Agriculture Department gets a greater role in rolling out an interagency agreement to provide it to rural communities, lawmakers warned.
The US Senate confirms David Pekoske by a vote of 77-18 as leader of the Transportation Security Administration for a second five-year term.
Congress is preparing to save a federal small-business contracting program set to expire at the end of the month, according to a senior SBA official and a House aide familiar with the talks.
Defense & Foreign Affairs
Key congressional Democrats are balking at a White House request for $1.5 billion in upcoming government funding legislation for a cache of enriched uranium, imperiling a top priority of the Biden administration aimed at weaning the US off of Russian imports of the fuel used in nuclear reactors.
Biden said the US would give Ukraine as much as $600 million in additional weaponry from US stockpiles for its fight against Russia, as his administration seeks to add momentum to a recent counteroffensive by Ukrainian troops.
Biden will meet Friday with the families of a pair of Americans being held in Russia, after the US publicly floated a swap to win their release.
US Secretary of State Antony Blinken has assumed a key role in the effort to end the military clashes between Armenia and Azerbaijan and secure a permanent cease-fire, a senior State Department official said Thursday.
Elections & Politics
A federal judge denied the US Justice Department's request to resume using documents with classified markings seized from former President Donald Trump's Mar-a-Lago estate while awaiting a neutral third-party review.
The government asked to keep using about 100 documents that it said featured classification labels in a probe into alleged mishandling of government records after the judge ordered that a special master be appointed and temporarily barred investigators from using the materials.
A federal judge in Florida denied a US request to use documents with classified markings seized from Trump's Mar-a-Lago estate in a criminal investigation and named US District Court Judge Raymond J. Dearieas special master to review all 11,000 documents that were taken.
The White House slammed Republican governors' efforts to bus migrants to Washington, D.C. and other Democratic enclaves without any advance notice, calling their actions "cruel" and "shameful" political stunts.
A super political action committee aligned with Senate Majority Leader Chuck Schumer (D-N.Y.)will begin airing two ads today in Wisconsin targeting Republican Ron Johnson's finances and stance on abortion.
The Federal Election Commission announced it had approved an advisory opinion sought by Warren Democrats Inc. that concluded campaign funds may be used to cover cybersecurity measures for the home network of Sen. Elizabeth Warren (D-Mass.), according to a news release Thursday.
California Governor Gavin Newsom ramped up his attack on Republican-led states, putting up billboards in places like Texas and Oklahoma to advertise options for women traveling for abortion and reproductive care.
Around the Administration
PRESIDENT'S SCHEDULE
At 1 p.m., Press Secretary Karine Jean-Pierre will hold a briefing.
At 2:15 p.m. Biden will meet in the Oval Office with South African President Cyril Ramaphosa.
The White House wants American financial watchdogs to do more to weed out fraud and abuse in crypto trading as the US inches ahead with plans for the asset class.
Biden is likely to nominate Beth Kaufman, a partner at the law firm Caplin & Drysdale, to be the top lawyer at the Internal Revenue Service as the White House prepares to overhaul the agency's leadership, according to people familiar with the matter.
Biden moved to fill lengthy vacancies for US attorneys in three districts, including the Miami office involved in the investigation of Trump's handling of classified documents at his Mar-a-Lago estate.
For several days, the prospects for preventing a railroad strike or lockout rested with a handful of leaders from labor, industry and government, whose marathon talks led to a tentative agreement Thursday. What happens next depends on more than 100,000 workers represented by a slew of different unions, who'll have to decide whether to ratify their leaders' deals or reject them, setting the stage for a massive work stoppage.
US immigration officials aren't prepared for an anticipated jump in migrants at the southern border when pandemic-related border restrictions end, a federal watchdog says, in the latest dig at the agency's plans.
The Justice Department will allow more companies that voluntarily report misconduct and cooperate on remedial actions to avoid pleading guilty as part of a new bid to crack down on corporate crime.
Businesses that deploy digital design practices known as "dark patterns" to manipulate consumers' behavior could face scrutiny and possible fines from the Federal Trade Commission, according to a new staff report.
The Consumer Financial Protection Bureau will have to use a variety of tools to oversee buy now, pay later products because federal consumer protection laws will not always apply to the fast-growing financing sector.
The Biden administration has called on states and local governments to apply for new cybersecurity grants worth $1 billion over four years. The move is part of US efforts to beat back attacks from criminal hackers, who have successfully targeted everything from gas pipelines and meat factories to schools and hospitals.
To contact the reporters on this story: Brandon Lee in Washington at blee@bgov.com; Michaela Ross in Washington at mross@bgov.com
To contact the editor responsible for this story: Giuseppe Macri at gmacri@bgov.com