What to Know in Washington: Manchin Crushes Biden Economic Plan
Manchin says no spending on climate measures, tax increases
Biden to leave Middle East with no announcement on more oil
Sen. Joe Manchin (D-W.Va.) told Democratic leaders Thursday that he would not support an economic package that contains new spending on climate measures or new tax increases, according to three people familiar with the matter.
The West Virginia Democrat's decision is a colossal blow to President Joe Biden's domestic agenda just months before midterm congressional elections that will determine control of both chambers.
Manchin told Senate Majority Leader Chuck Schumer (D-N.Y.) he's only willing to support legislation to lower prescription drug prices and extend enhanced Affordable Care Act subsidies, the people said.
That leaves Democrats in a position of accepting a much skinnier package shorn of nearly all of their long-term ambitions from a year ago, or getting nothing. Yet the loss of plans to tax wealthy people and corporations, extend the solvency of Medicare, and other provisions to reduce the deficit and tackle carbon emissions while bolstering renewable energy, will be a bitter pill for many Democrats on Capitol Hill and at the White House.
The death of the climate package, which at one point contained a historic some $555 billion on clean power, electric vehicles and resilience to global warming, would represent a major setback in the Biden administration's efforts to confront global warming emissions. The president pledged last year that the US would cut its greenhouse gas emissions 50% to 52% from 2005 levels by the end of the decade.
Democrats had also planned to use the major tax and spending package to bring the US into alignment on one of the two major parts of that agreement, negotiated by the Treasury Department and representatives from over 130 countries. The global talks remain ongoing, but a de facto US withdrawal could throw sand in the gears of what appeared to be a unique international consensus.
"Political headlines are of no value to the millions of Americans struggling to afford groceries and gas as inflation soars to 9.1%," said Manchin spokeswoman Sam Runyon. Ari Natter, Steven T. Dennis and Colin Wilhelm have more.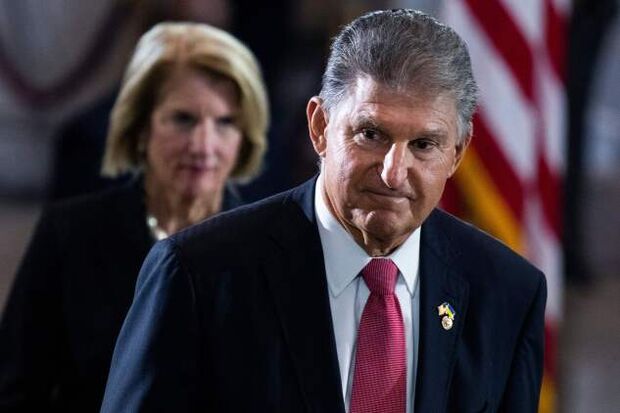 Happening on the Hill
CONGRESS' SCHEDULE:
The House meets at 9 a.m. to vote on bills targeting abortion and suspending tariffs on infant formula.
Senators are out until Monday.
Lawmakers defied Biden's national security blueprint by backing a $37 billion boost (H.R. 7900) to the US defense budget amid concerns about inflation, Russia's invasion of Ukraine, and China's rising influence in the Asia-Pacific. The House by a 329-101 to authorize $839.3 billion in national security spending for the next fiscal year, beginning Oct. 1, including bumps for Lockheed Martin's F-35 Joint Strike Fighter and Boeing's Super Hornet jets. Read more from Roxana Tiron.
Members by a 244-179 margin backed a provision to the annual defense authorization bill that would prohibit the sale of F-16s to Turkey unless Biden certifies that providing the Lockheed Martin Corp. fighters is in the US national interest and that Turkey won't use the jets for unauthorized territorial overflights of Greece. Roxana Tiron has more.
The House also approved a bevy of worker-friendly proposals hooked onto the defense bill, even after business groups raised concerns ahead of the votes. Paige Smith has more.
The House attached a measure that offshore wind developers say poses an existential threat to the nascent industry in the US by imposing new nationality requirements for crew members working on offshore energy projects, from oil rigs to wind installations. Read more from Jennifer A. Dlouhy.
The House Judiciary Committee will mark up assault weapons ban legislation for the first time in two decades on July 20, Chairman Jerrold Nadler (D-N.Y.) said in a statement, Tuhin Kar reports.
Food and Drug Administration funding is in question after a key negotiator Sen. Richard Burr (R-N.C.) Thursday proposed walking away from months of efforts to overhaul the agency's fast-track approval system. House leaders are now urging the Senate to vote quickly on their proposal (H.R. 7667) for reauthorizing industry user fees that help fund the FDA after the Senate health committee's ranking member proposed a stripped down version lacking several previously negotiated provisions. Read more from Celine Castronuovo and Alex Ruoff.
Senate Democrats put a core piece of their drug pricing agenda into the hands of their Republican colleagues, only to learn they're not rushing to hand over a win. Schumer has said he plans to hold a vote soon on a measure from a bipartisan duo to cap the monthly out-of-pocket cost of insulin at $35. But it needs GOP support. Alex Ruoff has more.
Biden announced plans to name five more district court picks, bringing the total federal juridical nominations announced this week to 16. The new list comes as progressives are pushing the White House and Senate Democrats to move faster on nominations ahead of the midterms. Madison Alder has more.
Also on Lawmakers' Radars
The House committee investigating the US Capitol attack is mapping out its steps beyond next week's planned eighth public session this summer—including possibly holding more hearings after what once was expected to be the panel's finale. Read more from Billy House.
The House panel is seeking to recover US Secret Service text messages that could shed light on Trump's actions as the attack unfolded, but were erased from the agency's computer system. The Secret Service issued a statement Thursday saying, "The insinuation that the Secret Service maliciously deleted text messages following a request is false." Read more from Billy House and Chris Strohm.
Lawmakers clashed over the extent to which same-sex marriage and other hard-won rights are at stake following the US Supreme Court's decision overturning the Roe v. Wade precedent legalizing abortion at a House Judiciary Committee on Thursday, Maia Spoto reports.
Senate Democrats' staff are more diverse than they have been at any time since Schumer took the reins of the caucus. New data compiled by the caucus show 41% of senators' personal aides and 34% of Democrats' committee aides identified as non-white. Read more from Zach C. Cohen.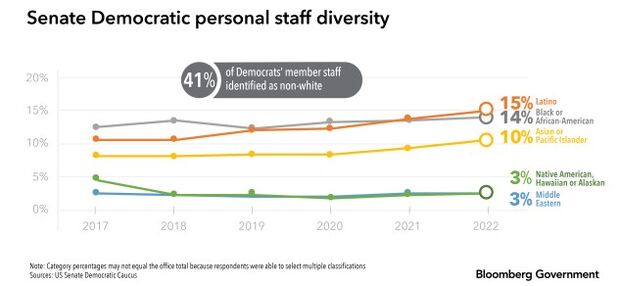 House Republicans overseeing transportation are increasingly using the White House's infrastructure spending—long seen as a signature success—as a political weapon against the president, as construction and gas price increases have driven up prices and delayed the start of some infrastructure projects. Lillianna Byington has more.
BlackRock rejected allegations by Sen. Tom Cotton that it's improperly coordinating investment decisions related to climate change with a group of money managers called the Climate Action 100+. The group is an investor-led initiative that pushes the world's largest corporate greenhouse emitters take action on climate change. Read more from Silla Brush.
The House's top tax writer said he hopes an IRS watchdog carries out a quick investigation into the audits of two former FBI leaders, and is urging that the investigation's findings be made public. House Ways and Means Chair Richard Neal (D-Mass.) said after committee members met privately with IRS Commissioner Chuck Rettig that he hopes the investigation is done before Rettig's term ends in November. Naomi Jagoda and Richard Tzul have more.
More than 30 House and Senate members told the EPA on Thursday they have concerns over chemical recycling technology contributing to the climate crisis and releasing toxic chemicals linked to cancer, nervous system damage, and negative effects on reproduction and development. Nyah Phengsitthy reports.
The heat wave straining the power grid in much of the country has led the Federal Energy Regulatory Commission and lawmakers to press for more transfers of electricity among regions that largely operate their own sections of the grid. Read more from Daniel Moore.
On Thursday the US Capitol Police's response was faulted by Rep. Alexandria Ocasio-Cortez (D-N.Y.) after she was harassed the previous day by a right-wing agitator who recorded a video of himself making vulgar comments about her as she entered the US Capitol, Billy House reports.
Most American parents want Congress to pass online privacy legislation, especially to protect children, according to a poll by digital advocacy group Trusted Future. In a survey of 992 respondents with at least one child under the age of 17, about 63% said that if they could choose one priority for Congress, it would be to increase privacy protections. Read more from Alicia Diaz.
Elections & Politics
A group of Donald Trump's former aides are preparing a turnkey administration for his return to the White House, as the embattled former president hints that he's preparing to make a third run for the nation's highest office.
America First Policy Institute, a nonprofit led by former Trump cabinet member and World Wrestling Entertainment executive Linda McMahon, has essentially assembled a shadow government for Trump — or, potentially, any other Republican who takes the White House from Democrats in 2024. Mario Parker and Jennifer Jacobs have the details.
Hillary Clinton and the Democratic Party brushed off Trump's amended lawsuit accusing them of conspiring to undermine his presidency with claims of Russian collusion as a "swollen" political manifesto devoid of facts. The revised suit "alleges a series of disconnected political disputes" that Trump has "alchemized into a sweeping conspiracy" by his foes, according to a motion to dismiss filed Thursday, Erik Larson reports.
The Federal Election Commission approved an advisory opinion for the Democratic Party of Wisconsin Federal about its proposal to form a join fundraising committee with a future Senate nominee fund, the agency announced Thursday, Bloomberg Government reports.
Around the Administration
PRESIDENT'S SCHEDULE:
Biden travels to Jeddah, Saudi Arabia and meet with King Salman bin Abdulaziz al Saud. Later he will participate in a working session with Crown Prince Mohammed bin Salman and Saudi ministers.
Biden Set to Leave Saudi Arabia With No Announcement on Oil: Biden will leave the Middle East this week with no public announcements on increasing oil supply, people familiar with the matter said. Annmarie Hordern, Jenny Leonard and Salma El Wardany have the latest.
Biden said the time is "not ripe" to restart negotiations between Palestinians and Israel but he would look for ways to reinvigorate the peace process. Jenny Leonard and Justin Sink cover Biden's comments.
Biden announced $316 million in US aid for the Palestinians on Friday, as he seeks to revive US ties with the Palestinian Authority with a hospital visit and a meeting with the authority's president, Mahmoud Abbas. The aid package will include as much as $100 million for the East Jerusalem Hospital Network, subject to congressional approval. Another $200 million will go to the United Nations Relief and Works Agency for Palestine Refugees, a program that the US stopped funding under Trump, the official said. Read more from Jenny Leonard and Justin Sink.
Saudi Arabia said it would open its airspace to all airlines, a change that is part of Biden's efforts to improve relations in the Middle East, Bloomberg News reports.
Treasury Secretary Janet Yellen wasted no time Friday in confronting Russian officials at the opening session of a gathering of G-20 finance officials in Bali, Indonesia. "Russia's officials, including those participating in this session, should recognize that they are adding to the horrific consequences of this war through their continued support of the Putin regime," Yellen said, citing rising global inflation and commodity prices. Read more from Christopher Condon.
A proposed cap on the price of Russian oil won't need a rigid enforcement mechanism to be effective, said senior Treasury officials. Governments could let buyers negotiate for Russian crude, and then qualify for an exception to an insurance ban if they secure a price at or below a cap, said the officials traveling with Yellen in Asia, Condon reports.
Biden is risking a disconnect with the American public by playing down inflation readings. Biden said the 9.1% inflation rate announced Wednesday was "out of date" because it did not reflect the easing of gas prices since mid-June. There's no relief in sight, however, for Americans who've been seeing their real incomes dropping for more than a year now, Saleha Mohsin reports.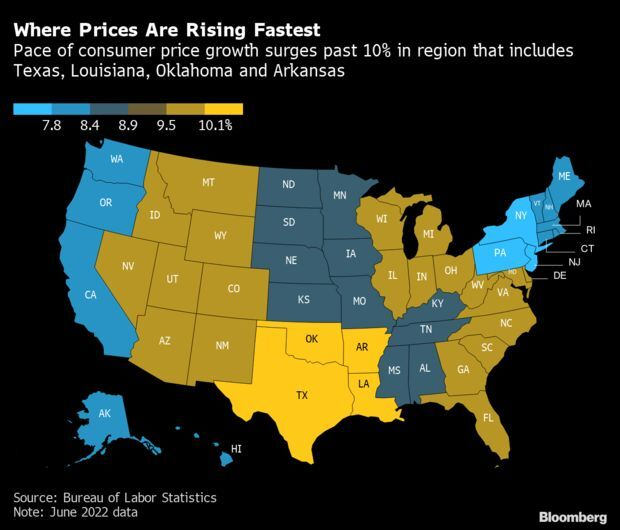 Regulators are poised to extract about $1 billion in fines from the five biggest US investment banks for failing to monitor employees using unauthorized messaging apps. Read more from Sridhar Natarajan, Katherine Doherty, Hannah Levitt and Matt Robinson.
Through April, airlines themselves triggered about 58% of late flights so far in 2022, surpassing those that were tardy due to storms, the government's air-traffic system and security glitches, according to data reviewed by Bloomberg News, Alan Levin and Mary Schlangenstein report.
The US Chamber of Commerce accused the Federal Trade Commission of a lack of transparency about its competition enforcement in a lawsuit Thursday. It signals an intensifying clash between the nation's biggest business lobby—whose members include Alphabet, Amazon, and Meta—and Lina Khan's FTC. Leah Nylen has the story.
To contact the reporters on this story: Brandon Lee in Washington at blee@bgov.com; Michaela Ross in Washington at mross@bgov.com
To contact the editors responsible for this story: Giuseppe Macri at gmacri@bgov.com; Loren Duggan at lduggan@bgov.com