What to Know in Washington: Manchin Axes Biden's Budget Tax Plan
Key Senate moderate likely dooms Biden's tax pitch
Budget would barely dent ballooning U.S. debt
President Joe Biden's plan to tax unrealized capital gains ran into opposition from key Sen. Joe Manchin, likely dooming it just hours after it was sent to Congress.
Biden's fiscal 2023 budget request released Monday would impose a 20% minimum tax on the unrealized capital gains for households worth at least $100 million. Manchin (D-W.Va.) said the idea is a "tough one."
You can't be taxed "on things you don't have," he said. "You might have it on paper. There are other ways for people to pay their fair share, and I think everyone should pay."
The concept of taxing unrealized gains has been popular in progressive circles for years, but Biden shied away from it during the presidential campaign and during his first year in office. The proposal would raise an estimated $360 billion over a decade from roughly the wealthiest 20,000 households in the country.
Manchin's early opposition comes as Senate Finance Committee Chairman Ron Wyden (D-Ore.) said he wants to hold hearings to build support for Biden's proposal. Manchin's support would be needed to ram the new tax through the 50-50 Senate using a budget procedural maneuver to bypass a Republican Senate filibuster.
The West Virginia senator also said he doesn't support Biden's proposal to end fossil fuel tax breaks.
Still, Manchin said he would like to re-engage with the White House on legislation focused on climate incentives, prescription drug cost reductions and other tax increases on the wealthy and corporations, if the package also reduces the deficit. But he's had no discussions with the Biden administration. Erik Wasson and Steven T. Dennis have more.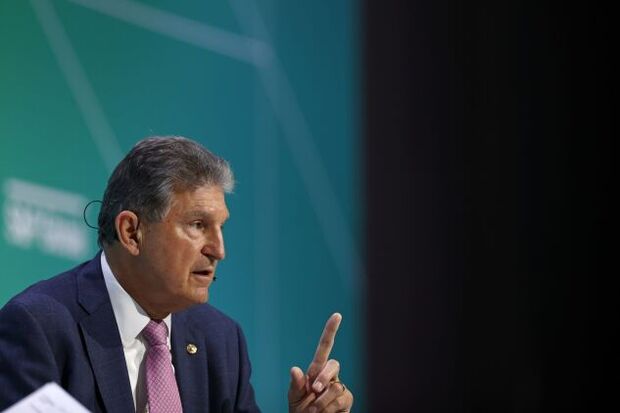 Biden's budget request highlights shrinking cumulative deficits by more than $1 trillion over the next decade, but that barely makes a dent in the government's ballooning debt. Biden's 10-year outlook still would rack up $14.4 trillion in deficits — most of it on autopilot — even after accounting for that $1 trillion in net deficit cuts from new policies like tax increases on the wealthy and corporations.
The budget request shows the U.S. spending $72.7 trillion over a decade while taking in $58.3 trillion in tax and other revenue. The resulting deficits would swell gross federal debt to $44.8 trillion from about $30 trillion now, per the summary tables put out by the administration.
Annual White House budgets are mere outlines that Congress can, and often does, reject. Still, Biden's proposal provides some context to his larger fight in trying to revive his stalled economic agenda with trillions in new spending and taxing on climate change, health care and other priorities. Read more from Steven T. Dennis.
Biden's Fiscal Year 2023 Budget Proposal—BGOV Webinar: In a March 30 webinar, Bloomberg Government's expert analysts lead a deep dive review of and provide insights on Biden's budget proposal for fiscal year 2023, and answer your questions on the administration's top priorities. Topics include topline agency funding levels, new spending initiatives and revenue proposals, and next steps in the budget process. Register here.
More on the Budget:
Happening on the Hill
CONGRESSIONAL SCHEDULE:
Congress will honor the late Rep. Don Young (R-Alaska), who is scheduled to lie in state at the U.S. Capitol.
The House is scheduled to vote on the Don Young Coast Guard Authorization Act of 2022 as well as a package of retirement provisions that has bipartisan support.
The Senate will meet to consider the nominations for deputy director of the Office of Management and Budget and an assistant State Department secretary. Senators will also vote on a motion to bring to the floor the nomination of Lisa Cook to join the Federal Reserve.
Senate Majority Leader Chuck Schumer set up a vote to break a deadlock in the Banking Committee and force the nomination of Lisa Cook to the Federal Reserve Board of Governors to the Senate floor. The vote, scheduled by Schumer (D-N.Y.) for Tuesday morning, would bring Cook's nomination out of the Banking Committee, which had cleared Biden's other nominees: Jerome Powell to a second term as Fed chair, Lael Brainard as vice chair and Philip Jefferson as a governor all advanced. Read more from Daniel Flatley.
The Senate Monday passed its version of a long-stalled bill to aid the domestic semiconductor industry and bolster U.S. competitiveness with China, a key step needed to kick off negotiations with the House on final legislation. The Senate voted 68-28 for the plan (H.R. 4521, S. 1260), which includes $52 billion in grants and incentives to bolster chip manufacturing as well as provisions aiming to jump-start innovation and bring key industries back to the U.S. amid a global supply chain crunch. Read more from Daniel Flately.
Statues honoring the late Justice Ruth Bader Ginsburg and retired Justice Sandra Day O'Connor would be added to the U.S. Capitol or its grounds under a bill that cleared the House Monday. The bipartisan bill (S. 3294) passed 349-63 under suspension of the rules and goes next to Biden for his signature. Read more from Madison Alder.
The U.S. Justice Department has thrown its support behind legislation that would bar major technology platforms like Alphabet's Google and Amazon from giving preferential treatment to their own products at the expense of competitors. Peter Hyun, acting assistant attorney general for legislative affairs, said in a letter to the Senate Judiciary Committee that the department "views the rise of dominant platforms as presenting a threat to open markets and competition, with risks for consumers, businesses, innovation, resiliency, global competitiveness, and our democracy," Sara Forden and John Harney report.
The House panel investigating last year's insurrection at the U.S. Capitol is likely to seek an interview with Ginni Thomas, the wife of Supreme Court Justice Clarence Thomas, concerning her text messages with a top White House official about overturning the 2020 election, officials familiar with the matter said. Committee chair Bennie Thompson (D-Miss.) favors questioning the conservative activist. Read more from Billy House.
Meanwhile the panel voted unanimously Monday night to recommend contempt citations against two of former President Donald Trump's White House advisers for defying subpoenas seeking testimony and documents in the investigation into last year's insurrection. Ex-White House Deputy Chief of Staff Dan Scavino and former trade adviser Peter Navarro would be the third and fourth Trump allies cited with contempt of Congress if the full House approves the resolution. Read more from Billy House.
Around the Administration
BIDEN'S SCHEDULE:
Biden will discuss Russia's attack on Ukraine and implications for the Indo-Pacific region during a meeting with Singapore Prime Minister Lee Hsien Loong at the White House. They'll make a joint press statement at 12:45 p.m.
Biden will then pay his respects to Rep. Young as he lies in state.
The President at 4 p.m. will sign into law the "Emmett Till Antilynching Act."
U.S. farmers will respond to "price signals" and increase their production to avert any domestic food shortage stemming from Russia's invasion of Ukraine, the White House's chief economist said Monday. "We don't expect a shortage here, because we are net exporters," Cecilia Rouse, the chair of Biden's Council of Economic Advisers, told reporters at a briefing. "But we are acutely aware of the fact that there are regions in the world that depend heavily on exports of wheat in particular and other grains from Ukraine and Russia." She predicted that American farmers would adjust and increase their planting to take advantage of higher prices. Read more from Nancy Cook.
Deputy Treasury Secretary Wally Adeyemo said the U.S. and its allies will tighten the sanction screws on Russia over its invasion of Ukraine, singling out industries integral to Moscow's war effort. "Our allies and partners are committed to taking additional significant steps to constrain the Russian economy, for as long as Russia's invasion continues," Adeyemo said in the text of a speech he's scheduled to deliver Tuesday morning in London at Chatham House, an international policy institute. Read more from Christopher Condon.
Secretary of State Antony Blinken will hold talks in Morocco Tuesday with the de facto ruler of the United Arab Emirates as the war in Ukraine convulses energy markets. Blinken and Abu Dhabi Crown Prince Mohammed bin Zayed will "discuss regional security and international developments," according to a U.S. statement. Read more from Souhail Karam.
Ukraine is striving for a cease-fire agreement in talks with Russian negotiators that started Tuesday in Turkey, setting a "minimum" goal of an improvement in the humanitarian situation that has caused millions to flee their homes, Foreign Minister Dmytro Kuleba said. Follow the latest in the Bloomberg News Ukraine Update.
To contact the reporter on this story: Michaela Ross in Washington at mross@bgov.com
To contact the editors responsible for this story: Loren Duggan at lduggan@bgov.com; Giuseppe Macri at gmacri@bgov.com