What to Know in Washington: Loan Reprieve Spurs Inflation Watch
Loan relief spurs watch for inflation impact before elections
Democrats race for top oversight post after Maloney defeat
President Joe Biden's plan to forgive a portion of student loans held by tens of millions of people will ripple through the economy as personal spending and savings shift, but no factor will be more closely watched than inflation.
In announcing the plan Wednesday, the White House flagged that the move would have competing impacts. On the one hand, it would cut down overall household debt and potentially provide more spending power. On the other, it offers a timeline to restart payments that have been suspended for more than two years.
Overall, the combination of higher savings and lower debt could drive inflation up by 0.1 to 0.3 percentage points, according to Michael Pugliese, an economist at Wells Fargo. Bloomberg Economics sees the potential to add as much 0.2 percentage points next year, with risk to the upside. Headline inflation last month, as measured by the consumer price index, was 8.5%, near a 40-year high.
"In the grand scheme of things, that's not huge," Pugliese said of the fresh pressures, adding that there are outstanding details that could still influence his estimate. "But inflation right now is at pretty alarming rates. At a time when the economy is already running too hot, it just threatens putting more fuel on the fire."
Read more:
While Biden and the Democrats are using the debt relief to court younger and progressive voters ahead of the midterms in November, as the party risks losing control of Congress, the decision has also powered criticism that his administration is to blame for a consumer-powered surge in prices, particularly from the $1.9 trillion Covid-19 relief stimulus bill.
The effects of the relief will be felt widely. Of the 43 million federal student loan borrowers eligible to benefit, about 20 million will have their debt completely eliminated, according to White House estimates, with 90% of help going to people who earn less than $75,000 a year. Read more from Olivia Rockeman, Katia Dmitrieva, and Alex Tanzi.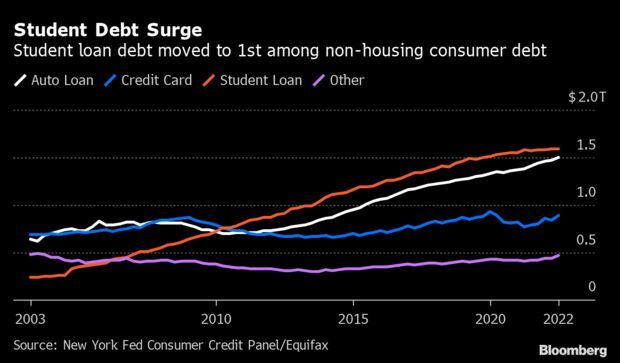 Happening on the Hill
CONGRESS' SCHEDULE
Both chambers are on recess.
The race to lead Democrats on the House Oversight Committee next year has already begun, with Reps. Gerry Connolly (D-Va.) and Stephen Lynch (D-Mass.) both announcing that they'll run and Jamie Raskin (D-Md.) considering joining the mix. That post opened up after Rep. Carolyn Maloney (D-N.Y.) lost her New York primary to House Judiciary Chair Jerry Nadler (D-N.Y.) on Tuesday.
The panel has sweeping powers to investigate "any matter" within another committee's jurisdiction, allowing the person wielding the gavel to call high-profile hearings, which in the past has included examinations of steroids in baseball and waste and fraud in procurement. The panel also oversees the civil service, US Postal Service, and the District of Columbia Emily Wilkins and Zach C. Cohen weigh the lawmakers' bids.
Twitter whistle-blower Peiter Zatko will testify to the Senate Judiciary Committee on Sept. 13, the panel's leaders announced. The panel said it subpoenaed Zatko, the firm's former chief of security, to appear a day after he went public with allegations that Twitter has failed to adequately protect data on its hundreds of millions of users. Read more from Emily Birnbaum.
Twitter is also facing fresh scrutiny from the US Securities and Exchange Commission over how it calculates the number of spam and bot accounts on the platform. Read more from Lydia Beyoud.
Lawmakers will look to press Biden administration health officials on their response to the growing monkeypox outbreak in a Senate hearing planned for next month, people familiar with the matter said. Both Republicans and Democrats pressed Biden's administration for details about its work to secure vaccine supplies. Madison Muller and Jeannie Baumann have more.
Rep. Steve Cohen is asking Attorney General Merrick Garland about progress in the investigation into J&J's sale of talc-based powders tainted with asbestos, including specific marketing of asbestos-laced baby powder to women of color and "overweight" women, Cohen (D-Tenn.) wrote in a letter on Wednesday, Jef Feeley reports.
House Oversight Committee Republicans are raising concerns that the Biden administration's push toward electric vehicles will result in job cuts, Lillianna Byington reports, citing a letter sent Wednesday to Transportation Secretary Pete Buttigieg. The lawmakers want a briefing for committee staff by Aug. 31.
Instagram will begin automatically routing new users younger than 16 to a version of the social media platform that blocks inappropriate content. The latest feature comes as lawmakers in Washington have become increasingly vocal about protecting children online on platforms like TikTok, Instagram, and Facebook. Maria Curi has more.
Elections, Politics & Probes
The Justice Department published a 2019 memo to then-Attorney General William Barr advising him to not charge President Donald Trump with obstruction of justice over the Russia investigation. The document, whose release was ordered by a federal appeals court last week, sheds new light on Barr's reason for not charging Trump after Special Counsel Robert Mueller's report outlined several possible incidents of obstruction. Read more from Erik Larson.
The Supreme Court is being asked to provide guidance on the Justice Department's use of "filter teams" to review potentially sensitive information as Trump's separate challenge to documents taken from his Mar-a-Lago estate in Florida sheds additional attention to the process. Read more from Kimberly Strawbridge Robinson.
In his first remarks on the topic, Biden on Wednesday affirmed statements from the administration that he had no prior knowledge of the FBI's search of Trump's resort, Justin Sink reports.
Rep. Scott Perry (R-Pa.) asked a federal judge to order the Justice Department to return mobile phone data that it seized as part of the government's investigation into efforts to overturn the 2020 presidential election. Sabrina Willmer has more.
In a separate but related case, Sen.

Lindsey Graham

(R-S.C.) renewed his effort to convince a federal judge that phone calls he made to Georgia's top election official after Trump lost were just part of his job. Erik Larson has the details.
Establishment Democrats flexed their muscles against progressives after Rep. Mondaire Jones lost his re-election bid New York's congressional primary races. His defeat is a sign that national enthusiasm from the left wing of the party doesn't always translate into electoral victories. Jarrell Dillard and Gregory Korte have more.
After winning the Florida Democratic primary with 84% of the vote, Rep. Val Demings will face Sen. Marco Rubio (R). Only three Democrats have won a statewide election in Florida in the past two decades, but if Demings succeeds, she'll hit another milestone: winning a seat in the Senate, where only two Black women have served. Kelsey Butler has more.
Homeland & Foreign Affairs
BGOV's Senior Homeland Security Reporter Ellen M. Gilmer will be moderating a Bipartisan Policy Center event Thursday looking at the role of courts in shaping US immigration policy. Register and watch on the BPC website or view the event on C-SPAN .
As the Pentagon scrambles to replenish billions of dollars in weapons sent to Ukraine, its inspector general says he's on high alert for signs of fraud and abuse in the thousands of contracts being awarded. "We have developed a universe of thousands of Ukraine-related contracts" that come in under $2 million each, Acting Inspector General Sean O'Donnell said in an interview.
That's more than 7,800 contracts valued at a combined $2.2 billion, O'Donnell added, even before an approaching deluge of bigger-ticket orders for advanced weapons such as the long-range HIMARS rocket systems prized by Ukrainian troops. The inspector general's oversight will focus on the $26.6 billion in supplemental spending for Ukraine approved by Congress since last year, which has supported a drawdown of weapon inventories. Read more from Tony Capaccio.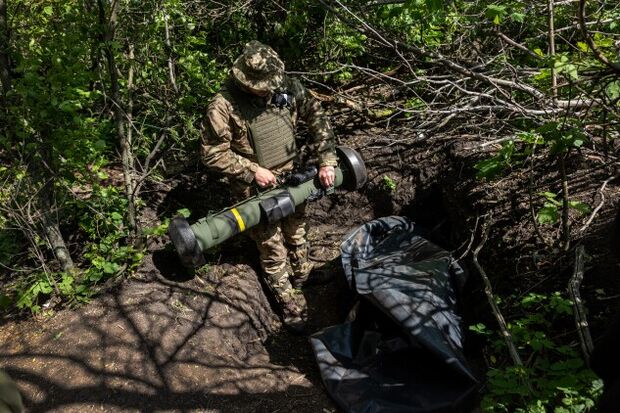 The Disinformation Governance Board has been terminated, following a recommendation from the Homeland Security Advisory Council. Secretary Alejandro Mayorkas rescinded its charter after the board faced criticism from Republicans who described its creation as dystopian. Maria Curi summarizes the debate over the panel in the lead-up to its demise.
The US has sent its response on a plan to revive the Iran nuclear deal, a fresh sign that an agreement could be within reach. A return to the Iran accord would meet significant resistance from Republicans and some Democrats in Congress. Read more from Courtney McBride, Jonathan Tirone and Golnar Motevalli.
The government released final regulations to fortify DACA against legal challenges. The program, launched in a 2012 memo by the Obama administration, offers protection from deportation and the ability to work legally to some 600,000 undocumented young people who came to the US as children. Andrew Kreighbaum and Ellen Gilmer recap its legal challenges.
MORE IN FOREIGN AFFAIRS NEWS
A lack of ambition and direction at US agencies has left the nation's space industrial base behind as an ascendant China accelerates its push, according to the State of the Space Industrial Base 2022 report, Caleb Harshberger reports.
South Korea's trade minister will visit the US next month to lobby against Biden's new climate and energy tax laws that aim to increase domestic production of electric cars and battery components. Read more from Heejin Kim and Sohee Kim.
Around the Administration
PRESIDENT'S SCHEDULE
At 5 p.m., Biden attends a Democratic National Committee event in Maryland.
At 7 p.m., he'll participate in a rally at the event.
The Biden White House wants to advance technology that would let automobiles communicate wirelessly with one another, infrastructure, and pedestrians, in the hopes of stemming a spike in US traffic deaths. Transportation Department officials are using a two-day summit to lay out a path for deploying the technology. Read more from Lillianna Byington.
Medicare's drug price negotiations will push out more low-cost biosimilars if Democrats' climate law changes incentives for makers of brand-name biologics, some drug pricing scholars said. The Inflation Reduction Act will empower the government to negotiate drug prices for the first time starting in 2023. Jeannie Baumann has more.
Also in the climate bill, a 30% tax credit for clean hydrogen production could spark efforts to reach the scale needed to combat climate change, White House officials insist. But what counts as "clean"? Read more from Daniel Moore.
The Biden administration won a judge's order ensuring women in Idaho can get abortions in medical emergencies, less than a day after losing a similar fight in Texas. The mixed outcomes in preliminary rulings point to hotly contested court battles ahead over state limitations after the Supreme Court overturned Roe v. Wade. Joel Rosenblatt and Robert Burnson have more.
In Texas, a federal judge ruled a Biden administration effort to ensure access to abortions in medical emergencies was "unauthorized," in an early win for state officials, Tina Davis reports.
Conservative states are facing fights from within as cities start to use their own funding to support access to abortions, Hadriana Lowenkron reports.
State supreme court elections in four states this fall could shake up which party controls the court of last resort for a host of issues—including abortion—for about an eighth of the US population. Lydia Wheeler and Alex Ebert have more.
US agencies that lend hundreds of millions of dollars a year to individuals and small businesses must develop plans for how they'll disregard medical debt in assessing loan eligibility, under a Thursday directive from the White House's budget office. The directive is part of the White House's efforts to help those saddled with medical debt. Read more from Courtney Rozen.
The Agriculture Department will spend up to $550 million, split with $250 million in grants for minority-serving institutions, including internship for students to pursue careers at the USDA to help recruit young workers, Secretary Tom Vilsack said. The other $300 million seeks to boost access to land, capital, and markets for underserved farmers, Maeve Sheehey reports.
WHAT ELSE TO KNOW TODAY
With assistance from Maeve Sheehey, Lillianna Byington, Andrew Small, and Katrice Eborn
To contact the reporter on this story: Brandon Lee in Washington at blee@bgov.com
To contact the editors responsible for this story: Giuseppe Macri at gmacri@bgov.com; Loren Duggan at lduggan@bgov.com