What to Know in Washington: Liz Cheney in Peril as Wyoming Votes
Cheney faces Trump-endorsed challenger in Wyoming primary
Biden team preps three-week tour to talk up spending package
Two of the most famous surnames in 21st century Republican politics are on ballots today.
Rep. Liz Cheney (R-Wyo.), formerly the third-ranking House Republican, is in danger of losing her seat to a primary challenger backed by Donald Trump after Cheney helped lead the investigation into Trump's efforts to overturn his loss to Joe Biden in the 2020 presidential election.
Sarah Palin, the former Alaska governor and the 2008 Republican vice-presidential nominee, is running with Trump's support in a special election to fill a vacancy in Alaska's statewide congressional district, but is not assured of victory.
Alaska and Wyoming are two of the least-populous states and the only two states holding elections today, but they have attracted outsized national attention because Cheney's and Palin's political careers are both on the line. Both states also have a sole House district. Greg Giroux takes a look at both, as well as other notable races to watch.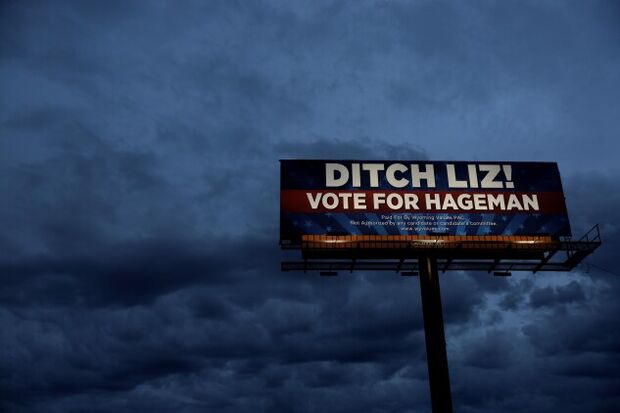 MORE IN ELECTIONS & POLITICS
For many voters in Wyoming, the only question left to be answered is what Cheney will do next. Much of the speculation among friends and foes is whether that might mean a run for another office, even president, in two years. Read more from Billy House reports.
Ahead of the Aug. 23 Democratic New York primary contest, Senate Majority Leader

Chuck Schumer

(D-N.Y.) announced his endorsement of Rep.

Jerry Nadler

over fellow veteran lawmaker Rep.

Carolyn Maloney

, the AP reports.
Tesla CEO Elon Musk is expected to be a featured speaker at House Republican Leader

Kevin McCarthy's

(R-Calif.) Wyoming retreat today, according to The New York Times. McCarthy is hosting a fundraiser in the state, NBC reports.
Also on Lawmakers' Radars
The Justice Department opposes the release of an FBI affidavit justifying a search warrant used to remove documents from former President Donald Trump's Mar-a-Lago home in Florida last week. Though DOJ had asked the court to release the search warrant itself last week, the department said in a filing Monday that the affidavit "presents a very different set of considerations." Read more from Chris Strohm and Erik Larson.
A group of Republicans have demanded documents about the FBI's search, CBS News reports. A total of 18 Republicans on the House Judiciary Committee have written letters to Attorney General Merrick Garland, FBI Director Christopher Wray and White House Chief of Staff Ron Klain on the matter.
Meanwhile, Allen Weisselberg, the Trump Organization's longtime chief financial officer, is in plea talks with state prosecutors to resolve tax fraud charges and avoid an October trial, according to two people familiar with the matter. Weisselberg and the Trump Organization were charged last year. Read more from Patricia Hurtado.
A federal judge said Sen. Lindsey Graham must testify before a state grand jury investigating whether any laws were broken by former President Donald Trump and his allies in attempts to overturn his 2020 election defeat in Georgia. US District Judge Leigh Martin May rejected Graham's (R-S.C.) effort to quash a subpoena on Monday. Graham's office said the senator plans to appeal. Read more from Zoe Tillman.
Rudy Giuliani is a target of a Georgia criminal probe of potential election fraud, and not just a witness, his legal team was informed Monday. Giuliani is scheduled to testify on Wednesday before a grand jury in Atlanta investigating possible efforts to interfere with Georgia's vote, Tillman reports.
Sen. Ed Markey says he met with representatives of Taiwan Semiconductor Manufacturing Company while visiting the island nation to discuss semiconductor supply chains, investments in the US, Alisa Parenti reports. A delegation of US lawmakers led by Markey (D-Mass.) also met with President Tsai Ing-wen, and Foreign Minister Joseph Wu during the trip, according to a statement issued by Markey.
US lawmakers are pressing the Internal Revenue Service to explain how it plans to relieve a backlog of tax returns that have delayed refunds and to detail what measures it's taking to improve customer service, according to the bipartisan letter that was obtained by Bloomberg News. Read more from Laura Davison.
Around the Administration
PRESIDENT'S SCHEDULE
At 3:30 p.m., Biden is scheduled to sign the Inflation Reduction Act into law at a White House ceremony.
President Joe Biden and other Cabinet officials are planning over three dozen events in the coming weeks to highlight the climate, healthcare, and corporate tax legislation Democrats passed last week, as the White House hopes the legislation can provide late momentum ahead of November's midterm elections. Biden will sign the bill in a ceremony today, according to a press release from the White House. Read more from Justin Sink.
The historic US climate deal about to be signed by Biden is being touted as one of the most ambitious decarbonization commitments made by any government to date with $374 billion devoted to climate and energy measures over the next decade. But China and Europe are spending just as much, or more, on their transitions away from fossil fuels. Read more from Aaron Clark.
Democrats say the law will steer record funding to supporting environmental justice and addressing the legacy of disproportionate environmental harm in low-income communities. By their accounting, $60 billion will go toward steps like cleaning up air pollution at ports and cutting emissions from heavy vehicles such as school buses and garbage trucks. Yet many activists with environmental justice groups are disappointed. Leslie Kaufman has more.
The Bureau of Reclamation will issue its projection for conditions over the next two years in the West's most important water supply—and the news is expected to be bleak. The drought forecast covers the arid Colorado River Basin, and may include cuts western states must make to conserve more water from a supply serving roughly 40 million people. Read more from Kellie Lunney.
Steven Cliff will resign as head of the National Highway Traffic Safety Administration to be the California Air Resources Board's next executive director starting Sept. 12. The move is a blow to the US agency, where Cliff held his position for just three months, as it seeks to quell rising traffic deaths and concern over autonomous vehicles. Lillianna Byington has more.
An extra $1 billion worth of monkeypox vaccines could make its way to US shores under an increase to the federal contract with Jynneos maker Bavarian Nordic. The Health and Human Services Administration for Strategic Preparedness and Response Aug. 12 raised the contract ceiling from the previous $871 million cap. Jeannie Baumann and Paul Murphy have more.
Up to 442,000 doses of the vaccine will be made available for states and jurisdictions to order under the accelerated Phase 3 of the national vaccine strategy to address monkeypox, the HHS said on Monday. Phase 4 is now expected to be launched later this month, the department said.
MORE AROUND THE WHITE HOUSE
Defense & Foreign Affairs
The top American naval commander in Asia criticized what he said were unsafe and provocative actions by Chinese warplanes, reiterating US complaints about behavior that officials argue could prompt a clash. Vice Admiral Karl Thomas, commander of the US Navy's Japan-based Seventh Fleet, expressed concern about increasingly assertive efforts by China's army to intercept US and allied military aircraft in the skies over the Pacific. Read more from Philip J. Heijmans.
The US and its two top Asian allies announced they conducted a joint missile defense exercise off Hawaii, raising the profile of exercises to show their willingness to work together in the face of threats posed by North Korea and China. The anti-missile drill took place Aug. 8-14 at the same time as the multinational Pacific Dragon exercise, the Defense Department said in a statement released Tuesday, Asia time. Read more from Isabel Reynolds.
One year after the Taliban swept across Afghanistan, sparking a chaotic withdrawal of US and allied forces, the country's dire economic and human rights outlook has only worsened, Eltaf Najafizada reports. The US also has no plans to release $3.5 billion in frozen funds to Afghanistan's Taliban-controlled central bank, but it will look for ways to benefit the country's people directly, Courtney McBride reports.
MORE IN DEFENSE NEWS
A group of US lawyers and journalists sued the CIA and former director Michael Pompeo, arguing their electronic devices were illegally copied when they met with Wikileaks founder Julian Assange in the UK. Read more from Jack Gillum.
The Air Force cleared almost all of its 349 F-35 fighter jets to fly again after grounding them for two weeks to check for defective ejector-seat components. Read more from Tony Capaccio.
With assistance from Katrice Eborn and Andrew Small
To contact the reporter on this story: Brandon Lee in Washington at blee@bgov.com
To contact the editors responsible for this story: Giuseppe Macri at gmacri@bgov.com; Loren Duggan at lduggan@bgov.com