What to Know in Washington: Liability Shield Adds Hitch to Talks
Senate Majority Leader Mitch McConnell's insistence that legal liability protections for businesses, schools and colleges be included in any new coronavirus relief bill is approaching a moment of reckoning.
Warning that an avalanche of litigation would undercut any rebound from the pandemic's economic damage, McConnell (R-Ky.) has repeatedly said he won't let the Senate pass a bill without a temporary shield from most coronavirus-related lawsuits for businesses that follow public health guidelines.
But the proposal remains in limbo with talks on a stimulus package stalled. Action by President Donald Trump over the weekend to at least partially extend expired unemployment aid and defer payroll taxes failed to spur any new negotiations between Democrats and the White House. McConnell and Senate Minority Leader Chuck Schumer (D-N.Y.) yesterday exchanged blame but no new ideas on breaking the deadlock.
McConnell's view that that liability protections must be part of any eventual deal doesn't appear to be shared by Trump, who's been noncommittal on the issue. That raises the possibility that it could end up a bargaining chip once White House negotiators resume talks with Democrats, who've called the protections a deal-breaker.
McConnell continues to bring up the liability shield at every opportunity. "I don't think the economy has any shot at all of getting back to normal if every entity in the country is dealing with frivolous lawsuits," he said last week on CNBC. But he's also made clear he'll go along with whatever deal can be extracted in negotiations between the Trump administration and Democratic leaders. Read more from Billy House.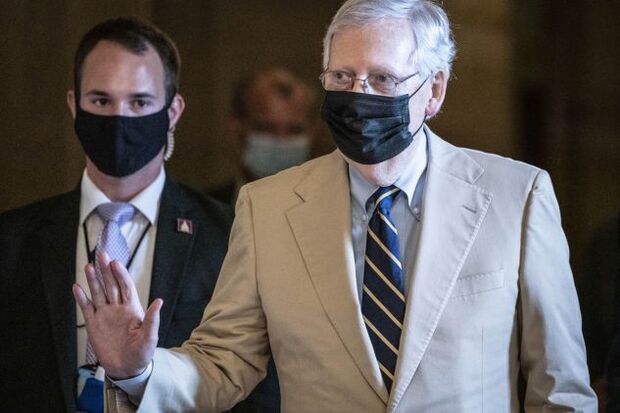 Trump Considering Capital Gains Tax Cut: Trump said he's "very seriously" considering a capital gains tax cut, a move he decided against last September after saying it wouldn't do enough to help the middle class. "We're looking at also considering a capital gains tax cut, which would create a lot more jobs," Trump said yesterday at a White House news conference.
The president can't unilaterally cut the 20% long-term capital gains rate without Congress, but some advisers tell him he could issue an executive order that would slash tax bills for investors when they sell assets. The move, known as indexing capital gains to inflation, would adjust the original purchase price of an asset when it is sold so no tax is paid on appreciation tied to inflation.
Revamping capital gains taxes through a rule or executive order likely would face legal challenges, a concern that reportedly prompted former President George H.W. Bush's administration to drop a similar plan. Read more from Laura Davison and Mario Parker.
Ohio Rejects Unemployment Insurance Plan: Ohio has no plans to spend money Trump wants as a state match for extended unemployment insurance, a spokesman for its Republican governor said yesterday. In Ohio, a method of implementing the state's portion would require more vetting, not to mention an act by the General Assembly, said Dan Tierney, a spokesman for Gov. Mike DeWine. Read more from Keshia Clukey and Alexander Ebert.
What to Watch Today
The Senate meets at 11 a.m. today, with no votes scheduled. The House meets at noon in a pro forma session, with no votes scheduled.
Voters in Minnesota, Connecticut, Vermont, and Wisconsin head to the polls today. In the day's most notable primary, Rep. Ilhan Omar (D-Minn.) will defend her House seat for the first time. Greg Giroux lays out what to watch today.
There also are Republican runoffs in two strongly conservative Georgia districts where the winners will be favored to join the 117th Congress next January. One of them includes Marjorie Taylor Greene, a supporter of the QAnon internet conspiracy theory who also attracted attention for other provocative statements, as Emily Wilkins reports.
Register here for a Thursday election webinar featuring Giroux and Wilkins.
Trump participates in a phone call with U.S. sheriffs today at 12:30 p.m., according to the White House schedule.
Coronavirus & the Economy
No Vaccine for Most Americans Until Late Spring: Even if the most optimistic projections hold true and a vaccine to prevent Covid-19 is cleared for U.S. use in November, the vast majority of Americans won't have access to the shots until late spring or summer next year at the earliest. The probable timeline, based on interviews and comments from top health specialists including Anthony Fauci of the White House Coronavirus Task Force, means that businesses, schoolchildren and families will continue to wait.
In an interview, Fauci, who's also been involved with White House's "Operation Warp Speed" vaccine program, said it may take until well into 2021 for vaccines to actually reach the much of the general public. "I would hope that by the time we get well into the second half of 2021 that the companies will have delivered the hundreds of millions of doses they have promised," said Fauci.
The reasons are many. U.S. health regulators will have only a tiny sliver of the usual safety and efficacy data. The leading products require two doses, which will limit how many people early supplies can help. And federal health officials are still developing a plan for who will get the shots, how they'll be distributed, and how their effectiveness and safety will be tracked afterward. Read more from Anna Edney, Josh Wingrove, and Robert Langreth.
Hospitals in Some Hot Spots Get Virus Respite: American hospitals are getting a reprieve as a spike of Covid-19 cases in the Sun Belt eases and the Northeast recovers, giving health-care workers a chance to prepare for what September and October may bring. For the first time in a month, fewer than 50,000 Americans are known to be hospitalized with Covid-19, according to data compiled by the Covid Tracking Project through Sunday.
In Arizona, one of several states to have suffered a brutal July, the coronavirus hospitalization figures have dropped by about half. In Florida, they're down about a third from their peak last month, partly due to an easing of pressure on the Miami area. And in New York, where the pandemic hit hardest in its first onslaught, Gov. Andrew Cuomo (D) said yesterday that the numbers fell to their lowest of the pandemic — 535 hospitalized and 127 in the ICU statewide. Read more from Jonathan Levin.
Trump May Bar Citizens With Covid-19: Trump is considering rules that would permit border officials to temporarily block American citizens from returning to the U.S. from abroad if authorities believe they may have Covid-19, according to The New York Times. A draft memo says the rule would apply "only in the rarest of circumstances." It's unclear when the rule might be approved or announced, the Times reports. The American Civil Liberties Union said the move would be unconstitutional. Read more.
Small-Business Optimism Dropped in July: U.S. small-business optimism fell in July by more than forecast as spikes in virus cases around the country tempered hopes for a swift economic recovery, the National Federation of Independent Business said today. The group's index of sentiment decreased by 1.8 points to 98.8, reversing course after two months of gains. The measure remains well below the pre-pandemic 2020 high of 104.5. The median forecast in a Bloomberg survey of economists called for a reading of 100.5. The NFIB's measure of sales expectations in the next three months fell 8 points in July to a net 5%. Read more from Maeve Sheehey.
Trump Touts 401(k) Balances That Increased 14%: Trump is continuing to cite 401(k) balances as a key economic indicator, saying retirement accounts are doing great even during the Covid-19 recession. New data from Fidelity Investments shows he's mostly right. Fidelity said today that the average 401(k) balance increased 14% in the second quarter as individual investors largely stayed the course after the March rout in equities caused a 19% decline in account balances. Read more from Gregory Korte.
Alternative Data Show Growth Plateauing: The recovery has stalled in major advanced economies, with some countries hitting a ceiling on activity, below their pre-crisis levels, according to Bloomberg Economics gauges that integrate high-frequency data such as credit-card use, travel and location information, Bjorn van Roye and Tom Orlik report.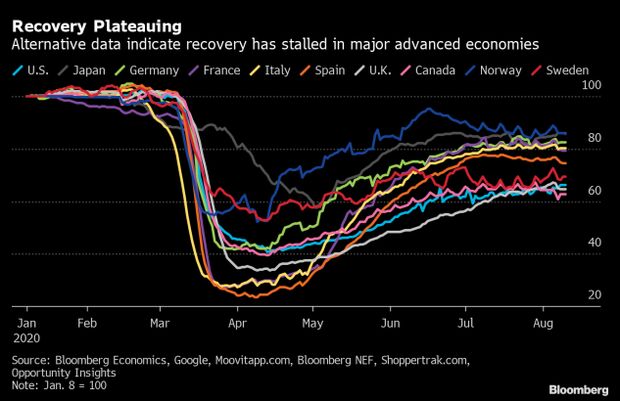 Elections & Politics
Biden Prepares for Vice Presidential Pick: Democratic presidential nominee Joe Biden is closing in on an announcement of a running mate as early as midweek, having completed interviewing all the top candidates, people familiar with the planning said yesterday. Biden is now deliberating about his choice, the people said. While Biden's staff is preparing for an imminent rollout, they also know he has a tendency to delay important decisions until the last minute.
In 2008, Barack Obama didn't announce his choice of Biden until the Saturday before the Democratic National Convention while in 2016, Hillary Clinton waited until the Friday before the convention to announce her pick. The convention begins next Monday, Aug. 17.
Leading contenders for the pick include Sen. Kamala Harris (D-Calif.), former National Security Adviser Susan Rice, Michigan Gov. Gretchen Whitmer (D), Rep. Karen Bass (D-Calif.), Sen. Elizabeth Warren (D-Mass.) and Sen. Tammy Duckworth (D-Ill.). Read more from Jennifer Epstein and Tyler Pager.
Ocasio-Cortez to Speak at Democratic Convention: Rep. Alexandria Ocasio-Cortez (D-N.Y.) will speak at the Democratic National Convention, a rare spotlight for a freshman lawmaker. She will introduce Sen. Bernie Sanders (I-Vt.) in a moment intended to reach out to progressive voters, according to a source familiar with the convention program, Ryan Teague Beckwith reports.
Trump Family Featured at Republican Fundraisers: Trump's family and other officials in his administration traveled to Jackson Hole, Wyo., for two Republican fundraisers, people familiar with the matter said. One of the events, hosted by House Minority Leader Kevin McCarthy (Calif.) and dubbed the "Team McCarthy Silver Committee Summit," included top Republican donors and other supporters. Read more from Jennifer Jacobs and Billy House.
Rhode Island GOP Loses Bid to Revive Ballot Rule: An agreement suspending Rhode Island's enforcement of its witness requirement for absentee ballots for upcoming elections will stay in effect while the Republican National Committee and Rhode Island's Republican Party appeal an order denying their intervention in the dispute, the First Circuit has ruled. Read more from Porter Wells.
Defense & Foreign Affairs
Trump Risks Crisis at UN With Iran Sanctions: More than two years after Trump quit the multinational nuclear deal with Iran, his administration is risking a crisis at the United Nations by threatening to reimpose international sanctions that were eased under that accord. It's a threat that could produce an outcome that once was unthinkable: pushing allies such as Germany and France to side with Russia and China in the U.N. Security Council, leaving the U.S. isolated.
The conflict may begin with a vote in the council as soon as today on a U.S. resolution to make permanent an international ban on arms deals with Iran that's due to expire in October. If the U.N. fails to act, Secretary of State Michael Pompeo said in a tweet on Sunday, it "will make a mockery of its mission to maintain 'international peace and security." Read more from David Wainer.
Trump Says He'll Delay G-7 Summit: Trump said yesterday he will delay the next Group of Seven summit until after the U.S. election in November to allow for "a better, calmer atmosphere" for the leaders. Trump has been at loggerheads with other G-7 countries including France and Germany over his push to include Russia in the group. The nations have also argued over the role of the World Health Organization, which Trump has accused of favoring China. Read more from Jennifer Jacobs.
Pompeo's Staff Say He Was Cleared in Saudi Probe: The State Department's internal watchdog exonerated Pompeo for his emergency certification to bypass congressional opposition in approving the sale of more than $8 billion in weapons to the Middle East last year, according to a department official. It was the latest unusual move in a chain of events that included Pompeo getting Trump to fire the inspector general who launched the inquiry. Read more from Nick Wadhams.
U.S. Condemns Belarus Crackdown: Protesters in Belarus rallied for a second night, continuing a campaign against President Alexander Lukashenko as fraud allegations and global criticism of crackdowns against the opposition marred his claim of a landslide election win. "The United States is deeply concerned about the conduct of the August 9 presidential election in Belarus, which was not free and fair," Secretary Pompeo said in a statement. Aliaksandr Kudrytski has more.
U.S. to Label Hong Kong Goods as China-Made: The U.S. will order imports from Hong Kong to be labeled as "Made in China" according to a government document, in the latest escalation of trade tensions between the two nations. The notice, published in the U.S. Federal Register, says that goods produced in Hong Kong and imported into the U.S. must be marked to indicate their origin is China. This will begin after Sept. 25, the document said. Read more from Eric Lam.
What Else to Know Today
Federal Workers Ready to Retire If Government Forces Reopening: Some federal workers say they've already decided to retire if forced to go back to the office while the coronavirus pandemic is still raging. That could leave U.S. agencies hobbled without key personnel as they shift into the third and final phase of the White House's post-pandemic reopening plan. Read more from Stephen Lee, Allyson Versprille and Louis C. LaBrecque.
Democrats Want Probe of DeVos Aide: House Education and Labor Chairman Bobby Scott (D-Va.) wants the inspector general at the Department of Education to look into whether an aide under Secretary Betsy DeVos inappropriately assisted a for-profit college operator in restoring federal aid at two schools. Read more from Andrew Kreighbaum.
Democrats Seek Probe of Pebble Mine Review: House Oversight and Reform Chairwoman Carolyn Maloney (D-N.Y.) wants the Pentagon to investigate an Army Corps of Engineers' environmental review of the planned Pebble Mine in Alaska, a controversial project whose opponents include Donald Trump Jr. "It appears that the Army Corps set aside thorough scientific review in favor of an expedite permitting timeline," Maloney and others wrote in a letter to the Pentagon and Army inspector generals. Read more from Teaganne Finn.
Apple to Amazon Line Up Against Immigrant Visa Ban: Several of nation's largest tech companies — including Apple, Facebook, Amazon and Microsoft — are the latest to join the court battle against Trump's ban on new visas for temporary foreign workers. The group asked a court yesterday to be allowed to add the industry's voice to a lawsuit opposing the ban, saying it's causing "irreparable harm on businesses and the nation's economy." Read more from Robert Burnson.
Seattle Police Chief Resigns: Seattle Police Chief Carmen Best will leave the city's police department, Mayor Jenny Durkan said, hours after the Seattle City Council voted to shrink its police force by 100 officers, trim the department's budget and lower the salary of the chief. Read more from Fola Akinnibi.
To contact the reporters on this story: Zachary Sherwood in Washington at zsherwood@bgov.com; Brandon Lee in Washington at blee@bgov.com
To contact the editors responsible for this story: Giuseppe Macri at gmacri@bgov.com; Loren Duggan at lduggan@bgov.com; Michaela Ross at mross@bgov.com