What to Know in Washington: Lawmakers Weigh Police Overhaul Plan
Democrats are split over proposals to overhaul American policing policy as a key House panel plans to consider legislation this week.
House Democratic Whip James Clyburn (D-S.C.) rejected calls within his party to defund police departments in America, aligning with more moderate proposals as Congress continues work on a response to nationwide protests against police brutality and racism. "Nobody is going to defund the police," Clyburn told CNN's "State of the Union" yesterday. "We can restructure the police forces" to ensure that young African-Americans don't have to fear them, Clyburn argued.
His comments contrasted with Rep. Ilhan Omar (D-Minn.), a leader of the defunding movement, who has criticized Joe Biden for suggesting increased funding for police. Departments that are "beyond repair," such as the one in the largest city of her home state, should be dismantled "as we look for a new way forward" to provide public safety, she told CNN.
Tension over policing and how to address perceived excesses in law enforcement that erupted after the death of George Floyd in Minneapolis policy custody reignited after a white police officer shot a black man in Atlanta. That prompted protests and the resignation of the city's police chief on Saturday.
While Democrats are calling for measures ranging from fundamental overhauls to targeted reforms, Senate Republicans are weighing proposals including racial bias training, increased use of body cameras and finally enacting the first federal anti-lynching law. Clyburn suggested there was room for a bipartisan compromise on legislation.
Sen. James Lankford (R-Okla.) echoed that optimism, saying agreement on a national ban on police use of chokeholds should be straightforward. "We absolutely have to be able to find common ground with the House," he said on ABC's "This Week with George Stephanopoulos." "Our focus is on basic things like transparency."
Lankford said on CNN that the Republican bill in the Senate would be released on Wednesday.
The House Judiciary Committee will mark up Democrats' proposal on Wednesday. Glen Carey and Steve Geimann have more.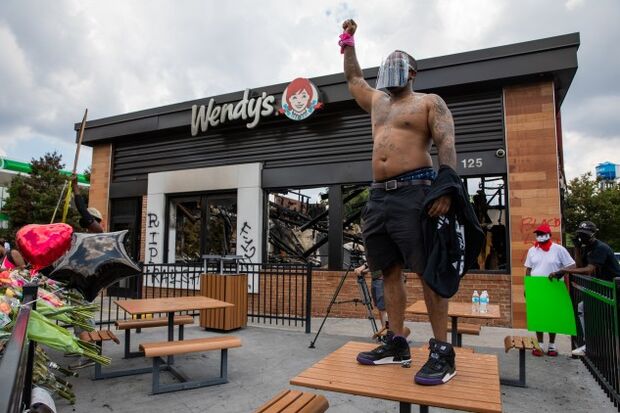 Protest Update: Thousands rallied at anti-racism protests in dozens of cities across the world over the weekend, from Australia and New Zealand to Europe, Brazil and across the U.S. Two recent incidents sparked fresh protests:
A white police officer fatally shot a 27-year-old black man, Rayshard Brooks, as he tried to flee during an arrest in Atlanta. Tear gas was fired and three dozen people were arrested after protesters set fire to the Wendy's where the shooting took place on Friday. The city's police chief resigned hours after the killing, and the officer was fired. An autopsy released Sunday showed Brooks was shot twice in the back.
A 24-year-old black man, Robert Fuller, was found dead Wednesday in California hanging from a tree. The authorities initially said it appeared to be a suicide, but Fuller's family says that doesn't make sense.
Follow the latest on the protests from Bloomberg News.
Secret Service Now Says It Used Pepper Spray at D.C. Protest: The U.S. Secret Service backtracked on Saturday to say that an employee had used pepper spray to clear protesters from a park near the White House on June 1, shortly before Trump held a photo-op in the area. Read more from Ros Krasny.
Cuomo Orders New York Communities To Revamp Police Standards: New York Gov. Andrew Curomo (D) signed a criminal justice package allowing police disciplinary records to be made public, banning the use of chokeholds by law enforcement, creating a penalty for making false 911 reports based on race, and allowing the state Attorney General to investigate, and if necessary prosecute, the case when a civilian dies in police custody. The state Legislature passed the legislation last week. Read more from Keshia Clukey.
Coronavirus & the Economy
Fed's Powell to Bring Sober Message to Hill: Federal Reserve Chairman Jerome Powell will deliver a cautionary message about the U.S. economy and Covid-19 when he appears twice this week on Capitol Hill. His remarks to lawmakers are widely expected to echo the mostly downbeat assessment he gave June 10 after policy makers held interest rates near zero at a two-day meeting and signaled they'd probably stay there through 2022. His performance, which highlighted the hardships faced by millions of Americans who've lost work, drew criticism from a White House official for being overly negative. Read more from Christopher Condon.
The U.S. economy is recovering from the "act of nature" that coronavirus shutdowns created, said White House economic director Larry Kudlow, rejecting a more cautious view of the outlook offered last week by Powell. "There is a very good chance you are going to get the V-shaped recovery," Kudlow said on CNN's "State of the Union" yesterday. "2021 is going to be another solid, solid year." Yueqi Yang and Ros Krasny have more.
Although U.S. employment will increase in the coming months, the jobless rate will remain elevated through the end of the year, said Robert Kaplan, president of the Federal Reserve Bank of Dallas, said in an interview yesterday. Kaplan said the rate would end the year at 8% or more. The jobless rate fell to 13.3% in May, surprising economists who had widely expected it to keep rising. Read more from Catarina Saraiva.
One-Third of U.S. Job Losses Are at Risk of Becoming Permanent: The pandemic may be inflicting a "reallocation shock" in which firms and even entire sectors suffer lasting damage, permanent job loss and elevated unemployment. New research by Bloomberg Economics reckons 30% of U.S. job losses from February to May are the result of a reallocation shock. Read more from Olivia Rockeman and Jill Ward
The U.S. Bureau of Labor Statistics, which publishes the widely-watched monthly figures on the American economy, is taking additional steps to resolve data-collection issues that since March have resulted in an official jobless rate that appears to understate the actual scale of unemployment in the U.S. during the outbreak. But fixing one problem may just create another, though: The official June jobless rate would be tricky to compare with May's. Reade Pickert has more on why.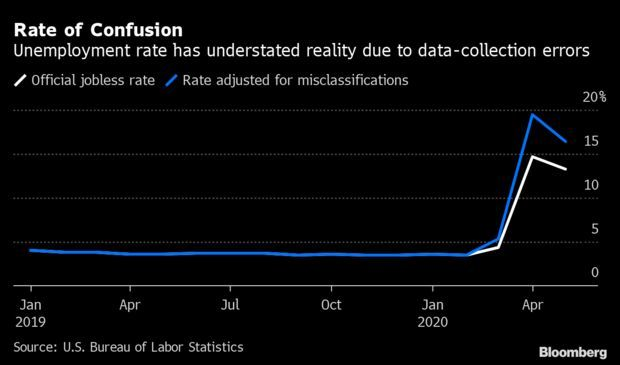 Cuomo Issues Stern Warning of Resurgence: Gov. Andrew Cuomo (D) warned New Yorkers against triggering another wave of Covid-19, singling out bars and restaurants in Manhattan and the Hamptons as the state's worst offenders. "We are not going to go back to that dark place," Cuomo said yesterday, saying he'd reimpose shutdowns if businesses failed to comply with current restrictions and people failed to physically distance. He also threatened to pull liquor licenses to bars and restaurants. Read more from Ian Fisher and Nic Querolo.
Beijing shuttered the city's largest vegetable and fruit supplies center and locked down nearby housing districts as dozens of people associated with the market tested positive for the coronavirus, sparking worries of a resurgence there. China reported its largest daily increase in Covid-19 cases since mid-April with 57 new infections on Saturday, including 19 cases classified as imported and the rest locally transmitted, according to the National Health Commission. Read more from Cherlie Zhu, Amanda Wang and Dong Lyu.
Oregon Supreme Court Upholds Governor's Stay-at-Home Order: Oregon Gov. Kate Brown (D) acted within her statutory and constitutional authority when she issued extended stay-at-home orders in response to the Covid-19 pandemic, the Oregon Supreme Court ruled Friday. Read more from Paul Shukovsky.
U.S. Role at Risk in Next Flu Vaccine: The Centers for Disease Control & Prevention could lose the ability to select next year's flu vaccine if the White House follows through with terminating its relationship with the World Health Organization. "The selection of the influenza vaccine every year is a very detailed process by which stakeholders sit around the table and look at data from around the world. If the U.S. isn't at that table, Americans lose out and are less safe," said Charles Holmes, co-director of the Georgetown University Center for Innovation in Global Health, said. Jeannie Baumann has more.
Desperation for a way to keep economies from collapsing under the weight of Covid-19 could mean settling for a vaccine that prevents people from getting really sick or dying but doesn't stop them from catching the coronavirus. Although a knock-out blow against the virus is the ultimate goal, early vaccines may come with limitations on what they can deliver, according to Robin Shattock, an Imperial College London professor leading development of an experimental shot. "Is that protection against infection?" Shattock said. "Is it protection against illness? Is it protection against severe disease? It's quite possible a vaccine that only protects against severe disease would be very useful." Read more from John Lauerman and James Paton.
Rush to Disinfect Offices Worries Health Experts: Businesses across the U.S. have begun intensive Covid-19 disinfection regimens, exposing returning workers and consumers to some chemicals that are largely untested for human health, a development that's alarming health and environmental safety experts. The rush to disinfect is well-intentioned. Executives want to protect employees while abiding by CDC guidelines (and to avoid liability). Pre-pandemic, corporate cleaning staffs typically "freshened" lobbies every three hours, sanitized restrooms every four hours and cleaned other areas at night, said Rich Feczko, national director of systems, standards and innovation at Crothall Healthcare, which cleans hundreds of hospitals, as well as offices and universities. That pace has now accelerated. "Our frequencies have ramped up in public places like lobbies and elevators to 6-8 times per day," said Feczko.
"This is a hazardous proposition," said Dr. Claudia Miller, an immunologist, allergist and co-author of Chemical Exposures: Low Levels and High Stakes. "Cleaners tend to go in with hugely toxic chemicals. We're creating another problem for a whole group of people, and I'm not sure we're actually controlling infections." Read more from Arianne Cohen.
Democrats Want Telehealth Fund Transparency: House Democrats called on the Federal Communications Commission to be more transparent about its use of congressional coronavirus relief after healthcare providers reported difficulty obtaining funds earmarked for telehealth services. House Energy and Commerce Chairman Frank Pallone (D-N.J.) and Rep. Mike Doyle (D-Pa.) on Friday sent a letter to FCC Chairman Ajit Pai with concerns over "a lack of transparency" about the agency's use of funds for its Covid-19 Telehealth Program, pointing to reports that health care providers are facing issues obtaining funds. Read more from Julia Weng.
Meanwhile, old fashioned paper, faxes, and electronic forms are getting in the way of some virtual checkups with patients, threatening payments and backstops for health providers. The District of Columbia and 38 states such as California require patients to give their written or verbal consent before doctors can conduct appointments via the web. Read more from Ayanna Alexander.
Brazil Passes U.K. in Covid Deaths: Coronavirus cases are growing faster than ever in Mexico, Chile and Argentina, while Peru posted its deadliest day yet and a new study showed the virus may be far more widespread in Brazil than official data suggests. Brazilian states on Friday reported 909 new deaths, bringing the total death count to 41,828 and passing the U.K. for the second highest number of Covid-19 fatalities. Read more from Julia Leite.
Elections, Politics & Influence
Trade Officials Sought Consulting Work on Rules They Wrote: Two U.S. officials who helped negotiate an overhaul of North American trade rules have offered their services as private-sector advisers to future clients — making solicitations for post-government work while still on the federal payroll. Jason Bernstein and Fred Fischer were key negotiators in U.S. Trade Representative Robert Lighthizer's office responsible for the rules-of-origin that dictate how much of a car must be made in North America to avoid tariffs under Trump's renegotiated trade deal with Canada and Mexico.
They have reached out to companies in the auto industry to offer help implementing the U.S.-Mexico-Canada Agreement after they leave government service, according to documents reviewed by Bloomberg News and three people familiar with the communications who requested anonymity to discuss the private exchanges.
"As you know, Jason and I are looking to leave USTR, and we would like to assist companies directly with their USMCA implementation needs," Fischer, the USTR's senior automotive industry trade adviser, wrote last week in an email to an auto industry representative that was seen by Bloomberg News. The email referred the recipient to autovisory.com, which Fischer in the email called "our website," for additional information. Read more from Ryan Beene, Jenny Leonard and Bill Allison.
Americans Say Wealth Hasn't Improved Under Trump: The "Trump Bump" hasn't benefited most Americans, with fewer than one in six saying that their personal finances have improved since Trump took office, according to a poll commissioned by Bankrate.com. Nearly twice as many respondents said they are worse off since Trump moved into the White House in January 2017, while about half of the U.S. adults polled, 45%, said that their financial situation has stayed about the same.
Covid-19 is only partly to blame. Three out of five of those surveyed said they failed to see any improvement in personal wealth during Trump's presidency even before the coronavirus slammed the U.S., cratered the markets, and ate into stock gains over the past three years. Read more from Virginia Van Natta.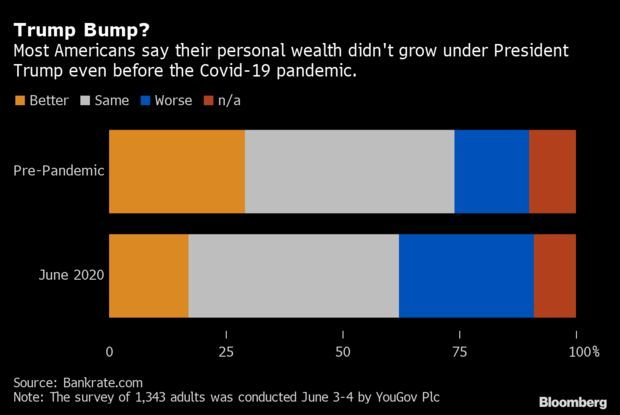 Trump Commences West Point Grads: Trump highlighted unity and America's core values in remarks to 1,107 graduating cadets of the U.S. Military Academy at West Point over the weekend, steering clear of explicit references to current controversies. The ceremony, months in the planning, comes as the backlash to Trump's threat to use active-duty service members to subdue domestic protests continues to roil the Pentagon. Jennifer Jacobs and Justin Sink have more.
At the West Point event, some reporters noticed what looked like Trump making a slow, unsteady descent on a ramp. Trump took to Twitter to explain as a video of the incident circulated widely on social media Saturday night. The ramp "was very long & steep, had no handrail, and most importantly, was very slippery," he tweeted. Trump turned 74 yesterday and was the oldest U.S. president to be sworn in for a first term. Read more from Ros Krasny.
Trump Reschedules Tulsa Campaign Rally: Trump said his rally in Tulsa, Okla. first set for June 19 will be moved to June 20 due to the Juneteenth observance. Juneteenth commemorates the day in 1865 on which enslaved people in Texas belatedly learned that slavery in the U.S. had been abolished. The date is largely commemorated within the U.S. black community and isn't a federal holiday. Trump said many of his black supporters had reached out to ask for the rally to be moved "out of respect" for the day, according to a post on Twitter late Friday. Read more from Shamim Adam.
Biden Rakes in Small-Donor Dollars: Joe Biden's campaign has transformed the virtual fundraisers made necessary by virus-related lockdowns into a money machine, drawing in tens of thousands of small-dollar donations from supporters eager to engage with celebrities or Biden allies. Biden pulled in $16 million from small donors in April, more than three times the $4.9 million Trump raised in small amounts for the month. Hosts included breakout Democratic candidate Pete Buttigieg, celebrity yoga instructor Kyle Miller and 1970s "Wonder Woman" star Lynda Carter. Campaigns report their May numbers to the Federal Election Commission on June 20. Read more from Bill Allison.
Allies Press Biden to Pick Warren: More than 100 liberal activists, leaders and celebrities signed a letter urging Biden to pick Sen. Elizabeth Warren (D-Mass.) as his running mate, the Washington Post reports.
Biden Backs Changing Names of Bases: Biden said he supports removing the names of Confederate leaders from military bases, Politico reports, citing a statement from the candidate. Biden also said he backs Sen. Warren's proposal to form a commission to rename various Defense Department facilities named after Confederate leaders in the next three years.
Ernst Trails Democrat in Key Contest: Sen. Joni Ernst (R-Iowa), who is up for re-election, is narrowly trailing Democratic challenger Theresa Greenfield, according to a Des Moines Register/Mediacom survey released on Saturday. Greenfield, a Des Moines real estate developer, had the support of 46% of likely voters, against 43% who said they would back Ernst if the election were held that day. Read more from Ros Krasny.
GOP's Riggleman Ousted in Drive-Thru Convention: Rep. Denver Riggleman (R-Va.) was ousted by GOP voters in a drive-thru party convention on Saturday, the Associated Press reports, citing Melvin Adams, the district's GOP chairman. Bob Good will be the party's nominee in November's general election, reports Eduard Gismatullin.
Newsom's Mail Ballot Plan Put on Hold: A California state judge has tapped the brakes on Gov. Gavin Newsom's (D) efforts to send mail-in ballots to all 20 million registered voters in the state. Acting on a request of a Republican state legislator, Sutter County Superior Court Judge Perry Parker blocked Newsom's plan temporarily. He set a hearing to hear the governor's justifications for June 26. Read more from Robert Burnson.
What Else to Know Today
Wray Hangs On With FBI Besieged by GOP: Christopher Wray's no-nonsense approach may be the reason he's survived this long under a president who's effectively kept him on permanent probation. His handling of this month's of unrest in Washington is emblematic of his leadership style since taking over the embattled Federal Bureau of Investigation in August 2017, according to current and former law enforcement officials. Read more from Chris Strohm.
HHS Rolls Back LGBT Protections: The Trump administration finalized a policy to remove women seeking abortions and LGBT people from Obamacare's non-discrimination protections, the HHS announced on Friday. The regulation would let health-care workers, hospitals, and insurance companies that receive federal funds refuse to offer or cover services like abortions or transition-related care.
The move continues the Trump administration's efforts to roll back protections in health care for LGBT people. The Department of Health and Human Services Office for Civil Rights sees preserving "religious freedom" as essential to making sure health-care professionals don't get penalized for actions they do or do not take in their jobs because of their moral beliefs. Read more from Shira Stein.
U.S. Meat Giants Face Probe: The Trump administration is launching what could turn out to be the biggest attack in a century against the giants of America's meat industry, which already faced uproar over employee treatment during the pandemic. Read more from David McLaughlin, Lydia Mulvany and Michael Hirtzer.
Driverless Car Industry Gets a Nudge: Hundreds of driverless cars have been tested in locations across the U.S. in recent years, but standards are inconsistent and in a handful of cases there have been accidents and even a death. Now, the federal government wants to improve how those tests are conducted and create more transparency for a nascent industry that seeks to transform how people drive. Read more from Alan Levin.
Russia Sentences American for Spying: A Moscow court found former U.S. Marine Paul Whelan guilty of spying and sentenced him to 16 years in prison, according to a statement from his family. Prosecutors had asked for 18 years for Whelan, who says that he is innocent and that he was set up by a Russian Federal Security Service major who owed him 100,000 rubles ($1,400), Vladimir Kuznetsov reports.
Ukraine Official Says Bribe Was Offered to Close Zlochevsky Case: Top anti-graft officials in Ukraine were offered a $6-million bribe to close a case against ex-official Mykola Zlochevsky, who is also the owner of gas company Burisma Holdings, the company that was at the center of the impeachment trial of Trump. Read more from Kateryna Choursina and Daryna Krasnolutska.
William Sessions, FBI Chief Fired by Bill Clinton, Dies at 90: William Sessions, a U.S. judge from Texas who served as director of the FBI and was its first leader ever fired from the post, has died. A Republican, Sessions was tapped to lead the agency in 1987 by President Ronald Reagan. Read more from Stephen Miller.
To contact the reporters on this story: Zachary Sherwood in Washington at zsherwood@bgov.com; Brandon Lee in Washington at blee@bgov.com
To contact the editors responsible for this story: Giuseppe Macri at gmacri@bgov.com; Loren Duggan at lduggan@bgov.com; Michaela Ross at mross@bgov.com