What to Know in Washington: Lawmakers Watch Omicron Response
Lawmakers are watching the administration's response to the omicron variant closely to consider whether a supplemental spending package will be necessary. And the Supreme Court said it's planning on a special session early in 2022 to weigh President Joe Biden's shot-or-test rule for large employers and separate vaccine mandate for health-care workers.
Here's what Bloomberg Government is tracking for Thursday.
Biden's Schedule:
Biden at 3:30 p.m. plans to sign into law H.R. 3537, the "Accelerating Access to Critical Therapies for ALS Act," which the Senate cleared last weekend. Health and Human Services Secretary Xavier Becerra is scheduled to participate in the signing.
White House Press Secretary Jen Psaki is slated to give a press briefing at noon.
Appropriator Eyes Omicron Supplemental
A supplemental spending bill to bolster the response to the omicron variant of the coronavirus may be needed and could get bipartisan support early in 2022, Rep. Tom Cole (R-Okla.) said yesterday, Jack Fitzpatrick reports. Cole would be willing to support a measure that provides additional resources to expand hospital and testing capacity, he said in an interview on Bloomberg Radio's "Sound On." Republicans may want to redirect previously appropriated funds from the March 2021 stimulus bill, he said. Cole is the top Republican on the House Appropriations Labor-HHS-Education Subcommittee.
Cole said Health and Human Services Secretary Becerra told him several weeks ago a supplemental spending bill may be necessary for coronavirus needs in early 2022. That timeline is likely to be accelerated due to the rise in omicron cases, Cole said.
"It ought to be bipartisan," Cole said of a response to omicron. "Other than the American Rescue Plan earlier this year, where the Democrats chose to do a partisan approach, I always remind people we did multiple bills in 2020, all of which were bipartisan, amounting to over $4 trillion."
The Feb. 18 deadline to fund the government could serve as a vehicle for additional resources on omicron, Cole said, though he warned that it's unclear lawmakers will be able to strike a government funding deal. The longer Democrats focus on their social tax and spending reconciliation bill, the more likely lawmakers will have to rely on a stopgap funding measure for the rest of the year, Cole said.
Some Republicans would be happy with a full-year continuing resolution because it would be an extension of the last spending deal approved by then-President Donald Trump, but it would block needed increases in public health, Cole said. Cole said he supports increases in funding for the National Institutes of Health, Centers for Disease Control and Prevention, and Biden's proposal for a new agency, Advanced Research Projects Agency for Health.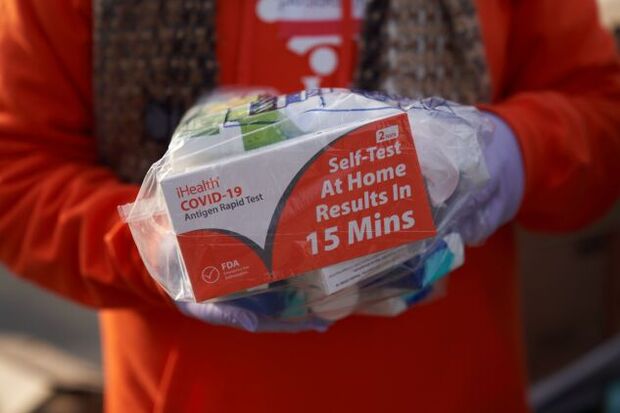 The U.S. Supreme Court will hear arguments on an expedited basis on Biden's Covid-19 shot-or-test rule for large employers and his separate vaccine mandate for health-care workers. The justices will hear both cases at a special Jan. 7 session, weighing whether to let the rules take effect in the face of a barrage of legal challenges. The cases will test the power of the federal government to tackle a pandemic that has killed more than 800,000 Americans.
The more sweeping clash involves an emergency Occupational Safety and Health Administration rule that requires employers with 100 or more workers to make them get vaccinated or be tested regularly. The justices will hear arguments from business groups and Republican-led states. They argue that OSHA exceeded the powers Congress gave the agency and that the federal government lacks constitutional authority to issue such a sweeping mandate. Read more from Greg Stohr.
MORE COVID-19 NEWS:
Fate, Health And Trump Will Guide If Biden Runs
President Biden left the door open to ending his presidency after just one term, saying it's up to "fate" but that he'd run again if he remains in good health and would be even more likely to do so if Donald Trump is his opponent.
Speaking to ABC's "World News Tonight" in an interview broadcast yesterday, Biden said he plans to seek re-election, before adding caveats.
"Yes, but look, I'm a great respecter of fate. Fate has intervened in my life many, many times," Biden said. "If I'm in the health I'm in now, if I'm in good health, then in fact I would run again."
Asked by anchor David Muir what he'd do if Trump were the nominee in 2024, Biden smiled. "You're trying to tempt me now," he said. "Sure. Why would I not run against Trump, being the nominee? That'd increase the prospect of running."
The administration has taken steps to quell speculation of who Biden's potential successor might be, including a joint trip early this month by two top potential rivals, Vice President Kamala Harris and Transportation Secretary Pete Buttigieg. They traveled to North Carolina to promote Biden's infrastructure bill. Read more from Josh Wingrove.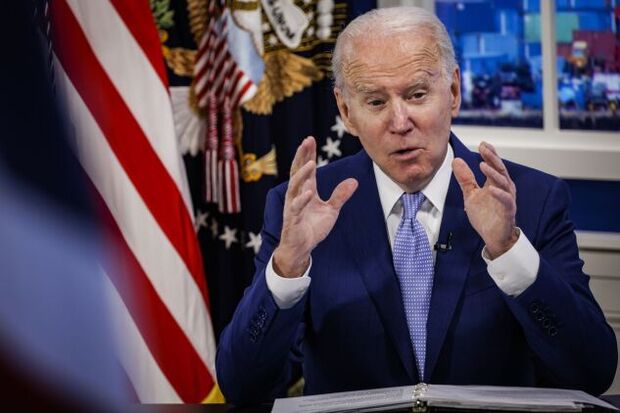 Approval rating may also factor into Biden's decision, which could largely hinge on the state of the economy heading into the election. Former Treasury Secretary Lawrence Summers yesterday warned of a testing period for the U.S. economy in coming years, with the risk of recession followed by stagnation.
In an interview with the Bloomberg Economics "Stephanomics" podcast, Summers said that the Federal Reserve had been late to spot the dangers of inflation and that delayed action to cool prices could potentially tip the economy into a slump. "If I thought we could sustainably run the economy in a red-hot way, that would be a wonderful thing, but the consequence — and this is the excruciating lesson we learned in the 1970s — of an overheating economy is not merely elevated inflation, but constantly rising inflation," said Summers, a paid contributor to Bloomberg and a professor at Harvard University. "That's why my fear is that we are already reaching a point where it will be challenging to reduce inflation without giving rise to recession." Read more from Stephanie Flanders and Simon Kennedy.
ALSO AROUND THE ADMINISTRATION:
Russian President Vladimir Putin praised what he described as a "positive" U.S. response to the Kremlin's demands for legally binding security guarantees to defuse a stand-off over Ukraine as he railed against NATO's expansion. "On the whole, we see a positive response," Putin said at his annual press conference today. "Our American partners say they're ready to start discussions early next year in Geneva. Both sides have named representatives and I hope that things will continue along the same path." Putin made no mention of the threat of military action as he did earlier this week but said the Kremlin will do what it needs to ensure Russia's security. Read more from Ilya Arkhipov and Henry Meyer.
Americans who were dreading the burden of resuming student-loan repayments in February got a reprieve from Biden, who yesterday extended forbearance until May 1, but they aren't feeling entirely at ease yet. "It's just kicking the can down the road, really," said Bloomberg economist Yelena Shulyatyeva. "At some point, the administration will have to make a decision of what to do with student debt." About one in eight people in the U.S. currently have student loans, with the federal total skyrocketing to a record $1.6 trillion in the third quarter this year. Read more from Katia Dmitrieva and Claire Ballentine.
Next year will give a good indication of whether federal energy regulators will fast-track funds from the bipartisan infrastructure law into projects that support the Biden administration's climate agenda and clean energy goals. The Federal Energy Regulatory Commission and lawmakers are weighing whether to roll back the grid-planning power of electric utilities and incumbent transmission owners that have long wielded influence in those decisions. Companies clamoring to make grid improvements want more competition to accelerate the connection of renewable energy generators. Read more from Daniel Moore.
What Else We're Reading
In a letter yesterday to Rep. Jim Jordan (R-Ohio), Rep.

Bennie Thompson

(D-Miss.), chair of the House committee investigating the Jan. 6 attack at the U.S. Capitol, asked Jordan to voluntary agree to a meeting Jan. 3 or 4, and cited Jordan's telephone communication with Trump that day, as well as Jordan's involvement in efforts to challenge the results of the 2020 election, as the reasons the panel wants to speak to him. Jordan in an October public hearing when asked by House Rules Committee Chairman

Jim McGovern

(D-Mass.) if he'd be willing to speak to the Jan. 6 panel responded, "I have nothing to hide." Read more from Bloomberg's Billy House.
Local election officials across the country are facing a growing barrage of claims that the 2020 vote was not secure and demands to investigate or decertify the outcome, efforts that are eating up hundreds of hours of government time and spreading distrust in elections, the Washington Post reports. The ongoing attack on the vote is being driven in part by well-funded Trump associates, who have gained audiences with top state officials and are pushing to inspect protected machines and urging them to conduct audits or sign on to a lawsuit seeking to overturn the 2020 results. Read more from the Post's Amy Gardner, Emma Brown and Josh Dawsey.
Georgia Republicans have wasted no time making Stacey Abrams' 2022 gubernatorial bid all about 2018, Politico reports. In ads, speeches and op-eds, the GOP is hearkening back to Abrams' first campaign for governor, emphasizing her final speech, which she said was not one of concession. Read more from Politico's Maya King.
Editor's Note: BGOV's What to Know in Washington won't publish Friday, Dec. 24. We'll return on Monday, Dec. 27, and will publish closer to 8 a.m. than our usual 7 a.m. for the next week.
To contact the reporters on this story: Michaela Ross in Washington at mross@bgov.com; Jack Fitzpatrick in Washington at jfitzpatrick@bgov.com
To contact the editor responsible for this story: Loren Duggan at zsherwood@bgov.com