What to Know in Washington: Lawmakers to Lose Re-election Today
At least two House members will be lame ducks after primaries on Tuesday, but a few others are worth watching for potential defeat.
The two incumbents certain to be ousted are in Illinois, where pairs of colleagues are pitted against each other as a result of reapportionment and redistricting. Democratic Reps. Sean Casten and Marie Newman are vying for the same metropolitan Chicago district, and Republican Reps. Rodney Davis and Mary Miller are rivals for the same downstate district.
The Davis-Miller primary will provide another test of former President Donald Trump's sway. He endorsed Miller at the beginning of the year and stumped for her at a June 25 rally in Illinois.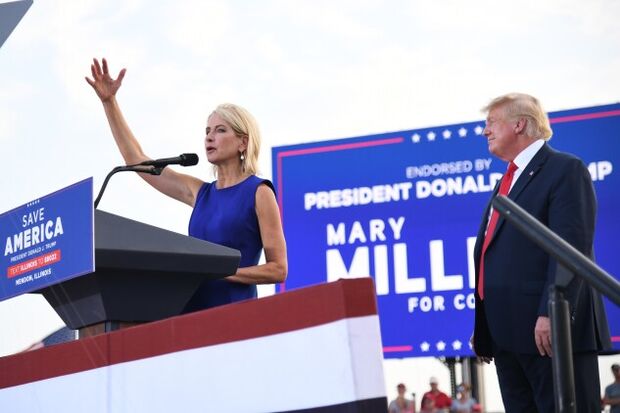 Other House members who may be unseated Tuesday include Rep. Steven Palazzo (R-Miss.), who's in a runoff after receiving less than one-third of the vote in a first-round primary earlier this month. Rep. Michael Guest (R-Miss.) also was pulled into a runoff.
Davis and Guest are trying to fend off opponents who conflated their votes for a proposed bipartisan Jan. 6 commission that never became law with the current select committee that all Republicans opposed except for Reps. Liz Cheney (Wyo.) and Adam Kinzinger (Ill.).
Reps. Blake Moore and John Curtis of Utah and Stephanie Bice of Oklahoma, who are on ballots Tuesday, were also among the 35 Republicans who backed a bipartisan commission.
Other elections Tuesday include primaries in Colorado, where Democratic groups meddled in two Republican elections, and a special election in Nebraska's 1st District to complete the term of ex-Rep. Jeff Fortenberry (R). State Sen. Mike Flood (R) is favored to succeed Fortenberry and narrow the balance of power in the House to 220 Democrats and 211 Republicans. Read more from Greg Giroux.
MORE ON ELECTIONS & POLITICS:
While New York Governor Kathy Hochul is expected to handily win the state's Democratic primary Tuesday, her path to victory in November will prove more difficult. Laura Nahmias explains.
Billionaire Ken Griffin said in November he was "all in" to unseat Illinois Democratic Governor J.B. Pritzker and contributed $50 million toward that effort. Yet the Republican candidate he's backing isn't favored to win Tuesday's primary. Shruti Date Singh and Bill Allison preview the race.
Firearms manufacturers could be sued for harm caused by guns under legislation California lawmakers passed Monday, part of a raft of bills to strengthen firearms and ammunition restrictions. Read more from Joyce E. Cutler.
Also on Lawmakers' Radars
Senate Republican Leader Mitch McConnell praised the work of a bipartisan congressional delegation headed to a summit of North Atlantic Treaty Organization leaders in Spain starting Tuesday, saying lawmakers from both parties can help make the case that Finland and Sweden should be admitted into the alliance as Western nations face more threats from Russia. "They both have terrific militaries," McConnell (R-Ky.) said as the US delegation planned meetings with top Finnish and Swedish leaders.
The first stop for the congressional delegation, led by Sens. Jeanne Shaheen (D-N.H.) and Thom Tillis (R-N.C.), was Finland for meetings with President Sauli Niinisto and other top officials. Sen. Dick Durbin (D-Ill.), co-chairman of the Senate Ukraine Caucus, spent Monday in Lithuania where he met with President Gitanas Nauseda, but planned to then join the others for their meetings in Sweden and at the NATO summit, his office said.
Both McConnell and Senate Majority Leader Chuck Schumer (D-N.Y.) want the chamber this summer to ratify a treaty needed to facilitate the two countries' NATO membership. McConnell said in Kentucky that now isn't the time to ease up on US support for Ukraine as it remains at war with Russia. "If we don't stop the Russians in Ukraine now, it's going to cost a whole lot more later," he said, Nancy Ognanovich reports.
Cassidy Hutchinson will be the surprise witness at the Jan. 6 hearing on Tuesday, Punchbowl reports, without citing where it got the information. Hutchinson was a senior aide to former White House Chief of Staff Mark Meadows.
A lawyer who advised Donald Trump on his elaborate plan to stay in power after losing the 2020 election filed a lawsuit in New Mexico seeking the return of a mobile phone that he claims was seized by federal agents outside a restaurant last week. John Eastman filed a petition for his iPhone Monday in federal court in Albuquerque, claiming he was served with a warrant and frisked on June 22. Erik Larson has more.
Biden's nominee to lead the US Immigration and Customs Enforcement, which hasn't had a Senate-confirmed leader in five years, is withdrawing from consideration for the post. Harris County, Texas, Sheriff Ed Gonzalez announced Monday that he would withdraw his name. Biden nominated Gonzalez to lead ICE more than a year ago, but his nomination languished amid procedural delays and questions about his background that arose just as the Senate was poised to confirm him. Read more from Ellen M. Gilmer.
Roe Fallout Expands
Vice President Kamala Harris dismissed the notion of allowing doctors to practice abortions on federal property in an attempt to bypass state restrictions imposed after the Supreme Court overturned Roe v. Wade.
"It's not right now what we are discussing," Harris said Monday in an interview with CNN.
Democratic lawmakers had floated the idea of opening abortion clinics on federal lands as a way to sidestep new state restrictions on the procedure. But a White House official said the proposal, while well intentioned, risked putting women and providers in legal jeopardy in state courts. Justin Sink has more.
The Supreme Court's conservative majority makes clear in decisions on gun ownership, abortion rights, and the line between church and state that it will weigh constitutional questions according to how they might have been decided in centuries past. Kimberly Strawbridge Robinson explains.
Around the Administration
BIDEN'S SCHEDULE:
Biden is scheduled to meet with German Chancellor Olaf Scholz, President Emmanuel Macron of France, and UK Prime Minister Boris Johnson on the margins of the G7 in Germany, and later give remarks in the final session of the summit.
In the afternoon, Biden will travel to Madrid, Spain to participate in the NATO summit. He will hold a bilateral meeting with President Pedro Sánchez of Spain, and later meet King Felipe VI of Spain.
In the evening, Biden will attend a dinner hosted for NATO heads of state and international organizations.
Group of Seven leaders are set to instruct ministers to explore implementing a price cap on Russian gas, according to people familiar with the discussions. Read more from Chiara Albanese, Michael Nienaber and Alberto Nardelli.
Treasury Secretary Janet Yellen urged European counterparts to embrace measures to enforce a price cap on Russian oil, a move US officials hope would maintain global crude oil supplies while at the same time limiting Moscow's revenue. Read more from Daniel Flatley and Georgios Georgiou.
The ruler of the United Arab Emirates said OPEC's two leading oil exporters are already pumping almost as much oil as they can, French President Emmanuel Macron told Biden. Read more from Grant Smith.
NASA is poised within weeks to declare whether it will launch a $4.2 billion mission to Uranus that its supporters say could unlock previously unknown questions about our solar system, and one certain to launch a dogfight among space contractors. A panel of the world's leading scientists endorsed the ambitious flagship exploration this spring, and NASA's response is expected next month. If approved, the 13-year journey could begin as soon as 2031. Read more from Josh Axelrod.
Dozens of federal workers will get another chance to prevent the Biden administration from enforcing its Covid vaccination requirement against them, a New Orleans-based federal appeals court said Monday. The Fifth Circuit granted their petition to rehear the lawsuit by the full court, Patrick Dorrian reports.
An Amtrak train with 255 people onboard collided with a dump truck Monday afternoon in Missouri, killing at least three people when multiple cars ran off the tracks. The derailment follows an accident involving an Amtrak train that collided with a car in California on Sunday, resulting in three deaths, according to multiple local media reports. Read more from Keith Laing.
With assistance from Nancy Ognanovich
To contact the reporters on this story: Michaela Ross in Washington at mross@bgov.com; Brandon Lee in Washington at blee@bgov.com
To contact the editors responsible for this story: Giuseppe Macri at gmacri@bgov.com; Loren Duggan at lduggan@bgov.com