What to Know in Washington: Lawmakers to Get Bounties Briefing
The Trump administration is arranging a closed-door briefing on Wednesday for the Gang of Eight House and Senate leaders regarding reports that Russian operatives in Afghanistan offered bounties to kill American troops.
No specific time or location has been determined for the session, which would be conducted by U.S. intelligence officials, according to two people familiar with the matter, Billy House reports.
The Gang of Eight is one avenue that Congress receives classified information from the executive branch. It includes Speaker Nancy Pelosi (D-Calif.), Senate Majority Leader Mitch McConnell (R-Ky.), along with House and Senate Minority Leaders Kevin McCarthy (R-Calif.) and Chuck Schumer (D-N.Y.), and the chairmen and ranking members of the House and Senate intelligence committees.
Yesterday, House Intelligence Chairman Adam Schiff (D-Calif.) commented at a news conference that he believed the Gang of Eight should be given a briefing on the reports that Afghan militia were offered the bounties to killed U.S. forces and their allies. But he echoed demands by other Democrats, including Pelosi, that a briefing also should be arranged for all House members, as well.
President Donald Trump has publicly shrugged off allegations in reports about the bounties and has yet to demand an investigation or threaten Russia with any consequences if the allegations are confirmed — even as lawmakers from both parties have demanded the administration hold Russia accountable if there is evidence that the bounty offers occurred.
The latest Russia episode is becoming a growing political crisis for a president who is trailing his Democratic opponent, Joe Biden, in polls and struggling to defend his handling of the resurgent coronavirus outbreak at the same time as nationwide protests against police brutality and racism continue.
Happening on the Hill
Wage Fight Heats Up in Infrastructure Bill: Democrats are squaring off with Republicans over wages as the House prepares today to vote on a broad $1.5 trillion infrastructure package designed to create jobs. At issue: forcing contractors to pay local wages for public works projects. The argument is the topic of a floor amendment introduced by the ranking Republican of the Education and Labor Committee, Virginia Foxx (N.C.), to a measure to reauthorize surface transportation programs and fund infrastructure projects (H.R. 2).
Foxx's move revives a longstanding Republican push to weaken the Davis-Bacon Act, a policy that requires workers on federally financed construction projects to be paid the local prevailing wage. She argues her amendment would help lower construction costs and save the federal government money. "We need equitable investment, not a union monopoly," Foxx said. Read more from Courtney Rozen.
Trump Threatens to Veto Defense Bill: Trump has threatened to veto the entire fiscal 2021 defense policy bill if it contains a provision that would strip the names of Confederate generals from U.S. military bases, John Harney and Chelsea Mes report. Trump, in a tweet just before midnight, said he would veto the legislation if an amendment sponsored by Sen. Elizabeth Warren (D-Mass.) "will lead to the renaming (plus other bad things!) of Fort Bragg, Fort Robert E. Lee, and many other Military Bases from which we won Two World Wars."
The Warren amendment, which would establish a commission that would put in place a plan for the removal of the names within three years, was included in the defense bill by the Republican-led Senate Armed Services Committee — in defiance of Trump. The Senate today will continue debate on the bill on the floor as lawmakers look for agreement on which amendments to include on the measure.
Sens. Tom Cotton (R-Ark.) and Thom Tillis (R-N.C.) have introduced an amendment that would create a commission to study all Department of Defense assets named after Confederate-associated individuals or symbols. If adopted, the measure would significantly weaken the provision currently in the draft bill and would put the decision of renaming such assets on Congress, possibly delaying action, Roxana Tiron reports.
The House Armed Services Committee will also debate the topic when it marks up its own measure today.
Congress Eyes Limits on Police Militarization: The massive nationwide protests have made apparent how police use military equipment acquired through the Defense Department against U.S. citizens in large cities and small towns alike. Three federal programs have allowed local and state law enforcement to arm itself with military equipment. The transfers were limited under the Obama administration but re-expanded under Trump. But both House and Senate lawmakers are working to use the annual defense policy bill to again restrict the transfers. Allison McCartney, Paul Murray and Mira Rojanasakul have more.
Separately, the Fraternal Order of Police in a letter called for Sen. Mike Braun (R-Ind.) to "clarify" comments that the police union believe made it sound like they support his qualified immunity reform bill, which would change the standard to allow civil suits against police for civil rights violations as part of the ongoing debate over police overhaul efforts, Shaun Courtney reports.
The Republican senator said in a June 29 Fox interview he spoke with the union and others about the bill, stating "They're not endorsing it, but they said it was a good candidate to work from."
Refugee Priority Weighed for Hong Kong: A bipartisan Senate group proposed giving refugee status to Hong Kongers at risk of persecution by the government for taking part in protests. The legislation was introduced yesterday in response to Beijing adopting a new national security law that asserts broad new authority in Hong Kong to rein in its critics. The bill would offer Hong Kong residents who peacefully protested priority refugee status, while waiving immigration intent as a consideration in granting non-immigrant visas. Read more from Daniel Flatley.
Graham Open to Adding Judgeships: An uncertain presidential election result could boost bipartisan support for creating new federal judgeships. At a Senate Judiciary Committee hearing yesterday, Chairman Lindsey Graham (R-S.C.) said the pre-election period might be a good time for lawmakers to act on a request from the judiciary's policy making arm to add more judges.
The Judicial Conference has requested adding five new appeals court judges for the San Francisco-based U.S. Court of Appeals for the Ninth Circuit and another 65 federal trial court judges, while also converting eight temporary district court judgeships to permanent positions. Graham later said a compromise version of the Judicial Conference's recommendations could even be tacked onto the next coronavirus relief package to move through Congress. Madison Alder has more.
Virus Aid & Economic Efforts
Senate Moves to Extend Small Business Loans: The Senate last night passed an extension of the popular Paycheck Protection Program for small businesses, which was set to close down yesterday with $130 billion in funding left over. The extension to Aug. 8 was offered by Sen. Ben Cardin (D-Md.) and cleared the chamber by unanimous consent. The House has yet to take up the bill.
The Small Business Administration, which ran the PPP with the Treasury Department, was set to stop accepting new applications at 11:59 p.m. Eastern Time last night. The $669 billion program approved more than 4.8 million loans totaling $520.6 billion as of yesterday, the SBA said. There was $134.5 billion remaining as of Saturday that will be returned to Treasury unless Congress re-purposes it. Read more from Erik Wasson.
Senate Passes Bill to Prevent Federal Payments to the Dead: Last night the Senate by unanimous consent passed S. 4104, which requires federal agencies to use the Social Security Administration's death database as a cross-reference to prevent federal payments to dead people. The bill, introduced by Sens. Tom Carper (D-Del.) and John Kennedy (R-La.) was partly in reaction to a Government Accountability Office report that suggested $1.4 billion in economic relief payments went to dead people. Read more from Colin Wilhelm.
Democrats Seek Relief for Schools, Childcare: Senate Democrats yesterday released a bill that includes $345 billion in aid to schools and colleges and $50 billion for childcare. Senate Minority Leader Chuck Schumer (D-N.Y.) and Senate Health, Education, Labor, and Pensions Committee top Democrat Patty Murray (Wash.) put forward the proposal ahead of talks with Republicans over another Senate coronavirus aid package.
The measure would also block Education Secretary Betsy DeVos from dictating eligibility for student financial aid and would reverse a Department of Education plan to boost the share of emergency funds going to private schools, Andrew Kreighbaum reports.
Mental Health Fallout Spurs Aid Effort: Federal mental health assistance may gain traction in the House as lawmakers consider expanding Medicare for some services and creating behavioral health grants for areas seeing a Covid-19 surge. Mental health and substance abuse treatment advocates say they need funds to help clinics and health-care providers stay in business as the pandemic prevents many from seeking treatment.
The House Energy and Commerce Committee's Health Subcommittee reviewed 22 mental health bills yesterday and Democratic leaders signaled the legislation might come to the floor this year, possibly as part of the next coronavirus-relief measure. Chairman Frank Pallone (D-N.J.) said he expects the bills will get votes. Read more from Alex Ruoff.
Thursday's Labor Report Will be Messy: While the June jobs data and weekly unemployment claims due tomorrow are expected to show further improvement in a hammered market, the actual trend may not be immediately clear when the Labor Department issues the reports at 8:30 a.m. What's more, the numbers could again be the subject of confusion and debate in the hours and days that follow.
That's because some of the figures have been beset by data-quality issues, particularly the misclassification of out-of-work Americans as employed. The problem has caused the official unemployment rate to understate the degree of joblessness in America during the pandemic, and a fix would make comparisons between May and June difficult — an especially sticky situation if the rate rises solely because unemployed people are finally classified correctly. Read more from Katia Dmitrieva and Reade Pickert.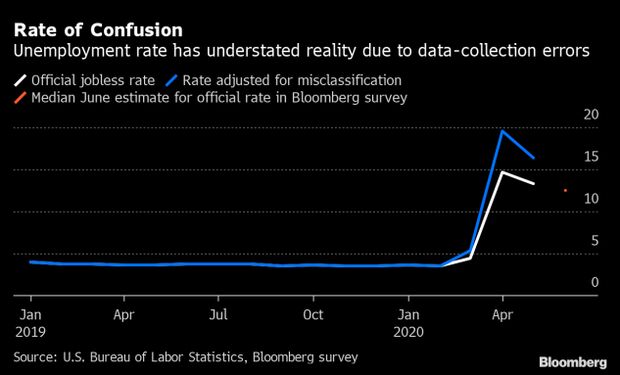 Payouts to U.S. Jobless Surged Past Record $100 Billion in June: The U.S. Treasury yesterday paid out $108.5 billion in unemployment benefits in June — the most on record dating back to 2005 — according to the department's latest daily statement. The figure represents the largest payout for a single month since the pandemic started and underscores the importance of federal relief efforts to shore up a battered job market. Read more from Olivia Rockeman.
Pandemic Response Efforts
Surgeon General Says 'Please, Please, Please' Wear Mask: The White House's Coronavirus Task Force stepped up pleas for Americans to wear masks as cases surge in some states, though Vice President Mike Pence said there are no plans to override governors who haven't required them. "Please, please, please wear a face covering when you go out in public," U.S. Surgeon General Jerome Adams, a member of the group, said at a briefing, Mario Parker and Josh Wingrove report.
GOP Urges Strengthened Flu Vaccine Supply: The federal government must protect the supply of the seasonal influenza vaccine by encouraging more domestic production, key Republican lawmakers will say in a report to be unveiled today. Reps. Greg Walden (R-Ore.) and Brett Guthrie (R-Ky.) said about 53% of the U.S. seasonal influenza vaccines are produced domestically.
They will also recommend the White House create a "comprehensive national vaccine plan," which members of both parties have called on the Trump administration to roll out for months, Alex Ruoff reports.
Industry Urged to Better Diversify Test Pools: Covid-19 vaccine tests should include racial and ethnic minorities, people with underlying medical conditions, and pregnant women, the Food and Drug Administration said, echoing calls by patient advocates to widen the pool of participants. The FDA released guidance yesterday that laid out the criteria for companies such as Moderna, Sanofi, and Johnson & Johnson to put their coronavirus vaccines on the market. Read more from Jeannie Baumann.
Contact Tracing Scams Emerge: Contact tracing may be an important tool in the fight against Covid-19, but it's also becoming a way for scam artists to part victims from their money and personal information, the Department of Justice said yesterday. Fraudsters, posing as contact tracers, have started sending out texts and emails asking for bank account information, Social Security numbers, and money, the department said. Read more from Christopher Brown.
Elections & Politics
Hickenlooper Wins Bid to Face Gardner: Former Colorado Gov. John Hickenlooper (D) yesterday won the Democratic primary to challenge Sen. Cory Gardner (R) in November, according to the Associated Press. The race is one of the most crucial in the campaign by Democrats to recapture the Senate. Hickenlooper, who made a brief run for the party's presidential nomination, had a tougher than expected primary contest against Andrew Romanoff, a former state House speaker who ran on a progressive agenda including Medicare for All and a Green New Deal. Read more from Steven T. Dennis.
Fourth House Incumbent Loses in Primary as Engel, Maloney Wait: A fourth House incumbent was denied renomination yesterday, matching the number from each of the past two elections even as counting and voting continues around the country. Rep. Scott Tiptonlost by 10 percentage points to restaurant owner and gun rights advocate Lauren Boebert in the Republican primary for Colorado's 3rd District. Boebert will face former state Rep. Diane Mitsch Bush (D), who lost to Tipton in 2018 by about 8 percentage points, in a general election that may now be more competitive.
Tipton may not be the last incumbent to fall this week. His result, in a state that already primarily votes by mail, came as the fates of New York Reps. Eliot Engel and Carolyn Maloney remain unknown a week after their primaries. Read more from Kyle Trygstad.
Trump Campaign Reshuffles Key Staff: Trump's campaign has named Jeff DeWit as its chief operating officer, replacing Michael Glassner, less than five months before the election and as polls show him lagging his Democratic challenger, Joe Biden. The reshuffle, according to two people familiar with the matter, came as top donors were becoming more concerned over the management of the campaign and Trump's falling poll numbers. The re-election operation has struggled to respond to crises, including the coronavirus pandemic, the economic damage it has wrought and the growing demands for racial justice.
The changes were orchestrated by Jared Kushner, Trump's son-in-law and a White House adviser, according to another person. He's played an influential role in the campaign though he is not officially part of it. Read more from Mario Parker and Jennifer Jacobs.
Trump, Biden Both Disparage Facebook But Won't Quit: Trump and Joe Biden share a disdain for Facebook and say the speech it publicizes should be regulated. But neither one is ready to quit the troubled platform, especially when their most direct route to voters — face-to-face campaigning — cut off. Facebook proved a vital tool in the last presidential election. But the coronavirus pandemic makes it even more crucial for the 2020 cycle, as more people stay home and social distancing measures almost end meeting voters in person.
Since last April, when Biden joined the race, the Democratic nominee spent $26.6 million advertising on Facebook, according to the platform's self-reported ad-spending data, more than 75% of his digital advertising spending. In the same period, Trump spent $36.9 million on the platform out of a total of $69.9 million that his campaign and supporting committees spent on digital ads. Read more from Mario Parker, Misyrlena Egkolfopoulou and Bill Allison.
Biden Sees a 'Distinction' Among Toppled Statues: Former Vice President Joe Biden waded yesterday into the debate over monuments protesters are tearing down, arguing there's "a distinction" between those of Confederate leaders and those of America's founding fathers. "It's fundamentally different" for protesters to topple a monument to Confederate General Robert E. Lee than it would be to take down one to George Washington or Thomas Jefferson, Biden told reporters in Delaware. Read more from Jennifer Epstein.
What Else to Know
Trump May End Fair Housing Regulation: Trump last night tweeted that he may end the Affirmatively Furthering Fair Housing rule, which is a mandate established by the Fair Housing Act of 1968, because it is "not fair to homeowners." "At the request of many great Americans who live in the Suburbs, and others, I am studying the AFFH housing regulation that is having a devastating impact on these once thriving Suburban areas," Trump wrote, adding "I may END!"
Boeing Withheld Data on System, Report Says: Boeing provided only "limited information" on the flight-control software later implicated in two fatal crashes on the 737 Max as it was being approved by federal regulators, the Transportation Department's inspector general concluded in a report. Read more from Alan Levin and Julie Johnsson.
China Says Hong Kong Law Hangs Over Critics: China described Hong Kong's new security law as a "sword of Damocles" hanging over its most strident critics, after Beijing asserted broad new powers to rein in sources of opposition, from pro-democracy protesters to news agencies to overseas dissidents. Read more on the new law.
Meanwhile, Hong Kong woke up to a new reality today, after China began enforcing the sweeping security law. Police quickly boasted of their first seven arrests under the law — including a protester with a Hong Kong independence flag — out of 180 people taken into custody. Read more.
With assistance from Andrew Kreighbaum and Shaun Courtney
To contact the reporters on this story: Zachary Sherwood in Washington at zsherwood@bgov.com; Brandon Lee in Washington at blee@bgov.com
To contact the editors responsible for this story: Giuseppe Macri at gmacri@bgov.com; Loren Duggan at lduggan@bgov.com; Michaela Ross at mross@bgov.com