What to Know in Washington: Lawmakers Send Biden Debt Limit Bump
The House voted early this morning to lift the nation's debt ceiling through next year's midterm elections, sending the bill to the desk of President Joe Biden, before members departed Washington until January. Lawmakers also voted to hold Donald Trump's former chief of staff, Mark Meadows, in contempt of Congress, the latest message to the former president's loyalists by a panel investigating the Jan. 6 attack on the U.S. Capitol.
Biden will survey tornado-ravaged parts of Kentucky before speaking on his administration's response to a series of storms that left more than 70 dead.
Here's what Bloomberg Government is tracking for Wednesday.
Congressional Agenda:
The Senate plans to vote on whether to clear the House-passed defense policy measure for Biden's signature. The defense bill would authorize $25 billion more than the $715 billion recommended by the Biden administration for the Pentagon in fiscal 2022, Roxana Tiron reports.
Click here for a complete list of today's hearings and markups.
Biden's Agenda:
Biden will depart Washington shortly after 9 a.m. and arrive in Kentucky after 10 a.m. to survey the damage from tornadoes that struck the state last weekend.
At 3 p.m., the president will deliver remarks on the administration's response to the storms. Biden on Sunday declared a major federal disaster in Kentucky as state and local officials continued to assess damage from the storms. The move will unlock federal aid for temporary housing, home repairs, and loans to help those with uninsured property losses, Justin Sink and Jennifer Jacobs report.
Shortly before 5 p.m. Biden will depart Kentucky and return to Washington just after 7 p.m.
Debt Ceiling Boost of $2.5 Trillion Goes to Biden
The House voted to raise the nation's debt ceiling by $2.5 trillion, an amount intended to extend the government's borrowing authority past next year's congressional elections and into early 2023. The 221 to 209 vote sends the bill to Biden for his signature. The Senate earlier in the day approved the bill in a 50-49 vote with only Democrats in support.
The current federal debt is $28.9 trillion, and Treasury Secretary Janet Yellen had warned that the government could have difficulty meeting its obligations after Dec. 15, though outside analysts have said default could possibly be staved off into January.
The resolution of the latest debt standoff came as a result of legislation Congress approved last week which included a one-time process to fast-track a debt ceiling increase by shielding it from the threat of a GOP filibuster in the 50-50 Senate and allowing it to pass with a simple majority. House Republicans lined up to oppose the debt ceiling increase, arguing it should have been tied to spending cuts aimed at eliminating annual budget deficits and paying down the debt.
The bill's passage sets up another showdown on the debt ceiling as soon as November 2022. If Democrats lose their majority in the midterm elections they may try to raise the ceiling again to avoid Republicans holding it hostage for spending cuts once Republicans take over. They would be able to do so using a fast-track budget reconciliation procedure. Read more from Erik Wasson and Laura Litvan.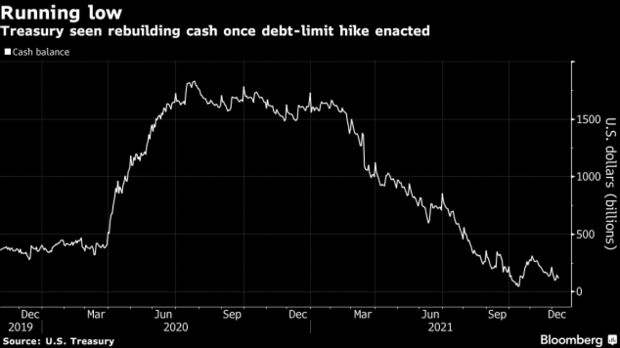 ALSO HAPPENING ON THE HILL:
Ex-Trump Aide Meadows Cited for Criminal Contempt
The House voted yesterday to hold former President Donald Trump's last chief of staff, Mark Meadows, in criminal contempt of Congress for refusing to testify in the Capitol insurrection probe, referring the matter to the Justice Department.
The 222 to 208 vote also aims to send a message to other Trump loyalists that the former president's assertion of executive privilege will not deter the House committee charged with investigating the Jan. 6 siege. Former Trump adviser Steve Bannon has already been indicted for criminal contempt for refusing to testify to the panel and awaits trial in July. Two Republicans voted with all Democrats to hold Meadows in contempt.
Meadows, who as a Republican member of the House from North Carolina was a rising conservative star and co-founder of the Freedom Caucus, is the highest-ranking former Trump official in legal jeopardy in the inquiry. Read more from Billy House.
MORE POLITICS NEWS:
A conservative lawyer who advised Trump on ways to overturn the 2020 election sued to block the release of his phone records to the committee investigating the Jan. 6 Capitol riot. John Eastman, a former professor at Chapman University School of Law, is seeking a court order prohibiting Verizon from complying with a congressional subpoena demanding his phone and text data. Read more from Robert Burnson.
Trump's lawsuit to stop the release of his tax returns to a congressional committee was dismissed by a judge, who said a long line of U.S. Supreme Court precedents require "great deference" to valid congressional inquiries. U.S. District Judge Trevor McFadden in Washington ordered a 14-day hold on the release of the documents to give the former president time to appeal. Read more from Joe Schneider and Erik Larson.
Nearly half the states redrawing their congressional districts have completed the process, providing a starting point for assessing what it means for control of the House in 2022 and beyond. Bloomberg Government politics editor Kyle Trygstad and reporters Greg Giroux and Brenna Goth joined Wendy Underhill, director of elections and redistricting at the National Conference of State Legislatures, for a webinar on redistricting yesterday. Find the webinar slides here.
Around the Administration
Climate provisions in Biden's tax-and-spending plan are critical to fulfilling his pledge to halve U.S. greenhouse gas emissions by 2030 but are far from enough, according to a new analysis that finds sweeping changes are required to confront global warming. The U.S. also will have to rapidly accelerate adoption of electric vehicles, impose aggressive emissions limits on individual industries and deploy nascent, yet-to-be-commercialized technologies, according to the World Resources Institute paper released today. That's on top of expanding tax incentives for renewable power, advanced energy manufacturing and building efficiency upgrades that are contained in the president's economic legislation. Read more from Jennifer A. Dlouhy.
The looming expiration of Biden's child tax credit will have a lasting negative impact on many American families, with millions of children at risk of slipping back into poverty, according to new research from the Center on Budget and Policy Priorities. The last of six monthly payments, up to $300 per child, is scheduled to hit bank accounts later today. If it's not renewed in the new year, the financial hit will come amid inflation woes not seen in decades. Kelsey Butler has more.
The Biden administration is considering imposing tougher sanctions on China's largest chipmaker, according to people familiar with the situation, building on an effort to limit the country's access to advanced technology. The National Security Council is set to hold a meeting tomorrow to discuss the potential changes, said the people, who asked not to be identified because the deliberations are private. Agencies represented through their deputies will include the Commerce, Defense, State and Energy departments. The proposal that's being examined would tighten the rules on exports to Shanghai-based Semiconductor Manufacturing International Corp. Read more from Jenny Leonard and Ian King.
Biden will have more chances to shape the federal appeals courts with judges set to take senior status on the Richmond-based Fourth Circuit and the Cincinnati-based Sixth Circuit. Fourth Circuit Judge Diana Gribbon Motz and Sixth Circuit Judges Helene N. White and R. Guy Cole Jr. will make way for Biden to nominate their successors, according to the U.S. Courts' future vacancy listing and the Sixth Circuit executive's office, which confirmed Cole's plan to take senior status upon his successor's confirmation. Read more from Jordan S. Rubin.
The Biden administration faces a growing backlash on social media for refusing to further extend a moratorium on student loan payments. The White House said this week the administration is sticking to its plans of letting the Covid-19-related pause in collections expire at the end of January. Read more from Ella Ceron.
Policymakers are neglecting to advance a "proactive" U.S. trade agenda, leaving the agriculture industry's competitive edge in foreign markets at risk, a new report argues. The Corn Refiners Association argues that a recent bipartisan disinterest in establishing formal trade deals puts U.S. agricultural exporters and others in a tricky situation, as they depend on expanded access to international markets. Megan U. Boyanton has more.
The U.S. is exploring additional ways to pressure Myanmar's ruling junta, Secretary of State Antony Blinken said, as civilian strife escalates in the Southeast Asian country. "It's important in weeks and months ahead to look at what steps we can take to pressure the regime, to put the country back on a democratic trajectory," Blinken said in a joint press appearance with Malaysian Foreign Minister Saifuddin Abdullah. Read more from Peter Martin and Anisah Shukry.
What Else We're Reading
Senate Democrats are working to avoid ending the year stalled on their two top priorities: elections reform and their $1.75 trillion tax and spending plan. And Sen.

Joe Manchin

(D-W.Va.) still stands at the center, Politico reports. During Majority Leader

Chuck Schumer

's (D-N.Y.) leadership meeting on Monday night, Democrats debated how to handle those items. Some want to kick both issues until next year; others argue the party's leverage over Manchin won't improve over time and want action now. Read more from Politico's Marianne Levine and Burgess Everett.
Meanwhile, the Washington Post's Ben Terris takes a look at Manchin's year in the spotlight, that has earned him the nickname of "President Manchin."
Rep. Liz Cheney (R-Wyo.) has embraced a prominent role in the House investigation of the Jan. 6 attack, using her perch to hold up an unsparing mirror to the Republican Party, the New York Times reports.

Cheney

's no-holds-barred style grabbed the spotlight this week as the committee led the charge to hold Meadows in contempt. NYT's Catie Edmondson and Luke Broadwater take a look at her role within the GOP.
To contact the reporters on this story: Zachary Sherwood in Washington at zsherwood@bgov.com; Brandon Lee in Washington at blee@bgov.com
To contact the editors responsible for this story: Giuseppe Macri at gmacri@bgov.com; Loren Duggan at lduggan@bgov.com; Michaela Ross at mross@bgov.com