What to Know in Washington: Lawmakers Narrow Infrastructure Gaps
Senators negotiating the terms of a $579 billion infrastructure plan chipped away at some of the issues that were holding up an agreement but have yet to find a breakthrough on other differences that would seal an agreement and lead to a vote on legislation.
The talks have blown past several deadlines, despite expressions of optimism from lawmakers in both parties that they were close to an agreement. Senate Majority Leader Chuck Schumer (D-N.Y.) has warned that he'll keep the Senate in session through the weekend if necessary.
President Joe Biden also has been engaged in the effort to strike a deal. He met yesterday with Sen. Kyrsten Sinema (D-Ariz.), the lead Democratic negotiator in the infrastructure talks as Democrats and Republicans wrangled over funding for mass transit and details about an extension of broadband access. A dispute over the spending levels on water projects appeared to be resolved, Sens. Mitt Romney (R-Utah) and Jon Tester (D-Mont.) said.
"There will always, always be details that have to be worked out, but I'm pretty optimistic at this stage," said Romney, a member of the bipartisan group. "Nothing's 100%, but it looks pretty good."
Schumer said the two sides continue to close the gap on the outstanding items. "We're getting close and I hope we can get this done soon," he said.
One of the main disputes is over how to divide money from the highway trust fund between roads and transit. On another obstacle, Republicans said they were concerned about broadband issues. Read more from Erik Wasson.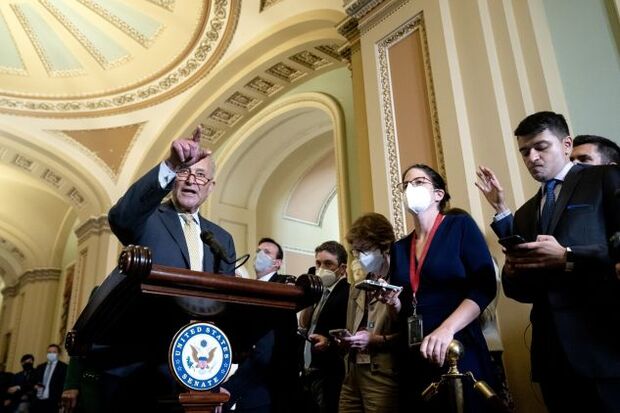 T&I Chair Demands Conference on Infrastructure Package: House Transportation and Infrastructure Chair Peter DeFazio (D-Ore.) says he is pushing for a major role in finalizing an infrastructure bill through a House-Senate conference after senators reach an agreement. DeFazio said he will not vote for the Senate bill, which is still being drafted, without changes, including stronger climate provisions. Read more from Lillianna Byington.
Also Happening on the Hill
Today's Agenda:
The House plans to complete consideration of a seven-bill minibus appropriations package. Read the BGOV Bill Summaries on the underlying package, and the amendments under consideration.
The Senate will vote on two of Biden's nominees to serve on the National Labor Relations Board.
Click here for a complete list of today's hearings and markups.
Democrats, GOP Agree to Challenge China in Spending Bills: Democrats and Republicans have turned their shared enmity toward the Chinese government to the appropriations process, voting on a seven-bill government funding package today that includes initiatives ranging from cuts in funding for various programs to an attempt to "counter the influence" of the Chinese government. The minibus would ban Chinese companies from buying U.S. agricultural land and bar federal funds from going to the Wuhan Institute of Virology, a research lab in China that's become the subject of theories that it may have been the source of Covid-19. While Congress has a long way to go before reaching a final funding deal, the bipartisan backing for the House's China-targeted measures suggest they could find support in the Senate. Read more from Jack Fitzpatrick.
Biden Pick to Lead Immigration Agency to Get Full Senate Vote: Schumer moved yesterday to tee up a full Senate vote on the nomination of Ur Jaddou, Biden's pick for director of U.S. Citizenship and Immigration Services. By filing for cloture, Schumer set up a vote to limit debate on the nomination of Jaddou, a former chief counsel at the agency. The vote to invoke cloture is likely to be held in coming days, and if it's successful, she will be eligible for a final confirmation vote. USCIS is part of the Department of Homeland Security and is responsible for administering U.S. immigration law. Read more from Lydia O'Neal.
Trump Under Pursuit in Capitol Riot Inquiry: Former President Donald Trump's top allies could face subpoenas in a House committee's investigation into the Jan. 6 insurrection at the U.S. Capitol, as the nascent panel considers how best to flex its oversight muscle. Members of the House committee made clear during their dramatic first public hearing yesterday that Trump's activities that day are a central focus of their inquiry. The committee has subpoena power, and could use it in the next week or two to bring in witnesses and gain access to documents and other material, said a committee official, speaking on the condition of anonymity to discuss private deliberations. Among those key witnesses could be Trump administration officials and some of the former president's allies in Congress. Read more from Billy House and Jarrell Dillard.
The committee began its work yesterday in dramatic form, with hours of gripping testimony from four police officers who fought for their lives against a mob of Trump's supporters. Capitol Police Sergeant Aquilino Gonell dramatically recalled thinking, "this is how I'm going to die, trampled defending this entrance" in testimony that stood as one of the emotional peaks of the committee hearing. Here's a recap of the hearing.
Meanwhile, the Justice Department won't defend Rep. Mo Brooks (R-Ala.) in a lawsuit alleging that he helped incite the deadly attack, a decision that might mean the department also won't help protect Trump. Read more from Chris Strohm.
Justice Department to Brief House Panel on Surveillance: The House Judiciary Committee is to receive its first closed-door briefing from Justice Department officials tomorrow about the department's surveillance of lawmakers and journalists — including the issuing of subpoenas to Apple and other companies, for user data. The briefing is the result of a request last month from committee Chairman Jerrold Nadler (D-N.Y.), according to an official familiar with the panel's efforts. Read more from Billy House.
House Doctor Tells Lawmakers to Don Masks: Congress' doctor last night reimposed a mask-wearing requirement for lawmakers and all others while they are on the House floor, and in hallways and offices. Attending Physician Brian Monahan's memo, which did not refer to the Senate, says members will not be required to wear masks when they are alone, or when they are recognized to speak on the House floor. But failure to wear a mask in the Hall of the House in other circumstances will be subject to fines, he writes, as was the case under the previous rule. Read more from Billy House.
Ellzey Wins Texas House Seat: Republican Jake Ellzey has won a House seat in Texas over a Trump-backed rival, the Associated Press reports. Ellzey defeated Republican Susan Wright, the widow of the late Rep. Ron Wright, in a special congressional election runoff near Dallas. Ellzey is a Texas state representative and former United States Navy fighter pilot who lost to Ron Wright in the 2018 Republican primary for an open seat. Wright had represented the Republican-leaning district for 25 months before dying in February 2021. Andrew Small has more on Ellzey.
Around the Administration
Biden Proposes Shift to American-Made Products: The Biden administration is proposing sweeping changes to its government purchasing rule to increase the content of American-made goods, senior administration officials said. The new rule is designed in a way that gives contractors time to shift their supply chains but is stringent enough to have an immediate impact on the way taxpayer dollars are used, one official said. Biden began the process in an executive order he signed in January, shortly after taking office, and the White House has received input from businesses and unions, the officials added.
Biden today is set to visit the Mack-Lehigh Valley Operations Manufacturing Facility in Lower Macungie Township in Pennsylvania. He's scheduled to give remarks in the afternoon on the importance of U.S. manufacturing and buying products made in the country. The plant assembles Mack Trucks. Read more from Jenny Leonard.
Biden's 'Summer of Joy' Turns Grim: Biden promised a "summer of joy" on July 4 as he declared America's independence from Covid-19. Three weeks later that sense of victory is evaporating in the face of a resurgent pandemic. The U.S. now faces a surge in cases fueled by vaccine holdouts and the highly transmissible delta variant, prompting the federal government and companies to weigh mandatory vaccinations of workers and a return to widespread mask wearing. That reversal of fortune could bring back restrictions many Americans had hoped were gone for good — a bitter setback for Biden, who has counted on defeating the pandemic as a cornerstone of the nation's economic recovery. Read more from Jordan Fabian and Jennifer Epstein.
The White House has notified the staff that they must again wear masks while working in the complex, according to a person familiar with matter. The restriction became effective yesterday, the person added, and came hours after the CDC tightened national mask guidelines, advising that people wear them indoors in public regardless of vaccination status in places where the virus is rapidly spreading. Read more from Jordan Fabian and Jennifer Epstein.
Biden Nominates Pick for DOL Benefits Agency: Biden will nominate attorney Lisa Gomez to be assistant secretary of labor for employee benefits, a Senate-confirmed position that oversees the Department of Labor's regulation and enforcement of private-sector health and retirement plans. The Employee Benefits Security Administration has been led on an acting basis by Ali Khawar. Gomez is a partner at Cohen, Weiss, and Simon LLP, which has deep ties to major U.S. unions. Read more from Austin R. Ramsey.
Mayorkas Present at DHS, Remote in Senate After Exposure: Homeland Security Secretary Alejandro Mayorkas was remote before a Senate committee yesterday due to a recent coronavirus exposure, but dialed in from agency headquarters. He was set to testify in person to the Homeland Security and Governmental Affairs Committee but switched to a virtual appearance, one Senate aide said. But rather than quarantining, he went to work at DHS headquarters. Ellen M. Gilmer has more.
Landlords Sue for Rent Unpaid Under Eviction Moratorium: A landlords' lobbyist said it sued the U.S. government to recover damages the organization claims its members suffered as a result of a federal moratorium on evictions. The National Apartment Association filed the lawsuit yesterday at the U.S. Court of Federal Claims in Washington, the organization said in a statement. The NAA claims that by the end of last year, more than 10 million delinquent tenants owed $57 billion in unpaid rent. Apartment owners are now responsible for $27 billion of debt not covered by federal rental assistance, the group argues. Read more from Joel Rosenblatt.
Administration on Deeper Role in Asia: Secretary of State Antony Blinken kicked off his first official visit to India warning of "rising global threats to democracy" as the two nations sought common ground in their disputes with China. Blinken met his counterpart Subrahmanyam Jaishankar and Indian National Security Advisor Ajit Doval and is slated to meet Prime Minister Narendra Modi later in the day. India's border tensions with China, the growing security crisis in Afghanistan triggered by the impending final U.S. troop withdrawal and Covid-19 are likely to be high on the agenda. Read more from Peter Martin.
U.S. Says Move by North, South Korea Can Help Denuclearization: The U.S. offered it support for the move by the leaders of two Koreas to improve relations and reconnect the hotlines cut off for more than a year, saying it might help stalled nuclear talks. It was responding to what appeared to be a coordinated announcement yesterday from Seoul and Pyongyang calling for reconciliation and reopening hotlines that had been silent since a flare-up in June 2020, when Kim Jong Un's regime blew up a liaison office on its side of the border funded by South Korean President Moon Jae-in's government — one of Pyongyang's most dramatic provocations in years. Read more from Jeong-Ho Lee.
To contact the reporters on this story: Zachary Sherwood in Washington at zsherwood@bgov.com; Brandon Lee in Washington at blee@bgov.com
To contact the editors responsible for this story: Giuseppe Macri at gmacri@bgov.com; Loren Duggan at lduggan@bgov.com; Michaela Ross at mross@bgov.com