What to Know in Washington: Lawmakers Criticize Biden Sanctions
President Joe Biden's debut set of sanctions on Russia for its actions over disputed Ukrainian territory hit markets with a whimper and were quickly criticized as limited in scope.
Instead of a sweeping package that crippled top Russian banks, cut its financial transactions off from the global economy, or personally singled out President Vladimir Putin, the U.S. and its allies settled on a modest "first tranche" of penalties.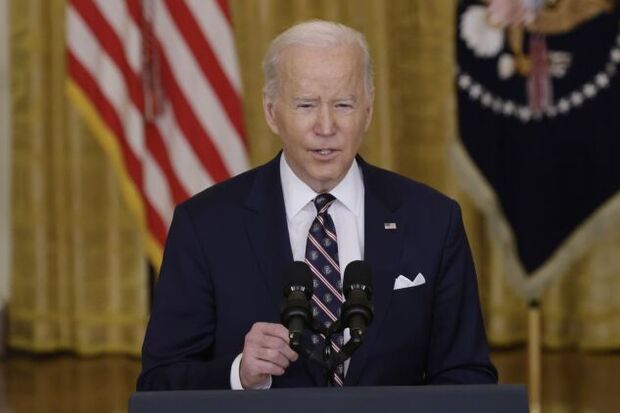 The sanctions targeted a pair of Russian banks, VEB.RF and Promsvyazbank as well as three members of Russia's elite with close ties to the Kremlin. The penalties also sought to freeze future purchases of Russian sovereign debt.
Yet the sanctions hardly amounted to the precedent-shattering, economy-crippling measures the U.S. and its partners long telegraphed if Russian troops were to roll across the border.
One person familiar with the administration's thinking said the U.S. still anticipated further Russian moves in the next 24-48 hours, which would trigger additional sanctions. In his address announcing the penalties, Biden said it appeared that Putin was laying the groundwork for Russian forces to move into areas now administered by the Ukrainian government – an action a second person familiar with the administration's planning said would prompt the president to unleash additional penalties.
Top U.S. diplomat Antony Blinken later announced a summit this week with Russian Foreign Minister Sergei Lavrov was off.
Biden is also facing intensifying criticism from hawkish lawmakers on both sides of the aisle. Republicans who encouraged him to impose sanctions before any attack by Putin spent yesterday criticizing his actions as ineffectual half-measures, with Senator Lindsey Graham (R-S.C.) calling the developments "the 1930s all over again."
But the South Carolina Republican wasn't the only one to raise the specter of World War II-era appeasement. Allies like Senator Bob Menendez, the New Jersey Democrat who chairs the Foreign Relations Committee, said the U.S. should levy the "overwhelming amount" of sanctions now in order to deter further aggression by Russia.
"I don't know what we need to wait for," Menendez said in an interview with CNN. "What we can't have here is another Munich moment," a reference to a 1938 agreement that allowed Nazi Germany to seize part of Czechoslovakia. Read more from Justin Sink.
The U.S. Geological Survey announced an updated critical minerals list yesterday, adding nickel and zinc to the group, while leaving off two others—uranium and helium— that Senate Energy and Natural Resources ranking member John Barrasso (R-Wyo.) yesterday described as a surrender to Russia. "The president should make producing them in America a top priority," he said. Kellie Lunney has more.
The White House has halted permits for new oil and gas drilling on federal land, a move that could complicate efforts to tame gasoline prices that are poised to top $4 a gallon amid the Russia-Ukraine conflict. The Interior Department said it halted issuing permits last weekend after a federal judge blocked the U.S.'s method for assessing how approvals would affect climate change. Some officials were confident it would have a minimal short-term impact on domestic oil and gas production in part because U.S. drillers already have thousands of unused permits to tap, one person familiar said. ennifer A. Dlouhy and Ari Natter have more.
Also on Lawmakers' Radars
Progressive Democrats and activists are lobbying the White House to declare a "climate emergency" to unlock executive powers, with Biden's signature environmental legislation indefinitely stalled. The tactic could allow Biden to shut down crude oil exports, suspend offshore drilling, and redirect funding for clean energy projects. Former President Donald Trump used a similar step to divert billions of dollars to build a wall along the southern border after Congress refused to appropriate the funds.
"If we can't work with Manchin to get Build Back Better done, it's time to use his executive authority," said Representative Jared Huffman, a California Democrat, and one of several in the Congressional Progressive Caucus urging Biden to use emergency authority. Backing the new push is Representative Earl Blumenauer, an Oregon Democrat, who wrote legislation mandating national climate emergency declaration, along with progressive Representative Alexandria Ocasio-Cortez (D) of New York and Senator Bernie Sanders (I) of Vermont.
Invoking a climate emergency also could allow Biden to use the Defense Production Act and the federal procurement budget of $500 billion per year to produce renewable energy and clean transportation technologies, according to a report being released today by the Center for Biological Diversity. Read more from Ari Natter.
Lawmakers behind a bill to revamp diagnostics regulation are eyeing FDA user fee legislation as a way to push their proposal across the finish line. "The time for Congress to clarify the rules of the road for diagnostic testing is now," Rep. Larry Bucshon (R-Ind.) said yesterday. He and Rep. Diana DeGette (D-Colo.) are working to advance their measure, nearly a decade in the making, "on its own or attached to must-pass bills like MDUFA," the next iteration of the Medical Device User Fee Amendments that's up for renewal this year. Read more from Jeannie Baumann.
A bid to help U.S. veterans exposed to toxic substances during deployments to Iraq and Afghanistan faces objections to its cost as backers of the ambitious legislation prepare for a vote in the House next week. The bill (H.R. 3967) would speed health care and benefits to millions of veterans exposed to burn pits. Some Republicans say the price tag—almost $300 billion over the next decade—is too high. "This is about the cost of war," bill sponsor Mark Takano (D-Calif.), chair of the House Veterans' Affairs Committee, said at a roundtable. Read more from Roxana Tiron.
Politics, Probes & Influence
The Supreme Court is filling its calendar with culture-war clashes, taking up fights on abortion, gay rights, guns, affirmative action and voting rights at the behest of conservative advocates looking to take advantage of a bench reshaped by Trump. With three Trump appointees giving it a 6-3 conservative majority, the court is putting aside objections that many of the cases don't meet the traditional standards for review. The newest case—accepted yesterday—could let some businesses refuse to take part in same-sex weddings. Read more from Greg Stohr.
The Trump Organization's former CFO claims criminal tax charges filed against him in New York are barred by his federal immunity deal in a separate case involving Trump's payments to a porn star. Allen Weisselberg said in a motion to dismiss filed Jan. 23 and unsealed yesterday that the New York charges were largely fueled by former Trump lawyer and fixer Michael Cohen, who was convicted on federal charges related to hush-money payments to Stormy Daniels. Weisselberg claims his cooperation with federal prosecutors helped convict Cohen, who in turn went to state authorities, Erik Larson and Chris Dolmetsch report.
Around the Administration
Biden's Schedule:
At 2:30 p.m., White House Press Secretary Jen Psaki scheduled a briefing with reporters.
The U.S. Transportation Department is awarding some $450 million in grants for port-related projects to bolster capacity and improve the movement of goods as the U.S. economy continues to be affected by congested supply chains, senior Biden administration officials say. "We're proud to announce this funding to help ports improve their infrastructure — to get goods moving more efficiently and help keep costs under control for American families," U.S. Transportation Secretary Pete Buttigieg said in a statement. This is the largest ever investment in the Port Infrastructure Development Program, nearly double last year's investment, the officials said. Read more from Laura Curtis.
Immigrants' rights and humanitarian groups are promoting a laundry list of executive actions they want Biden to embrace ahead of his State of the Union address next week. The Immigration Hub, UndocuBlack Network, Save the Children, and other groups yesterday unveiled a 2022 blueprint for the White House and agencies charged with carrying out Biden's past pledges to make the U.S. immigration system more orderly and humane.
The administration spent its first year in office rolling back many, but not all, Trump-era immigration restrictions and starting the time-consuming work of crafting new rules. The ambitious immigration measures Democrats pursued in Congress last year have stalled, ratcheting up pressure for executive action. Read more from Ellen M. Gilmer.
U.S. availability of two fully approved Covid-19 shots sets the stage for normalizing vaccination post-pandemic and could beef up incentives for remaining holdouts, health policy professionals say. Moderna's Spikevax joins the ranks of Pfizer and BioNTech's Comirnaty as the second Covid-19 vaccine approved by the FDA and recommended by the CDC. Lingering vaccine hesitancy means the country won't see an immediate uptick in inoculation rates, but the government's latest action could still ease distribution challenges and encourage more employers to offer boosters. Read more from Ian Lopez.
To contact the reporters on this story: Michaela Ross in Washington at mross@bgov.com; Brandon Lee in Washington at blee@bgov.com
To contact the editors responsible for this story: Giuseppe Macri at gmacri@bgov.com; Loren Duggan at lduggan@bgov.com; Zachary Sherwood at zsherwood@bgov.com