What to Know in Washington: Lawmakers Await Redistricting Data
House members dread years ending in "2," when new congressional maps are implemented. It's time to start sweating again, as the line-drawing process begins now.
The Census Bureau's release today of in-depth population data means state legislatures and redistricting commissions can begin crafting new district lines to be used for the next decade. Many House members will have to run in unfamiliar terrain, putting them at risk of losing their seats in either the primary or the general election.
With Democrats protecting a five-seat House majority and Republicans in charge of redrawing more congressional maps, both parties are likely to be aggressive where they can against the opposition's incumbents. In most states, partisan legislators and governors control the line-drawing process, and their goal is to secure as many seats as possible for their party. Republicans have the final authority to redraw 187 districts compared with 75 for Democrats. Commissions and states with partisan splits draw the rest.
"Republicans just have more power to gerrymander right now, and I think they're going to use that power to the best of their abilities," said Kyle Kondik, managing editor of Sabato's Crystal Ball at the University of Virginia's Center for Politics. "And so if Democrats can find places to squeeze out extra seats, they're probably going to feel the pressure to do so." Greg Giroux and Alex Ebert offer a sampling of incumbents who probably will be targeted in redistricting.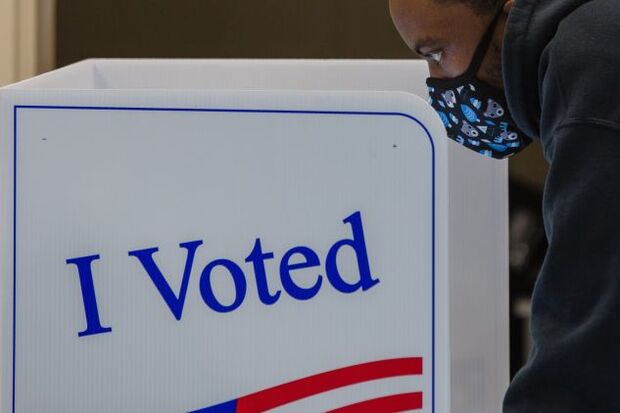 Happening on the Hill
Biden Economic Agenda Confronts Tripwires in Congress: The central pieces of President Joe Biden's $4.1 trillion economic agenda are now moving through Congress on a precarious two-track path that's further complicated by a September showdown over the debt ceiling. Funding for the government will expire and the Treasury will approach the limit of its borrowing authority just as congressional Democrats try to make the administration's massive infrastructure and social spending plans a reality. The convergence will test the limits of how well Speaker Nancy Pelosi (D-Calif.) and Senator Majority Leader Chuck Schumer (D-N.Y.) can manage their narrow — and often fractious — majorities and Biden's ability to bargain with dissenters. Billy House and Steven T. Dennis lay out what's ahead for a process that could last through year-end.
The $3.5 trillion budget framework the Senate narrowly passed sets the stage for a deluge of spending on electric vehicles, renewable power and clean energy initiatives meant to help beat back climate change and wean the U.S. off fossil fuels. The Democratic spending plan would impose a tariff on high-carbon imports and create a program compelling electric utilities to shift to zero-emission power sources. Read more from Jennifer A. Dlouhy and Ari Natter.
Booker Wants Criminal Justice Revamp Tied to Opioid Change: Sen. Cory Booker (D-N.J.) is planning to add criminal justice overhaul to Congress's agenda this fall by linking it to an extension of the government's power to ban fentanyl-like substances. Booker has been trying to slash mandatory minimum prison sentences for nonviolent drug-related crimes, and reduce harsher penalties for crack possession, among other changes. He's seeking to shift the U.S. response on overdoses toward promoting treatment for addiction, and away from jailing people with substance use disorders—placing himself in the middle of the broader congressional debate over how the U.S should respond to the persistent overdose crisis. Read more from Alex Ruoff.
Apple, Google App Store Dominance Targeted in Senate: Lawmakers introduced bipartisan legislation that would impose new rules on how Apple and Alphabet's Google run their app stores following complaints from software developers that the companies are abusing their dominance over the digital marketplaces. The bill proposed yesterday in the Senate takes aim at the tight grip Apple and Google have over the distribution of apps on mobile devices. The two have an effective duopoly in the mobile app market outside China and have come under increasing antitrust scrutiny by lawmakers and competition authorities around the world. Read more from David McLaughlin.
Maloney Weighs Next Step as Court Limits Access to Trump Records: House Oversight and Reform Chairwoman Carolyn Maloney (D-N.Y.) said her committee is considering next steps after a federal court ruled that only some of former President Donald Trump's financial records sought by her committee should be handed over, Se Young Lee reports. The district court opinion recognized that the Oversight Committee is entitled to a set of Trump's financial records as part of its investigation, Maloney said in a statement. "It is disappointing that the Court, despite finding that the entire subpoena served valid legislative purposes, narrowed the subpoena in some respects," she said.
Around the Administration
Today's Agenda: Biden is scheduled at 11:15 a.m. to deliver remarks from the White House on the effect of his economic agenda on drug prices. He's set to depart the White House for Delaware shortly after noon.
Yellen Weighs First Visit to China as Secretary: Janet Yellen is weighing a trip to China in the coming months that would be her first as U.S. Treasury secretary, people familiar with the matter said, as the Biden administration engages in a broad review of policy toward Beijing and the tariffs on imported goods enacted under Donald Trump. The Treasury's talks of a possible Yellen visit are in the early stages and no decision has been made, the people said. Saleha Mohsin and Jennifer Jacobs have more.
Biden Casts Himself as Cheap-Gas Champion: Biden cast himself as a champion of lower gasoline prices by urging foreign crude producers to boost output. His public remark yesterday built on a statement from National Security Adviser Jake Sullivan who said the U.S. wants OPEC+ to keep crude prices in check. National Economic Council Director Brian Deese also asked the Federal Trade Commission to tackle conduct that may contribute to higher gas prices for consumers. Nancy Cook and Jenny Leonard have more.
Biden has pledged to wean the U.S. off of fossil fuels, and never has that call been more urgent than now, with United Nations-backed scientists warning of a point of no return. And yet, the Biden administration yesterday called on Saudi Arabia and its allies to unleash more crude onto global markets, stressing the importance of "affordable energy." That doesn't mean the U.S. president has suddenly turned his back on clean energy, but he's facing the political reality that scores of voters won't put up with a steady rise in the cost of fuels. Read more from Kevin Crowley and Jennifer A. Dlouhy.
FDA Set to Clear Third Covid Shot for Immunocompromised Patients: U.S. drug regulators are set to clear a third dose of Covid vaccines for people with weak immune systems as a new study showed the benefits of an extra shot in transplant patients. A third dose of Moderna's vaccine significantly raised antibody levels against the coronavirus in transplant patients, according a comparison of an extra shot to a placebo in people with weak immune systems. The Food and Drug Administration is set to amend clearances as soon as today for vaccines from both Moderna and Pfizer to allow extra doses for people with compromised immune systems, according a person familiar with the matter who spoke on condition of anonymity. Read more from Robert Langreth and Josh Wingrove.
Texas Gov. Greg Abbott (R) escalated the fight over his ban on local face mask rules, vowing along with his attorney general yesterday to drag into court "any school district, public university or local government official that decides to defy" the governor. But even as the two said they would immediately ask a state appeals court to wade into the fight, resistance to their campaign against mandatory masks was spreading. Read more from Laurel Calkins.
K-12 Groups Alert Schools to $7 Billion Internet Aid Deadline: National education groups are scrambling to notify school districts about a Friday deadline to apply for money to close a digital divide that has impeded millions of students throughout the Covid-19 pandemic. Congress appropriated $7.17 billion for an Emergency Connectivity Fund in pandemic relief legislation — the largest tranche of federal funding to bridge the homework gap to date. K-12 schools can apply to receive funding for laptops, tablets, wi-fi hotspots, modems, and routers for students to connect to the internet to do school work at home. Read more from Andrew Kreighbaum and Rebecca Kern.
Biden Delivers on Trump's Afghan Exit: Donald Trump made the politically popular pledge to bring U.S. troops home from the nation's longest war. Now Biden is delivering on the promise — and reaping growing criticism over the grim results that are unfolding in Afghanistan. The U.S.-trained Afghan military is shrinking back as Taliban insurgents seize provincial capitals and reimpose their fundamentalist views. As they take towns and commandeer security checkpoints, waves of desperate people are fleeing their takeover. The situation is an especially difficult challenge for Biden, who has committed to champion human rights and democratic values. Read more from Peter Martin, Daniel Flatley and Jennifer Jacobs.
U.S. 'Troubled' by Poland's Legislation Targeting Media, Blinken Says: Secretary of State Antony Blinken said the U.S. is "deeply troubled" by legislation in Poland that targets an independent news station, Megan Howard reports. "This draft legislation threatens media freedom and could undermine Poland's strong investment climate," Blinken said in a statement. Blinken also said the U.S. is concerned about legislation restricting the process for Holocaust survivors and their families to obtain restitution for property wrongfully confiscated during Poland's communist era. Poland's ruling party pushed through a controversial media law yesterday that would force Discovery to sell control of the country's biggest independent broadcaster.
With assistance from Brandon Lee
To contact the reporter on this story: Zachary Sherwood in Washington at zsherwood@bgov.com
To contact the editors responsible for this story: Giuseppe Macri at gmacri@bgov.com; Loren Duggan at lduggan@bgov.com; Michaela Ross at mross@bgov.com