What to Know in Washington: Lawmaker Trading Curbed in New Bill
Senior House Democrats on Tuesday night released their proposal to restrict stock ownership and trading by members of Congress, the president and vice president, Supreme Court justices and other high-ranking government officials.
The bill, titled the "Combatting Financial Conflicts of Interest in Government Act," could be introduced on Wednesday, when the House is in session. But when, or if, the bill will head to the floor for a vote was unclear, as potential action this week become muddled earlier on Tuesday amid ongoing differences within the Democratic ranks.
A spokesperson for Majority Leader Steny Hoyer (D-Md.) said late Tuesday that more details would be released as they become available.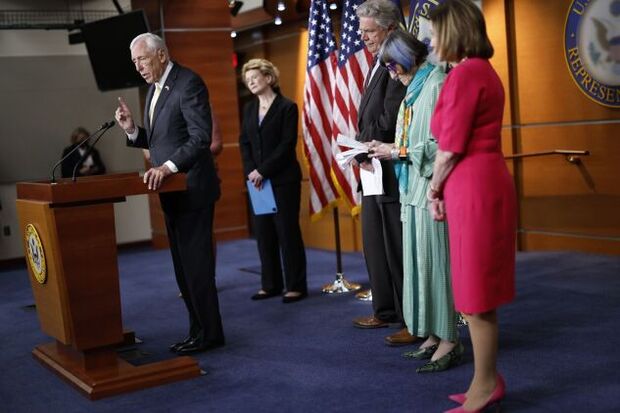 The bill would also apply to the spouses and dependent children of the listed officials, as indicated last week to lawmakers in an outline by House Administration Chair Zoe Lofgren (D-Calif.).
The bill's trade and ownership restrictions cover commodities, futures, cryptocurrency or other digital assets. Also covered are interests acquired through derivatives, including options.
The legislation would require public officials to divest current holdings or put them in a blind trust. It would also tighten disclosure requirements and increase penalties for violations.
The "supervising ethics office" for each government branch would be called on to issue regulations implementing the the bill's provisions within 180 days of the bill's enactment.
A group of senators is working on their own version of the legislation. Even if the House does act on its bill, there's little chance of Congress taking any final action before the midterm elections.
But differences have emerged within the House Democratic leadership over the measures, including over the size of fines and or other penalties for violations of any new laws. Whether those disagreements have been ironed out in this text was unclear late Tuesday night. Billy House has the latest on the bill.
Happening on the Hill
CONGRESS' SCHEDULE
The House returns at noon to consider 32 measures under suspension of the rules.
Senators meets at 10 a.m. to continue debating the legislative vehicle for a continuing resolution.
The Senate voted Tuesday to advance a stop-gap funding bill to keep the government running after Senator Joe Manchin dropped his bid to include a controversial energy permitting bill amid opposition from Republicans and some Democrats.
A US government funding bill was stripped of an effort to speed up the federal approval process for energy projects, dealing a major setback to efforts to fast-track the approval of energy infrastructure including a stalled $6.6 billion natural gas pipeline.
Government funding would be extended through Dec. 16 by the proposed Senate amendment to H.R. 6833, which also would provide more than $12 billion in funding for Ukraine, set streamlined environmental review processes for energy projects and reauthorize Food and Drug Administration user fee programs.
A Senate committee, with the blessing of Minority Leader Mitch McConnell, approved its revamp of an 1887 law that sets out congressional procedures for certifying presidential elections in the hopes of paving the way for a bicameral compromise by the end of the year.
Senate Republican leader Mitch McConnell threw his support Tuesday behind a bipartisan bill that would raise the bar for challenging presidential election results, boosting chances it will clear Congress this year.
A Senate panel advances three key agricultural nominees amid growing urgency to fill vacancies for agricultural trade positions.
The House committee investigating last year's attack on the US Capitol abruptly postponed a public hearing set for Wednesday as Hurricane Ian threatens to hit Tampa Bay and other areas of Florida's western coast.
Supporters of a landmark antitrust bill gathered over beer and soft pretzels at Cafe Berlin on Capitol Hill last week to muster energy for one last push to rein in the dominance of giant technology companies.
Join Bloomberg Law's Twitter Space today from 11-11:30 a.m. to listen to Bloomberg Tax's Angélica Serrano-Román discuss how various states determine whether federal student loan relief is considered taxable income plus the latest on an Indiana lawsuit challenging the Biden administration's student loan debt relief plan. To listen, follow @BLaw on Twitter. Open the Twitter app on your phone at 11 and click the Bloomberg Law logo at the top of your screen.
Elections & Politics
Join Bloomberg Government's webinar today for more on the 2022 midterm elections, with a focus on the House races key to controlling the chamber. Find out more and sign up here .
A Venezuelan businessman can proceed with a defamation suit against Fox Corp., Fox News Network LLC, and Lou Dobbs, based on reports that he was involved in a scheme to rig voting machines against former President Donald Trump during the 2020 election.
The US Supreme Court reconvenes on Wednesday to review cases that have piled up all summer, including challenges to a federal ban on bump stocks and MyPillow founder and Trump supporter Michael Lindell's attempt to get a defamation suit dropped.
Around the Administration
PRESIDENT'S SCHEDULE
Biden at 10 a.m. will give a speech at the Ronald Reagan Building for the White House Conference on Hunger, Nutrition, and Health.
At 11 a.m., the president is scheduled to deliver remarks at the White House to celebrate Disability Pride Month and the Americans with Disabilities Act.
At 7 p.m., Biden is slated to participate in a Democratic Governors Association reception in Washington, D.C.
At 12:30 p.m., White House Press Secretary Karine Jean-Pierre will give a briefing
Hurricane Ian, projected to be one of the costliest storms in US history, prompted mass evacuations, school shutdowns and thousands of flight cancellations across the third-largest state.
President Joe Biden spoke with Florida Governor Ron DeSantis to discuss federal help as Hurricane Ian bears down on his state, the White House said on Tuesday night.
Biden is seeking to mend ties with Pacific Island nations following years of neglect at a first-ever White House summit, as the US and its allies worry that the strategically important countries risk drifting into China's orbit.
Vice President Kamala Harris said the Biden administration intends to deepen America's unofficial ties with Taiwan, a fresh US warning to China that she delivered in a speech from the deck of a US warship in Japan.
Harris said Wednesday that Japan plays a "critical role" in building resilient supply chains for chips, as she sought to rally allies in Asia to build redundancies for strategic purposes. Harris hosted a roundtable and touted a new law aimed at boosting competitiveness with China that authorizes $52 billion for US semiconductor research and manufacturing.
Biden's administration says it has secured more than $8 billion in private and public sector commitments to help combat hunger ahead of a high-profile White House event to address the issue on Wednesday.
Biden hailed a drop in premiums for the elderly and disabled on Medicare and lashed out at Republicans for opposing measures he said would also ease the burden on American families.
The Federal Communications Commission is proposing to make the proliferation of illegal robotexts a thing of the past.
JetBlue Airways would have had to pay American Airlines $200 million last year under the original terms of a revenue-sharing agreement. The payment eventually was negotiated down to $20 million, according to JetBlue chief executive officer Robin Hayes.
White House National Economic Council Director Brian Deese said he doesn't plan to leave his post as the Biden administration prepares for what happens after the November elections in which Republicans could win one or both houses of Congress.
Biden's initiative boosting the minimum wage for federal contractors to $15 an hour will face its biggest legal test during oral argument at a federal appeals court in Denver.
To contact the reporter on this story: Giuseppe Macri in Washington at gmacri@bgov.com