What to Know in Washington: Last Court Pick Still Trails Collins
The bitter partisanship that took hold in the Senate under President Donald Trump has haunted Susan Collins, a Republican in the largely Democratic state of Maine who carefully crafted a record of crossing the aisle over 24 years in the chamber.
Nothing better illustrated the divide between Republicans and Democrats than the 2018 battle over Trump's nomination of Brett Kavanaugh to the Supreme Court. And Collins's vote for Kavanaugh gave Democrats the opening they'd sought for years to chip away at her carefully built bipartisan image.
The four-term veteran pivoted this month, voting against Trump's latest pick for the top court, Amy Coney Barrett. But that's alienated some of the president's fervent supporters in the state, whose backing she needs to win re-election.
The Barrett case "brings the Supreme Court issue back center-focus right now, when she doesn't need it to be," Jessica Taylor, Senate editor of the nonpartisan Cook Political Report, said. "You have conservatives that are again upset that she's bucking the Republican Party, and you have centrists and Democrats that she may have gotten that still don't trust her."
Collins was already on the back foot before the Barrett vote. Her support for Kavanaugh, who faced allegations of sexual assault, sparked a national fundraising campaign to oust her. And her odds lengthened when Sara Gideon, an exceptionally well-funded and well-known Democrat who's the speaker of the state House, won her party's primary.
The downfall of the sole New England Republican senator could help Democrats retake the majority in the chamber after six years of GOP control. Polling shows other strong pick-up possibilities including Arizona, North Carolina, Colorado and Iowa, while Democrats are likely to lose a seat in Alabama. Read more from Greg Giroux.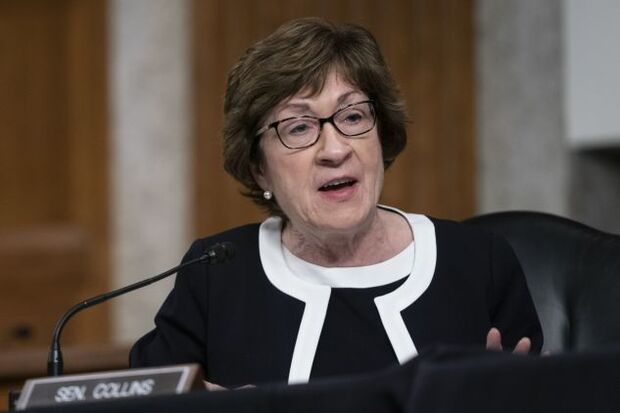 BGOV's Races to Watch—Election Webinar: Join Bloomberg Government today at 1 p.m. for an election webinar on Nov. 3's biggest House and Senate contests to watch. Bloomberg Government reporters Greg Giroux and Emily Wilkins will discuss the current state of Congress, the changing landscape in Washington, and more. Register here.
In addition, join Giroux tomorrow on Reddit for an AMA on the congressional elections, where he'll take questions on the races to watch. Follow his AMA here at 2 p.m. tomorrow.
Politics & Policy
Election Will Decide Fate of Alaska Gold Mine: Oil drilling in the Arctic and the Pebble gold mine in Alaska aren't actually on the ballot — but they might as well be. The controversial projects are hanging in the balance of the presidential election, with Joe Biden's vow to scuttle them. And dozens of other oil, gas and mining ventures planned across the U.S. face heightened risk of rejection or longer permitting times as the Democratic nominee focuses on promoting cleaner alternatives. The threat extends even to some projects that already have federal permits. Lawsuits challenging government approvals create an opening for settlement agreements that result in more analysis and possibly canceled authorizations, said Height Securities analyst Josh Price.
Conversely, Trump's re-election would pose uncertainty affecting some renewable energy developers that would fare better under Biden, including companies seeking to build multibillion-dollar wind farms off the U.S. coasts. Read more from Jennifer A. Dlouhy.
What the Election Means for Finances: Two candidates with starkly different visions for the country's future. A pandemic that's not yet under control. And an economy still reeling as millions of people remain unemployed. There is a lot riding on the results of the U.S. elections on Nov. 3. Whether Trump or Biden triumphs could shape the way millions of Americans save, spend and manage their finances for years. Misyrlena Egkolfopoulou explores the ways the candidates and their respective parties could affect personal finance.
Colorado to Vote on Higher Wages and Paid Leave: Colorado's voters will decide Nov. 3 whether they want the state to set up a paid family leave program, with the cost shared by companies and employees. Workforce law also could be jolted in Florida, where a $15-per-hour minimum wage is on the ballot, and in California, where the election will decide whether rideshare and food delivery drivers will be exempted from a 2019 law requiring them to be classified as employees. Supporters of the Colorado ballot measure, Proposition 118, are making the argument that a paid leave guarantee would help the state's economy in the long run and generate health and financial positives for workers. Read more from Tripp Baltz, Chris Marr and Tiffany Stecker.
Elections & Campaigns
GOP Rejected Twice by Supreme Court in Ballot-Deadline Clashes: The U.S. Supreme Court dealt Republicans two blows on the deadlines for mail ballots to arrive in states that could decide the presidential election, leaving intact a six-day extension in North Carolina while refusing to schedule fast-track review of a GOP appeal involving Pennsylvania. The court gave no explanation in allowing the extra time in North Carolina over three dissents. Justice Amy Coney Barrett, who was sworn in at the court on Tuesday, didn't take part in either case. Greg Stohr has more.
Georgia Races Move to 'Toss-Up': The two U.S. Senate races in Georgia have been moved to "Toss-Up" from "Leans Republican" by Sabato's Crystal Ball analyst Kyle Kondik. The three-way special elections between Sen. Kelly Loeffler (R-Ga.), Rep. Doug Collins (R-Ga.), and Democrat Raphael Warnock is "virtually guaranteed" to go to a runoff, Kondik wrote this morning. The race between Sen. David Perdue (R-Ga.) and Democrat Jon Ossoff could also go to a runoff if neither gets over 50%, Kondik says.
Democrats Dream of Flipping Texas: A dramatic surge in early voting across Texas cities is infusing fresh hope in Democrats' dream of shaking Republicans' once-solid grip on the state. From Austin to Houston, and in their sprawling suburbs, voter turnout is shattering records in Texas, which hasn't gone for a Democratic presidential candidate since 1976. Polls show Biden within striking distance of Trump, and the Cook Political Report yesterday moved Texas to a "toss up" from "leans Republican." Biden's running mate, Sen. Kamala Harris (D-Calif.), will visit Houston, Fort Worth and McAllen this week.
More than 8 million Texans had cast ballots by Tuesday, representing about 90% of the entire vote in 2016. Rapidly growing and increasingly diverse suburbs are the sites of some of the biggest upticks in early voting, and Democrats point to a surge in female voters as cause for optimism. Unmarried women make up a third of the Texans voting in this election who didn't cast a ballot in 2016, according to the party's state headquarters. Read more from Rachel Adams-Heard.
Trump Announces Endorsements in Nevada: Trump called a news conference in Las Vegas yesterday to announce endorsements in a swing state where the latest poll shows him trailing Biden. Speakers at the event included representatives of Nevada truckers, contractors, retailers and entrepreneurs—all of whom provided their groups' endorsements and lavished praise on the president. A New York Times/Siena College poll released Tuesday showed Biden ahead of Trump by 6 percentage points in Nevada. Read more from Josh Wingrove.
Trump Peeling Indian-Americans From Democrats: Although they represent only slightly more than 1% of the U.S. population, Indian-Americans are the second-largest immigrant community and one of the fastest-growing racial or ethnic groups in the nation. Not long ago this group could be assumed to be reliably Democratic: In 2008, 93% of Indian-Americans cast ballots for Barack Obama, on par with the voting pattern of Black Americans, according to the National Asian American Survey. Eight years later, Trump performed better with the community, and recent data suggest a further tilt to the right in 2020. Read more from Karishma Mehrotra.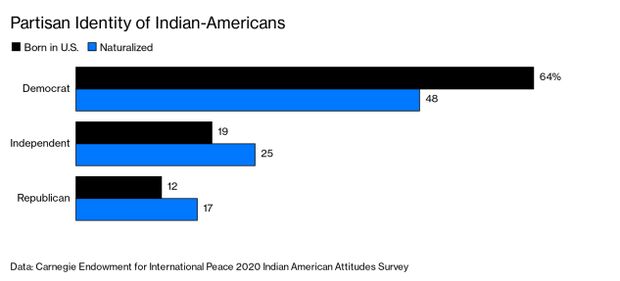 The Cleanest Election: With the Covid-19 pandemic at near record levels in the swing state, the Wisconsin Election Commission is among scores of agencies across the U.S. summoning public hygiene skills days before the 2020 election. Experts on voting machines and arcane election rules have become sanitation squads, and on Tuesday they'll see whether the supplies they stockpiled were enough. "We literally had to start from scratch," said Reid Magney, a spokesman for the commission. "How do you source enough hand sanitizer for hundreds of thousands of people to use and get distributed all across the state?" Read more from Gerald Porter Jr.
TikTok to Cap Premature 2020 Win Claims: TikTok said it will partner with fact checkers to reduce discoverability of content that prematurely claims victory in a race before results are confirmed by The Associated Press. If claims can't be verified or fact-checking is inconclusive, TikTok will limit distribution of the content. TikTok will also add a banner pointing viewers to its election guide on content with unverifiable claims about voting, Kyung Bok Cho reports.
DNC Technology Chief Girds for Disinformation: With the presidential vote less than a week away, the country is facing an array of digital threats to the election. Last week, U.S. officials warned that Moscow has been targeting government agencies and Tehran sent threatening emails to Democratic voters. Meanwhile, Twitter and Facebook have steadily been removing more inauthentic accounts, and domestic disinformation has proliferated. Read more from Alyza Sebenius.
Florida Supreme Court Won't Block Open Primaries Count: The Florida Supreme Court says it won't block state election officials from counting or certifying ballots cast Nov. 3 for a constitutional amendment to change how Florida runs primaries for state-level offices. A last-minute petition seeking to derail the amendment argued it would create disadvantages for Black voters and candidates. Read more from Jennifer Kay.
The Coronavirus Pandemic
Virus Threat Overshadows Election in Market Selloff: The U.S. presidential election has kept markets on edge for months, but with just days to go until the vote, it was the year's other dominating story that reclaimed its hold on investor sentiment. A surge in coronavirus cases and the attendant concern that economic growth will slump drove the S&P 500 to its worst day since June. Investors dumped shares of companies that need a robust recovery. "Covid-19 is the most-important macro story," said Tom Lee, co-founder and head of research at Fundstrat Global Advisors, and in some aspects is "more important than the Fed." Read more from Vildana Hajric and Sarah Ponczek.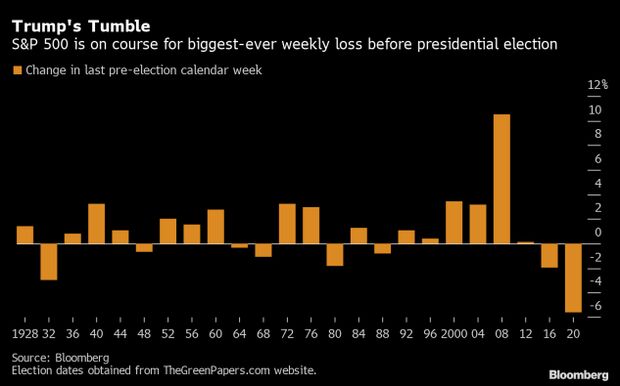 The S&P 500 Index is on course for its biggest-ever loss in the week before a U.S. presidential election after dropping 5.6% through yesterday, David Wilson reports.
SBA May Have Misspent Billions, Watchdog Says: Meanwhile, a Small Business Administration program meant to help struggling entrepreneurs amid the coronavirus pandemic may have sent billions of dollars to scammers or ineligible applicants, the agency's inspector general said. In a report released yesterday, Inspector General Hannibal "Mike" Ware portrayed the agency's $212 billion Economic Injury Disaster Loan program as chaotic and vulnerable to fraud. He disclosed that $450 million in doubtful payments have already been seized by law enforcement and identified tens of billions more that he said required further investigation. Read more from Zachary R. Mider.
Vaccine Won't Be Available Until January, Fauci Says: A vaccine to help control the coronavirus outbreak isn't likely to be available in the U.S. until January, if then, according to Anthony Fauci, the nation's top infectious-disease doctor. The trials are designed to run until a predetermined number of people who are enrolled get sick. The studies currently underway are unlikely to hit those benchmarks until sometime in December, Fauci said in an online interview with Howard Bauchner, the editor-in-chief of the Journal of the American Medical Association. Read more from Michelle Fay Cortez.
Covid Vaccine Won't Cost Medicare Patients: Medicare and Medicaid beneficiaries will pay no out-of-pocket costs for Covid-19 vaccines under a plan announced yesterday by the Trump administration. An interim final rule from the Centers for Medicare & Medicaid Services allows both programs to cover the full cost of the vaccines—even those that receive emergency use authorization by the Food and Drug Administration. Read more from Tony Pugh.
What Else to Know Today
FBI, DHS Warn Hospitals of 'Credible Threat' from Hackers: The FBI, the Department of Health and Human Services and DHS' Cybersecurity and Infrastructure Security Agency said hackers were targeting the health-care provider sector for possible financial gain, "often leading to ransomware attacks, data theft and the disruption of health-care services," according to an advisory. The cybersecurity company FireEye said multiple U.S hospitals have been hit by a "coordinated" ransomware attack.
"We are experiencing the most significant cybersecurity threat we've ever seen in the United States," Charles Carmakal, FireEye's strategic services chief technology officer, said. The attack was carried out by an Eastern European financially motivated cybercrime group dubbed UNC1878 by computer security researchers, he said. Read more from William Turton, Kartikay Mehrotra and John Tozzi.
Effort to Speed Trump Space Force Stalls: The Space Force plan to streamline acquisitions for the new military service and scale back oversight of it stalled at the White House five months after a draft was sent to Congress, senior officials said. Space Force put "great efforts" into the set of proposals allowing lower-level officials to make contract decisions and reducing notification requirements to Congress, according to Air Force Secretary Barbara Barrett. Read more from Travis J. Tritten.
Separately, Space Force General David D. Thompson, vice chief of space operations, tested positive for Covid-19 yesterday after learning a close family member had been infected, according to an Air Force spokeswoman. He is in self-quarantine and working remotely from home, the spokeswoman said in a statement.
'Transparency' Touted for Big Tech Fix: At a Senate Commerce Committee hearing yesterday, Facebook CEO Mark Zuckerberg and Twitter CEO Jack Dorsey were quick to offer up "transparency" as a solution to issues flagged by both parties around a legal liability shield for the internet known as Section 230. The CEOs suggested that if people better understood why companies make certain decisions, that would eliminate the perception that they are acting for political reasons. Transparency is a key feature of some proposals, including the bipartisan PACT Act from Sen. Brian Schatz (D-Hawaii) and Majority Whip John Thune (R-S.D.). Read more from Kurt Wagner and Ben Brody.
Pelosi Letter to Mnuchin Lists Unsolved Stimulus Areas: Speaker Nancy Pelosi (D-Calif.) in a letter to Treasury Secretary Steven Mnuchin said she's still awaiting the Trump administration's promised responses on multiple items. Pelosi says still hasn't received a final answer on new compromise language regarding a strategy for testing, tracing and treatment of the coronavirus. She also seeks an answer on language on vaccines, the provider fund and Affordable Care Act coverage for unemployed workers. Other areas awaiting responses include state and local aid, child care, earned income tax credit and child tax credit, unemployment insurance, school funding and OSHA liability matters, Pelosi said, Sarah Jacob reports.
Cruise Lines Lobby to End No-Sail Order: The world's biggest cruise lines have roughly doubled the number of lobbyists they're dispatching to congressional offices and several federal agencies this year. But as they try to resume sailing from U.S. ports, one of their most effective targets has been the White House. A former adviser to the White House Coronavirus Task Force says she and other advisers fielded a stream of calls and emails from cruise line officials, including Carnival's in-house lobbyist. Their message: Help lift a "no-sail" order from the Centers for Disease Control and Prevention that has banned passenger cruises from U.S. ports since March. Read more from Michael Smith.
Pompeo Blasts 'Atheist' China for Muslim Abuse: Secretary of State Michael Pompeo condemned China's persecution of Muslim Uighurs and other religious minorities as he visited Indonesia, the world's most populous Islamic nation. Pompeo urged Indonesia's religious leaders and fellow Muslims to speak out against human rights abuses committed by China in a speech today to Indonesia's largest Islamic organization, the Nahdlatul Ulama. Read more from Iain Marlow.
Zeta Leaves 2 Million in the Dark: Tropical Storm Zeta is spinning across Alabama after walloping New Orleans, blacking out tens of thousands of homes and businesses and prompting Trump to declare an emergency for Mississippi. Zeta made landfall near Cocodrie, Louisiana, with winds of 110 miles per hour, before weakening to 60 mph, according to a National Hurricane Center advisory. It's the fifth hurricane or tropical storm to hit the state this year. There's never been so many major storms hitting Louisiana or the contiguous U.S. in a single season, said Phil Klotzbach, a hurricane researcher with Colorado State University. Read more from Brian Sullivan.
To contact the reporters on this story: Zachary Sherwood in Washington at zsherwood@bgov.com; Brandon Lee in Washington at blee@bgov.com
To contact the editors responsible for this story: Giuseppe Macri at gmacri@bgov.com; Loren Duggan at lduggan@bgov.com; Michaela Ross at mross@bgov.com