What to Know in Washington: Last Chance to Salvage Stimulus Deal
Bloomberg Government subscribers get the stories like this first. Act now and gain unlimited access to everything you need to know. Learn more.
Treasury Secretary Steven Mnuchin opened this month by saying despite the stalemate over Covid-19 relief funding, the Trump administration and Congress could agree on one thing: a stimulus package was needed.
That hasn't produced serious negotiations, however, and prospects for a relief bill before the November election are dwindling fast.
Speaker Nancy Pelosi (D-Calif.) welcomes the House back today, but that's unlikely to give fresh impetus to the discussions. Republicans and Democrats both are testing a risky strategy that the public — and voters — will blame the other side for failing to deliver help to millions of households and companies.
Among the unlikely events that could now break the deadlock: President Donald Trump changing tack amid alarm about poll numbers, a sudden reversal of economic indicators that have recently trended upward, and Pelosi or Senate Majority Leader Mitch McConnell (R-Ky.) facing a revolt by their own vulnerable, moderate members.
A combination of revived deficit concerns among some Republicans and a bet by progressive Democrats that the president would be forced to go along with the largest stimulus yet proposed — beyond the $2 trillion enacted in March — crippled negotiations, which broke off Aug. 7.
Pressure on McConnell eased after he gave his moderates an opportunity on Thursday to record a vote in favor of a Republican stimulus bill. While at about $500 billion it was short of the $1 trillion the party had previously proposed, it did offer supplemental unemployment insurance payments and an extension of help to small businesses trying to minimize layoffs. It was blocked by Democrats.
"I wish I could tell you we're going to get another package," McConnell said during a visit to a Kentucky hospital on Friday. "But it doesn't look that good right now."
Pelosi, for her part, is buttressed by polls showing her House majority is safe in November. A record of winning concessions from the White House in previous high-stakes contests, including a 2019 fight over the debt ceiling and a government shutdown last year over funding Trump's border wall with Mexico, lies behind her public confidence that she may prove victorious again.
"I'm optimistic. I do think we should have an agreement. That's what we all want," Pelosi said Friday on CNN. Read more from Erik Wasson and Billy House.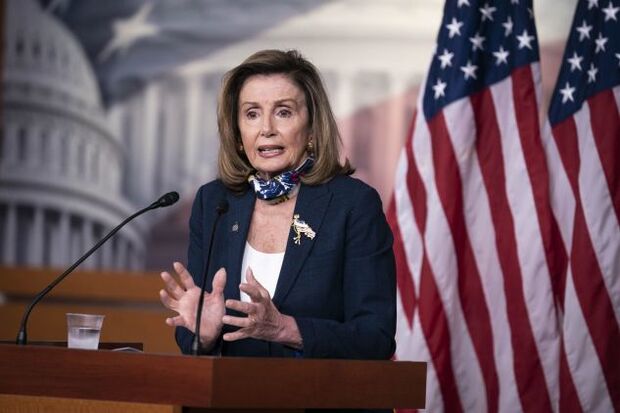 Fall Congressional Agenda: Catch up on Congress's full agenda with Bloomberg Government's 2020 Fall Hill Watch, which covers the many issues that lawmakers have to tackle before the election. Read the report here.
Trump vs. Biden on the Economy: America's presidential election, however is entering its closing stretch with the economy still stuck in a pandemic slump, and the candidates locked in a tight battle over the best way to pull it out.
The economy looked like a winner for Trump through most of his first term, with strong growth and unemployment declining. During the first months of the coronavirus recession, he maintained a polling lead on the issue. But lately there are signs that Democratic challenger Joe Biden is catching up.
Some of the policy gaps between the candidates are age-old: The Republican says he'll cut taxes and red tape, while the Democrat promises to spend more. Others reflect contrasting approaches to new challenges like climate change and competition with China. And on a handful of issues, they broadly agree. There's also been a big difference in presentation, with a slew of detailed policy proposals emerging from the Biden campaign, while Trump prefers to list promises in terse bullet-points.
Whoever wins has a better-than-usual chance of actually implementing their proposals, because the pandemic has blown away old budget restraints, according to Mark Zandi, chief economist at Moody's Analytics. "There's a real good chance that a lot of them may become law." Read more from Reade Pickert and Justin Sink.
Sen. Bernie Sanders (I-Vt.) said Biden needs to talk more about his plans to revive the U.S. economy, including a higher minimum wage, to earn Americans' votes. Sanders also suggested the Biden campaign reach out "more aggressively to grassroots Latino organizations" as some surveys show Biden underperforming with Hispanic voters compared with previous Democrats. Read more from Anna Edney.
Elections & Politics
Nevada Governor Says Trump Rally Risks Lives: Trump held his first indoor rally in nearly three months in defiance of Nevada regulations barring large gatherings, prompting Gov. Steve Sisolak (D) to accuse the president of endangering lives with "reckless and selfish actions." The president's campaign scheduled yesterday's event at Xtreme Manufacturing's warehouse in Henderson, Nevada, after the airport authority in nearby Las Vegas rejected plans to use an outdoor hangar because it violated state regulations prohibiting gatherings of more than 50 people. Read more from Justin Sink.
Trump yesterday claimed he's "delivered for Hispanic Americans more than any other president" at an event with Latino supporters in Nevada. The president praised Latino Americans, saying they have strong business acumen. Read more from Justin Sink.
Biden's allies in Nevada are worried economic woes brought on by the coronavirus could cost him the state. Record unemployment from the crash of Nevada's hospitality industry and safety restrictions that shuttered the casinos for months have thrown formidable get-out-the-vote operations by Democratic groups into turmoil, organizers said. Read more from Justin Sink and Tyler Pager.
Biden Holds Lead in Quartet of Key States: Biden holds a lead over Trump in four major battleground states though the race is tightening in some places as the economy improves, a new survey by The New York Times and Siena College shows. Biden has the support of 48% of likely voters to Trump's 43% in Wisconsin; 46% support to 42% for Trump in Nevada; 45% to Trump's 42%. in New Hampshire; and 50% to Trump's 41% in Minnesota. Yueqi Yang has more.
In Arizona, Biden leads Trump by 3 points among likely voters, according to a separate CBS News poll released yesterday. Some of the support Biden's picking up reflects a dour mood about the state of the nation. CBS said just 18% of voters in Arizona feel "confident" about the U.S., while three times more feel "uneasy." Read more from Ros Krasny.
Trump's campaign is facing a cash crunch and scaling back its television advertising spending and in some cases abandoning it altogether for now in key states. With 50 days until the election, the campaign is canceling ads in states he'll need to win. In those crucial states, Trump lags Democratic nominee Joe Biden in polling, and Biden has more money to spend. Between Aug. 10 and Sept. 7, Biden spent $97.7 million on broadcast and cable ads, while Trump spent $21.6 million, according to ad-tracking firm Advertising Analytics. Read more from Misyrlena Egkolfopoulou, Bill Allison and Gregory Korte.
Bloomberg to Spend $100 Million for Biden: Former New York Mayor Michael Bloomberg said he plans to spend $100 million in Florida to help Joe Biden beat Trump in the crucial battleground, which would let Democrats divert money to Pennsylvania and other must-win states. The cash will be spent on voter turnout efforts, and communicating with Latino voters will be a key part of the strategy, a spokesperson for the former presidential candidate said. Mark Niquette has more. Bloomberg is the majority owner of Bloomberg Government's parent company.
Georgia Let 1,000 People Vote Twice: A double-voting scandal in Georgia has flared up less than a week after Trump advised Americans to try to vote twice, which is illegal. Georgia Secretary of State Brad Raffensperger announced on Sept. 8 that 1,000 Georgians cast double ballots in the primary. Sixty percent of them were Democrats, he said. These facts quickly—and erroneously—gave oxygen to claims that mail-in voting invites Democratic election fraud, including from Fox News's Sean Hannity. On Sept. 12, Twitter put a warning label on a Trump tweet that encouraged North Carolina voters to vote by mail but then to go to the polls and vote again if they thought their first ballot hadn't been counted.
But mail-in voting isn't the culprit in Georgia's double-voting fiasco (which did not change the outcome of any race, Raffensperger said). To blame were an overwhelmed, understaffed state election system and sign-in voting computers that failed to detect who had already voted. Read more from Kartikay Mehrotra and Margaret Newkirk.
Related:
The Coronavirus Pandemic
Trump Aides Said to Meddle With CDC Reports: U.S. health department spokesman Michael Caputo and other aides asked to read and suggest changes to weekly Covid-19 reports by the Centers for Disease Control, Politico reports. Health and Human Services Department communications aides complained to CDC Director Robert Redfield that the reports would undermine Trump's upbeat messaging about the pandemic, according to the report, which cited emails and people familiar with the matter who weren't identified. Read more from Melissa Cheok and Anna Edney.
Oxford, AstraZeneca Resume U.K. Clinical Trial: The University of Oxford and AstraZeneca have restarted a U.K. trial of their experimental Covid vaccine after it was halted over concerns about a participant who got sick. The U.K. Medicines Health Regulatory Authority recommended that the study resume after a review of the safety data triggered a pause on Sept. 6, Oxford said in a statement. Read more from Stephanie Baker.
Pfizer CEO Albert Bourla said it's "likely" the U.S. will deploy a Covid-19 vaccine to the public before year's end and the company is ready for such a scenario, pushing back against more tepid expectations shared by public health officials. Riley Griffin and Anna Edney have more.
Defense & Foreign Affairs
China Focus Distracts From Russia Election Meddling: U.S. intelligence and national security agencies face a new obstacle in protecting this year's election: an effort by Trump and some of his top appointees to downplay the threat posed by Russia while inflating the danger from China, according to officials. Top political appointees — including Director of National Intelligence John Ratcliffe, National Security Adviser Robert O'Brien, Secretary of State Michael Pompeo and Attorney General William Barr — have suggested in recent weeks that China is the bigger election threat even though intelligence assessments don't confirm that assertion. Read more from Chris Strohm and Alyza Sebenius.
Trump is playing into Russia's hands by claiming that his political adversaries are trying to rig the U.S. election, a former senior intelligence official says. Sue Gordon, who left the No. 2 post in the Office of the Director of National Intelligence a year ago, said that the country's election infrastructure is "as well protected as it's ever been." She suggested that misinformation circulating on social media is at least as much of a challenge heading toward November. Read more from Tony Czuczka.
Nora Dannehy, an aide to U.S. Attorney John Durham, has resigned from the Justice Department, according to Tom Carson, a spokesman for Durham. Dannehy resigned partly over concerns that Durham's probe into the FBI's Russia investigation was carried out due to political pressure from Attorney General

William Barr

, The Hartford Courant reported earlier, Chris Strohm reports.
China Envoy to Leave Beijing for Campaign Trail: The top U.S. diplomat in China, Terry Branstad, is retiring, the American Embassy confirmed today, after Trump touted the former Iowa governor's expected campaign help in a key swing state. The embassy's statement resolved hours of uncertainty about Branstad's status after Pompeo thanked the envoy for his service in a series of tweets, without explicitly whether saying whether he was resigning. Branstad was planning to depart Beijing early next month and return to Iowa, the embassy said. Read more.
The U.S. is "concerned" about 12 Hong Kong pro-democratic activists held in mainland China who have been denied access to attorneys of their choice, according to Pompeo. The activists were arrested two weeks ago off the coast of Hong Kong by Guangdong Maritime Police. Local authorities have not provided information on their welfare or charges against them, Pompeo said in a statement last week. Read more from Shirley Zhao.
A bipartisan group of lawmakers asked Walt Disney CEO Bob Chapek to explain the company's contacts with "security and propaganda authorities" in Xinjiang during production of the live-action version of "Mulan." John Harney and Christopher Palmeri have more.
Oracle Beats Microsoft in Deal for TikTok: Oracle edged out rival Microsoft in negotiations for the U.S. operations of TikTok, people familiar with the talks said, as the Chinese-owned music-video app attempts to avoid getting shut down in a clash between the world's two superpowers. A deal between TikTok owner ByteDance and Oracle will look more like a corporate restructuring than the outright sale Microsoft had proposed, though it is likely to include a stake in a newly configured American business, said one of the people. Read more from Shelly Banjo, Dina Bass and Saleha Mohsin.
Afghanistan Peace Talks Begin: Afghanistan's government and Taliban leaders began historic peace talks this weekend in a bid to end two decades of war, in a meeting that was fraught with tension over what the insurgent group intends to demand in return for laying down its arms. Meeting in a hotel conference room in Qatar, both sides vowed to negotiate in good faith even as questions remain about just how long those talks will last and whether the Taliban will halt attacks that continue to kill dozens of people every day. Eltaf Najafizada, Simone Foxman and Nick Wadhams have more.
Pompeo, Treasury Secretary

Steven Mnuchin

, and Commerce Secretary

Wilbur Ross

plan to meet today with the deputy prime minister and finance minister of Qatar in Washington. The meeting will launch the third U.S.-Qatar Strategic Dialogue, Caitlin Webber reports.
Iran Denies U.S. Envoy Is Target: Iran denied a report that it's plotting to assassinate the U.S. ambassador to South Africa, and the government in Pretoria said it's unaware of any such threat. Politico reported on Sunday that Iran is considering an attempt to assassinate U.S. Ambassador Lana Marks to avenge the U.S.'s killing of top Iranian General Qassem Soleimani earlier this year. Read more from Paul Vecchiatto.
U.S. Said Won't Back Israeli Annexation Before 2024: Trump's administration promised the United Arab Emirates that the U.S. wouldn't recognize an Israeli annexation of parts of the West Bank until January 2024 at the earliest, the Times of Israel reported, citing unidentified people with knowledge of the matter. Read more from Alisa Odenheimer.
Trump's Pick Will Lead Latin Bank: Trump's candidate Mauricio Claver-Carone won Saturday's election to lead the Inter-American Development Bank, placing an American at the head of the important lender as he looks to counter China's influence in the hemisphere. Claver-Carone, Trump's senior director for Western Hemisphere Affairs at the National Security Council, won the election during an electronic meeting with votes from at least 15 of the 28 regional members, the IADB said. Read more from Eric Martin and Oscar Medina.
What Else to Know Today
Trump Signs Drug Pricing Order: Trump started a process that could cut some drug costs by tying prices to those paid by countries with national health systems, a move drugmakers said will stifle innovation. The order yesterday came after an earlier attempt to force pharmaceutical companies to make reductions didn't yield results. Read more from Riley Griffin and Josh Wingrove.
Garcetti Hits Trump Wildfire Response: Los Angeles Mayor Eric Garcetti, a top surrogate of Biden, criticized Trump for not providing enough assistance to fire-ravaged California ahead of the president's planned visit to the state today. The president blamed California's devastating fires on a lack of "forest management" at a rally in Nevada, on Saturday. He's scheduled a visit to California, which with Oregon and Washington has struggled for weeks to contain the fires amid record-setting temperatures and gusty winds. Read more from Kristine Owram.
The Federal Emergency Management Agency has enough disaster funding for the last month of the fiscal year, despite a daunting outlook for the Disaster Relief Fund, FEMA said in a report last week, Jack Fitzpatrick reports. Some lawmakers have called for a disaster aid supplemental spending bill due to Hurricane Laura's impact on Louisiana and Texas, and that need may be exacerbated by wildfires in the West. The Trump administration is also using the Disaster Relief Fund to help pay for additional unemployment insurance benefits due to the coronavirus.
Trump Vows to Unleash Ethanol Sales: Trump promised to let higher-ethanol gasoline be distributed using existing filling station pumps, a move designed to boost his support among corn farmers and biofuel producers in Iowa and other Midwestern swing states. Trump announced the decision on Saturday after he spoke with Sen. Joni Ernst (R-Iowa). Read more from Jennifer Dlouhy.
School-Choice Groups Hurt by SALT Rules Crackdown: School choice groups at the center of the Trump administration's signature K-12 education policy say recent federal tax rules are hurting their fundraising, leading some to freeze or cut down on scholarships offered this year. The dip in donations comes as the coronavirus pandemic and resulting job losses already hurt scholarship programs, the groups said. The IRS rules were part of the agency's crackdown on workarounds of the $10,000 limit on state and local tax deductions, a provision in the 2017 tax law. Read more from Andrew Kreighbaum and Sam McQuillan.
Google Antitrust Case Poised to Expand: About a dozen states, mostly led by Republicans, are expected to join the Justice Department's upcoming antitrust lawsuit against Google, people familiar with the investigation said. Nearly every state attorney general is investigating the company in a parallel probe focused Google's advertising business and led by Texas's attorney general, Ken Paxton. Read more from Ben Brody, David McLaughlin and Naomi Nix.
House Homeland Chair Subpoenaed DHS's Wolf: House Homeland Security Chairman Bennie Thompson (D-Miss.) said Friday he issued a subpoena to Department of Homeland Security acting Secretary Chad Wolf for an annual hearing on global threats facing the homeland scheduled for Thursday. The panel attempted to hear from Wolf since June on the topic, according to a statement.
In response, Wolf said Friday he agreed to testify before the panel on two separate occasions last month, but now that he's been nominated to be permanent DHS chief he needs to wait until the Senate confirmation process is completed, Kim Chipman reports.
Boeing Execs Told Panel Unaware of 737 Issues: Two top Boeing executives overseeing the design of Boeing's 737 Max told congressional investigators they weren't aware of key design decisions later identified as flaws in two fatal crashes. Keith Leverkuhn and Michael Teal, both of whom were vice presidents overseeing engineering work on the development of the 737 Max, told the House Transportation and Infrastructure Committee that lower-level employees made the design decisions on the now-grounded jetliner. Alan Levin has more.
Trump Asks Court to Allow Subpoena Challenge: Lawyers for Trump told an appeals court that a lower-court judge was wrong when he threw out Trump's latest challenge to a subpoena by the Manhattan District Attorney for his tax filings and other financial documents. Read more from Bob Van Voris.
With assistance from Jack Fitzpatrick
To contact the reporters on this story: Zachary Sherwood in Washington at zsherwood@bgov.com; Brandon Lee in Washington at blee@bgov.com
To contact the editors responsible for this story: Giuseppe Macri at gmacri@bgov.com; Loren Duggan at lduggan@bgov.com; Michaela Ross at mross@bgov.com
Stay informed with more news like this – from the largest team of reporters on Capitol Hill – subscribe to Bloomberg Government today. Learn more.