What to Know in Washington: Kyrsten Sinema Declares Independence
Bloomberg Government subscribers get the stories like this first. Act now and gain unlimited access to everything you need to know. Learn more.
Arizona Senator Kyrsten Sinema Friday registered as an independent, roiling the Democrats' plans for a clean 51-seat majority in the chamber.
Sinema, who has been known as a swing vote on key issues, suggested she would maintain her centrist voting record.
"Becoming an independent won't change my work in the Senate; my service to Arizona remains the same," she wrote in an op-ed in the Arizona Republic.
Her move won't by itself affect the overall control of the Senate next year, but it could complicate the party's agenda. In an interview with Politico also published Friday, Sinema said she didn't intend to caucus with the Republicans.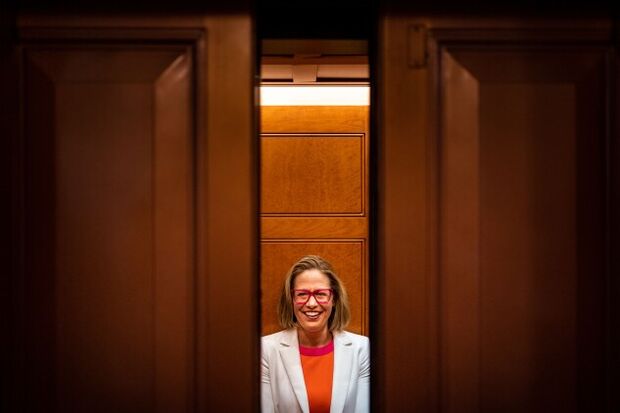 "I don't anticipate that anything will change about the Senate structure," Sinema said, adding that some of the exact mechanics of how her switch affects the Senate is a question for Majority Leader Chuck Schumer. "I intend to show up to work, do the same work that I always do. I just intend to show up to work as an independent," she added.
With Georgia Senator Raphael Warnock's reelection on Tuesday, Democrats secured a 51-seat majority in the Senate. That would allow them stronger control of committees and Senate activity than the 50-50 balance of the last two years, which Democrats controlled only through tie-breaking voted by Vice President Kamala Harris.
The move complicates the balance of power between Democrats and Republicans in the 118th Congress ahead of 2024, when Sinema would face re-election if she runs. "Partisan control is a question for the partisans," she told Politico. "And not really one for me." Read more from Magan Crane.
Happening on the Hill
CONGRESS' SCHEDULE
The House and Senate return Monday.
The Senate confirmed Shailen Bhatt to run the Federal Highway Administration as the Biden administration seeks to carry out a large portion of last year's infrastructure law with an emphasis on sustainability and serving previously neglected communities.
Sam Bankman-Fried missed the deadline set by a US Senate committee for a response to a request to testify at a Dec. 14 hearing about cryptocurrency exchange FTX's collapse into bankruptcy.
FTX CEO John J. Ray III will testify at a US House Financial Services Committee hearing about the collapse of the cryptocurrency exchange, according to a memo Thursday.
The co-sponsors of antitrust legislation targeting Apple's and Google's power over app stores are preparing a last-ditch — and likely doomed — effort to move the bill through Congress as they run out of options to advance it before lawmakers leave for the year.
A judicial security measure tucked into the House-passed defense authorization bill didn't include proposed language that raised concerns about potential liability for major tech companies like Facebook and Twitter.
A Medicare pilot program could be letting health care companies with a history of defrauding the government "further encroach on the Medicare system," congressional Democrats warn.
A former anti-abortion activist said it was easier to forge relationships with Supreme Court justices to try to subtly influence them on abortion and other conservative causes because they weren't bound by clear ethics rules like lawmakers or executive branch officials.
Two House Democrats accused federal Agriculture Department inspectors of a "distressing lack of oversight" amid allegations of animal cruelty in testing at Elon Musk's brain implant company Neuralink.
The Senate passed legislation by voice vote Thursday that aims to guarantee equal pay for men and women representing the US in international amateur athletic competitions.
The latest version of the syndicated easement provision bill could be the last-gasp push in a multi-pronged, if sometimes stumbling bid by the government to curb conservation easements. After years of intense lobbying, lawmakers agreed to remove a provision that would have forced beneficiaries of the controversial write-off to repay billions of dollars of deductions claimed since 2016.
Elections, Politics & Probes
The House Jan. 6 committee is considering criminal referrals against former President Donald Trump, his chief of staff Mark Meadows and at least three other key allies involved in his efforts to overturn the 2020 election, a person familiar with the matter said Thursday.
A federal appeals court on Thursday freed the Justice Department to resume using the thousands of documents seized from Trump's Mar-a-Lago home in its criminal investigation following months of legal wrangling with the former president.
Trump's political operation gave $40 million to an allied super-PAC ahead of the midterm elections but didn't contribute to his new campaign committee after he launched his third run for the White House last month.
Florida Governor Ron DeSantis, who's described his sweeping mandate as a 'blueprint' to follow elsewhere, plans to discuss his political plans with donors in Miami as his landslide reelection stokes speculation of a presidential run against Trump in 2024.
The parties' drastically different views of the past in a Supreme Court argument over the power to control federal elections highlight the limits of using history as an interpretative tool, even as it's increasingly invoked by conservative justices as the most important way to view constitutional issues.
Around the Administration
PRESIDENT'S SCHEDULE
Biden has no public events scheduled.
At 1 p.m., White House Press Secretary Karine Jean-Pierre gives a briefing.
Rapid acquisition of critical technology and climate- and sustainabilty-related advances are recurring themes across the federal agencies responsible for the highest volume of procurement.
President Joe Biden announced a $36 billion bailout for the Central States Pension Fund, one of the nation's biggest multi-employer plans, touting the help for union workers and retirees as he looks to mend ties with organized labor after a contentious rail deal.
A $36 billion Biden administration allocation to the Central States Pension Fund is the culmination of a decades-long effort mired in controversy to ensure pensioners' benefits aren't slashed due to funding troubles until at least 2051. Read more
The United Auto Workers election will head to a runoff in January after neither candidate for president—incumbent Ray Curry nor his main challenger, Shawn Fain— won a majority of votes cast. Read more
If the federal labor board broadens its test for deciding when separate companies share legal obligations for the same workers, companies will be less likely to participate in ESG programs, corporate social responsibility initiatives, and other standard-setting measures, an employer group said. Read more
The US is preparing a fresh round of sanctions on Russia and China for what it describes as human rights abuses by both countries, according to an official familiar with the matter.
Everyone wants Renee Wegrzyn to tell them when ARPA-H will start churning out projects and fulfill Biden's ambitions to drive breakthroughs in biomedicine through a new agency.
Treasury Secretary Janet Yellen said she still anticipates that the US economy will avoid a recession, despite widespread forecasts by analysts and investors for another downturn.
Publicly traded companies exposed to the "crypto winter" and the collapse of FTX or other digital-asset companies might have to disclose those details to investors under new guidance from the US Securities and Exchange Commission.
The US needs a massive expansion of next-generation carbon removal technologies overseen by a new federal agency to pull billions of tons of emissions from the air to meet net-zero emissions goals in coming decades, former Energy Secretary Ernest Moniz said Thursday.
US auto safety regulators posed fresh questions this week to roughly a dozen automakers and parts suppliers in a long-running probe of air-bag inflators that could explode in a crash.
Alphabet, Oracle, Microsoft and Amazon. will face off against one another each time the Pentagon needs work on its $9 billion cloud contract.
To contact the reporters on this story: Michaela Ross in Washington at mross@bgov.com
To contact the editors responsible for this story: Andrew Small at asmall@bgov.com
Stay informed with more news like this – from the largest team of reporters on Capitol Hill – subscribe to Bloomberg Government today. Learn more.