What to Know in Washington: Jobs Rebound Slows GOP on Stimulus
Bloomberg Government subscribers get the stories like this first. Act now and gain unlimited access to everything you need to know. Learn more.
The surprise rebound on U.S. job markets is leading some Republicans to question the need for more pandemic stimulus, as Congress debates whether to renew the extra benefits it approved for unemployed Americans during the crisis.
The payments of $600 a week, currently due to expire July 31, will be discussed at a hearing of the Senate Finance Committee today. Republicans have argued that the need to juice the economy is receding, after 2.5 million jobs were created in May and the unemployment rate declined when it was expected to jump.
That data "underscores why Congress should take a thoughtful approach and not rush to pass expensive legislation paid for with more debt," said Michael Zona, spokesman for committee chairman Chuck Grassley (R-Iowa).
President Donald Trump said last week he'll ask Congress to pass more economic stimulus, including a payroll tax cut. The White House is looking to spend as much as $1 trillion, a figure that is said to have backing from Senate Majority Leader Mitch McConnell (R-Ky.).
A growing number of Senate Republicans like Pat Toomey (Pa.) want to slam the brakes on stimulus, and give the roughly $3 trillion that Congress already allocated time to work its way through the economy.
That spending surge, coupled with a plunge in revenue as the economy shut down, has put the U.S. on track for its biggest budget deficits since World War II. The shortfall in the fiscal year through May probably widened to $1.9 trillion, more than double the 2019 figure, the Congressional Budget Office said yesterday.
But most economists say the recovery is still too fragile for government support to be withdrawn –- and there's support for that view in GOP circles too. Read more from Jenny Leonard and Laura Davison.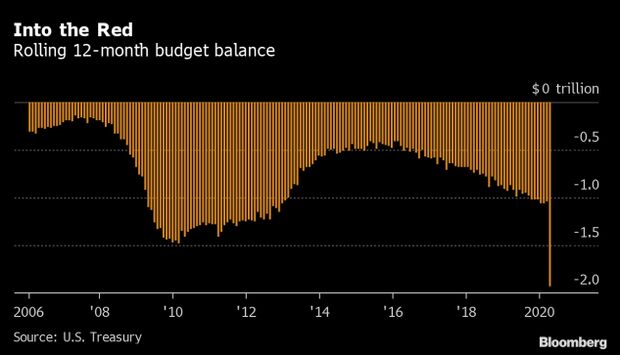 Biden Says Trump Squandered Growing Economy: Meanwhile, Presumptive Democratic nominee Joe Biden slammed Trump's stewardship of the economy yesterday, citing the official declaration that the U.S. entered a recession just as the pandemic was starting to take hold in the U.S. in February. "Trump inherited the longest economic expansion in history from the Obama-Biden administration, but like everything else he's inherited, he's squandered it," Biden said in a statement shared with Bloomberg News.
Biden criticized Trump's tax cuts and said the president "turned his back on the middle class" by focusing on an agenda that he said helps corporations and the wealthy. The former vice president said the pandemic aid efforts have similarly focused on the rich. Read more from Tyler Pager.
S&P 500 Wipes Out 2020 Loss With a Historic Rally: The torrid rally in U.S. stocks pushed the S&P 500 into the green for the year as easing lockdowns bolstered economic optimism. A jump to a 15-week high yesterday extended the benchmark's surge from its March low to almost 45%, as many parts of the country came out of the shutdowns that brought the world's largest economy to a standstill amid the coronavirus pandemic. Read more.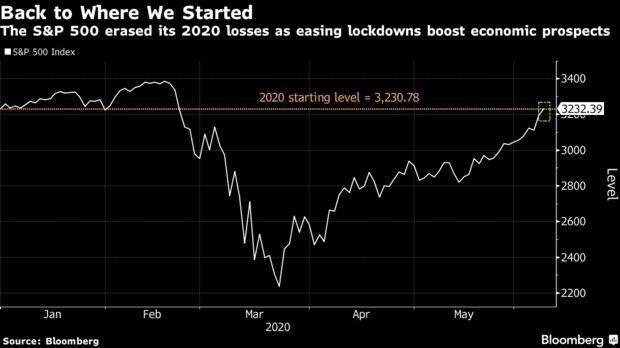 Trump Says He Will Look Into Police Tactics
Trump said yesterday that he'll discuss ideas for revamping police tactics in response to protests over the killing of George Floyd, even as he criticized Democrats for activists' calls to defund the police. Neither Trump nor anyone in his administration offered specific changes to police behavior yesterday, and the White House rejected a central provision of a sweeping police-reform bill introduced by congressional Democrats.
The president has demanded a "law and order" approach to national protests over the death of Floyd, a black man, in police custody in Minneapolis. But his re-election opponent, former Vice President Joe Biden, has recently opened up wide leads in national polls and surveys of key swing states while sympathizing with protesters and the families of black people killed by police.
"We're going to work and we're going to talk about ideas," Trump said yesterday in a round-table discussion with law enforcement. "How we can do it better, and how we can do it, if possible, in a much more gentle fashion." It's a shift in tone for Trump, who in the past has endorsed rough police tactics. During a July 2017 speech in New York, the president told police officers "please don't be too nice" to suspects being detained. Read more from Jordan Fabian and Jennifer Jacobs.
Biden Says He Backs Conditioning Federal Aid to Police: Biden reiterated his opposition to defunding the police, but he said last night departments should have to meet certain standards to receive federal funding. "I support conditioning federal aid to police based on whether or not they meet certain basic standards of decency and honorableness," he said in an interview with CBS News from Houston, where he met the family of Floyd. Read more from Jennifer Epstein.
Democrats' Drive to Police the Police: Democrats in both chambers of Congress are proposing legislation that would change police tactics, data collection, and reporting requirements, conditions on federal funding to state and local police departments, and legal recourse for violations of constitutional rights. "Police accountability has become a rainbow movement, reflecting the wonderful diversity of our nation and the world," Congressional Black Caucus Chair Karen Bass (D-Calif.) said during a press conference. "The power of this movement will help move Congress to act to pass legislation that not only holds police accountable and increases transparency, but assists police departments to change the culture." Read more from Shaun Courtney.
City Leaders Push Civilian Oversight of Police After Protests: Local officials across the country are pushing to quickly establish independent oversight of their police departments as protesters call for increased accountability following the death of Floyd. Policing debates waged in city halls for years have come to a head in several cities where leaders have voted or committed to create a process for civilians to oversee misconduct investigations, recommend policy changes, and provide guidance. Leaders elsewhere want to boost oversight funding as coronavirus-related budget concerns likely will require funding cuts elsewhere. Read more from Brenna Goth.
Barr Says Secret Service Told Trump to Go to White House Bunker: Attorney General William Barr said the U.S. Secret Service told Trump to go to a secure part of the White House as large protests unfolded outside, contradicting the president's account of what happened. "Things were so bad that the Secret Service recommended that the president go down to the bunker," Barr said last night in an interview on Fox News. "We can't have that in our country." Trump last week denied going to the bunker for his safety, stating "it was much more for an inspection." Read more from Chris Strohm.
Elections, Politics & Influence
Water Pollutants May Swing Voters in Michigan: A water pollutant issue in Michigan that's widespread and doesn't split neatly along partisan lines is expected to be played up in some of the state's most competitive races. In the past several years, thousands of Michiganders learned their drinking water contains high levels of "forever chemicals" linked to high cholesterol, kidney cancer and thyroid disease, among other conditions. Per- and polyfluoroalkyl substances, or PFAS, were used in firefighting foam on military bases, and in manufacturing plants to keep products water-proof or stain-resistant. They have now leaked into the water supply for numerous communities.
Elected officials in the state are touting recent legislative wins to address PFAS and promising further action. Meanwhile, challengers on both sides of the aisle are making the case that it's too little, too late. And the issue has already cropped up in a Senate race TV ad. Read more from Emily Wilkins.
The federal government's efforts to clean up PFAS has sparked a major increase in lobbying. In 2017, only four entities mentioned the issue in government lobbying reports. In 2018, the number grew to 35, and by 2019, it rocketed to 164. More water utilities—which have pushed back against certain provisions to clean up PFAS—have lobbied on regulation of the chemicals than any other group. They rank above the air travel industry, cities, and chemical companies, a Bloomberg Law analysis shows. Read more from John Dunbar and Christina Brady.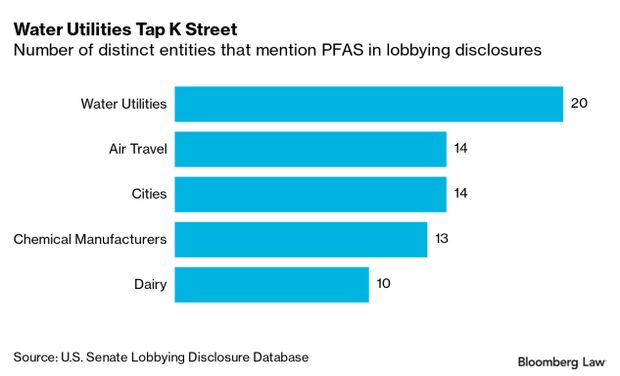 Trump Plans to Resume Campaign Rallies: Trump plans to resume campaign rallies this month, reviving the raucous events at a time when he's lagging Biden in the polls. Trump's campaign is looking to restart his signature events in June, campaign officials say. The campaign hasn't yet determined where the first rally since the country locked down over the pandemic will be held, said the officials. Read more from Mario Parker and Jennifer Jacobs.
Romney Says He Will 'Stay Quiet' on 2020 Presidential Vote: Romney said he is going to "stay quiet" on whether he is voting for someone other than Trump, according to NBC News. The announcement comes as some Republican figureheads have publicly stated they will not or are doubtful they'll vote for Trump. Romney previously suggested he'll write in his wife's name in November, Kim Chipman reports.
Comstock Registers to Lobby for Treatment Centers: Former Rep. Barbara Comstock (R-Va.) registered her first two lobbying clients since leaving Capitol Hill for K Street at the start of 2019. Comstock, who was beat by a Democrat in the 2018 election and now works at Baker Donelson, signed on to advocate on behalf of a pair of Florida-based addiction treatment centers, Transformations Treatment Center and Summit Detox. Read more from Megan R. Wilson.
Former New Jersey Gov. Chris Christie (R) registered to lobby for CleanSlate Centers, a Tennessee-based company that also provides drug addition treatment services, via his consulting firm Christie 55 Solutions. He and Rich Bagger, a former top pharmaceutical company official and former Trump for America adviser, will be focused on "regulatory issues regarding the provision of substance use disorder treatment and implementation" of the CARES Act, Wilson reports.
Former Senate Majority Leader Trent Lott, a Republican who forged a lucrative second career as one of Washington's most influential lobbyists after his retirement from Congress, is leaving Squire Patton Boggs, according to a statement from the firm. Lott "will no longer continue as a part of the firm," where he co-chaired the public policy practice, said the statement last night from Mark Ruehlmann, the lobbying and law firm's chair and global chief executive officer, Ben Brody, Colin Wilhelm and Megan R. Wilson report.
What Else to Know in Washington
VA Salary Cap Bill Clears Senate: The Senate cleared by unanimous consent a technical amendment passed by the House for legislation that would increase a salary cap for certain health-care officials at the Veterans Affairs Department. For more on the measure, read the BGOV Bill Summary by Michael Smallberg.
Federal Execution Revival Back at Supreme Court: The U.S. Justice Department's determination to resume federal executions after a decade-plus hiatus is back in Supreme Court justices' hands, with the filing of a petition from death row prisoners challenging the way the government wants to execute them. Their appeal, filed on June 5, presents the latest test for the high court on the hot-button issue of capital punishment, a subject that's split the court along ideological lines and sparked some of the most tense exchanges between justices in recent years. Read more from Jordan S. Rubin.
Trump's Scorn for Climate Change Meets Courts: The Trump administration has expressed little concern over climate change as it pursues its goal of American dominance in the energy market. Federal judges say it should be concerned. At least six times since Trump took office, courts have rebuked the Interior Department for selling drilling rights or advancing oil projects without adequately considering the consequences to a warming planet. The decisions have jeopardized high-stakes oil development plans across more than a million acres of federal land. Read more from Jennifer A. Dlouhy and Malathi Nayak.
Funding History Hampers Covid-19 Response: Decades of cuts in public health funding have crumbled the nation's public health infrastructure, leaving health departments without the tools and the people they needed to respond to the Covid-19 pandemic, public health advocates said. The solution requires money, they agree. Governments must increase the base funding that goes to the network of federal, state, and local public health departments, replacing a panic-and-neglect cycle with steady, stable funding before responders face the same problems in the next health emergency, public health advocates and leaders said. Read more from Jeannie Baumann.
AstraZeneca Signs Covid Deal with U.S.: AstraZeneca advanced on another front in the Covid-19 battle, signing a deal with two U.S. government agencies and Vanderbilt University to develop antibodies that could both prevent and treat the disease. The U.K.'s biggest drugmaker licensed two immune proteins from Vanderbilt and signed an agreement with the Defense Advanced Research Projects Agency and the Biomedical Advanced Research and Development Authority to develop and conduct an early clinical trial, according to a statement today. If successful, the antibodies could serve as an alternative to vaccinations in some cases. Read more from Suzi Ring.
Foreign Affairs
U.S. Can't Easily Break Chinese Supply Chains: Trump's trade war amplified calls in the U.S. and elsewhere for reducing dependence on China for strategic goods. Now, the coronavirus has politicians vowing to take action. The U.S. has talked about bringing supply chains home from China and even publicly floated the need for a group of friendly Asian nations that could help produce essential goods. Trump last month even said the U.S. would save $500 billion if it cut off ties with China. But interviews with a dozen government officials and analysts in the Asia-Pacific show that any broader effort to restructure supply chains is little more than wishful thinking so far. Read more from Bloomberg News in Asia.
The U.S. will exempt more Chinese imports from tariffs, including certain television LCD main-board assemblies and lithium-ion batteries, the Office of the U.S. Trade Representative said in a Federal Register notice, Ben Livesey reports.
Huawei's Patents on 5G Means U.S. Will Pay Despite Trump's Ban: Huawei owns the most patents on next-generation 5G technology, ensuring the Chinese company will get paid despite Trump administration efforts to erase it from the supply chain, according to a study. That may be awkward for Trump, whose administration has launched a global effort to shut out Huawei, accusing the Chinese company of being a security threat. Read more from Susan Decker.
U.S. Envoy Calls Japan Broadcaster's Race Video 'Insensitive': The acting U.S. ambassador to Japan described as offensive an animated video from public broadcaster NHK aimed at explaining the Black Lives Matter protests, adding to widespread criticism that it perpetuated racist stereotypes. "The caricatures used are offensive and insensitive," Joe Young, the Charge d'Affaires ad interim said on Twitter today of the animation that didn't mention the incident in Minnesota where George Floyd died. Read more from Isabel Reynolds.
Erdogan Signals Libya 'Agreement' With U.S.: Turkish President Recep Tayyip Erdogan said a deal with the U.S. over Libya was likely after his phone call with Trump yesterday. The two nations have reached "some agreements" that could open a "new era" in the war torn country, Erdogan said in an interview with the Turkish state broadcaster TRT. Read more from Taylan Bilgic and Firat Kozok.
North Korea Cuts Communications With South Over 'Hostile Acts': North Korea will shut down a liaison office it shares with South Korea today and sever other official communication including a leaders' hotline, sending a chill in relations between the heavily armed rivals. Read more from Maria Jose Valero and Jihye Lee.
Iran Gives Death Sentence to Man It Says Aided Soleimani Killing: Iran has sentenced a man to death for providing the CIA and Mossad with intelligence that led to the killing of a top Iranian general in a U.S. drone strike near Baghdad's international airport, according to the country's judiciary, Arsalan Shahla reports.
To contact the reporters on this story: Zachary Sherwood in Washington at zsherwood@bgov.com; Brandon Lee in Washington at blee@bgov.com
To contact the editors responsible for this story: Giuseppe Macri at gmacri@bgov.com; Loren Duggan at lduggan@bgov.com; Michaela Ross at mross@bgov.com
Stay informed with more news like this – from the largest team of reporters on Capitol Hill – subscribe to Bloomberg Government today. Learn more.