What to Know in Washington: Job Training Has a Bipartisan Chance
Democrats and Republicans divided over the scope of President Joe Biden's infrastructure package are seeking a bipartisan deal on at least one component: beefing up job training for Americans out of work due to the coronavirus pandemic.
"Putting more Americans back to work must be a national, bipartisan priority," Virginia Foxx (R-N.C.), ranking member of the House Education and Labor Committee, said in a statement.
A record 20.5 million jobs disappeared as businesses shuttered or cut staff last year. Many workers will need to be connected to, or trained for, opportunities in different fields. And inadequate funding has hampered programs designed to advance needed skills, job training advocates say.
The country is in the midst of the most unequal jobs crisis in modern history, a challenge that better training opportunities could address, Patty Murray (D-Wash.), chair of the Senate Health, Education and Labor Committee, said at a hearing in April. "We also have to keep in mind the ultimate goal here is economic security for workers and families, which isn't just about how quickly people can get trained and get jobs—but how good that training is, and the quality of jobs associated with that training," she said.
Supporters are banking on the upcoming infrastructure legislation to address a gap in jobs training programs. Biden's $2.25 trillion infrastructure proposal released last month includes $100 billion for worker training, similar to the amount requested from organizations. Read more from Andrew Kreighbaum.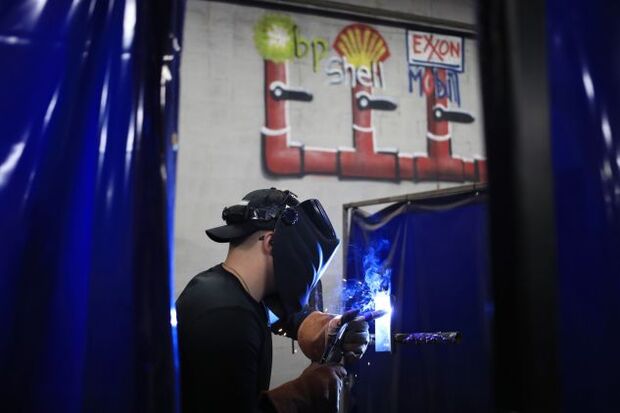 Happening on the Hill
Senators Cross Aisle to Help Agriculture: Carbon credit markets, broadband, and expanding trade opportunities are priorities for both parties on the Senate Agriculture, Nutrition, and Forestry Committee to help agriculture producers recover from the coronavirus pandemic. "Agriculture is probably the first place we could get a bipartisan climate bill across the finish line," Mike Braun (R-Ind.), ranking member of the panel's Food and Nutrition, Specialty Crops, Organics, and Research Subcommittee, said in a telephone interview. Read more from Megan U. Boyanton.
Cruise Industry Gets Help in New Legislation: Cruise operations in Alaska are approaching revival following passage of legislation in both chambers of Congress that would allow ships to temporarily bypass Canadian ports. Current U.S. law bars foreign cruise ships from sailing directly from one U.S. port to another, forcing many Alaska-bound vessels to stop in Canada. Covid-19 restrictions have spurred Canada to block cruise ships from anchoring in its waters. Read more from Lillianna Byington.
Politics & Elections
Memorial Day Will Give GOP Reset Chance: The Memorial Day break gives Republicans an opportunity to leave behind internally divisive issues like the Jan. 6 insurrection and focus on opposing the Biden agenda. Republican leaders pushed their conference to stay unified against this week's bills tied to the attack on the Capitol. Votes to create a commission to examine it, and to fund security needs identified since then, were the last in-person business for three weeks. After weeks of disputes about the 2020 election and its aftermath, the party wants its sights set on highlighting what they see as Democrats' disastrous legislative priorities ahead of the 2022 midterms and, more immediately, as members head home for the holiday. Read more from Emily Wilkins.
Democratic Party Outraises the GOP: The Democratic National Committee took in $15.6 million in April, topping its Republican counterpart which raised $13.2 million, according to their latest filings with the Federal Election Commission. The Republican National Committee ended the month with $90.5 million in the bank, part of a windfall the party enjoyed thanks to former President Donald Trump's post-election fundraising, when he falsely blamed widespread election fraud for his loss, and claimed he needed to raise money to challenge the results in court. The DNC has $56.4 million in cash on hand. Read more from Bill Allison.
Around the Administration
Today's Agenda: South Korean President Moon Jae-in is set to make a last-ditch attempt to bring the U.S. and North Korea together under his watch when he meets Biden at the White House today, trying to revive dormant nuclear talks in his final year in office. Biden welcomes Moon to the White House at 12:35 p.m. Bilateral meetings begin at 2:15 p.m. The two leaders will hold a press conference at 5 p.m. Jon Herskovitz, Justin Sink and Jennifer Jacobs preview the visit.
Biden Team Seeks Chip Information Sharing: Commerce Secretary Gina Raimondo said the Biden administration is exploring how to help semiconductor producers and buyers share supply chain information to alleviate the global chip supply crisis, and urged Congress to swiftly pass legislation to fund domestic production. "There's a lack of transparency right now in the supply chain," Raimondo said in a call with reporters yesterday following a day of meetings with companies. "We are trying to figure out what role the government can and should play in increasing that information sharing and forecasting so we can alleviate the short-term crunch." Read more from Jenny Leonard.
Biden Praises Israel-Hamas Deal: Biden praised a truce between Israel and Hamas after an 11-day conflict over the Gaza Strip killed over 200 people and led to growing pressure in the U.S. to distance itself from Prime Minister Benjamin Netanyahu's government. "Palestinians and Israelis equally deserve to live safely and securely and enjoy equal measures of freedom, prosperity and democracy," Biden said at the White House. "My administration will continue our quiet relentless diplomacy toward that end."
Israel and Hamas agreed late yesterday to an Egyptian-mediated cease-fire designed to end their 11-day conflict. The announcement came amid pressure from the Biden administration to end the violence, which has killed around 232 Palestinians and 12 Israelis. Israel's security cabinet unanimously voted to approve Egypt's proposal for an unconditional cease-fire with Hamas, according to Netanyahu's office. Read more from Jordan Fabian and Jenny Leonard.
Secretary of State Antony Blinken said he will be traveling to the Mideast region in the coming days, Laura Curtis reports. Blinken said in a tweet he looks forward to meeting the foreign minister and other Israeli, Palestinian, and regional leaders.
Blinken Recuses Self on Boeing Talks: Blinken won't participate in any talks with international leaders involving Boeing, a top U.S. exporter. Blinken had advised the Chicago-based plane builder and defense giant before joining the White House, according to his financial disclosure statement. He has recused himself from all Boeing-related matters, a State Department spokesperson said. Read more from Alan Levin and Julie Johnsson.
U.S. Floats 15% Global Minimum Tax on Corporate Profits: The U.S. called for a global minimum corporate tax of at least 15%, less than the 21% rate it has proposed for the overseas earnings of U.S. businesses — a level that some nations had argued was excessive. The contrast between the new proposal, released by the Treasury Department yesterday, and the higher rate the Biden administration is seeking to be applied to American companies underscores the difficulty of international talks being led by the Organization for Economic Cooperation and Development. Countries including Ireland have used low business taxes as a key economic development strategy. Negotiators are aiming for a deal this summer. Read more from Saleha Mohsin and Laura Davison.
An agreement on international tax reform could be reached as soon as this year, Ireland's finance minister said, Peter Flanagan and Maria Tadeo report. "I do believe there is potential for agreement on these matters," Paschal Donohoe said in an interview with Bloomberg TV. "I do believe we are going to see change across 2021 and 2022 in relation to how very large companies are taxed."
Biden Needs More Than an Order to Limit Climate Financial Risks: The Biden administration yesterday issued an executive order aimed at using regulation to limit the threat of climate change to U.S. companies, investors and the financial system, a big step toward bringing the nation in line with the rest of its allies on the issue. The action, however, is more about intention than actual rule-making and it foreshadows a long, technical process that the administration and regulators are feeling their way into, and one in which the White House lacks the power to get what it wants simply through executive fiat. Read more from Christopher Condon and Jennifer A. Dlouhy.
Transgender Dorm Bias Wins First Round in Court: The Biden administration fended off a religious college's initial attempt to block its policy banning gender identity discrimination in higher education, convincing a federal judge in Missouri to reject the Christian school's move yesterday. Judge Roseann Ketchmark denied the preliminary injunction bid by College of the Ozarks after it brought the constitutional challenge in the U.S. District Court for the Western District of Missouri. Read more from Mike Leonard.
To contact the reporters on this story: Zachary Sherwood in Washington at zsherwood@bgov.com; Brandon Lee in Washington at blee@bgov.com
To contact the editors responsible for this story: Giuseppe Macri at gmacri@bgov.com; Loren Duggan at lduggan@bgov.com; Michaela Ross at mross@bgov.com