What to Know in Washington: Jan. 6 Panel Subpoenas Trump
Panel may decide to issue criminal referrals in coming weeks
Senator Patrick Leahy hospitalized overnight
The House committee investigating last year's attack on the US Capitol voted to subpoena Donald Trump, and stated there's evidence for multiple criminal referrals that the committee may make in the coming weeks of Trump advisers to the US Justice Department.
The subpoena is a dramatic challenge to a former president just weeks before Republicans and Democrats face off in an election that will determine control of Congress. The panel, in a unanimous vote on Thursday, agreed to demand documents and testimony from Trump about his role in the Jan. 6 attack.
A subpoena likely wouldn't force immediate testimony from Trump, who has a record of using extensive maneuvers to delay legal proceedings. But the action also opens a new legal conflict for Trump less than a month before US midterm elections, heightening attention to passionate divisions over his legacy as early balloting gets underway and Trump nears a decision on launching a campaign to return to the White House.
Any subpoena issued by the committee will expire at the end of the congressional term. If Republicans take control of the House in the midterms, that would likely end the committee's work when this year's congressional session concludes.
Committee Chairman Bennie Thompson (D-Miss.) invoked law enforcement personnel injured defending the Capitol on Jan. 6, 2021, in demanding that Trump testify under oath on his role in events surrounding the assault.
"He is required to answer for his actions. He is required to answer for those police officers who put their lives and bodies on the line to defend our democracy," Thompson, a Mississippi Democrat, said during Thursday's hearing. "He's required to answer to those millions of Americans whose votes he wanted to throw out as part of his scheme to remain in power."
The committee's vice chair, Liz Cheney (R-Wyo.), also said that there's also evidence for multiple criminal referrals to the Justice Department, and that the committee will make decisions about those in the coming weeks.
She specifically mentioned former White House Chief of Staff Mark Meadows, Trump adviser Roger Stone, General Mike Flynn, lawyer John Eastman, and Justice Department official Jeffrey Clark as people who may be concealing additional information. Read more from Billy House and Mike Dorning.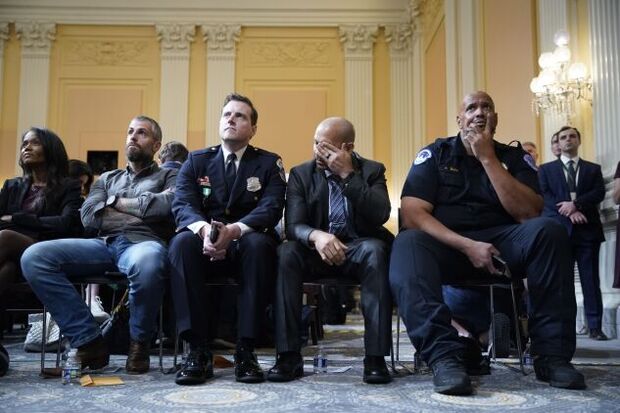 The shaky videos show worried congressional leaders making urgent phone calls, seeking help from governors, other officials and Vice President Mike Pence as they try to get a grip on the Capitol insurrection unfolding around them.
House Speaker Nancy Pelosi (D-Calif.) said in a video shot during the Jan. 6, 2021, insurrection that she wanted to punch President Donald Trump if he showed up at the besieged Capitol.
To bolster the committee's case that Trump knew he had lost, Representative Adam Kinzinger (R-Ill.) played clips showing video clips from testimony Pence's national security adviser Keith Kellogg and Chairman of the Joint Chief of Staff General Mark Milley gave to the committee discussing Trump's desire to issue an order to immediately withdraw troops from Afghanistan and Somalia.
Happening on the Hill
Democratic Senator Patrick Leahy (D-Vt.) wasn't feeling well late Thursday and was taken to a Washington area hospital for tests as a precaution, according to an emailed statement from his office.
Passage of US climate legislation went a long way toward putting battery storage on a level playing field with booming wind and solar power—but more actions will be needed to make batteries a key tool for tackling climate change, industry representatives said Thursday.
Elections & Politics
Join Our Oct. 19 Election Webinar: Bloomberg Government's election guru, Greg Giroux, will be providing a high-level update on the midterm elections and will take your questions on our Oct. 19 webinar. Register here .
An upstart anti-Trump Republican who tried to play the spoiler in the 2016 presidential election is showing surprising strength in the Utah Senate race, prompting Super PACPAC Club for Growth to spend $2.4 million on ads in the final weeks of the election to help Republican Senator Mike Lee hold on to his seat.
Democratic Senator Raphael Warnock just can't shake Republican challenger Herschel Walker, the Donald Trump-endorsed former football star, whose campaign has been rife with drama and controversy.
Warnock has the benefits of incumbency and a massive fundraising advantage over Walker, but heading into their first and only debate Friday night in Savannah, the Georgia contest remains largely deadlocked.
A Libertarian candidate is on track to push Georgia into another run-off election for a US Senate seat, leaving control of the upper chamber uncertain for weeks after the Nov. 8 midterms. Read more.
President Joe Biden will travel to Pittsburgh, Pennsylvania on Oct. 20 to join a reception for Democratic candidate for Pennsylvania Senate John Fetterman, according to a press release from the White House.
Supreme Court Justice Ketanji Brown Jackson will face an early test of whether she can form a new majority in some criminal cases along with Republican-appointed colleagues on issues that cross ideological lines.
Around the Administration
PRESIDENT'S SCHEDULE
Biden at 3:10 p.m. PST in Irvine, California gives a speech on lowering costs for families.
At 7:10 p.m. PST, the president participates in a grassroots volunteer event with the Oregon Democrats in Portland, Oregon.
Weeks before international climate negotiations convene in Egypt, US officials are working to broker multibillion-dollar plans to steer some of the world's most populous countries to cleaner forms of energy.
The White House engaged in mathematical gymnastics on Thursday to draw some positive news out of an otherwise gloomy inflation report — one of the last that US voters will see before they decide control of Congress in November.
The Agriculture Department is extending a waiver that allows government aid recipients to purchase more brands of baby formula through December, as empty shelves continue to plague parents.
The Covid-19 public health emergency declaration granting the Biden administration emergency powers to grapple with the pandemic will get a 90-day extension.
Defense & Foreign Affairs
President Joe Biden faces pressure to expand sponsor-based immigration pathways to the US after launching a new option this week for Venezuelans fleeing turmoil. The administration established a similar program for Ukrainians earlier this year.
A Biden administration official said thousands of Venezuelans crossing Central America to try to reach the US should stop where they are or risk getting turned away at the border.
The county that's home to the city of Chicago is calling for federal aid after the arrival of thousands of migrants in less than two months.
The US is helping Mexico to fight weapons trafficking from that country, Foreign Affairs Minister Marcelo Ebrard said at a press conference in Washington DC with US Secretary of State Antony J. Blinken.
The US is urging countries to refrain from imposing export bans, seeking to head off a global food crisis as agricultural markets contend with rising costs and shortages following Russia's invasion of Ukraine.
North Korea test-launched a short-range ballistic missile, fired barrages of artillery and flew about 10 warplane near the inter-Korean border, saying its actions were a stern warning to South Korea for recent military moves.
Elon Musk warned his company SpaceX cannot help carry the cost of high-speed broadband internet for Ukraine indefinitely, after an earlier furor over his public comments suggesting the government in Kyiv cede territory in exchange for peace with Russia.
To contact the reporters on this story: Brandon Lee in Washington at blee@bgov.com; Michaela Ross in Washington at mross@bgov.com; Michaela Ross in Washington at mross@bgov.com
To contact the editor responsible for this story: Andrew Small at asmall@bgov.com