What to Know in Washington: Jan. 6 Panel Shares Findings in June
Committee investigating Capitol riot to go prime time
Democrats call on Musk to testify about Twitter plans
The findings of a House select committee's investigation into the Jan. 6, 2021, insurrection at the Capitol will be presented to the nation in eight separate public hearings spread out over June, the panel's chairman said Thursday.
Planning is underway for a mixture of televised hearings in prime-time and others to occur during the daytime, Rep. Bennie Thompson (D-Miss.) told reporters at the Capitol. "We will tell the story of what happened," he said.
The hearings will feature a combination of witness testimony, exhibits and other information, Thompson said, "so it will give the public the benefit of what more than a year's worth of investigation had fallen to the committee." After those hearings, the committee plans to issue a final report in early fall.
For now, witness interviews are continuing behind closed doors. Thompson said the committee continues to engage with people it still wants to interview—including former President Donald Trump's one-time personal attorney, Rudy Giuliani, and Donald Trump Jr. But the chairman said he could not confirm if dates have been agreed upon for either for them. Thompson also reiterated the committee will renew an invitation for an interview with House GOP Leader Kevin McCarthy (R-Calif.). Read more from Billy House.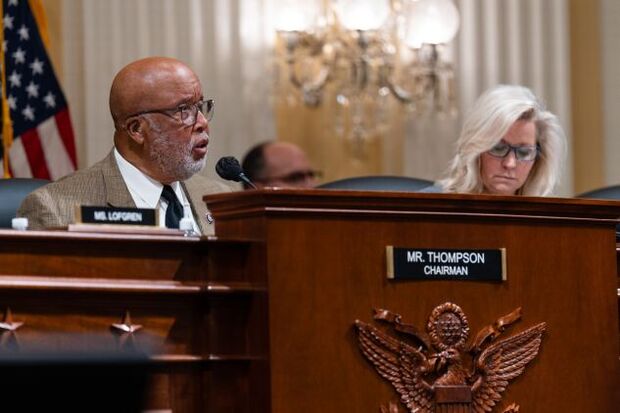 Defense attorneys at the Greenbelt, Md. federal courthouse were relieved to hear assistant U.S. attorney Thomas Windom was headed to Justice Department headquarters rather than focusing on their clients. "I've tried cases vs Windom and he's a bastard but I really do like him a lot. I'm glad he's on this because he's a bastard," tweeted Maryland criminal defense attorney Mirriam Seddiq after the New York Times reported Windom was brought on to explore whether broader crimes were committed related to the Jan. 6 insurrection beyond the Capitol invasion.
Two sources with direct knowledge confirmed to Bloomberg Law that Windom was detailed several months ago to Main Justice to pursue potential Jan. 6 crimes. Benn Penn has more on Windom.
Happening on the Hill
Some Senate Democrats are considering calling Elon Musk to testify on his plans to remake Twitter, amid broader calls in Congress for new regulations for tech and social media companies. There are no imminent plans for hearings, but Senate Commerce Chairwoman Maria Cantwell (D-Wash.) said: "We're thinking about it." She noted that the panel has previously had hearings with former CEOs Jack Dorsey of Twitter, Mark Zuckerberg of Meta and Sundar Pichai of Alphabet. Read more from Steven T. Dennis.
The Federal Trade Commission is investigating whether Musk complied with antitrust reporting requirements as he began buying shares of Twitter earlier this year, The Information reported, citing unidentified people with knowledge of the situation. At issue is whether Musk made early stock purchases as someone who intended to influence Twitter management or as a passive investor. Read more from Tom Giles.
Sen. Joe Manchin said a consumer tax credit for electric vehicles "makes no sense" during a budget hearing with Secretary of Transportation Pete Buttigieg. "There is a waiting list for EVs right now, with the fuel prices, but they still want us to throw a $5,000, or $7,000, or $12,000 credit for us to buy electric vehicles," Manchin (D-W.Va.), a key swing vote in the Senate, said during a hearing. A Build Back Better proposal would expand the $7,500 tax credit to as much as $12,500, Ari Natter and Keith Laing report.
Republicans are blasting a new Homeland Security disinformation board as the latest Democratic effort to censor opposing views. Ahead of the November elections, the Biden administration and Democratic lawmakers are looking to tackle disinformation on issues like Covid-19, the 2020 election, and the war in Ukraine. Homeland Secretary Alejandro Mayorkas told a House committee Wednesday that the governance board would counter the threat of misinformation and disinformation, but Republicans say it's an attack on free speech. Read more from Maria Curi.
Health and Human Services Secretary Xavier Becerra was on Capitol Hill this week getting hand shakes, hugs and some berating from his old colleagues in the House over a lack of responsiveness from his agency. Becerra's relationship with his former colleagues on both sides of the aisle is being tested by the demands of his new job, lawmakers say. Running the largest domestic agency means making decisions many don't agree with and answering for those decisions. Shira Stein and Alex Ruoff have more.
The crypto industry's push to wrest jurisdiction away from the Securities and Exchange Commission is gaining momentum in a bill from a bipartisan House group. Reps. Glenn Thompson (R-Pa.), Tom Emmer (R-Minn.), Darren Soto (D-Fla.) and Ro Khanna (D-Calif.) re-upped a plan on Thursday that would bring exchanges that offer digital coins such as Bitcoin directly under the Commodity Futures Trading Commission's purview. The CFTC's jurisdiction is now largely limited to crypto futures. Allyson Versprille has more.
Opioid makers who want to put new pills on the market should have to prove their drug works better than what is already out there, the FDA chief said on Thursday in calling for new legal authority for the agency. "Opioids don't work like other drugs and I think that's something that I would like to see happen," the Food and Drug Administration chief, Robert Califf, told Senate appropriators on Thursday. His proposal would tighten standards for drugmakers seeking to sell new opioids. Read more from Jeannie Baumann.
Federal regulators developing a new five-year plan for selling offshore oil and gas leases have significant work remaining, and it's unclear whether more auctions will be held soon, Interior Secretary Deb Haaland said Thursday. In testimony before a House appropriations subcommittee, Haaland did not forecast when a new five-year sale schedule would be finished but cited conflicting litigation and previous work stoppages that complicate efforts to finalize a new offshore leasing program before the current one expires June 30, Jennifer A. Dlouhy reports.
Elections, Politics & Probes
A PAC seeking to make Kevin McCarthy the next House speaker has reserved $125 million in campaign ads in 46 congressional districts to help the Republicans win control of the chamber in November elections. The Congressional Leadership Fund's ad buys compare with $102 million that were previously announced by a similar group supporting McCarthy's (R-Calif.) counterpart, House Speaker Nancy Pelosi (D-Calif.). Her party currently holds the chamber by a margin of just five seats. Read more from Gregory Korte and Bill Allison.
New York is on course to hold primaries in both June and August, potentially doubling the cost to taxpayers, after the state's highest court ordered the Republican-hindering congressional and state Senate maps redrawn. State officials were looking into questions about the district lines, petitioning dates, and whether the congressional nominating election could legally be held in August. Keshia Clukey has the latest.
A federal judge ordered a special PAC to stop raising money for Georgia Gov. Brian Kemp's (R) re-election bid until after the May 24 primary, putting a temporary end to a money-raising advantage that the incumbent has enjoyed for months. Judge Mark Cohen of Georgia's Northern District in Atlanta said on Thursday that the committee, Georgians First, must wait until after the primary to continue raising money. The PAC is one of a handful of so-called "leadership committees" created by state legislation last year. Read more from Margaret Newkirk.
Around the Administration
PRESIDENTIAL SCHEDULE:
At 1 p.m., Biden is set to have a phone call with Mexican President Andres Manuel Lopez Obrador.
At 3:15 p.m., the president meets with inspectors general to discuss oversight and transparency.
The U.S.-led response to Russia's invasion won't be enough to deter future acts of aggression by Moscow and Beijing, and the NATO alliance isn't as united as its leaders suggest, former National Security Advisor John Bolton said. The hawkish former diplomat accused the Biden administration of a slew of missteps, but said if his former boss—Donald Trump—were still president, Russian forces "would be in Kyiv by now." David Wainer has more.
The presidents of Russia and Ukraine have accepted invitations from Indonesia, the current chair of the Group of 20, for a big ticket summit in November. The decision to invite both leaders shows the delicate balance the Southeast Asian country is trying to make as the G-20 host this year. Russia is a member of the G-20, and the countries in the grouping have been divided over their reaction to Moscow for its war in Ukraine. Yudith Ho has the latest.
BGOV OnPoint: Biden Requests $33 Billion in Aid for Ukraine
The U.S. Supreme Court should kill the Fifth Circuit's order temporarily permitting the Biden administration to use estimates on the social costs of greenhouse gas emissions, Louisiana and other states say. The estimates "are a power grab designed to manipulate America's entire federal regulatory apparatus through speculative costs and benefits" so the administration can "impose its preferred policy outcomes on every sector of the American economy," according to the application to vacate the order sent to Justice Samuel Alito. Maya Earls has more.
Governors across the U.S. Corn Belt are calling on EPA to take steps that would permit permanent year-round sales of higher-ethanol gas in their states. "We urge swift action to help lower fuel prices across the country, restore energy independence," governors of Iowa, Wisconsin, Illinois, Nebraska, North Dakota, South Dakota, Minnesota, and Kansas told EPA chief Michael Regan. They specifically are asking for the federal government to treat E15, which is comprised of 15% ethanol, the same as E10 under the law. Read more from Kim Chipman.
Biden's administration asked a judge to revive a lawsuit by Washington, D.C., accusing Amazon of anticompetitive behavior. The suit was dismissed on March 18 after a Superior Court judge held that there was no evidence to support allegations that Amazon's contracts with merchants inflated prices for consumers. But the Department of Justice said in a court filing Wednesday that the ruling improperly "blended" two areas of analysis that are crucial for establishing such claims. Read more from Erik Larson.
Federal energy regulators are moving to "bake in discrimination" against states that don't have renewable energy goals by forcing them to participate in transmission line projects, GOP commissioner James Danly said Thursday. The Federal Energy Regulatory Commission's recent transmission rule, if finalized, could promote a "reckless build-out" of transmission solely to accommodate state policies that aim to increase supplies of solar, wind, hydropower, and other renewable energy generation, Danly said, Daniel Moore reports.
Controversy tied to the Equal Rights Amendment looms over the retirement of a little-known federal agency head, U.S. Archivist David Ferriero, whose decision not to publish it as part of the Constitution prompted litigation that will outlast his tenure. His successor would inherit the dispute over the amendment—assuming it isn't soon resolved in Congress or the courts—and likely after running the gauntlet of an unusually politicized Senate confirmation. Chris Marr has more.
To contact the reporters on this story: Brandon Lee in Washington at blee@bgov.com; Giuseppe Macri in Washington at gmacri@bgov.com
To contact the editors responsible for this story: Loren Duggan at lduggan@bgov.com; Michaela Ross at mross@bgov.com