What to Know in Washington: Jan. 6 Panel Promises Surprises
Committee goes prime time Thursday night
Testimony from Trump family, White House officials to air
A year and a half after a violent mob of Trump supporters stormed the US Capitol to block the transfer of presidential power, lawmakers are ready to show the country what their investigation reveals about how it all happened.
Members of the House select committee on the Jan. 6, 2021 attack promise there will be surprises in a prime-time hearing Thursday that will be carried live by most of the television networks. It will be the first of at least six public hearings on the topic over coming weeks.
"We're going to try to reach everyone that has an open mind," Rep. Adam Schiff, a California Democrat on the committee, said. The goal is to explain about "how in the most established democracy in the world we came so close to losing everything. And most importantly the danger that remains."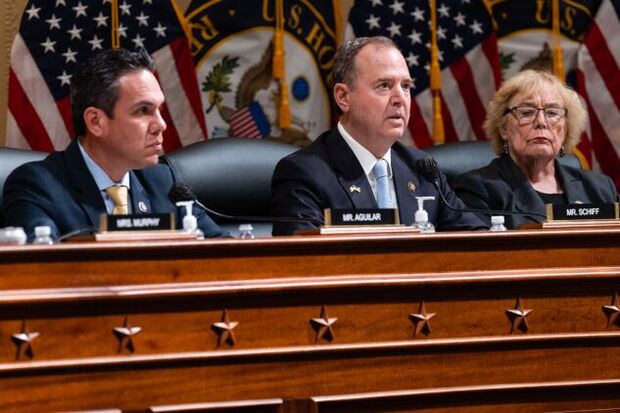 The committee aims to distill a complex web of information — from more than 1,000 closed-door witness interviews and thousands of documents — into understandable but factually bullet-proof chunks.
Thursday's opening will feature live testimony from a Capitol police officer injured in the melee and a documentary filmmaker who was with the far-right Proud Boys group as they breached the building. Some of the group's leaders have been charged with seditious conspiracy.
One objective is to connect former President Donald Trump to a plan to disrupt Joe Biden's Electoral College certification by a joint session of Congress, and show that Trump and his inner circle may have committed crimes in seeking to undo the election.
Snippets of video testimony from Trump family members and several senior White House officials will be aired during Thursday night's hearing, aides said. Committee officials said the excerpts from their recorded depositions are among previously unseen material the panel has gathered that provide new details on the lead-up to the attack, and the attack itself. Read more from Billy House and Mike Dorning.
The committee has asked Greg Jacob, Mike Pence's chief counsel, to testify as part of hearings slated for this month.
Jacob has been subpoenaed to appear at a June 16 hearing, according to a source familiar with the situation. He's among a roster of witnesses asked to appear in a series of nationally televised hearings that kick off Thursday. Read more from Chris Opfer.
Happening on the Hill
CONGRESSIONAL SCHEDULE:
The Senate meets at 10 a.m. with a vote later on Biden's nominee to be general counsel at HHS.
House lawmakers convene at 9 a.m. to vote on another gun control package.
Antitrust legislation targeting major technology companies shouldn't be bogged down by nascent privacy negotiations, bill sponsors said Wednesday. Efforts to rein in big tech have gained momentum in recent weeks. Senate Majority Leader Chuck Schumer (D-N.Y.) pledged a floor vote for the bipartisan American Innovation and Choice Online Act (S. 2992), which would restrict tech companies' ability to prioritize their own products.
Separately, lawmakers from both sides of the aisle have come up with a privacy proposal after years of stalled talks. Some lawmakers say tying the two efforts to ensure passage before the August congressional recess is a bad idea. Maria Curi covers the opposition.
Washington lobbyists are telling clients seeking congressional earmarks to temper their expectations, look to senior appropriators for help, and weigh the political appeal of their requests as lawmakers prepare for a second year of earmarks after a 10-year hiatus.
While lawmakers are preparing for an increase in earmark funding in fiscal 2023, K Street observers say local governments, nonprofits, and other clients should keep their expectations in check and make sure they can demonstrate strong political support for their requests. Jack Fitzpatrick has more on the earmark outlook for the next fiscal year.
Senate Commerce, Science, and Transportation Committee leaders are seeking to authorize $1.6 billion in the next fiscal year for ports, security, and shipyards in legislation meant to aid maritime workers and infrastructure after recent supply chain bottlenecks, Lillianna Byington reports.
The panel's chair, Maria Cantwell (D-Wash.), and ranking member, Roger Wicker (R-Miss.), proposed the Maritime Administration reauthorization legislation Wednesday. The measure would require the Transportation Department to create a strategy to bolster the maritime economy and evaluate new, more sustainable ship technology.
Four Republican senators urged the Biden administration not to support the waiver of a World Trade Organization agreement on intellectual-property rights for Covid-19 vaccines, Bryce Baschuk reports. Sens. Tom Cotton (Ark.), Thom Tillis (N.C.), Marsha Blackburn (Tenn.) and Mike Lee (Utah) say they're deeply concerned that waiving the protections "will discourage continued research, development, and distribution of medical innovations which may prove necessary to save American lives in the future."
Congressional investigators are asking the U.S. Drug Enforcement Administration what it's doing to oversee mental health startups such as Cerebral Inc, calling the company's business and prescribing practices "manipulative" and "aggressive," according to a copy of a letter obtained by Bloomberg.
In the letter, the chairman of the House Committee on Oversight and Government Reform asked the DEA about the startups, which have rapidly expanded by offering online consultation with doctors and prescriptions for drugs such as Adderall and Xanax. Polly Mosendz covers more from the letter.
US troops could see their access to abortion severely curtailed if the Supreme Court overturns the landmark ruling on reproductive rights this summer. Doctors on military bases, as employees of the federal government, are already banned from performing abortions so female troops—and troops' wives—must seek the procedure on their own.
Kirsten Gillibrand (N.Y.) on Thursday will introduce a bill that would scrap the law that prohibits the use of Defense Department money to perform abortions. The measure—co-sponsored by Sens. Jeanne Shaheen (N.H.), Richard Blumenthal (Conn.) and Mazie Hirono (Hawaii) may face an uphill battle. Read more from Roxana Tiron.
The Nuclear Regulatory Commission should work with advanced reactor developers and uranium enrichment companies to expedite federal approvals following Russia's invasion of Ukraine, nominees Annie Caputo and Bradley Crowell told the Senate Environment and Public Works Committee Wednesday. The nominees, if confirmed, would give the commission a full slate of five members. Daniel Moore recaps the hearing.
Biden will nominate Doug McKalip, a longtime Agriculture Department official, to be chief agricultural negotiator after months of the position lying vacant, the administration announced Wednesday, Maeve Sheehey reports.
The announcement comes after the last nominee, Elaine Trevino, backed out of her nomination after months without getting Senate confirmation. Agriculture Secretary Tom Vilsack urged the Senate to confirm McKalip "at the earliest possible opportunity" in a statement.
If confirmed, McKalip will join the U.S. Trade Representative at a fraught time for agricultural imports and exports — as inputs like fertilizer reach all-time high prices and Russia's war on Ukraine raises fears of grain shortages.
The House passed a package of gun legislation Wednesday, a mostly symbolic action that ultimately will be set aside for whatever compromise plan emerges from bipartisan negotiations in the Senate. Jarrell Dillard and Emily Wilkins detail the package.
House lawmakers on Wednesday easily passed bipartisan legislation that would authorize improvements to the nation's waterways and spending for flood control and coastal resilience projects. Read more from Kellie Lunney.
The House lawmakers on Wednesday passed a sweeping package to reauthorize the fees that help fund the FDA as the Senate works to pass its own version of the bipartisan legislation. Celine Castronuovo has more on the bill.
Rep. David Kustoff will replace former Rep. Tom Reed (R-N.Y.) on the House Ways and Means Committee. Ways and Means ranking member Kevin Brady (R-Texas) announced the move on Wednesday, shortly after Kustoff (R-Tenn.) confirmed to Bloomberg Tax that he expected to soon join the influential tax-writing panel, Colin Wilhelm and Kaustuv Basu report.
Questions about child pornography sentencing that Republicans focused on during Ketanji Brown Jackson's Supreme Court confirmation hearings recurred Wednesday for a US Sentencing Commission nominee. Madison Alder covers the hearing.
Elections & Politics
Trump and two of his children agreed to testify starting July 15 in New York's probe of potentially fraudulent asset valuations at their real estate company, even as a judge ruled the former president is still in contempt of court. Erik Larson has more on the case.
The epicenter of Democrats' struggle to keep control of the Senate is in Nevada, where first-term Democrat Catherine Cortez Masto is attempting to connect with a transient population amid unhappiness with Biden's performance.
The race for the seat will crystallize after the state's primaries next week, with former state Attorney General Adam Laxalt pushing to hold off a challenge for the Republican nomination from Army veteran Sam Brown and train his focus on one of the most vulnerable senators. Nancy Ognanovich and Kenneth P. Doyle preview the race.
A recount determined that celebrity physician Mehmet Oz won the fiercely contested Republican US Senate primary in Pennsylvania that was too close to call for three weeks, setting up a general election in November that will help determine party control of the upper chamber, Mark Niquette reports.
California's primary election results provide the latest indication that voters stand to unleash their angst about rising crime and the high cost of goods towards President Joe Biden's party in the November midterm elections. Read more from Mario Parker, Brian Eckhouse and David R. Baker.
Around the Administration
BIDEN'S AGENDA:
The president delivers remarks at the Summit of Americas at 11 a.m. and 2 p.m. Pacific time.
Throughout the day, Biden will meet with Canadian Prime Minister Justin Trudeau, Brazil President Jair Bolsonaro, and the leaders of Caribbean nations.
Biden announced what he called the "Americas Partnership for Economic Prosperity" as he opened the summit, a series of non-binding agreements that he said would help the Western Hemisphere's nations rebound more quickly from the pandemic and share in US growth. Read the latest coverage on the summit.
Biden urged Americans to elect politicians who support stricter gun laws and said on a late-night talk shown that he hasn't done more on gun safety through executive action because he doesn't want to "abuse" the US constitution like his predecessor, Donald Trump. Jordan Fabian and Josh Wingrove recap the interview.
Biden called inflation the "bane" of the US in an appearance on a late-night talk show, and said that high food and gas prices could be offset by legislation lowering the cost of prescription drugs and childcare, Fabian and Wingrove report.
The Federal Trade Commission is keeping an eye on companies to ensure they aren't using rising inflation as an excuse to coordinate illegal price hikes, chair Lina Khan said. "Instances in which companies may be signaling to each other that they're looking to engage in coordinated price hikes, that's something that has deep antitrust ramifications and is something that's on our radar," Khan said in an interview Wednesday. Leah Nylen and Andrea Vittorio have more.
Khan expects to have "a busy summer" now that the leadership panel's membership is filled out, breaking a partisan deadlock and giving her the votes needed for rulemaking, with consumer data protections among her policy priorities. The FTC is expected to put limits on companies' collection and use of consumer data and set standards for how such data must be secured. Vittorio has the story.
The Transportation Department announced Thursday that it is proposing new standards for the EV charging money provided by the recent infrastructure law (Public Law 117-58), Lillianna Byington reports. The proposed rule aims to ensure that charging is accessible by mandating minimum standards, in areas including pricing, workforce and charging speeds, for states deploying chargers with the federal dollars.
Transportation Secretary Pete Buttigieg said that the proposed rule also requires real time pricing and location information "so you can better plan your trip when navigating using a GPS app." The department is planning to publish the proposed rule next week in the Federal Register.
American officials increasingly see China losing diplomatic ground in Asia as Pentagon chief Lloyd Austin heads to Singapore for a regional security forum that will include a meeting with a top Chinese defense official. Austin will seek to press what administration officials see as their advantage heading into a meeting with Defense Minister Wei Fenghe on the sidelines of the Shangri-La Dialogue in Singapore this weekend, according to US officials. Read more from Peter Martin.
The Energy Department's loan programs office closed on a $504.4 million loan guarantee for a massive hydrogen production and storage complex in Delta, Utah, according to a statement Wednesday. The project is expected to be the world's largest such facility. This is its first loan guarantee for a new cleantech project since 2014, after the office mostly withered under former President Donald Trump. Read more from Ari Natter.
The US cybersecurity market has created a "perverse structure" that enables companies to easily pay extortion fees when they are hit with ransomware attacks, said Kiersten Todt, the chief of staff at the Cybersecurity and Infrastructure Security Agency. The US represents a thriving, strong market for ransomware gangs thanks in part to the bevy of services that help hacking victims, Todt said during an interview Wednesday at the Bloomberg Technology Summit. Read more from Margi Murphy.
A Senate-confirmed federal contracting leader is farther in the future after the White House withdrew its nomination for the administrator of federal procurement policy in the Office of Management and Budget, Patty Nieberg reports.
To contact the reporter on this story: Giuseppe Macri in Washington at gmacri@bgov.com
To contact the editors responsible for this story: Loren Duggan at lduggan@bgov.com; Andrew Small at asmall@bgov.com