What to Know in Washington: Jan. 6 Panel Coming Back This Fall
Prime-time hearing last night focused on Trump
White House drafted climate emergency Biden nixed
The panel investigating the Jan. 6 attack at the Capitol—which wrapped up its ninth public hearing last night—is continuing to gather evidence and hear from witnesses, which will lead to additional public hearings in September, lawmakers said.
"Doors have opened, new subpoenas have been issued, and the dam has begun to break," Republican Liz Cheney (Wyo.), the vice chair said. "We have far more evidence to share with the American people, and more to gather."
The committee's prime-time hearing Thursday drew on testimony from senior aides who were in the White House with Trump during the attack describing repeated, fruitless attempts to persuade him to publicly urge his followers to leave the Capitol.
Former President Donald Trump ignored pleas from his advisers and took no action for hours to quell the violent mob storming the Capitol because he wanted them to stop or delay certification of the 2020 election results, members of the panel investigating the insurrection said.
"President Trump did not fail to act," Republican Representative Adam Kinzinger (Ill.), a member of the Jan. 6 committee, said. "He chose not to act."
Witnesses provided vivid testimony about the chaos and fear that engulfed the Capitol as Trump's supporters stormed the building. Within minutes of the mob's breach of the building, the situation inside became so desperate that members of Pence's Secret Service were making calls to their families to say goodbye, an anonymous security official testified. Read more from Mike Dorning and Billy House.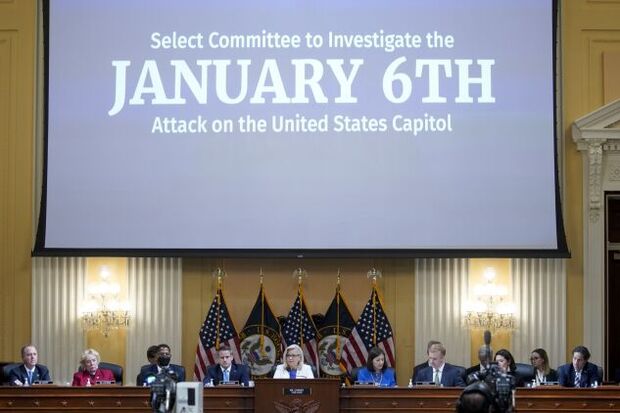 Also Happening on the Hill
Legislation to pause tariffs on some infant formula imports is Congress' latest effort to ease a supply crisis, but trade experts warn that other hurdles are keeping foreign formula out of the US. Congress cleared a bill on Thursday to suspend tariffs on certain formula imports until the end of December, sending the measure to President Joe Biden to sign. But industry researchers say a slew of factors beyond tariffs makes the US market unattractive to foreign manufacturers. Read more from Maeve Sheehey.
D.C. Airport Incident Exposes Gaps in Counter-Drone Authorities: A drone flight's brief disruption of air traffic just miles from the US Capitol highlights the urgency of expanding the federal government's power to take down aerial devices that threaten the public, officials say. The disruption is a prime example of why Congress needs to extend and expand federal counter-drone authorities, a senior Transportation Security Administration official told Bloomberg Government. Read more from Ellen M. Gilmer and Lillianna Byington.
A coalition of progressive groups is calling on Senate Majority Leader Chuck Schumer (D-N.Y.) to recuse himself from legislation intended to crack down on technology giants, saying he has a conflict of interest because his daughters work at Amazon and Meta Platforms. Emily Birnbaum has more.
Biden is nominating Shailen Bhatt to lead the Federal Highway Administration as the agency oversees implementation of last year's infrastructure law. The US highway office has been without a Senate-confirmed leader—or even a nominee—under the Biden administration. Read more from Lillianna Byington.
The White House announced it will nominate Steve Owens as the next chair of the Chemical Safety and Hazard Investigation Board, where he is already a board member. Read more from Bruce Rolfsen.
Bicameral legislation that would permanently withdraw from new mining roughly 1 million acres of federal land around the Grand Canyon failed to advance out of a Senate committee Thursday. The Energy and Natural Resources panel deadlocked in a 10-10 vote on the measure (S. 387). That means the legislation can't be reported out of committee until Senate Majority Leader Chuck Schumer (D-N.Y.) files a discharge petition to move it to floor consideration. Read more from Kellie Lunney.
The US can't keep relying on Taiwan for semiconductors and needs to pass legislation to support the domestic production of high-end computer chips, Commerce Secretary Gina Raimondo said. "Our dependence on Taiwan for chips is untenable and unsafe," Raimondo virtually told a crowd at the annual Aspen Security Forum, Iain Marlow reports.
Around the Administration
BIDEN'S SCHEDULE:
The president has no public events planned.
Press Secretary Karine Jean-Pierre and Covid-19 Coordinator Ashish Jha hold a briefing at 3 p.m.
Hours after Senator Joe Manchin (D-W.Va.) delivered a fatal blow to climate change legislation, White House officials began making plans for the president to take matters into his own hands. And they had the perfect stage to announce bold action: In a few days, Biden would deliver a speech on clean energy in Massachusetts.
They drafted a menu of options, including an emergency proclamation. Then, before the speech, Biden himself hit pause. There would be no emergency proclamation—not yet. The new campaign will unfold over the next few weeks, with policy initiatives likely touching manufacturing, transportation and other sectors that aim to not only pass legal muster but yield measurable results for voters, all while delicately handling Senate politics. Read more from Jennifer A. Dlouhy and Jennifer Jacobs.
Increased IRS funding, a major piece of Biden's domestic agenda, remains in limbo after

Manchin

put the brakes on Democrats' broader tax and spending plan. The funding measure is a policy unicorn: an increase in spending that independent experts expect would increase revenue. That would seem to fit Manchin's desire to reduce the deficit while matching his demand to not increase taxes. Read more from Colin Wilhelm.
Manchin's latest opposition to the Biden economic agenda fans the flames of uncertainty for US companies over what the future of their global taxes will look like. But one thing about the future does seem likely—they'll have to pay a 15% global minimum tax, even if the US isn't on board with it. Read more from Isabel Gottlieb and Michael Rapoport.
The fallout from Biden's Covid diagnosis is not yet clear. Vice President Kamala Harris and Chief of Staff Ron Klain have each been deemed close contacts, though Klain told MSNBC on Thursday evening that there have been no cases identified in tracing people Biden spoke with when he may have been contagious. A number of lawmakers were with Biden in recent days, including Massachusetts Democrats Sens. Elizabeth Warren (D-Mass.) and Ed Markey as well as Reps. Jake Auchincloss and Bill Keating. Read more from Josh Wingrove and Justin Sink.
The Supreme Court announced it will hear oral arguments in December on the Biden administration's decision to prioritize the detention and deportation of people who threaten national security, public safety, or border security. The Court refused to allow the Biden administration to use its revised guidance while the court considers the case. Read more from Kimberly Strawbridge Robinson.
Harvard cancer surgeon Monica M. Bertagnolli is on tap to serve as the next director of the National Cancer Institute, indicating the White House plans to install a well-known cancer physician-scientist as it shores up the next phase of the Cancer Moonshot. Bertagnolli won't need Senateconfirmation. Jeannie Baumann has more.
The Eleventh Circuit's decision to let Georgia ban abortions after a fetal heartbeat is detected creates a thorny situation for people relying on mifepristone—a drug long ago approved by the Food and Drug Administration to terminate pregnancies up to 10 weeks. Many Georgians are now effectively blocked from using the drug after the sixth week of pregnancy, even though that time frame is allowed under FDA regulation, attorneys say. Ian Lopez and Celine Castronuovo have more.
Three-quarters of over 200 Patent Trial and Appeal Board judges surveyed by the Government Accountability Office said oversight by politically appointed Patent and Trademark Office directors has affected their independence in decisionmaking, preliminary results from the congressional watchdog show. Riddhi Setty has more.
Mexico could be hit with between $10 billion and $30 billion in tariffs if it loses a trade spat with the US and Canada, two former officials who negotiated the pact under which the dispute was brought said. The US and Canada have requested dispute settlement talks under the US-Mexico-Canada Agreement, arguing that Mexico is violating the North American free trade deal with its moves to prioritize energy from its state utility. Nacha Cattan and Max de Haldevang have more.
Elections, Politics & Influence
Mark Pomerantz, one of two New York prosecutors who quit the criminal probe of Trump, said in a new interview that any ordinary citizen would face charges if a district attorney had the same evidence as the Manhattan DA has against the former president. The Manhattan investigation produced tax-fraud indictments of the Trump Organization and its longtime chief financial officer Allen Weisselberg in 2021 but not Trump. Read more from Patricia Hurtado.
Lee Zeldin, a Republican congressman running for governor of New York, was attacked at a campaign event in Fairport, New York. Zeldin and his campaign team are safe and the person has been taken into police custody, the campaign said in a statement, Low De Wei and Billy House report.
Political donors in California would be able to use Bitcoin or other cryptocurrency to contribute to state and local campaigns under a regulation the state's campaign finance watchdog approved Thursday, Tiffany Stecker reports.
The PGA boosted payments to its lobbying firm DLA Piper as the tour faces challenges from a Saudi Arabia-backed golf rival and a Justice Department antitrust investigation. Read more from Justin Wise.
To contact the reporters on this story: Michaela Ross in Washington at mross@bgov.com; Brandon Lee in Washington at blee@bgov.com
To contact the editors responsible for this story: Giuseppe Macri at gmacri@bgov.com; Loren Duggan at lduggan@bgov.com