What to Know in Washington: Jan. 6 Panel Closes Probe with Vote
Bloomberg Government subscribers get the stories like this first. Act now and gain unlimited access to everything you need to know. Learn more.
The House committee investigating the Jan. 6 Capitol attack will complete its 17-month probe with votes Monday on recommendations for the first-ever criminal prosecution of a former president, with offenses including insurrection, according to people familiar with plans.
The committee session, to be shown live beginning 1 p.m. Washington time by major television networks, follows a series of eight hearings in which the panel presented a case that Donald Trump's efforts to overturn the 2020 election broke the law and incited the deadly assault on the Capitol.
The nine-member, bipartisan panel is also expected to vote on and release at least in part a final report on its investigation along with supporting documents backing criminal referrals against Trump and several associates, and proposed civil actions against others, the people said.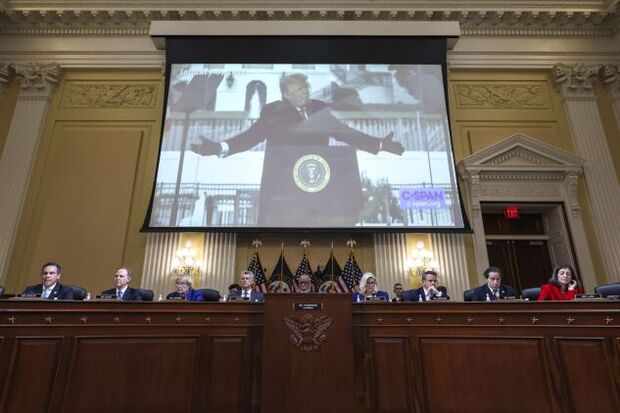 Representative Adam Schiff, a member of the panel and a former federal prosecutor, said Sunday he believes there is sufficient evidence to charge Trump with multiple crimes, including insurrection. The former president's actions surrounding the 2021 attack on the Capitol are a "pretty good match" for a criminal insurrection charge, he said.
Related: Trump Risks New Wounds in Jan. 6 Panel's Blockbuster Finale
Any subsequent conviction on an insurrection charge could complicate Trump's reelection effort. Under the Constitution's 14th amendment, anyone who has previously taken an oath to support the constitution — which presidents and members of Congress must do — is barred from federal office if they engage in insurrection. Read more.
Trump faces double blows on the legal and political front this week as another House panel considers making his tax records public.
A pair of newly unsealed court orders show how a federal investigation into activity following the 2020 presidential election touched prominent conservative lawyers connected to Trump.
Trump's lawsuit in Florida challenging New York's $250 million civil fraud case against him is his latest attempt at an "end-run" around court rulings he doesn't like, New York Attorney General Letitia James said.
Biden's Surprise Victories Silence Doubters as He Preps 2024 Bid
A week before the midterm election, President Joe Biden pitched senior advisers on his closing argument to American voters — a sweeping address in which he'd once again insist that democracy itself was on the ballot.
It was a risky idea. A similar Biden speech at Independence Hall in Philadelphia a month earlier bombed with critics, who panned it as partisan and dismissive of core voter concerns, including inflation. Some Democrats suggested afterward they might be better off without the president on the ticket in 2024.
But it paid off a week later with the best midterm performance by a president in two decades. After first-year stumbles including a chaotic military withdrawal from Afghanistan, Biden found his footing with a string of legislative wins, his party's surprise midterm showing, a successful summit with Chinese President Xi Jinping and, last week, the release of WNBA star Brittney Griner from a Russian prison.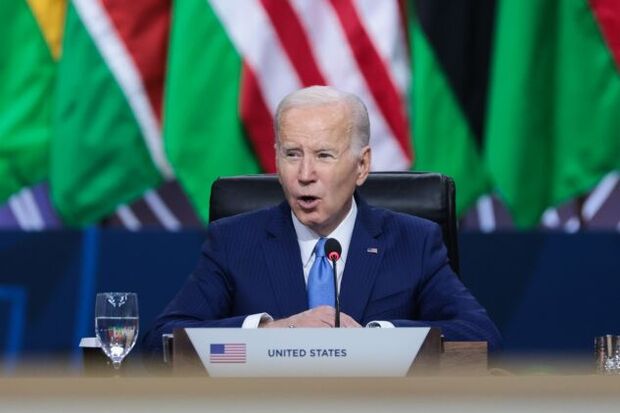 "I'm sick and tired of people wanting to run away from him," said Representative Debbie Dingell (D), a Michigan lawmaker and longtime friend of the Bidens. "He's done a good job. We've gotten more legislation done than in decades, and we need to tell the story more."
Even so, the next two years may prove far rockier for Biden. With Republicans controlling the House of Representatives, Biden will have scant opportunity for legislative achievements while fending off GOP-led investigations of his administration's policies and his son, Hunter Biden.
The makeup of the new Congress has killed hopes for core unrealized pieces of Biden's agenda that resonate with his base – including an assault-weapons ban and voting rights legislation. But White House aides are hopeful there could be room to work with Republicans on items including immigration, high-skilled job training programs, mental health services and education. Read more.
Happening on the Hill
CONGRESS' SCHEDULE
The Senate meets at 3 p.m. to consider an FDIC nomination
House lawmakers are scheduled to return Wednesday
Democratic Senator Joe Manchin (W.Va.) said he has "no intentions" of switching political parties, but didn't rule out the possibility in the future.
A key Republican lawmaker is pushing for language in legislation to protect children's privacy online that would thwart the bill's sponsors push to pass it before the year ends.
Senators are gearing up to introduce legislation that would force social media companies to report illegal fentanyl activity on their platforms to law enforcement.
The tax landscape for US multinationals is about to get messier now that the European Union has adopted a 15% minimum tax for big companies while Congress shows no sign of getting on board a global agreement backed by the Biden administration.
Separately, Congress must raise a new tax reporting threshold set to go into effect next year to prevent confusion from casual online sellers receiving the forms, the American Institute of CPAs wrote in a letter to congressional tax writers Friday. Read more.
Democrats now have a 3-1 edge on the federal labor board with Republican member John Ring's term expired—but don't expect his seat to get filled anytime soon.
The US State Department took the unusual step of joining the chorus of lawmakers and critics weighing in on Elon Musk's snap decision to suspend the accounts of reporters and others who cover him, suggesting his actions are inconsistent with principles of free speech.
Around the Administration
BIDEN'S SCHEDULE
At 1:30 p.m. Biden meets with President Guillermo Lasso of Ecuador
Biden hosts a Hanukkah holiday reception at 7 p.m.
At 2:30 p.m. White House Press Secretary Karine Jean-Pierre holds a briefing
Pandemic-era border restrictions are on track to end Dec. 21 after a federal court rejected GOP-led states' last-minute bid to preserve them — though the fight may move to the US Supreme Court.
The highest interest rates in 15 years are delaying home dreams, putting business plans on ice and forcing many Americans to agree to loan terms that would have been unimaginable just nine months ago.
The US extended its reprieve on tariffs for some goods from China as the Biden administration reviews the need for the duties introduced by former President Donald Trump.
Sam Bankman-Fried plans to drop his fight against extradition to the US to face a range of criminal charges, according to people familiar with the matter.
Airline travelers seeking refunds for canceled flights are in line for some help from the Transportation Department — but some say the new consumer protections don't go far enough.
The updated Covid-19 booster shots give adults ages 65 and older the greatest level of protection against hospitalization, according to new US government data.
Biden's plan to forgive student debt is based on applicants' income being below certain levels. Problem is, his education team has limited ways to check if that is true.
Treasury Secretary Janet Yellen will travel to Africa in January, deepening the Biden administration's engagement with the continent amid a broader push to counter China's influence in developing nations.
The US Energy Department on Friday vacated a decision made in 1954 to revoke the security clearance of J Robert Oppenheimer, the "father of the atomic bomb."
To contact the reporters on this story: Michaela Ross in Washington at mross@bgov.com; Brandon Lee in Washington at blee@bgov.com
To contact the editor responsible for this story: Giuseppe Macri at gmacri@bgov.com
Stay informed with more news like this – from the largest team of reporters on Capitol Hill – subscribe to Bloomberg Government today. Learn more.